Post by Branjita on Jan 10, 2020 11:22:14 GMT -6
Perhaps another DBF member can help write this checklist better than me, or provide better photos.
There were 3 sets with 5 figures each, a deluxe edition (DX) that included 10 figures, and then there were 2 booster packs with 10 figures each. They were released around the year 2010.
There were Japanese trailers advertising this game, here is one of them, but there are more:
These are actually part of a game, and the rules are in Japanese.
Gameshinbun.it
has a translation of the rules of the game and a good explanation. In case their website ever disappears, I will copy and paste the rules they typed (minus the photos) into this spoiler:

Dragon Ball Kai Metal Shogi – How to play (Translated Rules) (English)



Set contents



Right now, there are 3 Pre-constructed set: 1-2-3.

This is what they contains:



– 5 figures

– Rules manual (Japanese)

– Effect card (double sided) (2 types)

– Battle Sheet (the board for playing)

– 1 dice



Note: Set 3 contains a different Battle Sheet, with English words. Manual is still in Japanese.



There is a Deluxe edition too (DX), and this is what it contains:



– 10 figures

– Rules manual (Japanese)

– 4 Effect card (double sided) (8 types)

– Battle Sheet (the board for playing)

– 2 Card dice



Metal Shogi



Dragon Ball Kai Metal Shoji is a games based on "fighting" of metal miniatures. You can collect Son Goku, Vegeta and other characters to create a team and fight your friends!

Then your group of miniatures (let's call it "deck) and your cards effect can be combined for taking advantage of specific situations during the game.



Battle cast (the miniature)



Every miniature has a plastic base with important informations:



1. Color



There are 5 colors in this game:

Yellow (黄)

Red (赤)

White (白)

Blue (青)

Green (緑)



2. Movement Pattern (it shows how the miniature moves)



3. Character Icon, 4 types:



Fighter (闘)

Militants (武)

Extremists (激)

Destroyer (破)



4. AP (Attack Point). Add this value to die roll during fights.



5. Cost (sometimes it doesn't appear, then it's 0). It shows which miniature/s' colors are needed in breakthrough area or loss area to put this character in the game. If this Kanji appear "全", then the color doesn't matter.

Example: to play Goku of example above, that is全全緑, I need 2 miniatures in breakthrough area or loss area (doesn't matter the color in this case) and one green.



Battle Sheet



The game is played on this sheet.



1. Field

2. Dragonball Area

3. Entry Area Player 1

4. Breakthrough Area Player 1 (Toppa)

5. Loss Area Player 1 (Haiboku)

6. Entry Area Player 2

7. Breakthrough Area Player 2 (Toppa)

8. Loss Area Player 2 (Haiboku)



Dice



It's used in fights with AP (Attack Point) to decide which character wins.



Effect Card



Because they are double face, you must decide which face to use before the game starts.

These card are used in specific situations, for example if the team is composed by specific character, colors or types. These cards are actually useful, because they can change a dice roll, improve attack points of characters and other things.



Creating a Deck



The creation of deck is an important step, because we will fight similar miniatures with specific rules. Following, the rules for creation of your deck (team):

Total AP of Deck must be maximum 10 (look at the AP on miniatures' bases)

The Deck can't have more than one version of a character (so you can't have 2 Goku on your Deck). Anyway, you and your opponent can have same characters.



Preparing the game



First decide which player go first. Put your team (deck) near the Battle Sheet, but still not into it, and do the same with your Effect Card.



Movements



You can move a figure into Battle Sheet once for turn, but figures that requires a specific cost, must be satisfied. For example緑全全 (Green, any, any) requires 2 miniatures in breakthrough area or loss area (doesn't matter the color in this case) and one green.

Then you must move a figure, that could slide and/or jump.



This miniature slides, so it can moves 2 spaces ahead but without obstacles. Movement icon refers to battle too, so this figure can attack another figure 2 spaces ahead.



This miniature jump, so it can literally jump the obstacle (another figure then) and going over it (this works for attacks too).



When you reach Opponent Entry Area, your figure is moved to your Breakthrough Area (Toppa)



Battle



Battle begin when a miniature tries to occupy another opponent miniature's position.

We can divide it in 4 phases:



1. The attacking player rolls a dice and defending player do the same (any "6" obtained in dice roll, let the player to rolls again and add the new value as well).

Like the example: I obtain 6, then reroll and obtain 3, then it's 9 in total.



2. Then I add this number obtained from dice/s to my figure's AP (Attack Point) and the defending player do the same with his numbers and figure.



3. Now we compare the final totals



4. The player who obtains the lower total result lose, and his miniature must be put in his Loss Area (Haiboku).

Note: The opponent lost miniatures are on our left, the same works for him.



Victory conditions



They are 3:



1. The total AP of opposing miniatures in the Loss Area (Haiboku) plus the total AP of our miniatures in the Breakthrough Area (Toppa) is 10. For example, my opponent has three figures in his loss area (3, 1, 1), and I have two figures in my breakthrough area (3, 2), I have won because the value is 10



2. Another winning condition is to have 4 of our miniatures in line into the "Dragon Ball Area", that is the middle line that separate you and your opponent horizontally.



3. If you can't move any of your figure on the board, then you lose the game (you can't just pass).


Boardgamegeek.com
also has a page devoted to them, with multiple photos.
Set 1:
Krillin (Saiyan Saga)
SS Goku (Android Saga)
Gohan (Saiyan Saga)
King Kai
Yamcha (Saiyan Saga)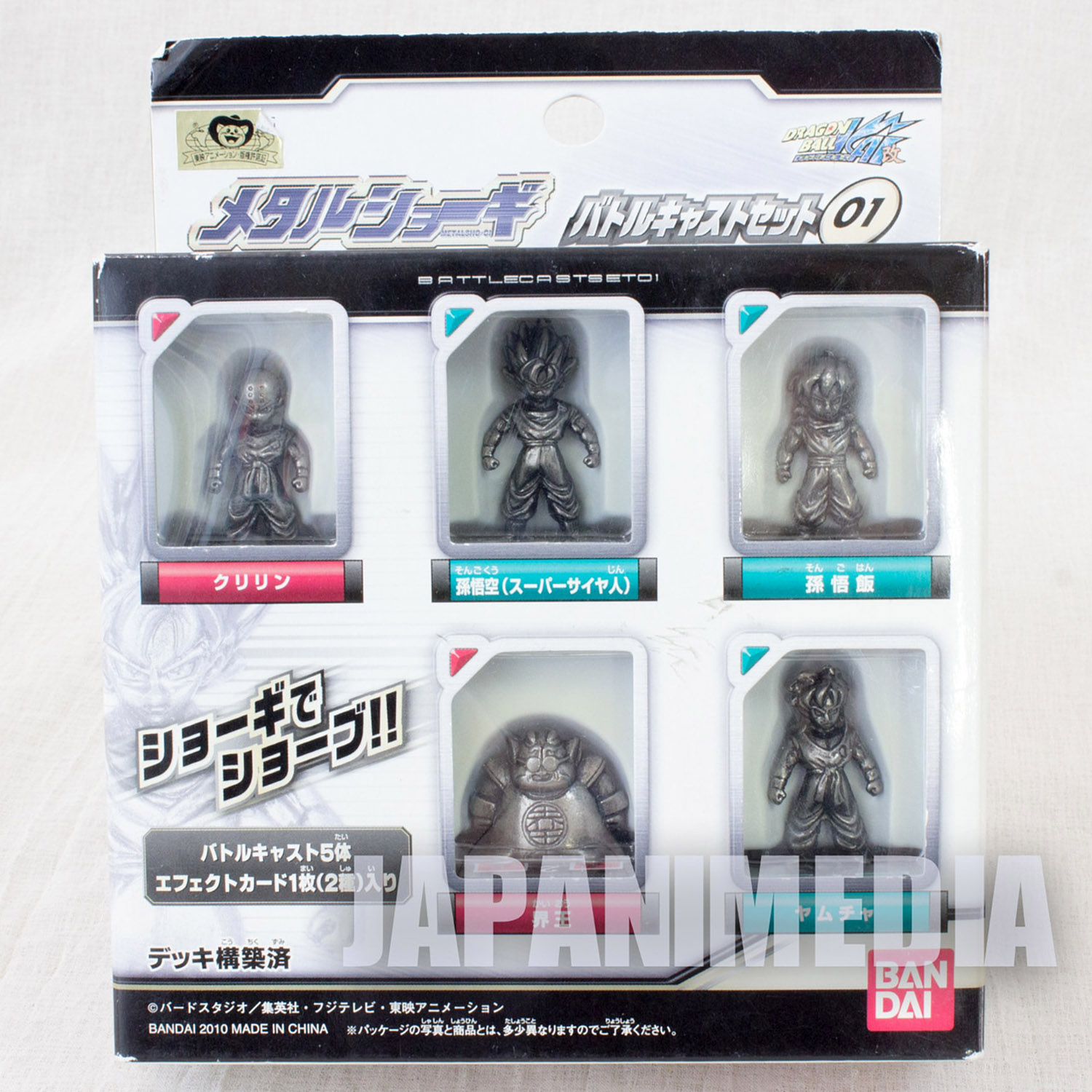 Set 2:
Frieza form 4
Vegeta (Saiyan Saga)
Nappa
Raditz
Saibaman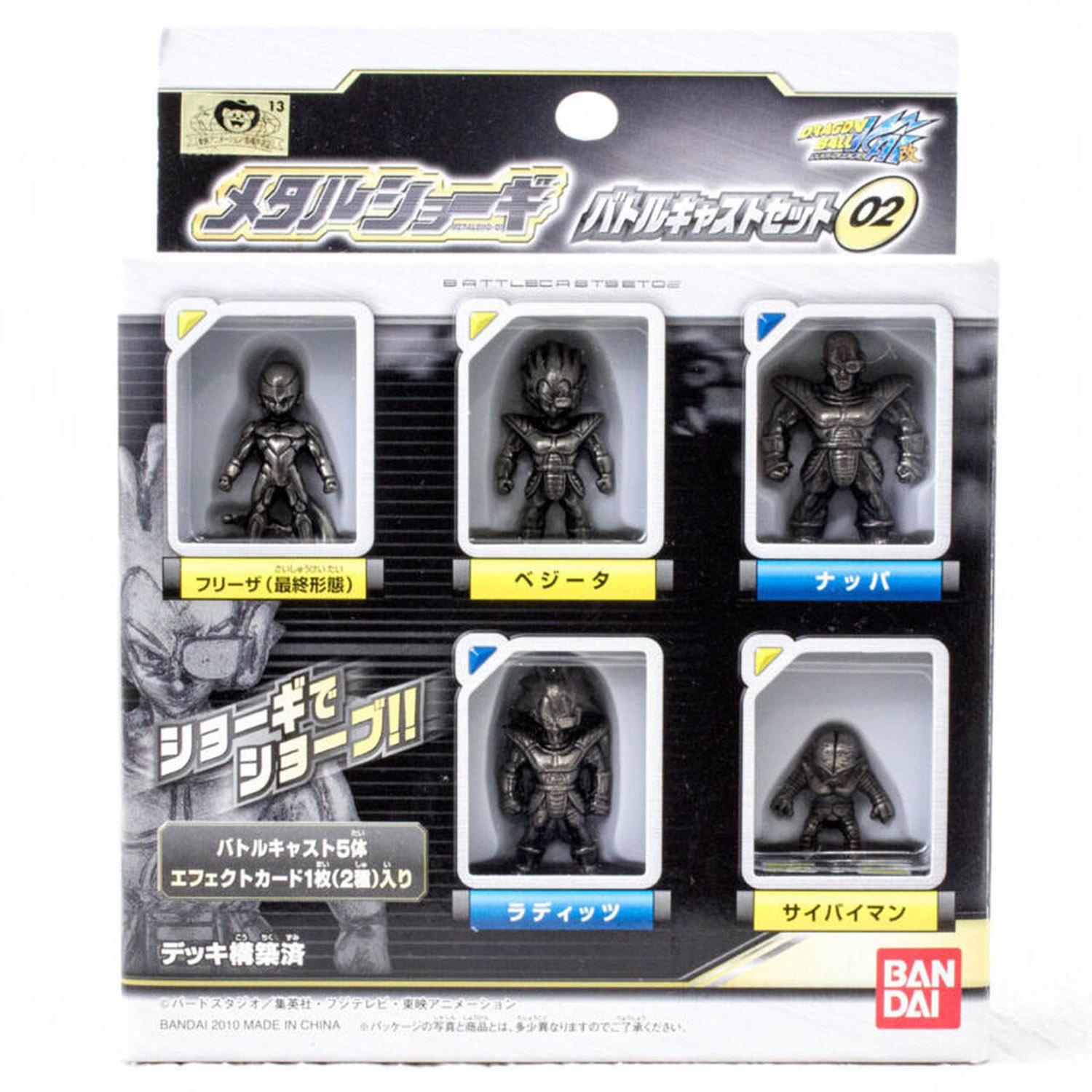 Set 3:
shirtless, battle damaged SS Goku (Frieza Saga)
Vegeta (Android Saga)
SS Future Trunks (Android Saga)
Bulma (Android Saga)
Chaozu (Saiyan Saga)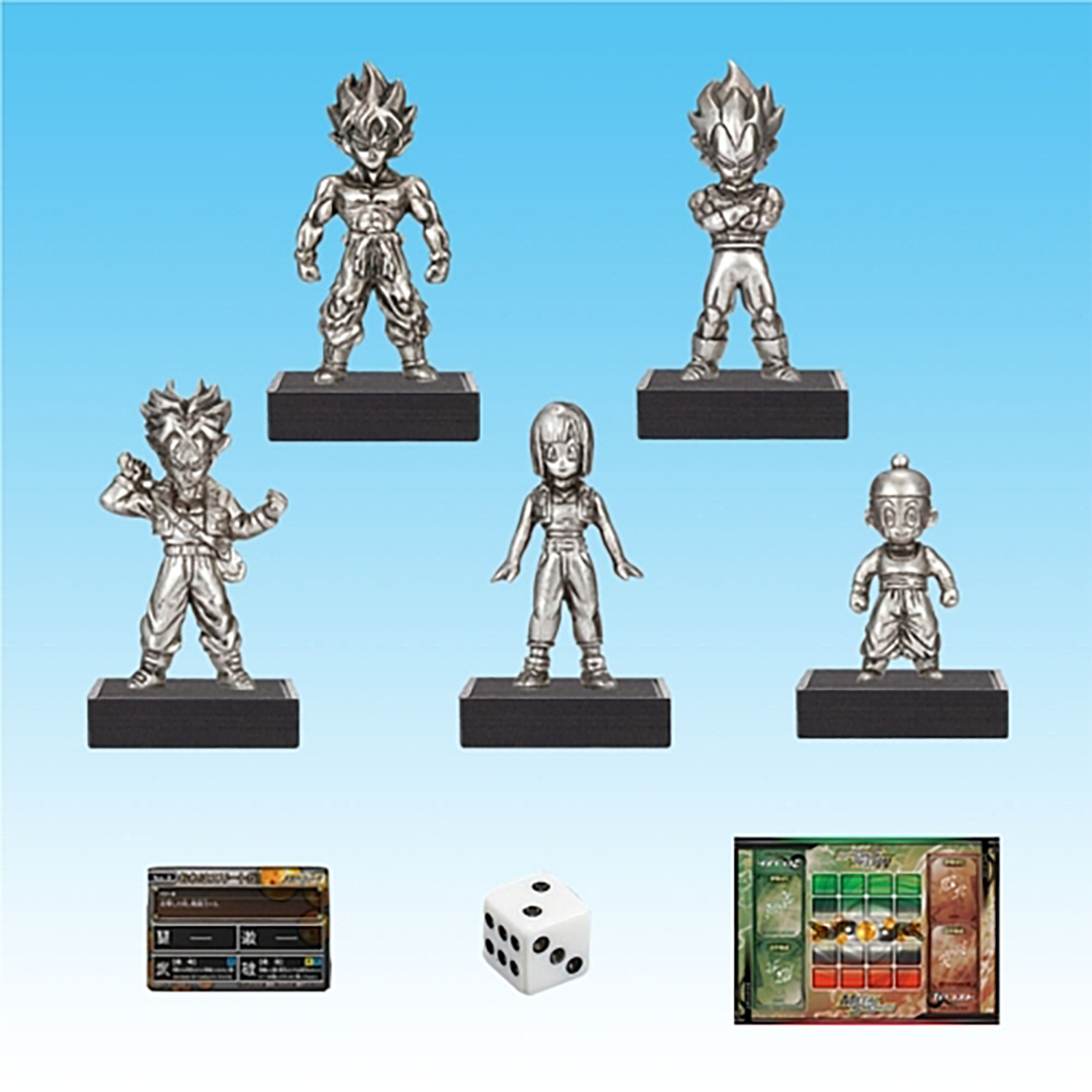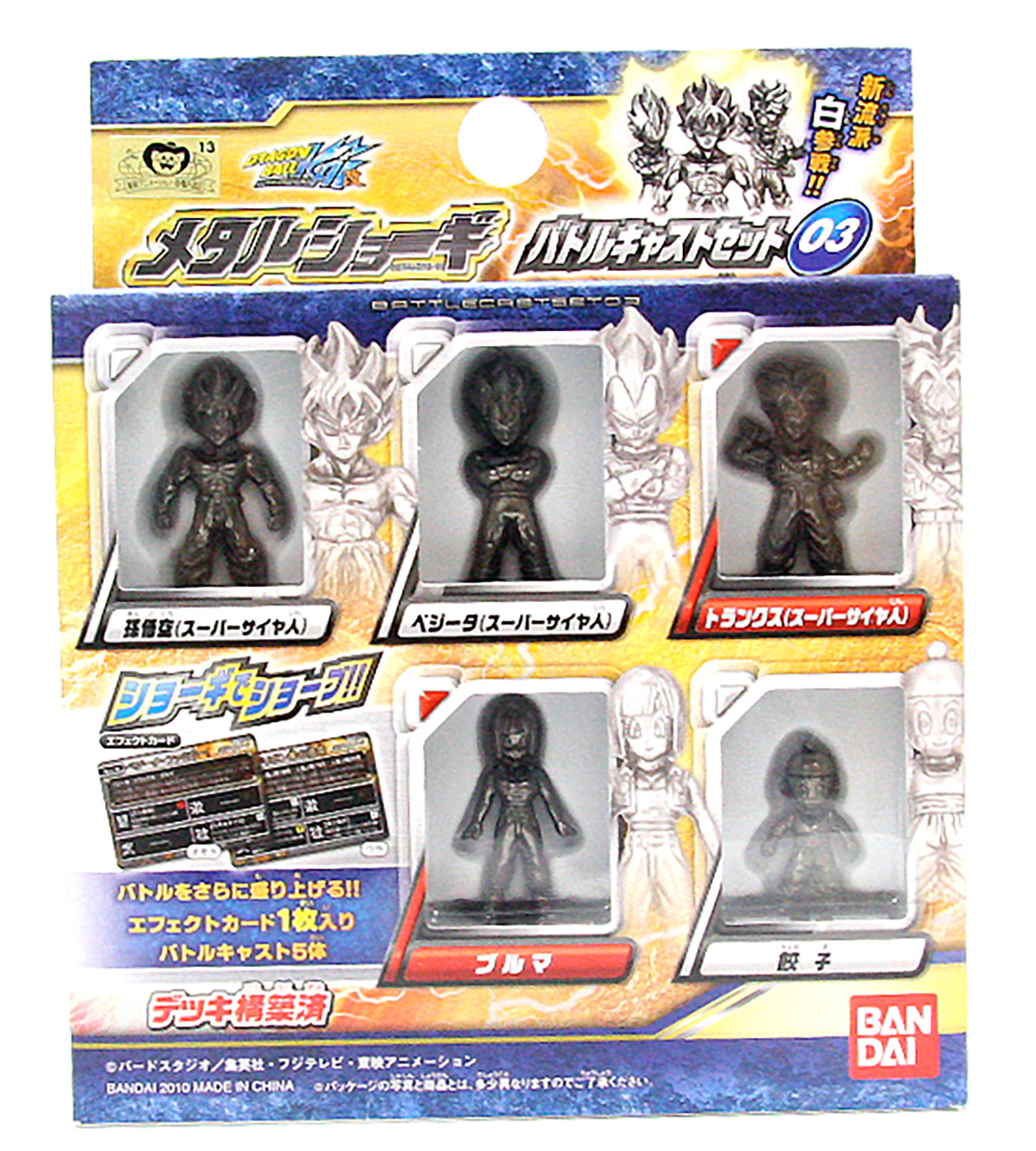 DX: came in both gold and silver
all 5 figures from Set 1
all 5 figures from Set 2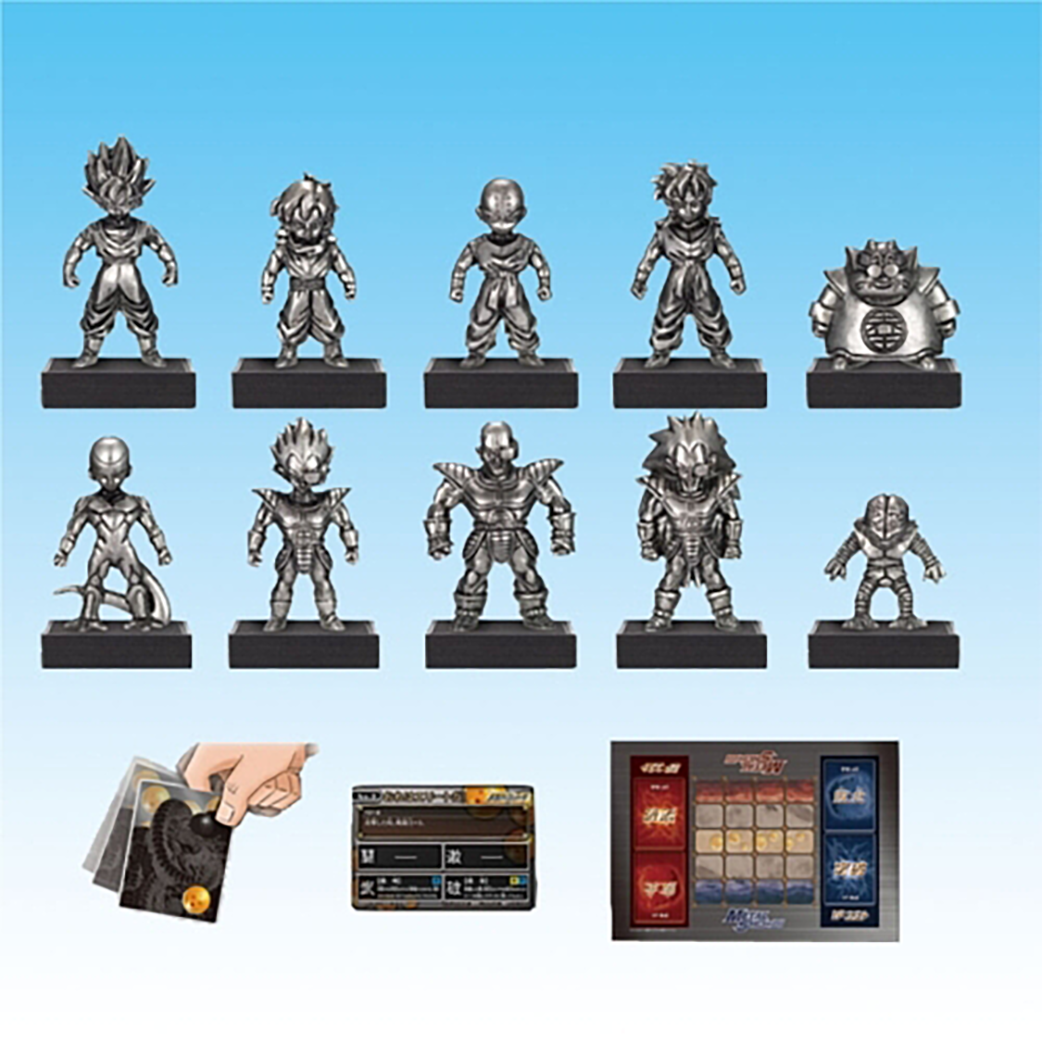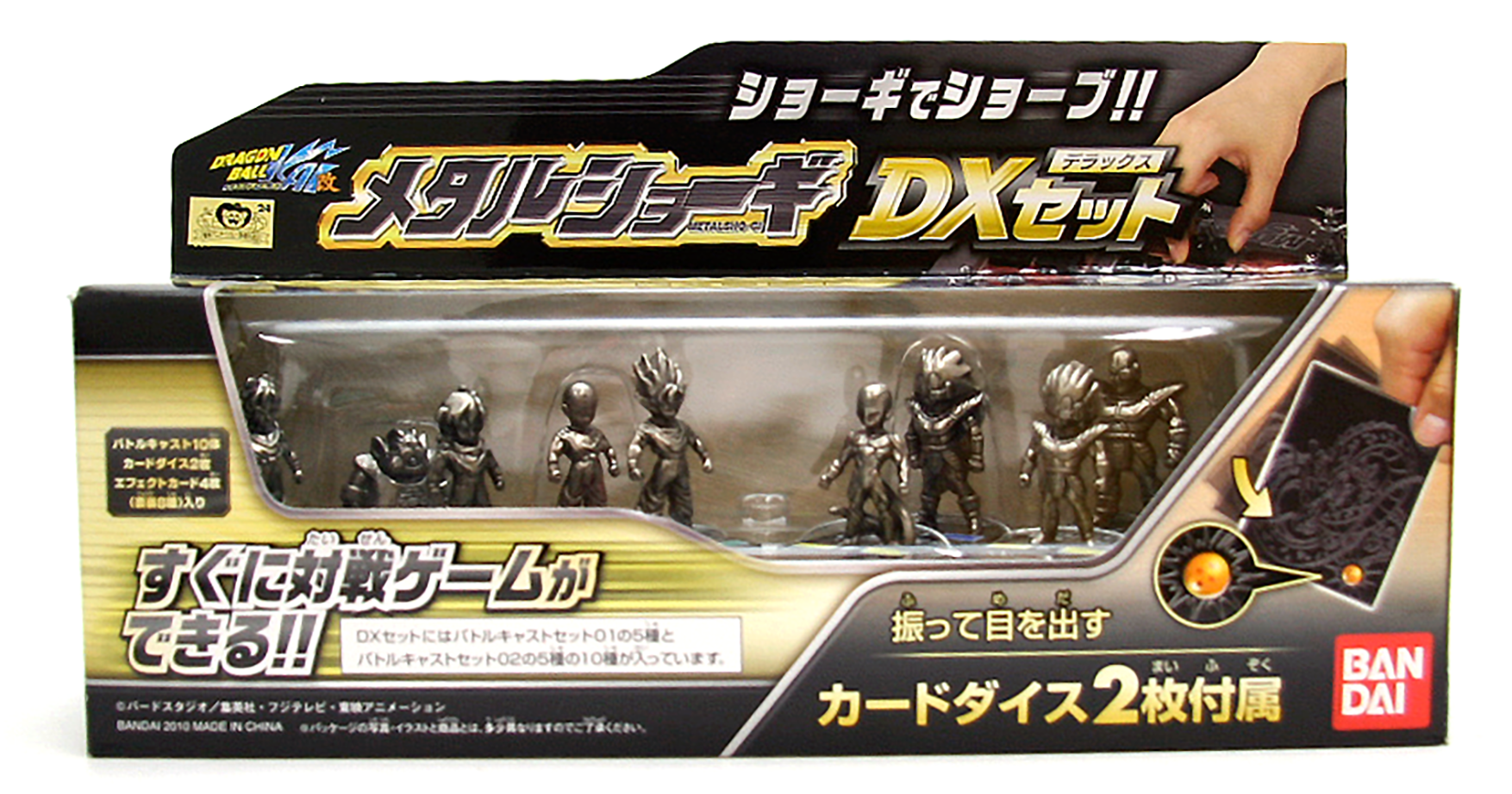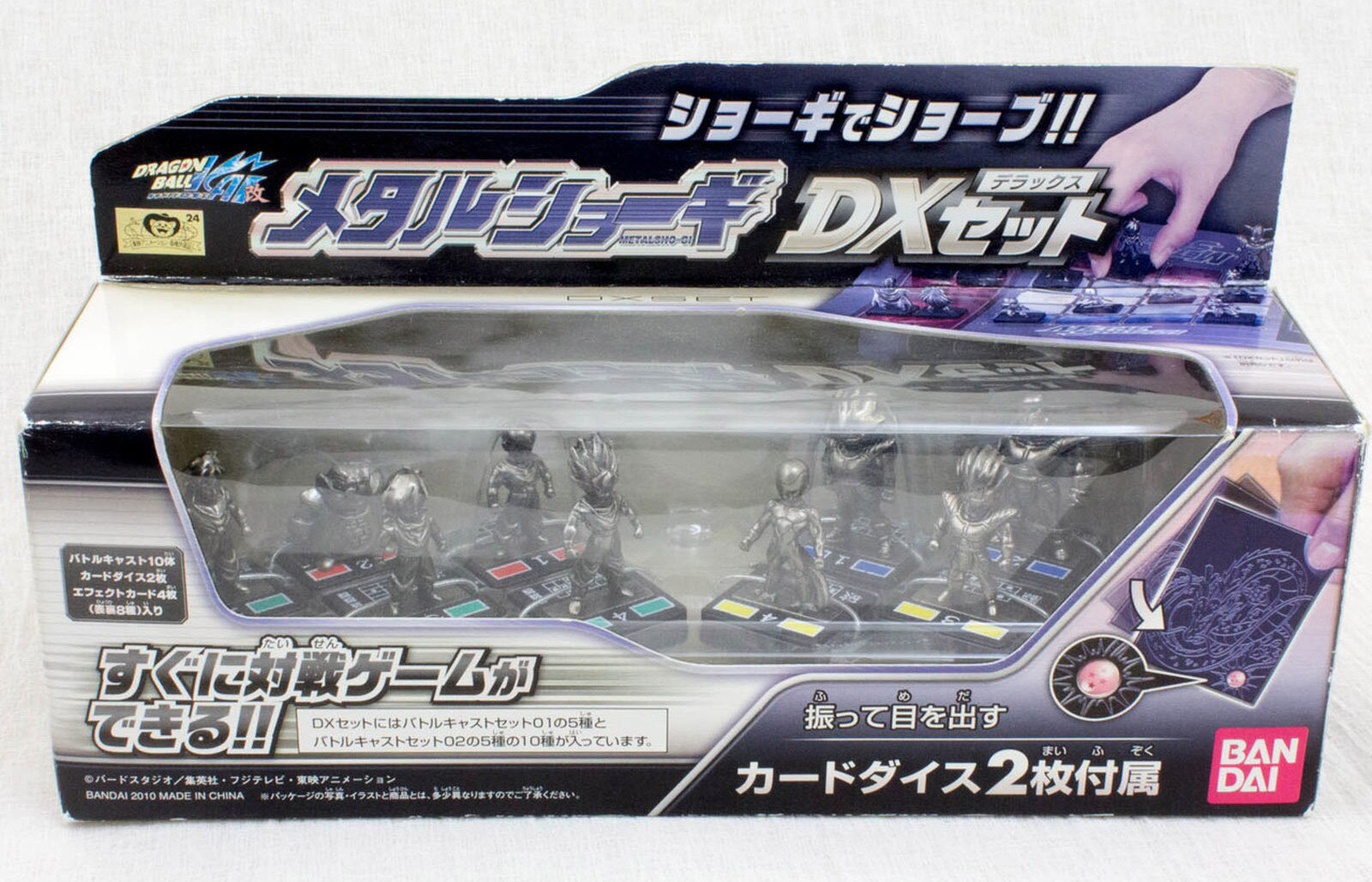 Booster 1:
Goku (Saiyan Saga)
Piccolo
Future Trunks (Android Saga)
Captain Ginyu
Recoome
Burter
Jeice
Guldo
Tien (Saiyan Saga)
secret figure Shenron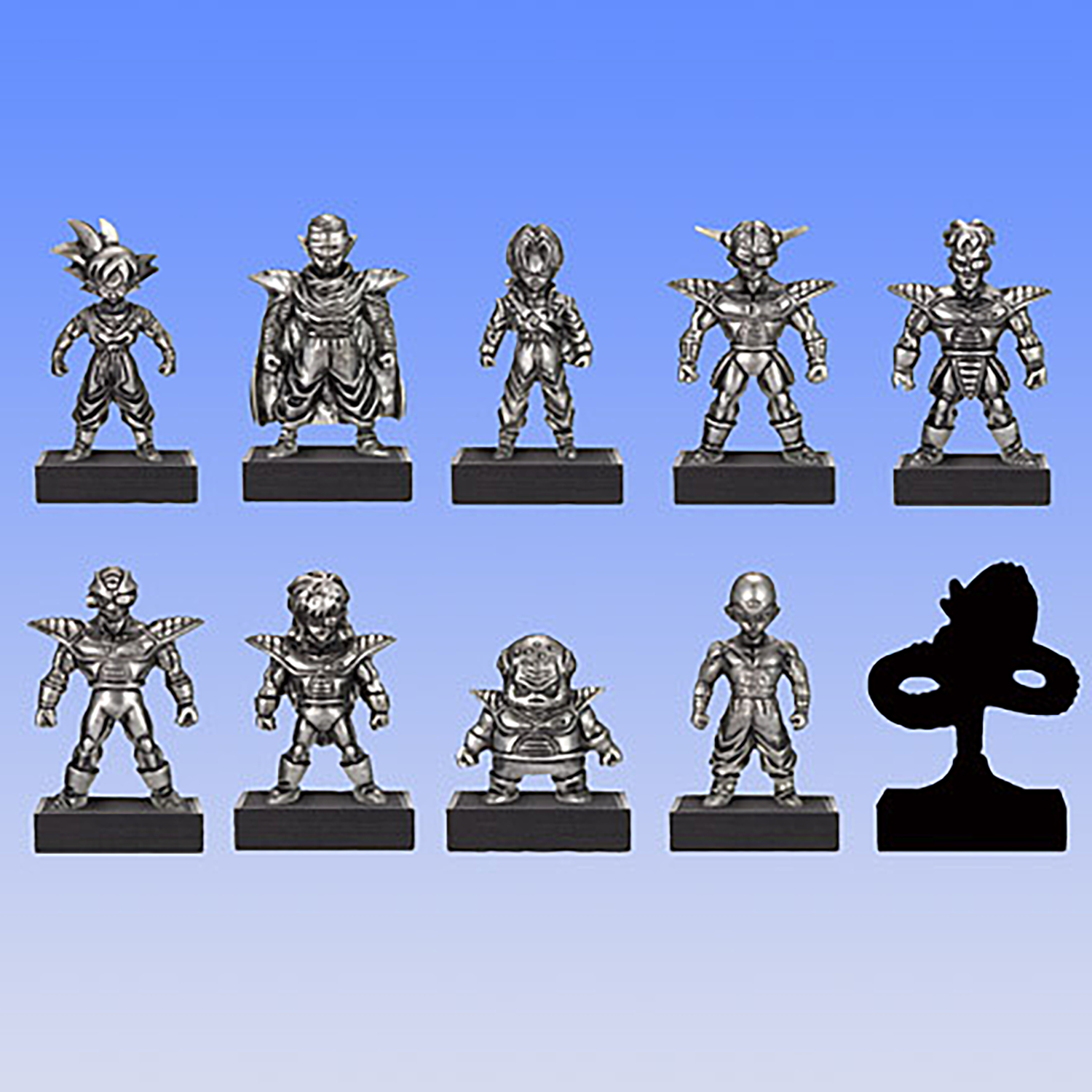 Booster 2:
SS Gohan (Cell Saga)
spirit bomb Goku (Frieza Saga)
special beam cannon Piccolo (Saiyan Saga)
Dende
Korin
Android 17
Android 18
Android 19
Android 20/Dr. Gero
secret figure: Cooler form 4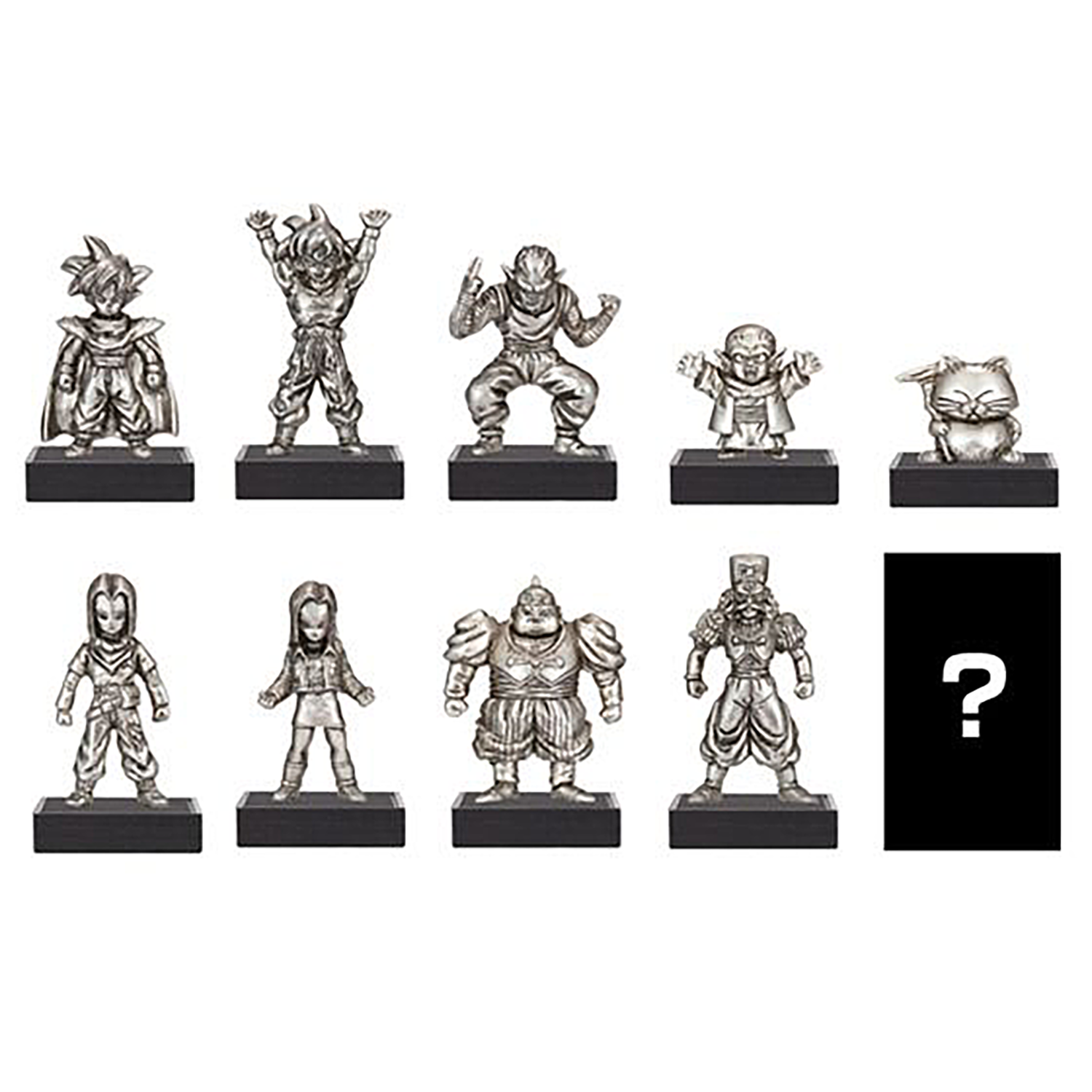 The figures are highly detailed for their size and measure approximately 1 inch tall. Like the name implies, they are made of metal.
Here's sets 1, 2, and 3.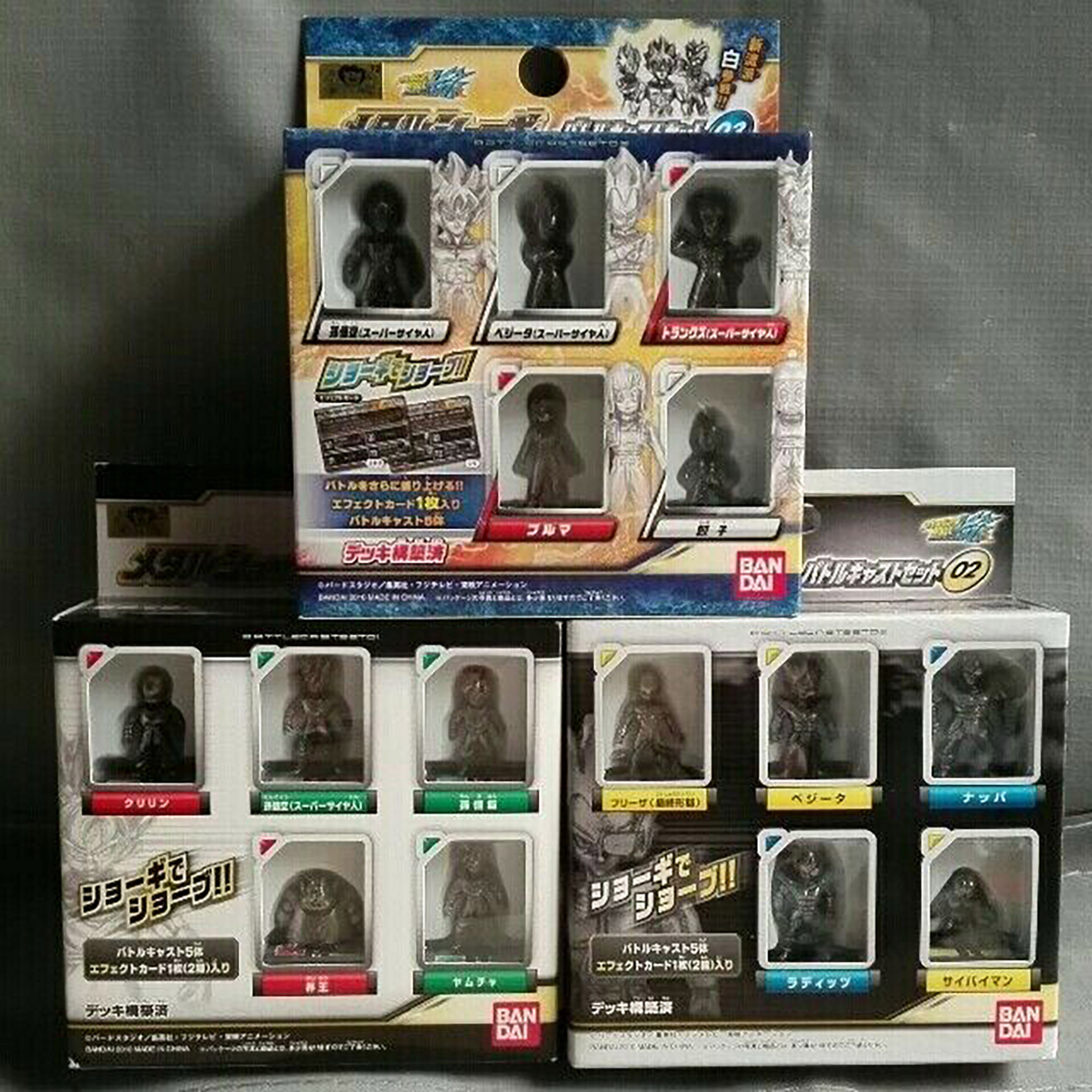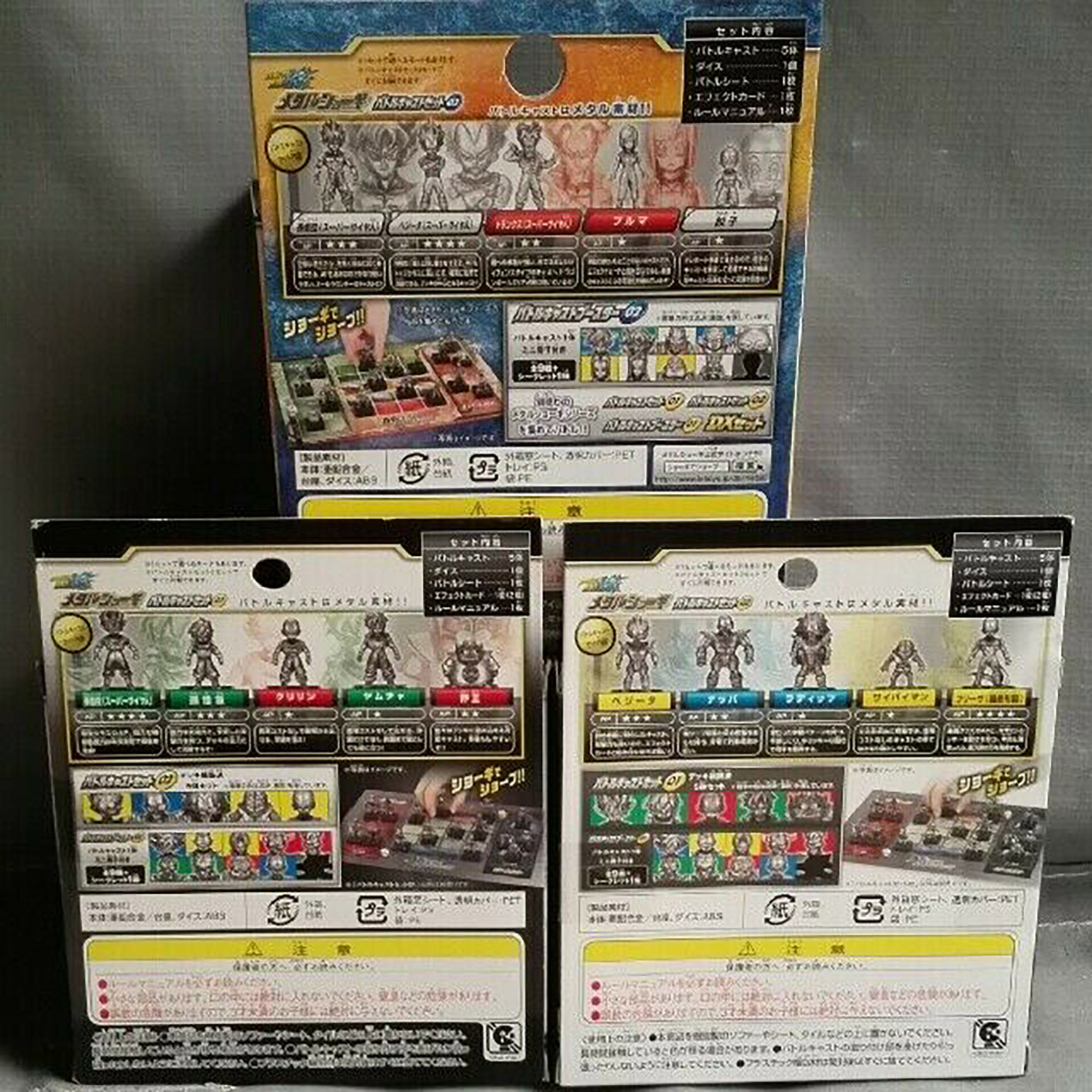 A selection of figures from various sets.
You can see the secret figure of Cooler in the top left of this image: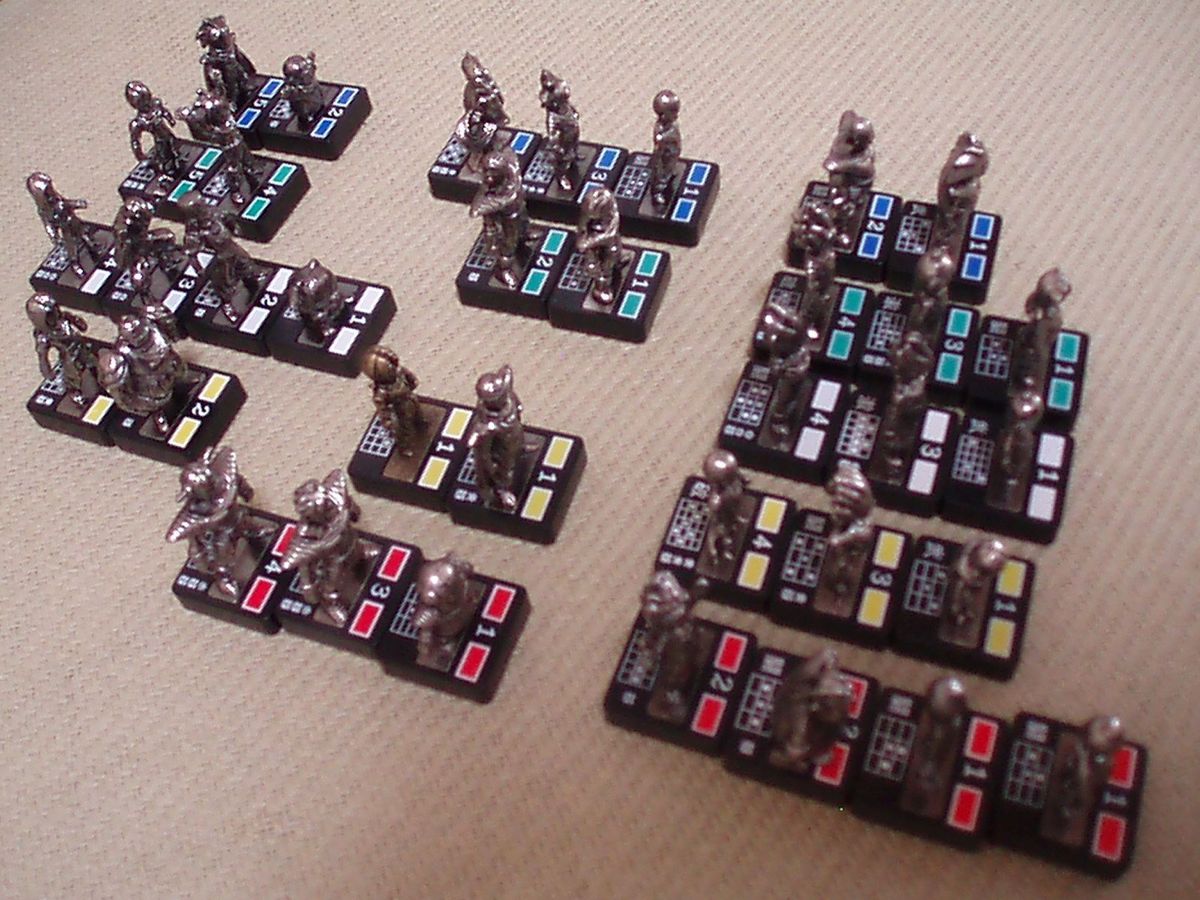 A US collector would have a very hard time collecting these via ebay these days, because they were not popular in the US, due to the game being in Japanese only. The price of the sets was fairly reasonable. HLJ used to sell the DX set of 10 figures for $30.
You'll note that if you want the full set of Z fighters and villains (from Saiyan Saga), you'd have to buy sets 1 and 2 (or the DX set), set 3, and booster set 1. They made this complicated, but what makes these figures unique is that it actually was possible to put together Goku, Piccolo, Tien, Chaozu, Yamcha, Krillin and Gohan along with Raditz, Saibaman, Nappa, and Vegeta. King Kai was made as well. Not many lines of figures ever completed the Z fighter team. It is also unique that you can get the Ginyu Force as well as all of the main Androids (other than 16). The game must not have been popular enough, as it does not seem like they ever released Cell. Korin and Dende are also unique offerings from this game.