Post by Branjita on Jun 12, 2014 13:10:41 GMT -6
Irwin rereleased a ton of AB 2 inch Super Guerriers figures as well as Bandai Full Color Battle figures. I believe these were released in 1998 or 1999... but could have been released as late as 2001. I can't really remember. They were not extremely good sellers as they were quite expensive at about $8 to $16 each if I remember right, depending on store. On old DBT (dragonballtoys.com)'s forum, I was one of the only collectors of them who talked about them.
Irwin also rereleased AB 1 inch figures, but I can't help with those because I never collected any of them. We will need a separate checklist made for them eventually.They also released a bunch of keychains I can't do a thorough job documenting either without help, as I know I don't have pictures of all of them.
Irwin's releases are not as flexible as AB's original releases, but would not be considered hard plastic. Kidz Biz in the UK also rereleased many of these and they are harder plastic. Mattel rereleased some of these in South America or Latin America, and they seemed to be just as good as Irwin's. The Kidz Biz ones I'd say are lower quality. The AB ones are the best quality.
Irwin started by rereleasing the Bandai Full Color Battle figures in packs of 4. These were released in 1998, I distinctly remember buying them then because I was in the 8th grade and I bought all 6 sets on Black Friday I am pretty sure. This picture was taken by davemamer on ebay. What sets these apart from AB figures, is that they have extremely sharp details. You can instantly recognize them in your collection if you look carefully.
Later, Irwin released 6 sets that came in BOXES instead of on cards with a blisterpack. I am fairly certain these 6 boxed versions came out before the carded versions, but I am not 100% positive, because I never saw them in stores. Set 5 is incredibly rare. Not only is it the only time Irwin released those figures, but it also contains extremely rare AB figures too! The later, much better looking AB figures like these were much better sculpts than the early ones, and ironically, Irwin released almost exclusively the early AB figures! This was the one exception!
These are the 18 blister-on-card 2 inch figure sets that are a little more common. Pretty much none of these are what I'd call rare figures. AB made plenty of most if not all of these sets and Irwin did too. The only super rare, desirable Irwin set is the series 5 one above as far as I know.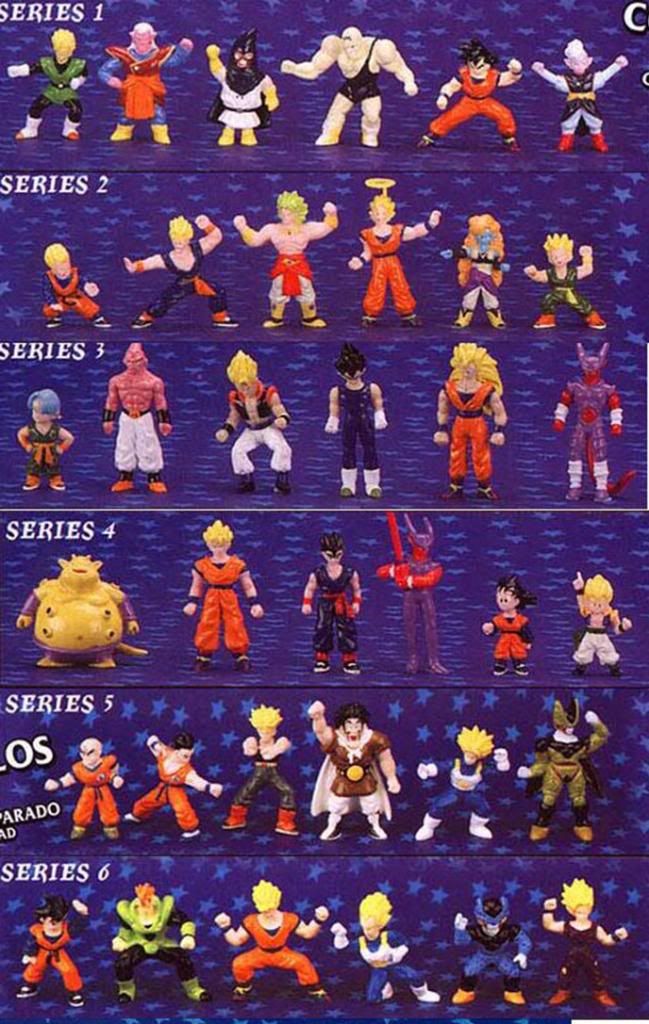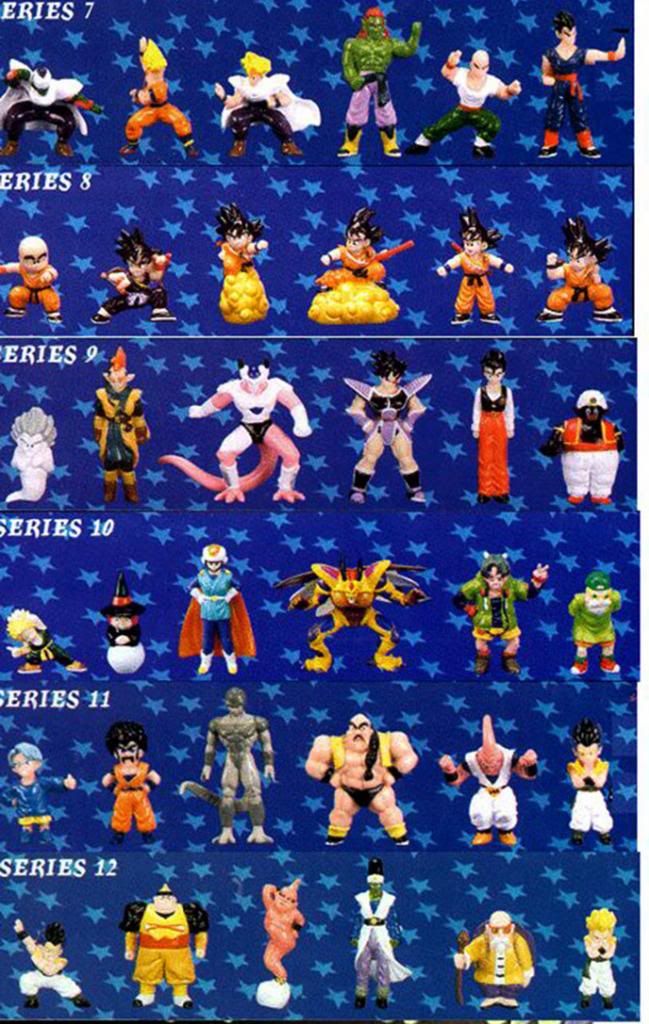 Much later, perhaps 2002 or 2003, it was possible to find a lot of the later sets at Target stores on the card aisle by the checkout registers. They came packaged with a bunch of DBZ CCG cards and were an excellent deal at $12.99 (which was often the same price as the figures were by themselves). I bought at least 5 or 6 of these boxed sets and nearly completed my collection back then, and I sold the cards to basically pay for me keeping the figures. Inside this box is literally the same exact packaged figures on the same cardboard as you'd find by itself a year or two or three earlier. So unless you find this type of box with the cards in it, you'd never recognize the figures MOC as being different... because they are the same exact things as were sold regularly.