Post by Branjita on Jul 2, 2020 20:05:28 GMT -6
I'm having to operate primarily on my memory with some of this information, so I may get some details wrong.
History

I'm going to tell the history, as best as I can tell it... and the only way to tell the history is to start with information about figures that are NOT from the "Collect Them All Saga", but came out just before them.

After Irwin went bankrupt, there were sellers on ebay in the summer of 2003 (specifically the end of June and beginning of July, 2003) selling hand-painted prototypes, some test-shots (unpainted figures), and similar for sale. (I have an
old thread on DBF with photos and info about them
). During this bankruptcy sale, a few sets of hand-painted pre-production Irwin Series 4 figures were sold. They lack copyright information on them. They were always in clear plastic baggies with a staple on the bag. They were not the ones one display at Toyfair, and they were not the ones used on the product packaging.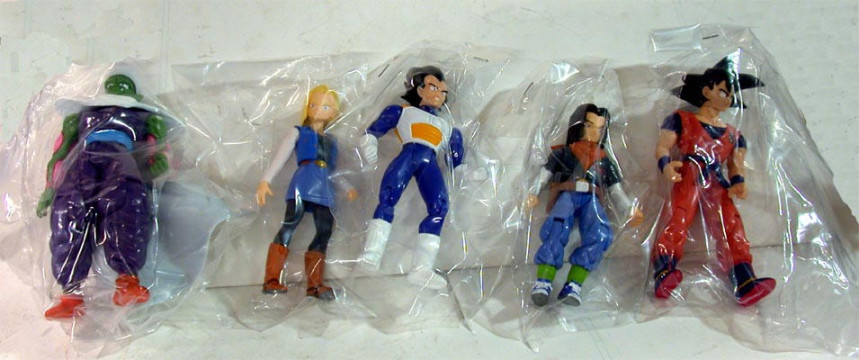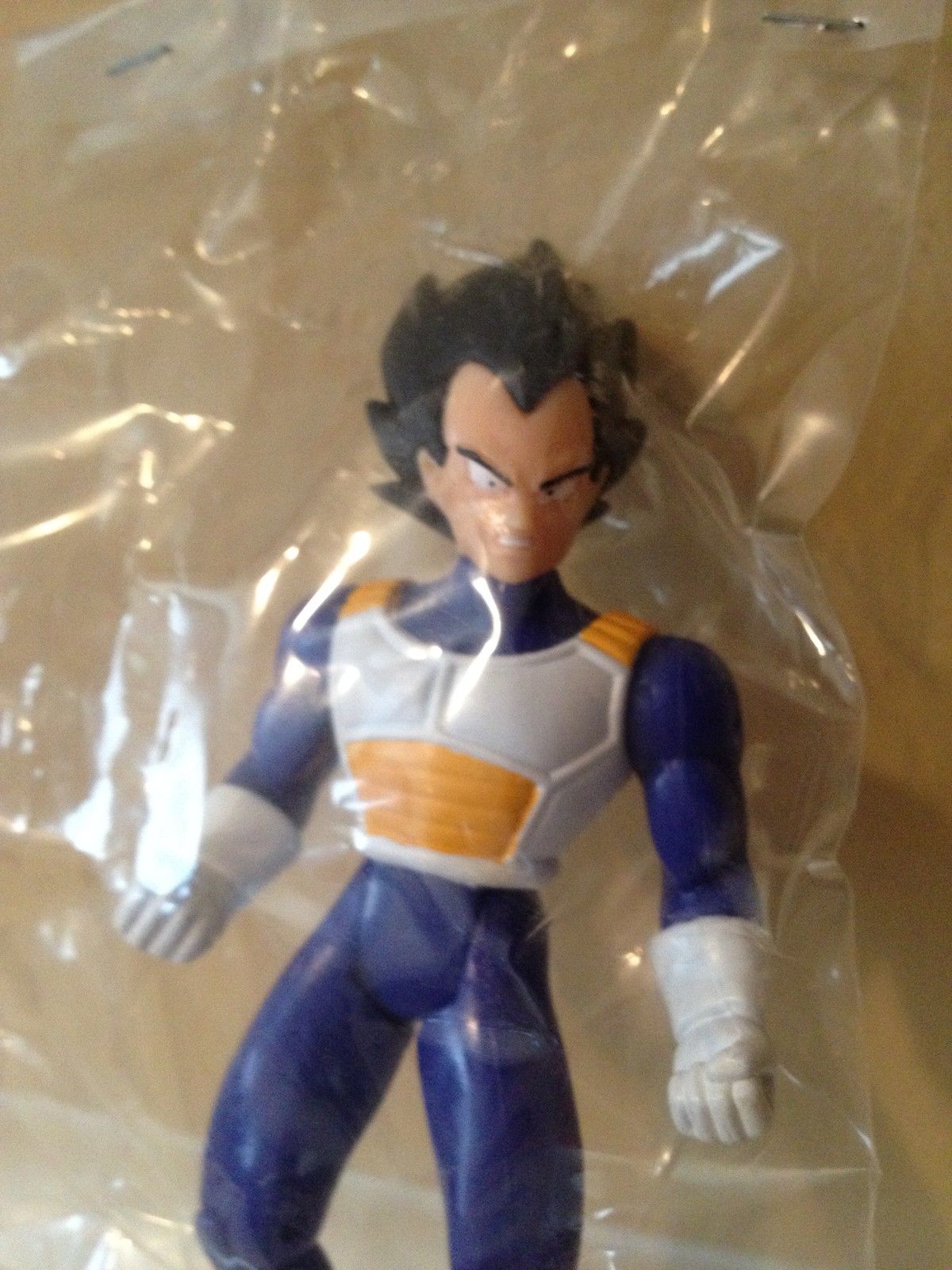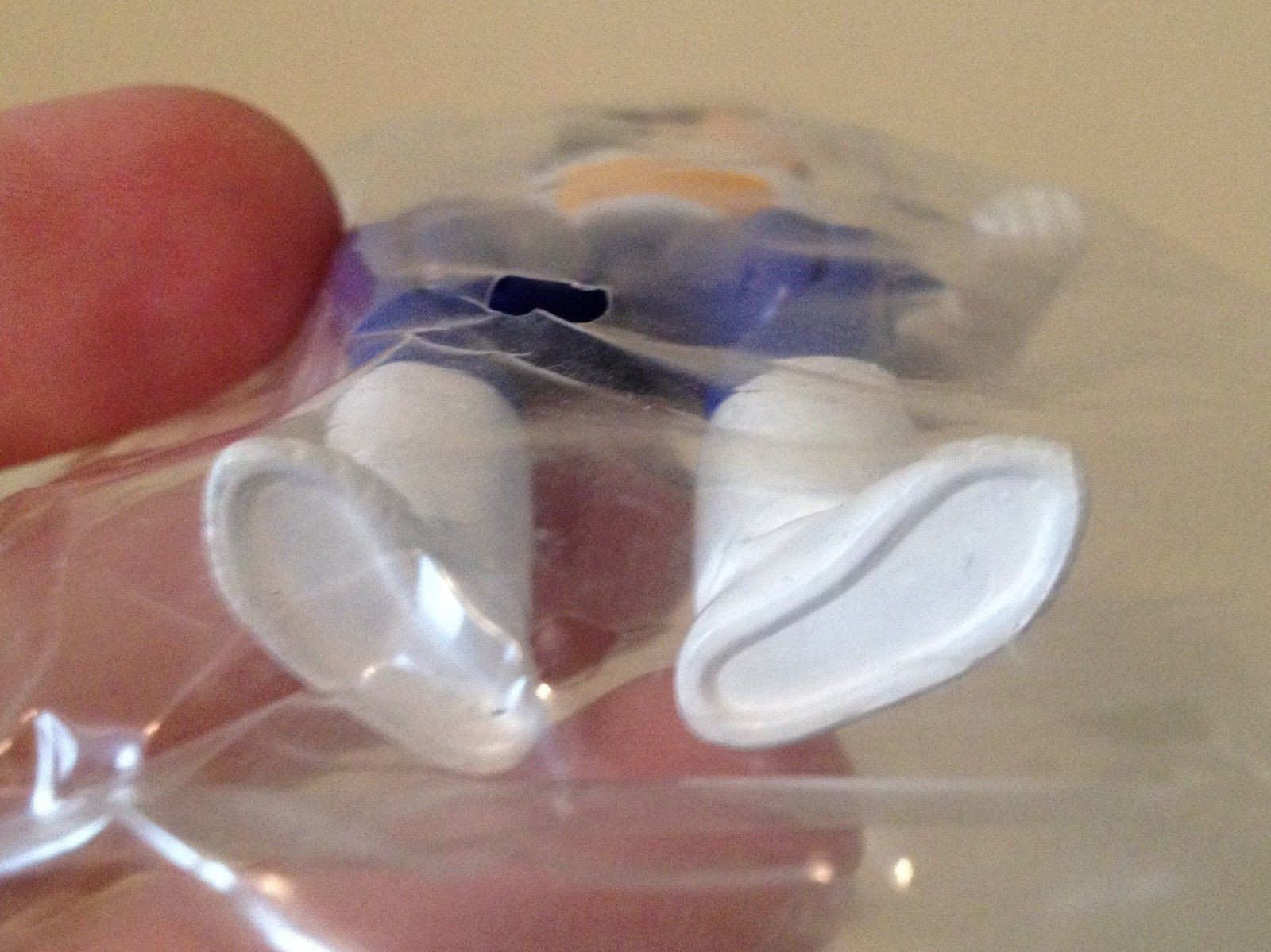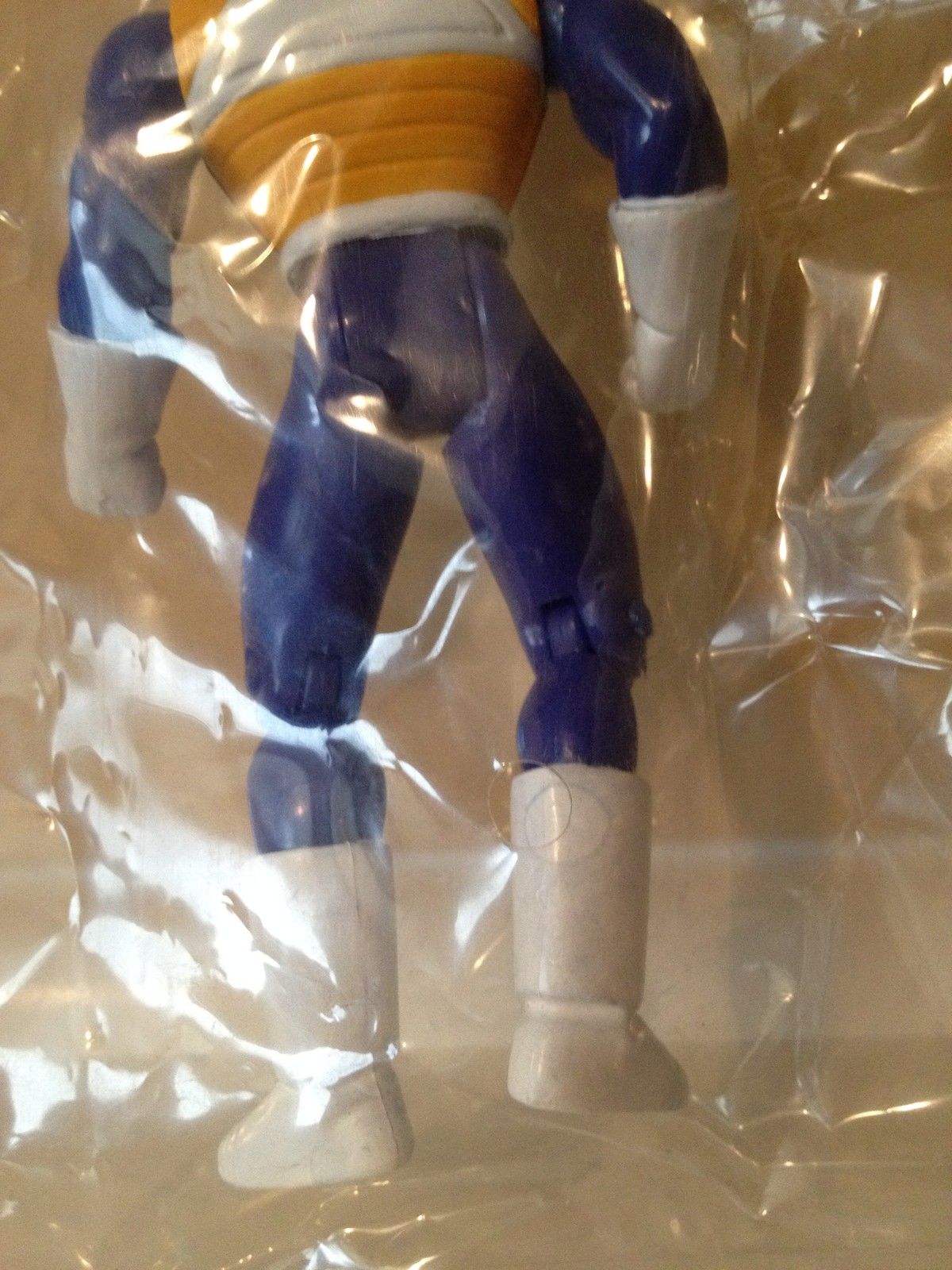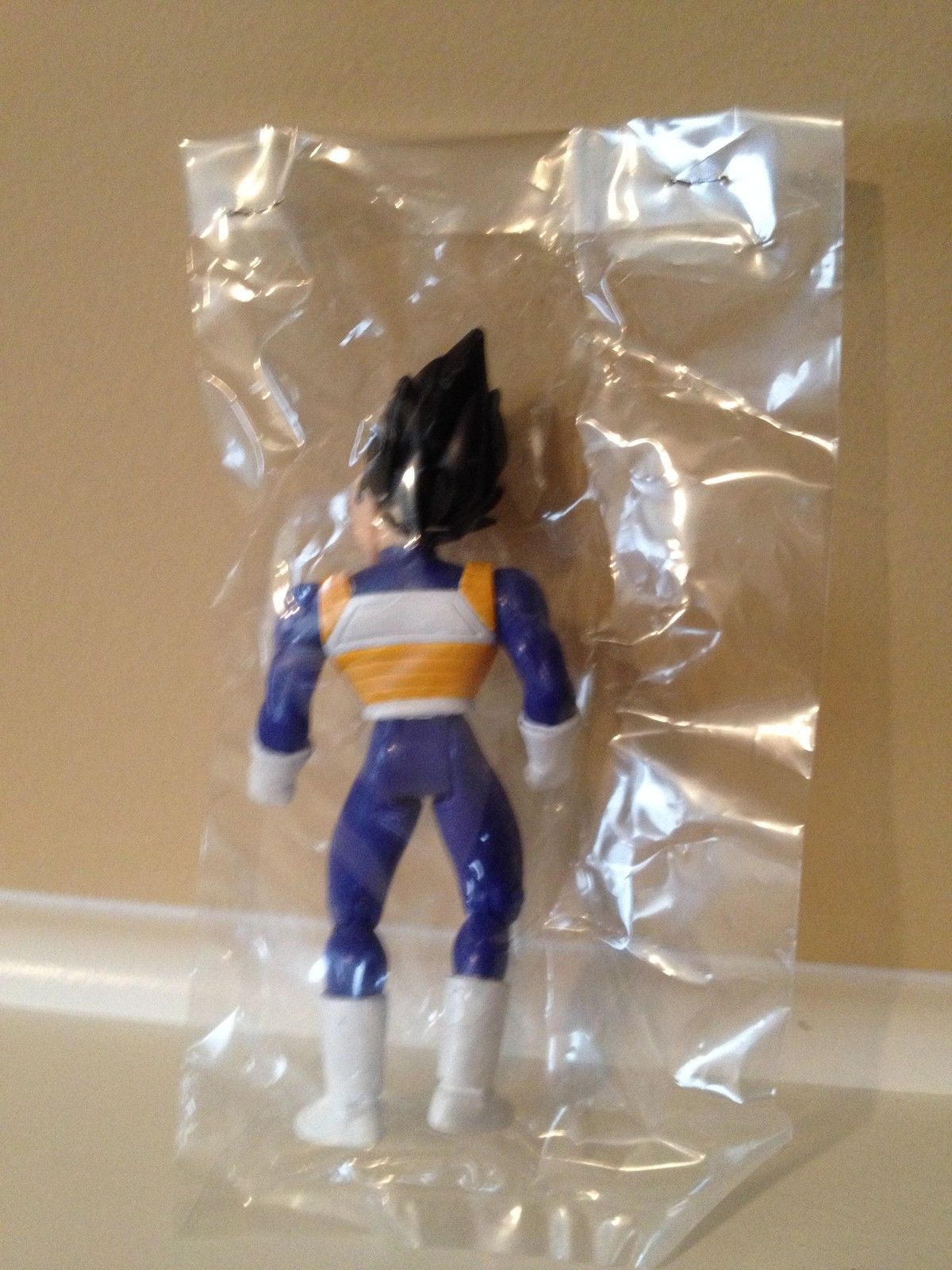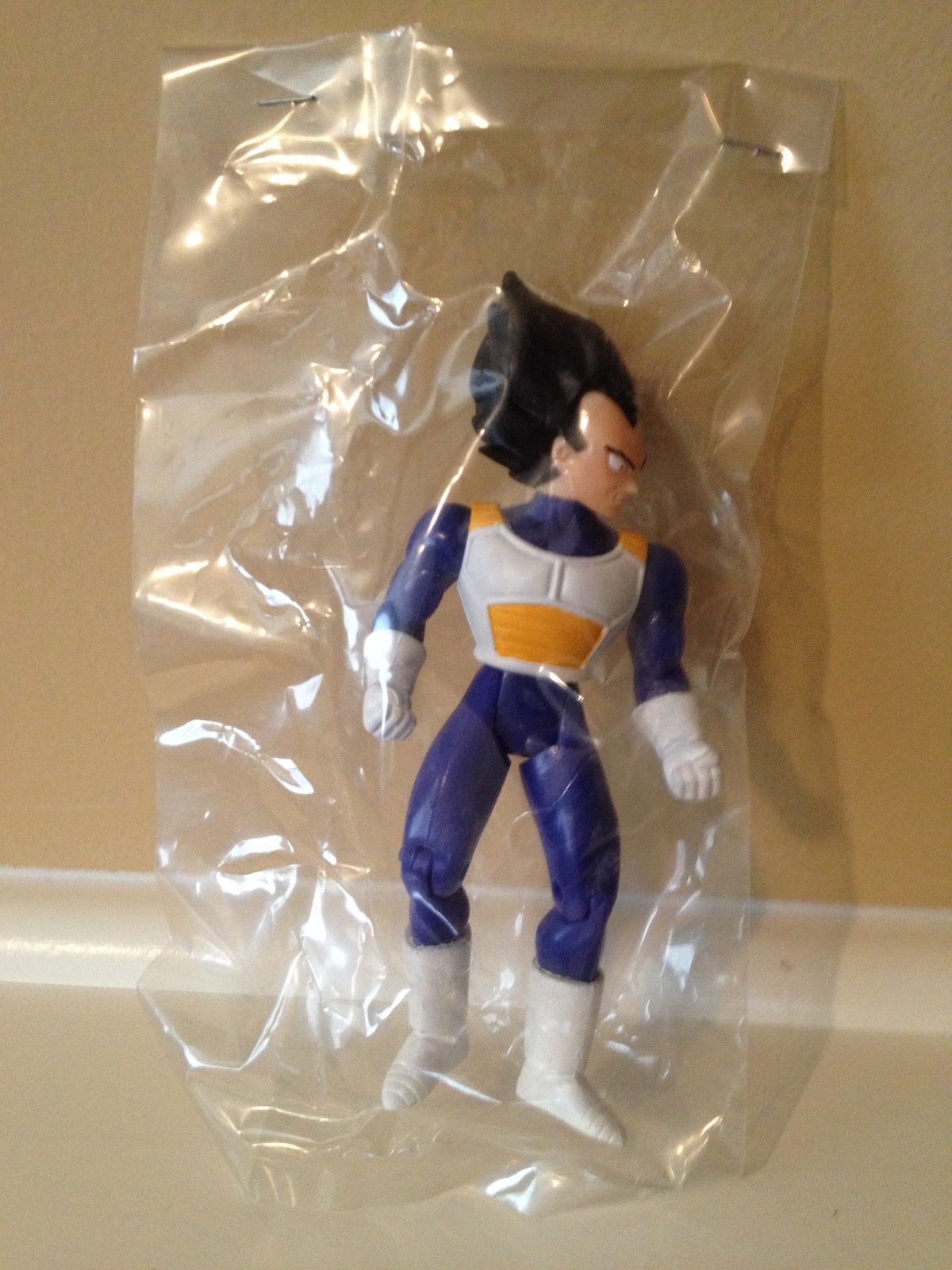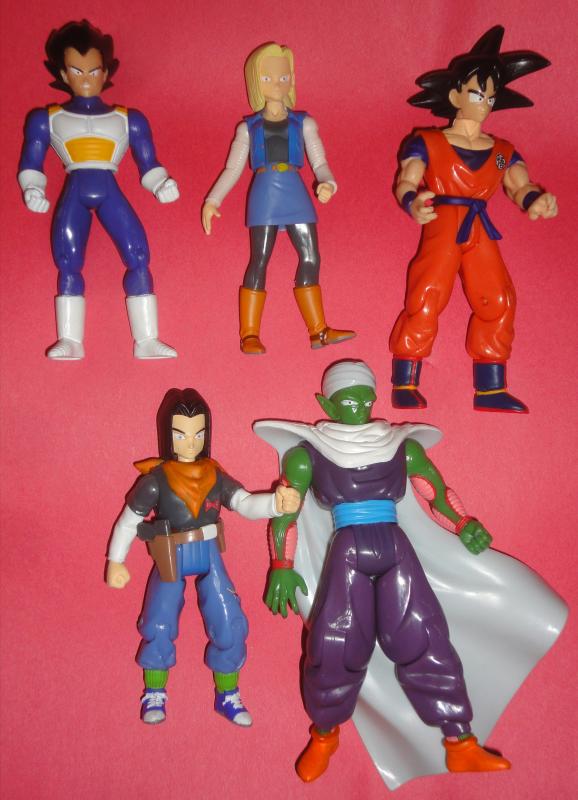 Note: these figures are not related to the Collect Them All Saga figures, but keep reading, because you'll discover why I am including them here.
At some point, to add more confusion, variants of Irwin Series 4 figures (or... at least Goku) were coming up for auction in a different style of plastic baggy. He's not like the figures above... he's definitely not hand-painted, his plastic baggy style was different, and he has copyright information on the bottom of his feet. He looks identical to the production figure, except he isn't glossy. It's hard to photograph the difference for some reason, but it's very obvious in-person. I personally think he looks better than the packaged, glossy figure.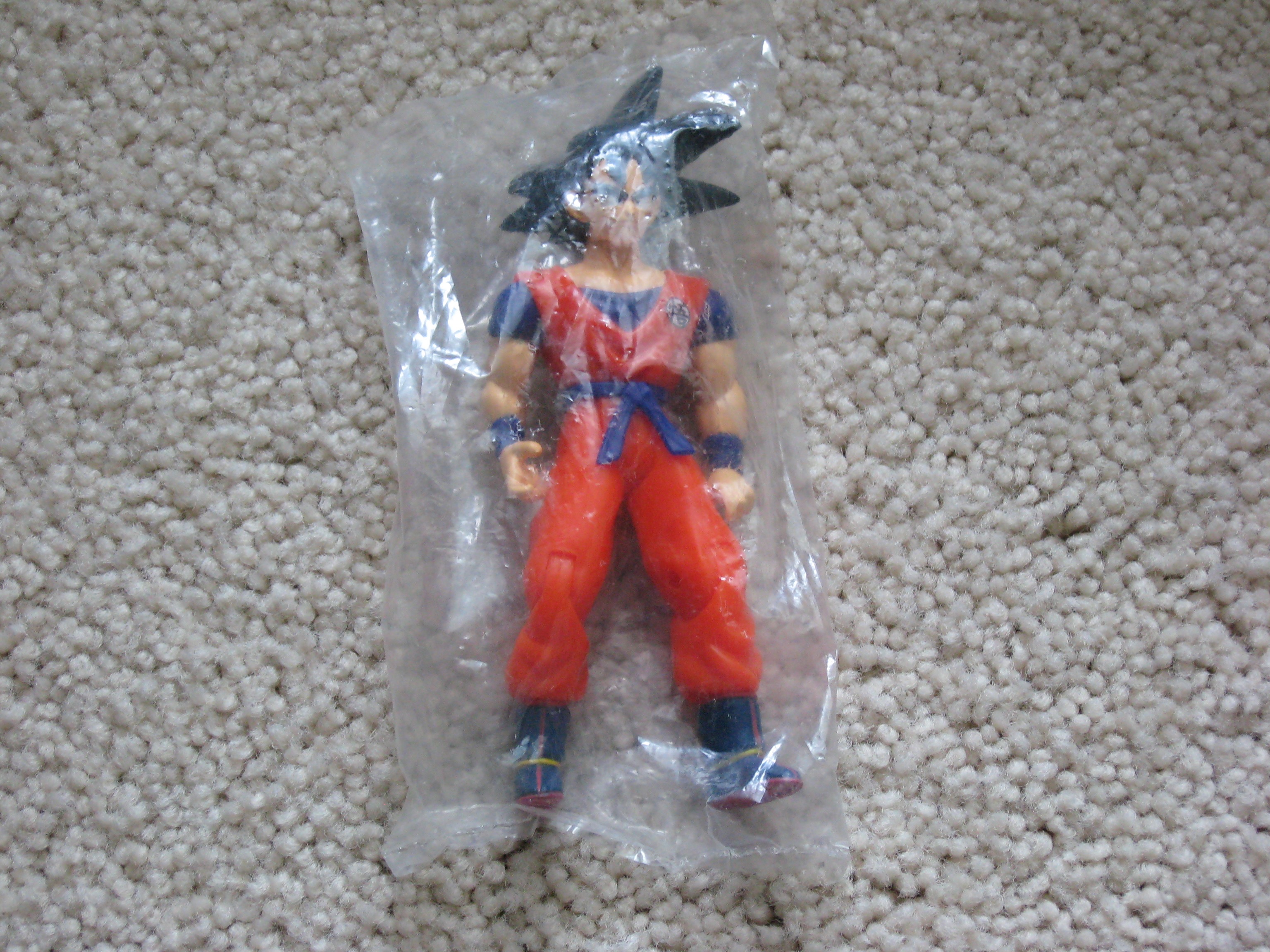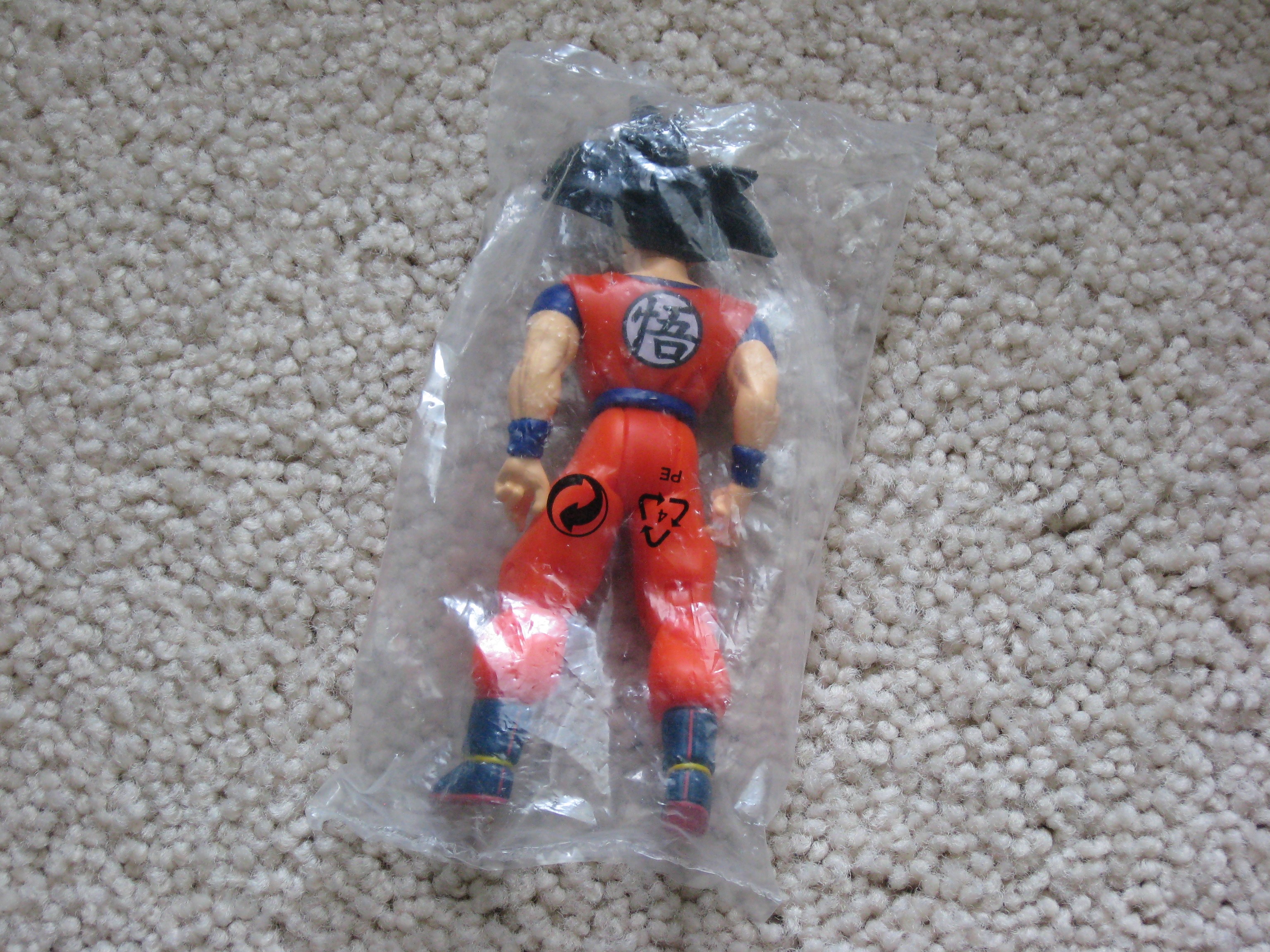 I believe these were pretty common during this time period (I technically have two... one I customized years ago), and what made this figure (or these figures?) unique is that Goku has a matte finish texture, instead of glossy finish like the production figure you could buy at Wal-mart.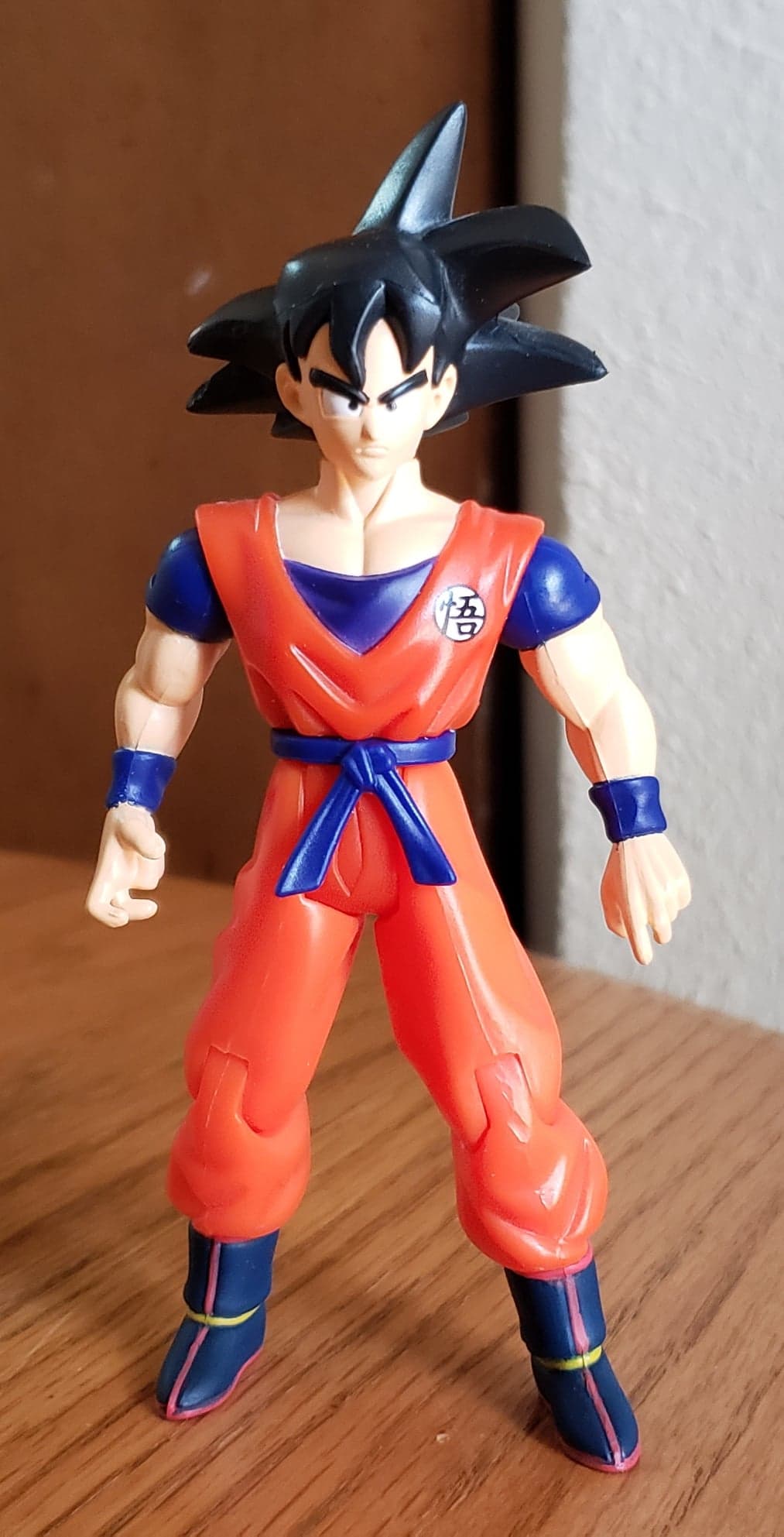 Here's a comparison of the production glossy version vs. the matte baggy version: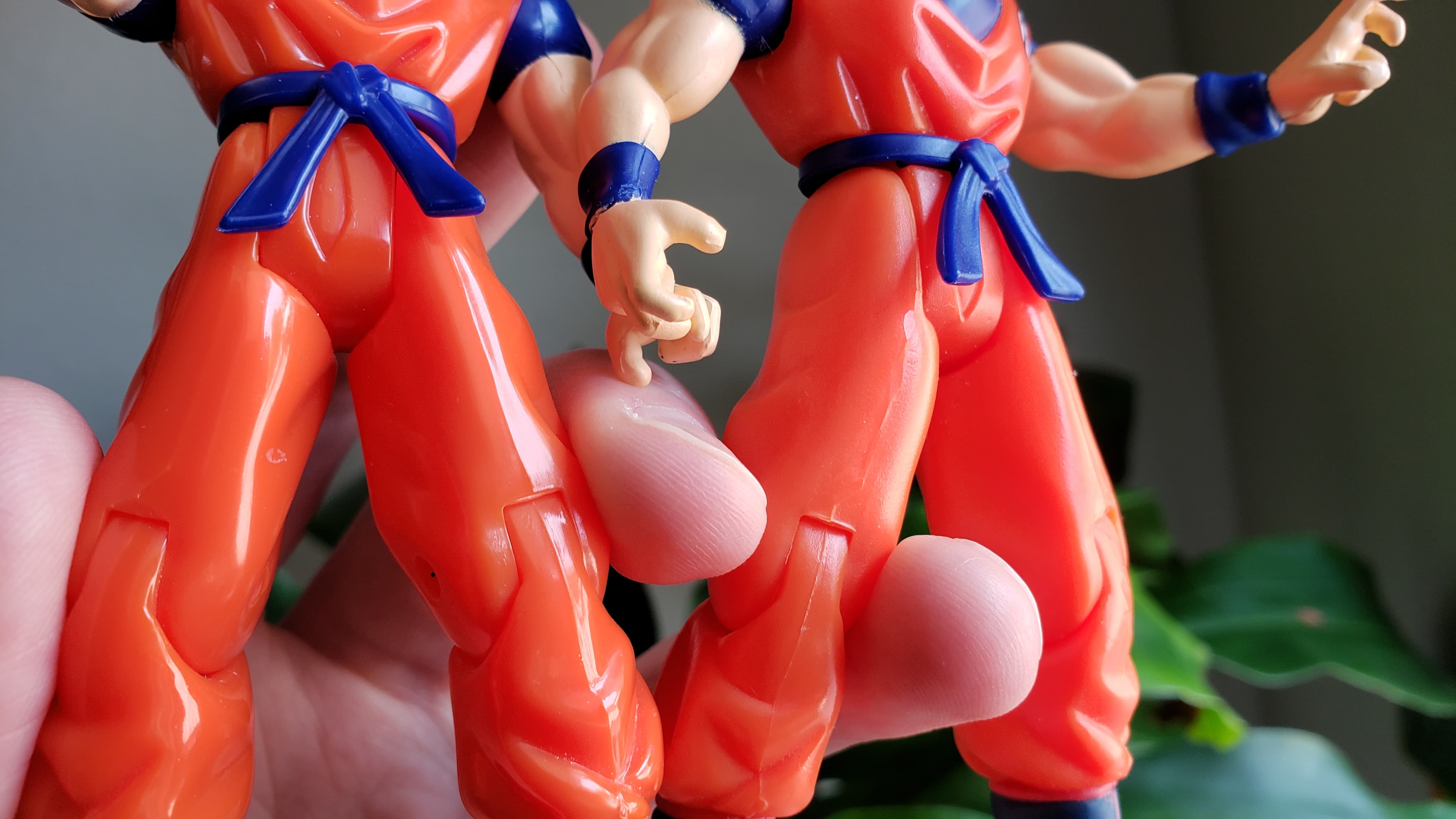 Just like the hand-painted prototypes... this figure (or these figures) weren't "Collect Them All Saga" figures either... but I'm getting to that...

Now I'll finally talk about "Collect Them All Saga" figures!

Disclaimer: I don't specifically collect these and never have. In fact, when they came out, I didn't care and I wasn't paying attention to them, because I already owned all of the original releases loose in my collection. Additionally, I have never been a "variant" collector. Hopefully someone here will volunteer some additional history and information someday. A lot of what I have to offer is speculation.

Some time later... what looked like production leftovers started popping up for sale from various sellers on ebay. These figures were sold primarily in plastic baggies. The thing that was odd about these is that Dende was always missing his vest and Dr. Gero was almost always missing his hat. These "left over" figures were common and easy to find. In fact, this photo I am sharing below is from August 26, 2008... over 5 years after Irwin went bankrupt. Literally nothing was wrong with any of these figures. They were identical (in every way? Some might be glossy instead of matte or vice-versa) to the packaged versions and were NOT production rejects (they were not defective). They were official Irwin Toy figures never put into commercial packaging.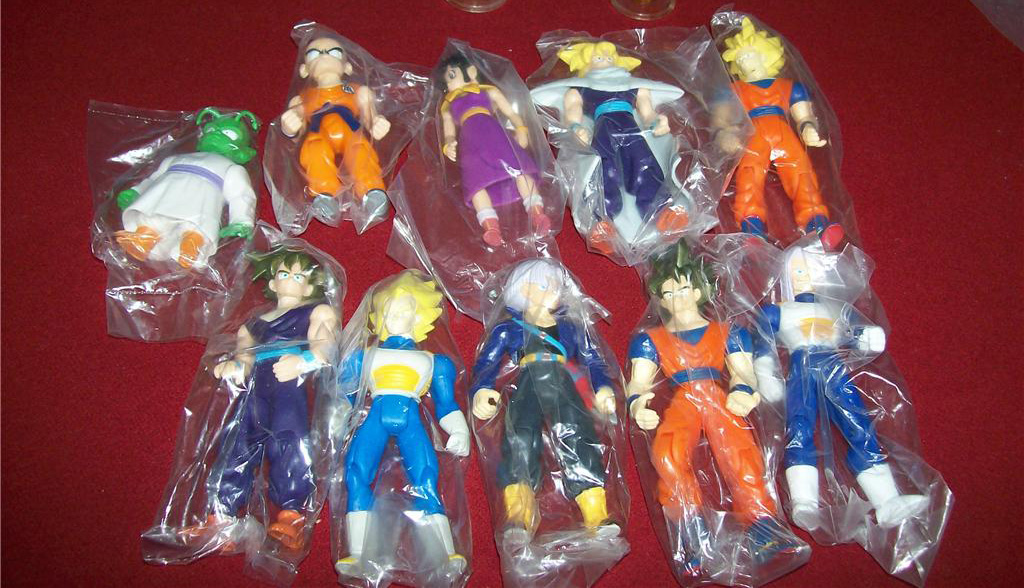 These left over figures were so wide-spread that in 2014, I saw a seller in Taiwan selling them in some kind of custom packaging... as well as loose. I think these pictures are from Ebay, but I'm not sure. I just know I saved them on September 4, 2014 after (I think) doomprevails88 showed me a link. Oddly enough (and completely unrelated...) this seller was trying to sell some of them with bootleg HG figures.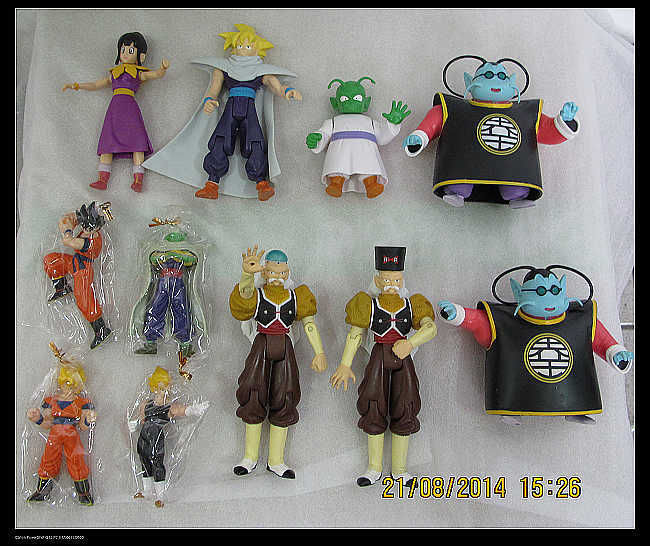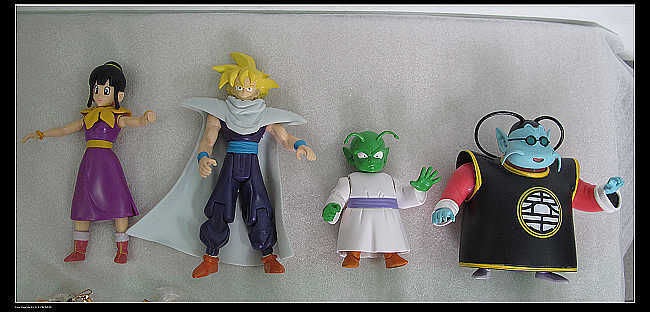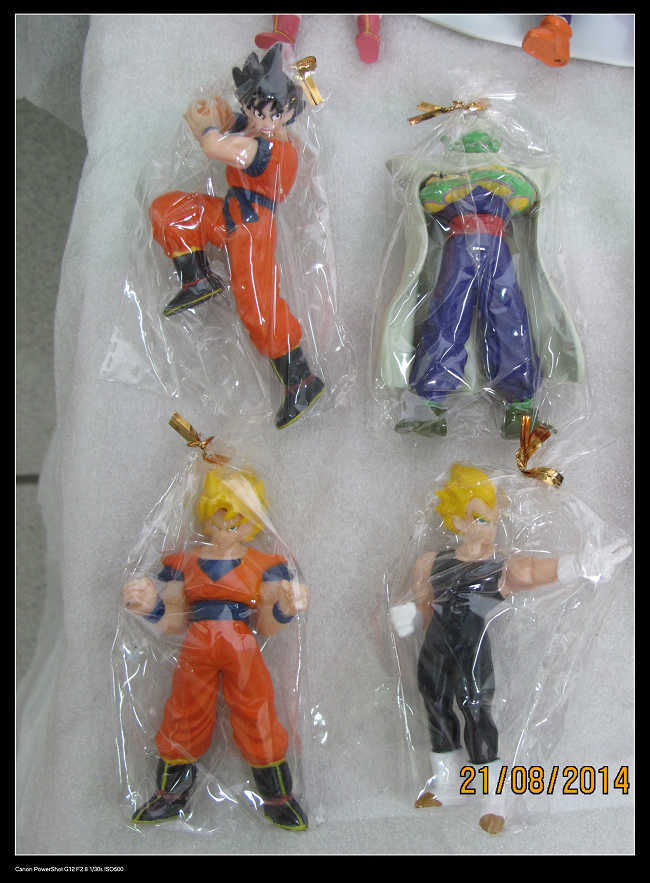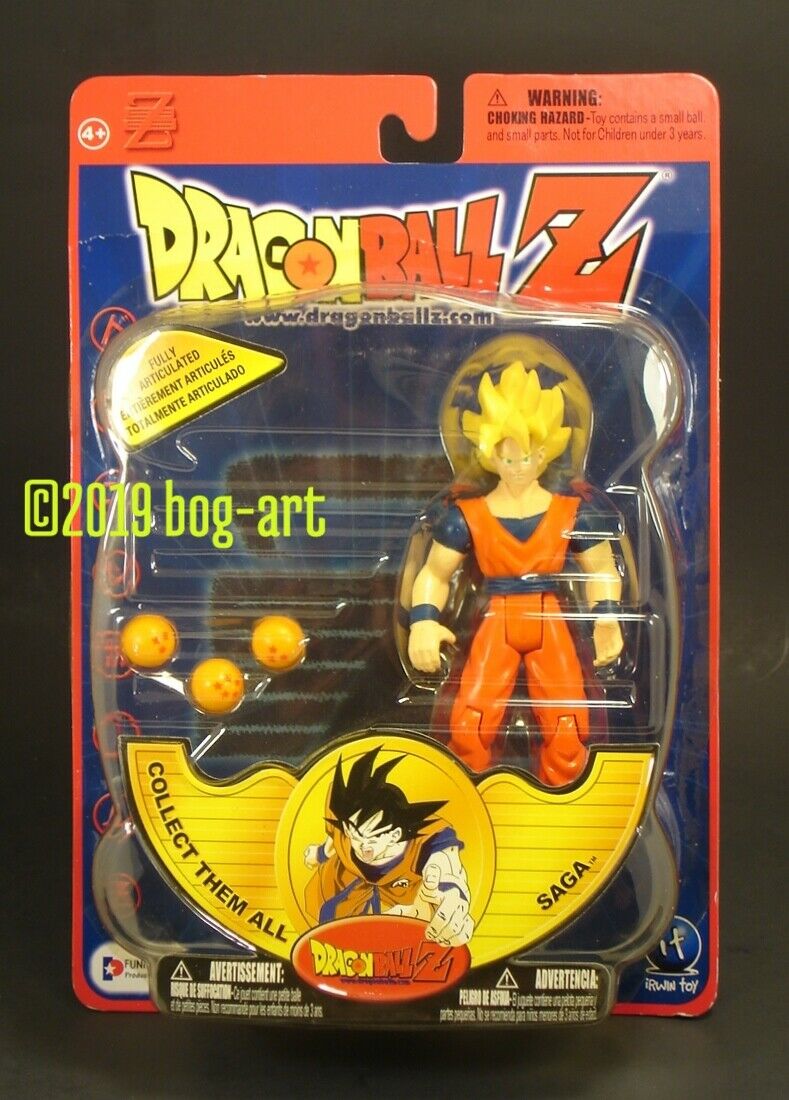 I believe this happened during 2004 or 2005 during a time period I was focused heavily on college and trying to make money to pay rent... so I don't have a good idea of exactly when these started showing up on ebay. I don't have any pictures of any of these on my hard drives from that time period. The Irwin package insert was weird, because the package insert said "COLLECT THEM ALL" on the left and "SAGA" on the right. To my knowledge, every single one of these package inserts says the character's name is Chi-Chi Asst on the bottom.

The cardboard backings were all legitimate.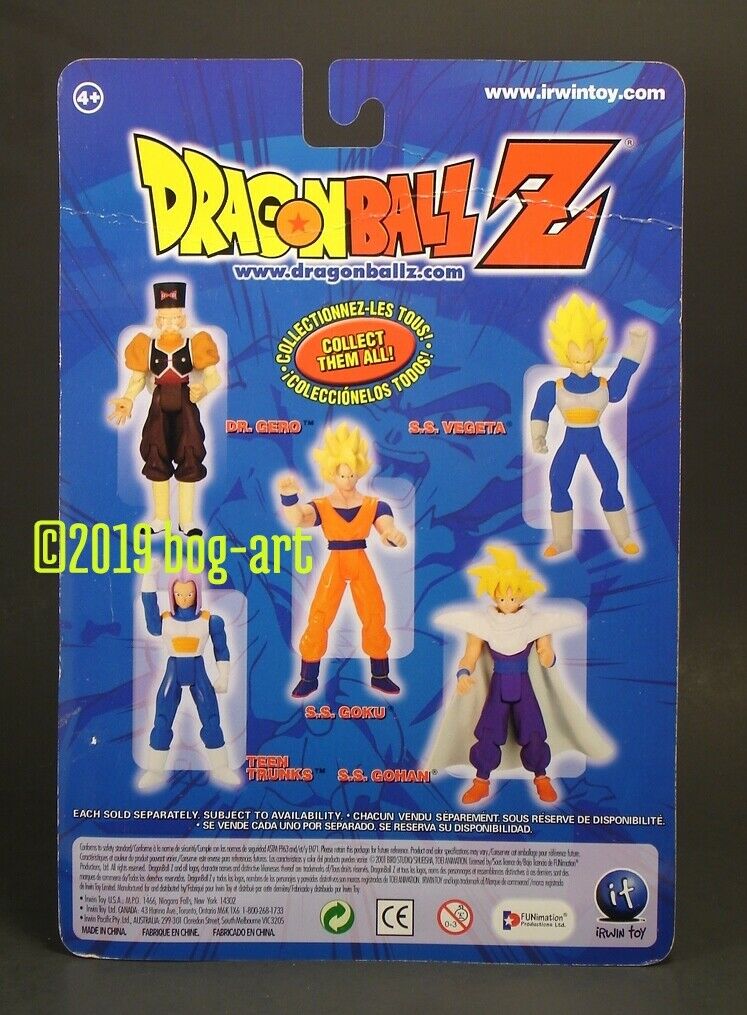 Most of them were identical to common Series 3 and 5 Irwin figures, but some of them looked like figures that were exclusive to vehicle playsets, because gold haired Super Saiyans were never released outside of vehicle playsets. Some of them might even be different from the figures released with vehicle playsets... as this SS Goku looks to have a gloss coating on his orange clothing. We'll need to hear from someone who actually owns these to know for sure...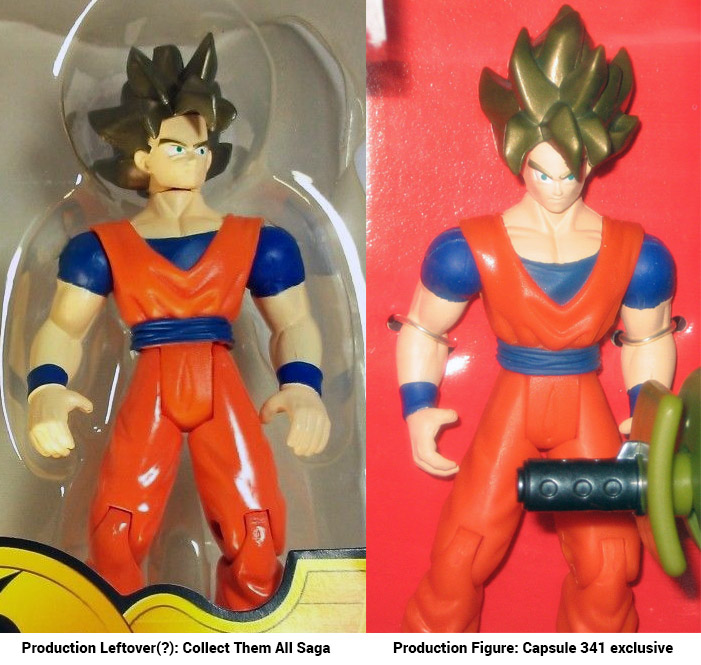 The two gold haired figures and the metallic Trunks are probably particularly interesting to collectors who keep their figures in the package, because these three figures never appeared in individual packages like this, so they are very unique.
As far as rarity is concerned, I don't know for sure, but I would suspect King Kai, Dr. Gero, and Future Trunks with his sword are a bit rarer than the others... or they might just be less celebrated and collected, as I haven't seen many photos of them. Conversely, the gold haired SS Goku and SS Gohan as well as the metallic Trunks may be less rare, or just more celebrated. It's hard to guess.


I've never heard anyone claim to know the facts about these, but the speculation most of us seem to agree on is that the figures were likely leftovers from over-production of Series 3 and 5, and that the factory wanted to get rid of them to make some money back. So they used left-over cardboard backgrounds they already had, and they designed a slightly different package insert that happens to claim the character is Chi-Chi. I believe I've seen people say that they purchased these from sellers in China or Hong Kong, but I can't find any of those old conversations to prove they said that.

We'd have to hear from someone who worked for Irwin Toy to know for sure, and so far, I don't know of anyone coming out and saying anything.

Checklist
All of the characters seem to be from Irwin Series 3, Series 5, and Vehicle Playsets. This list may not be complete, but I think it is... there's a total of 13.

- King Kai
- Chi Chi
- Future Trunks
- Krillin
- Dende


- SS Vegeta
- SS Goku
- SS Gohan
- Dr. Gero
- Future Trunks in armor

- Vehicle exclusive gold haired SS Goku
- Vehicle exclusive gold haired SS Gohan
- Vehicle exclusive Future Trunks in armor with metallic blue paint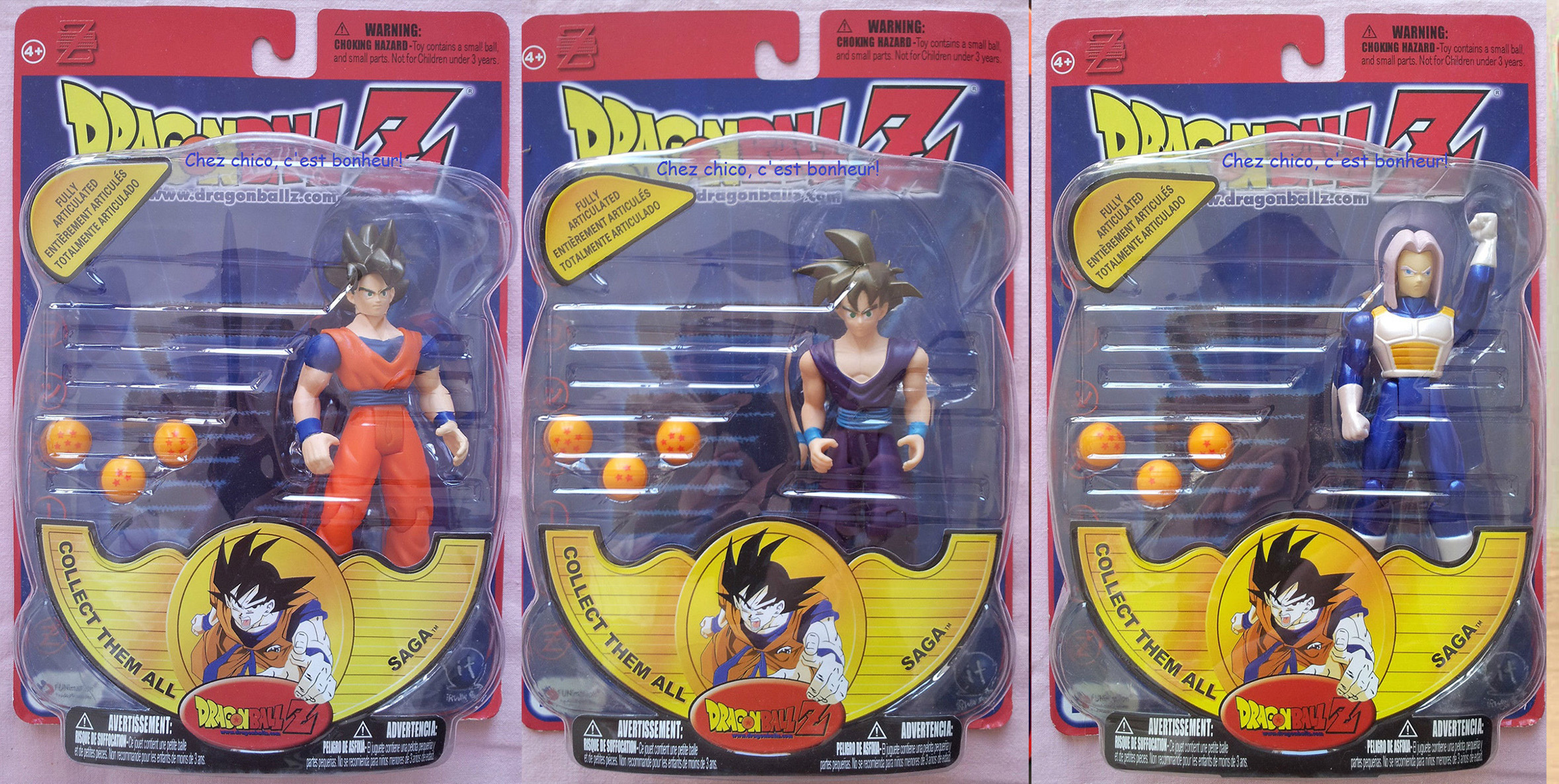 These last three were never released any other way on individual packages like this, so they are quite special and can extend a Mint on Card collection of Irwin figures.

Bootlegs
Yes, there are bootlegs of this line, surprisingly. The bootlegs say "Collect Them All" without the word "Saga" and contain a low quality bootleg of a Super Battle Collection figure.

The cardboard background looks very similar to a legitimate Irwin cardboard, but lacks some details.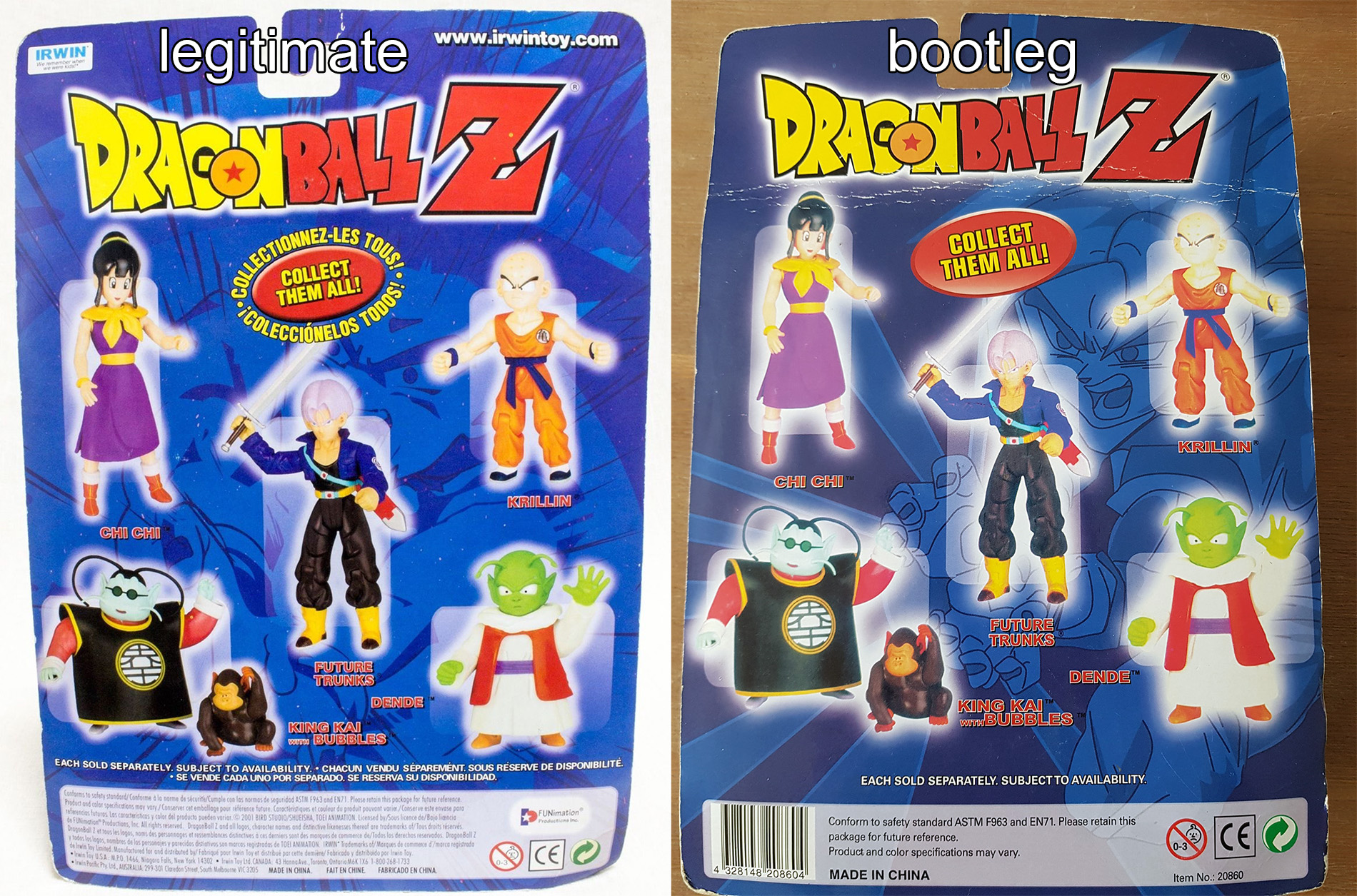 Here's a sample of the bootlegs I've seen. All are SBC bootlegs.