Post by Branjita on Jul 25, 2021 13:22:27 GMT -6
Backstory

I have to be honest, I was so excited when I saw the promotional images of these a few weeks ago. When I saw that they were being found at some Target stores throughout the US, I started checking my two nearest Targets twice a week. I even started checking other ones further away. Most Targets are either sold out of DB Evolve figures entirely right now, or they only have Jiren left. Why Jiren? I have no idea. He's a great figure. Well, I checked two Target stores yesterday, one in Richardson, TX that didn't have any Evolve figures left, and another in Garland, TX, and that one had 4 figures--all three of these new series 3 figures, plus an extra Ultra Instinct Sign Goku. I was so happy! I couldn't believe my luck--I even thought that there was no way there could possibly be a SS Trunks there, but lo and behold... he was the 4th figure on the peg for $9.99 plus tax.
Let's start the review!
Packaging

First of all, the packaging is fantastic just as always. The colors are new, so each series/wave is distinct. I really like this.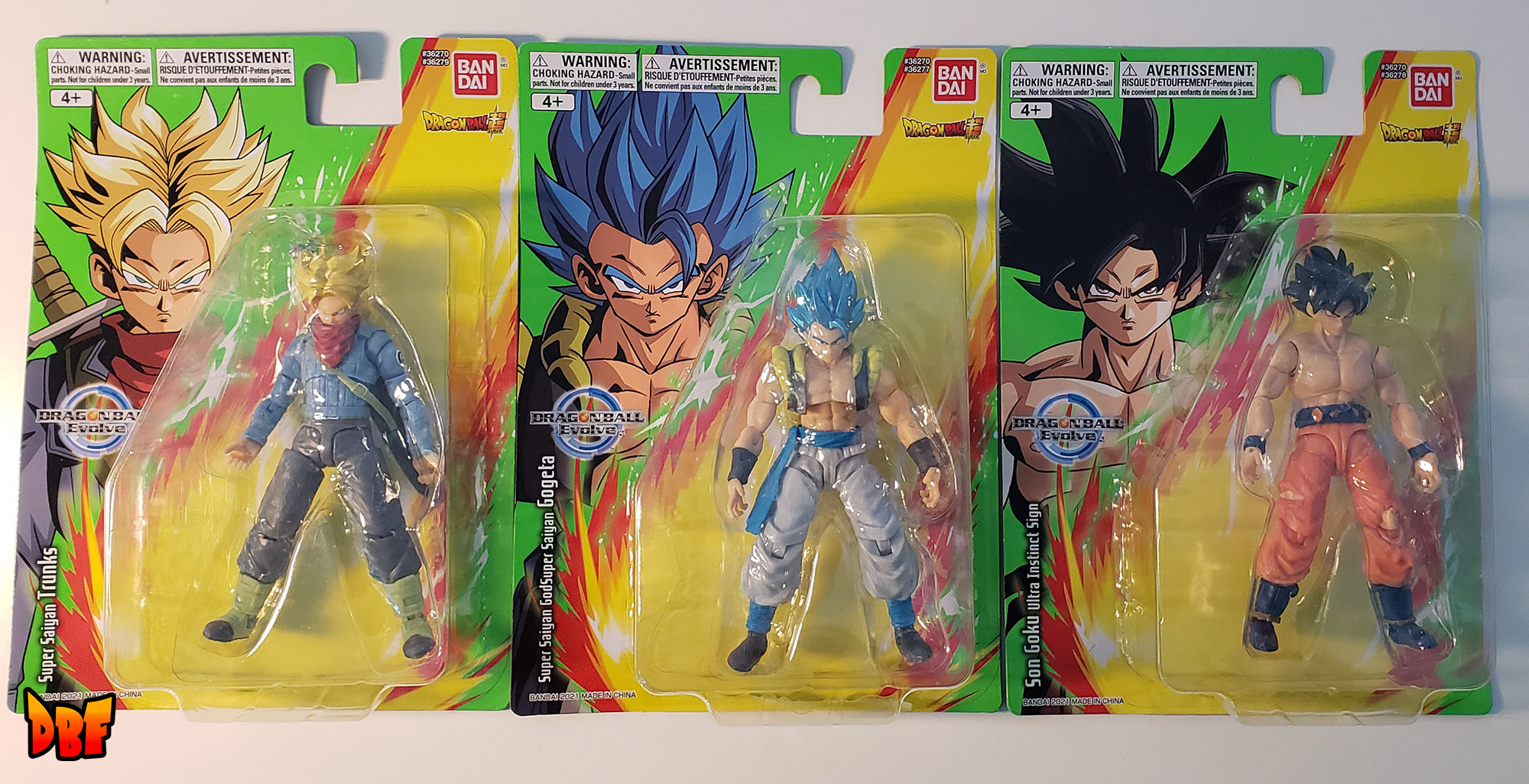 I like to keep packaging, and the unique design of each one of these makes them practically like trading cards... I love it. It reminds me of collecting ToyBiz X-men figures in the 1990s. It's so cool.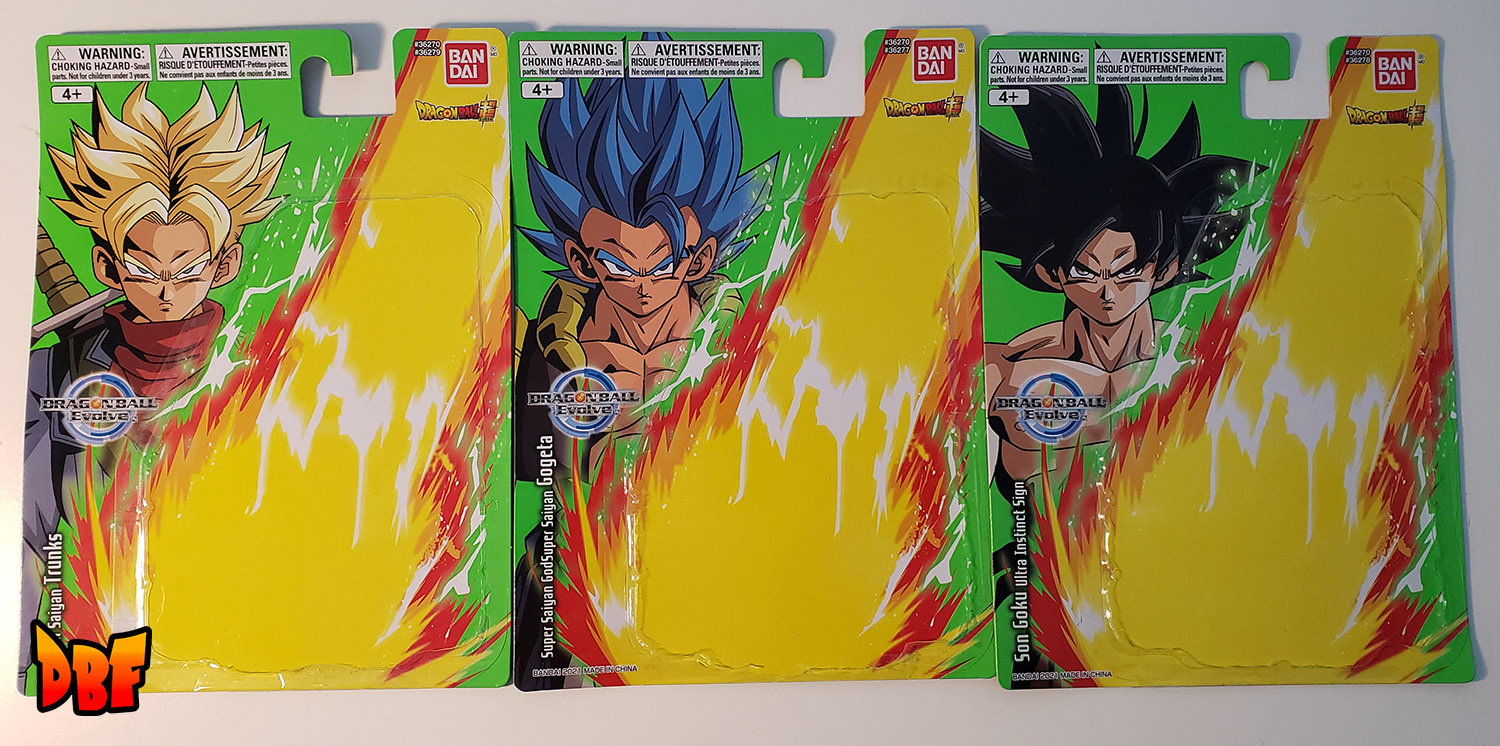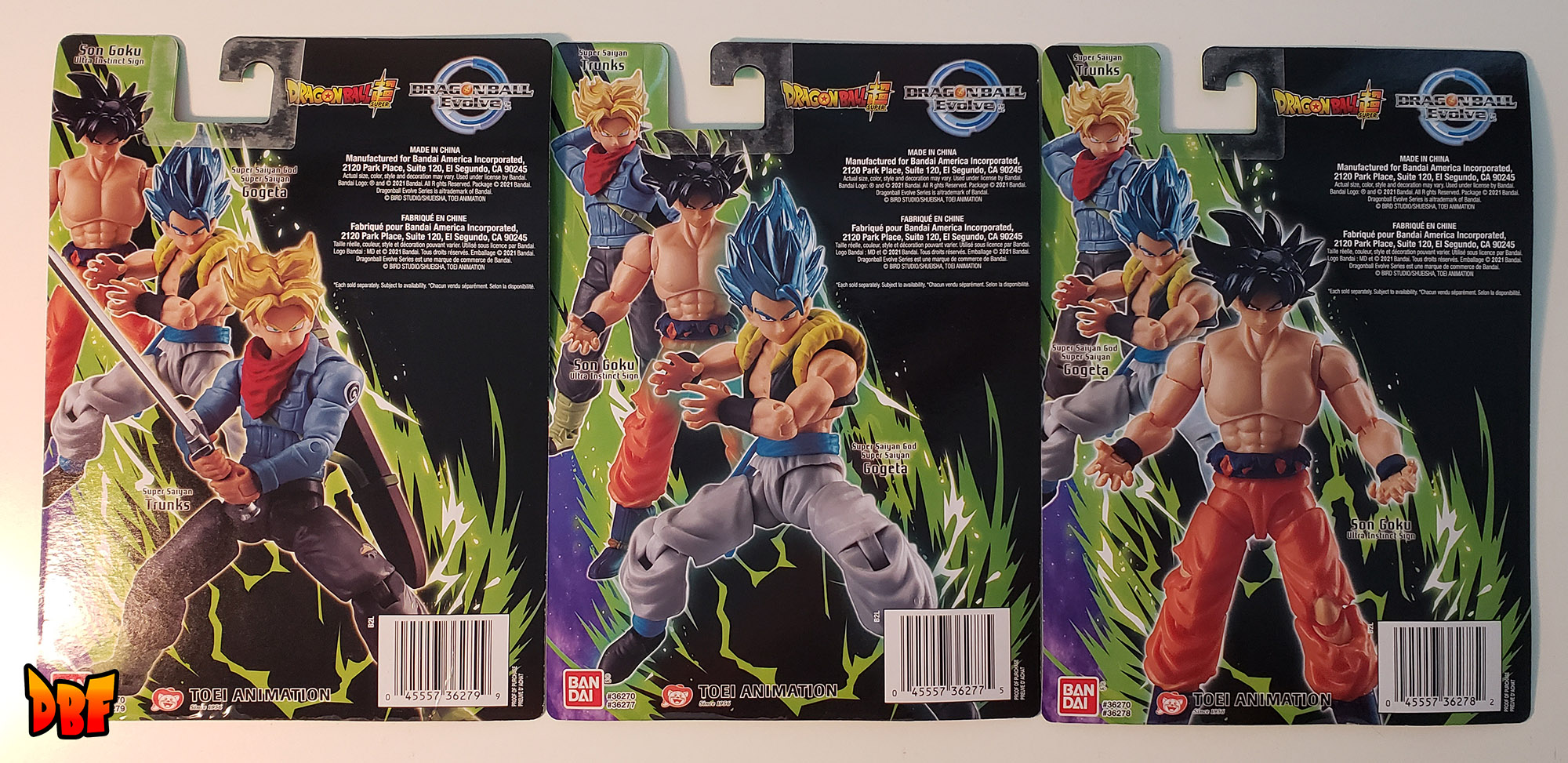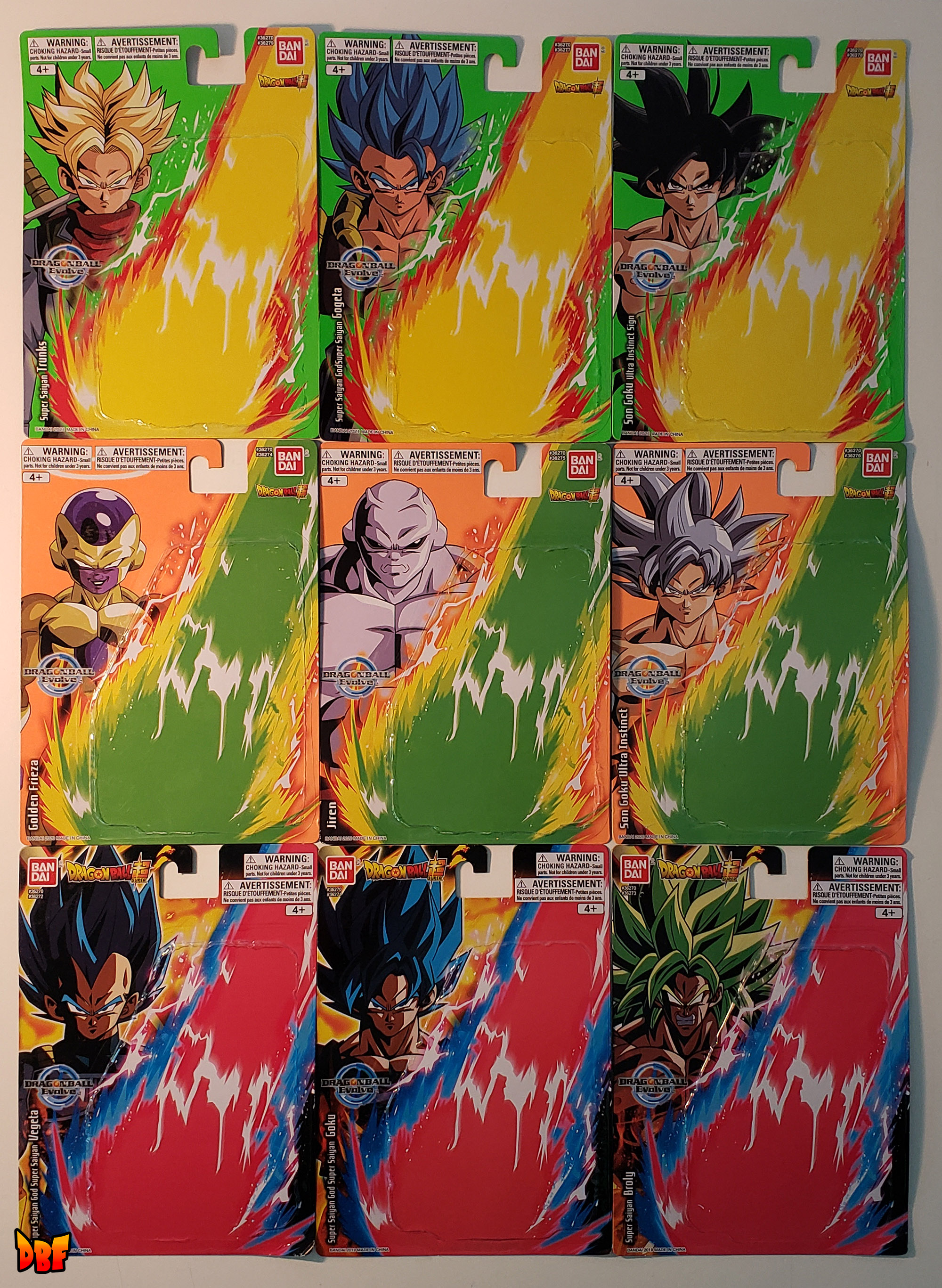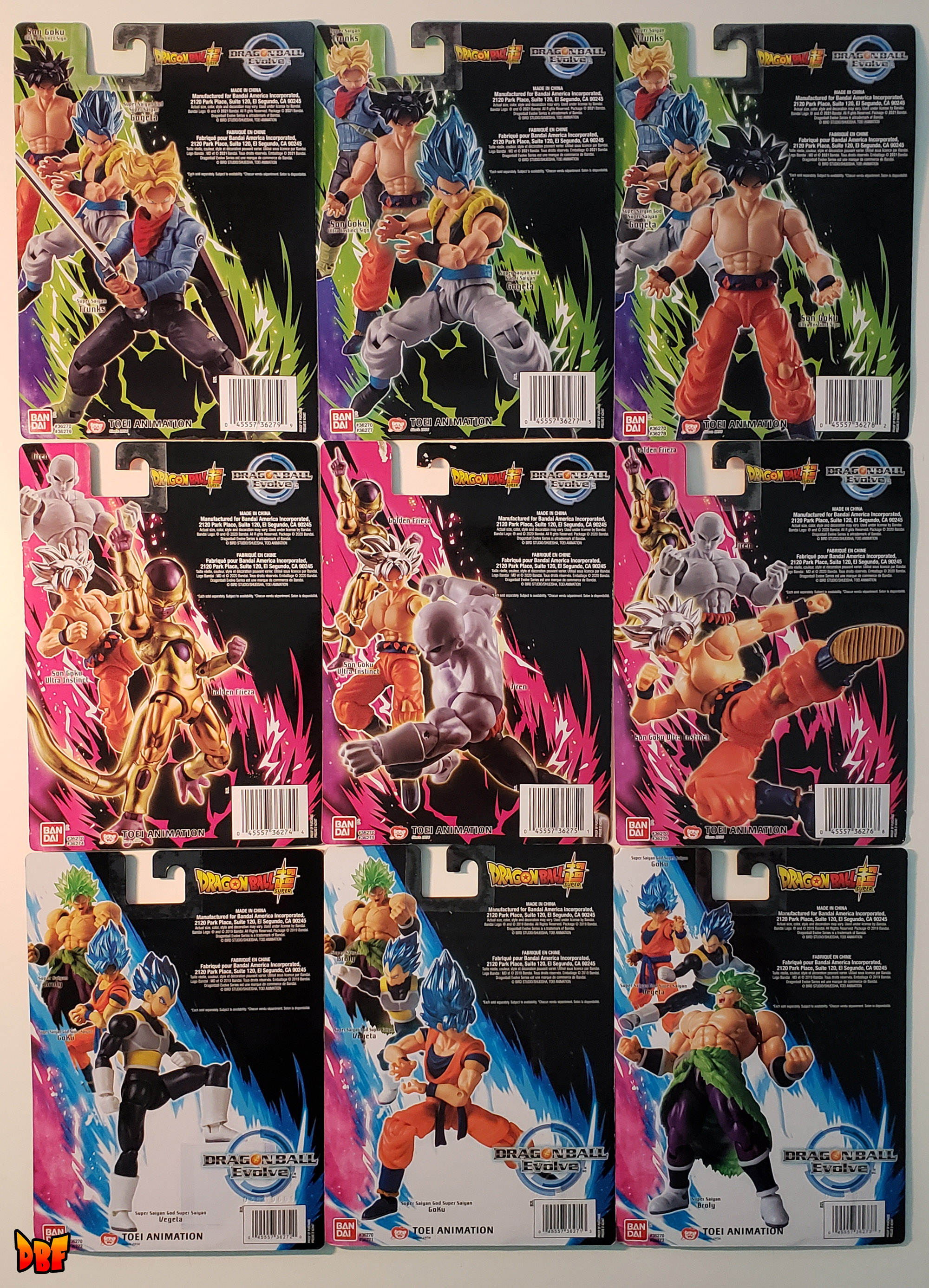 After the bad experience I had with Golden Frieza last time (his head was stuck and the peg twisted off when I twisted his head), the first thing I did was put these figures in a sink full of hot water so the plastic would loosen up. This also helped get a little bit of the production smell/oil off the figures as well. I don't recall the previous 2 series of figures smelling like a Hot Wheels car fresh out of the package, but these definitely have that smell. Anyway, please excuse any water you see in the pics, as I didn't dry the figures very thoroughly.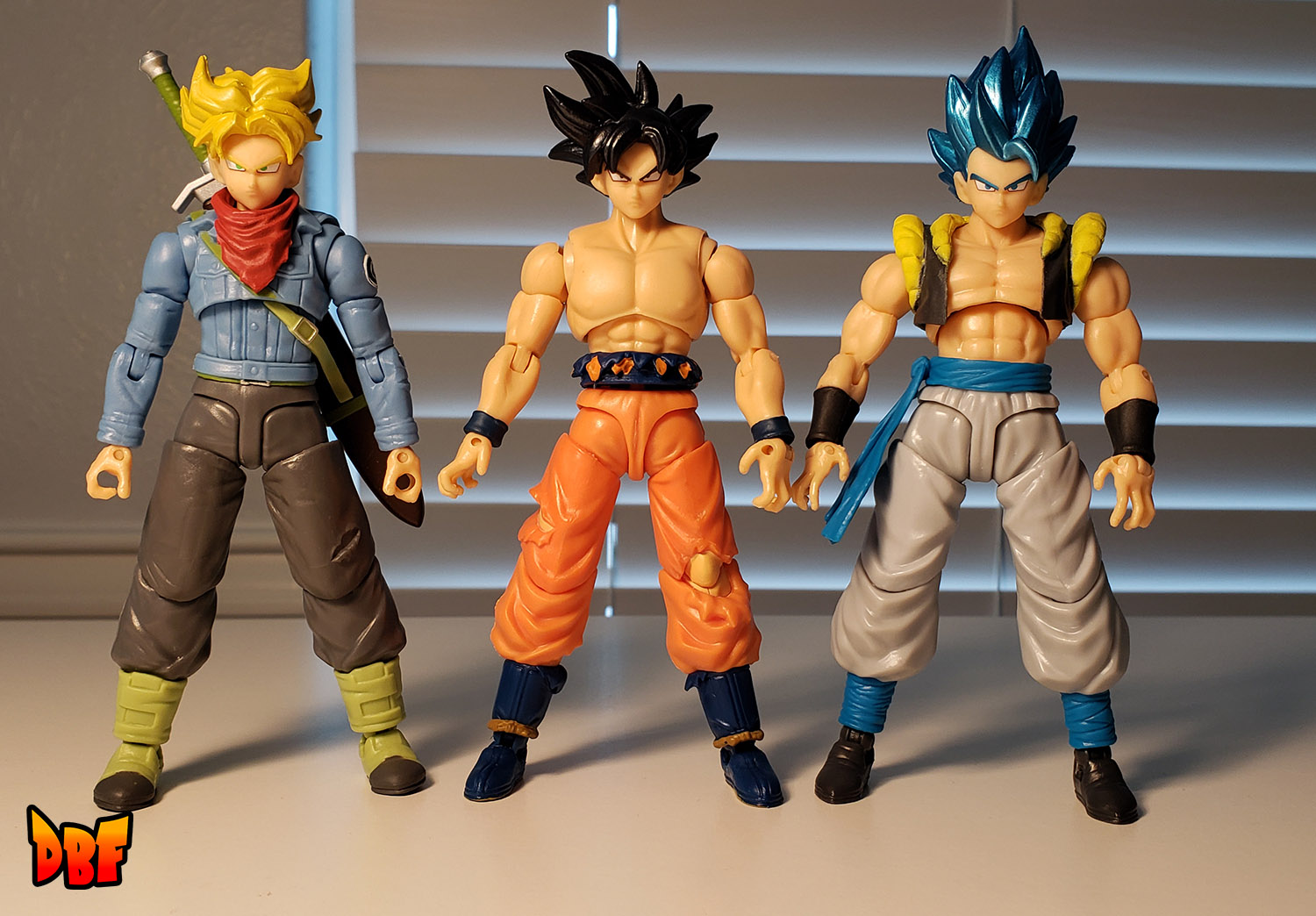 Comparisons with other 5 inch scale figures
First of all, the UI Sign Goku is identical to the series 2 UI Goku. He's a repaint with different hands. I don't know if all of the series 3 UI Sign Gokus have their belt like this, but the reason the belt looks like a different sculpt is because it is on backwards from my silver haired UI Goku. You can pop the torso off the waist and turn it if you want to make him match the other one. I kind of like how it gives the series 3 figure a unique look though. At first I was really bummed out that he was just a repaint... but... keep reading, because I'll talk about that.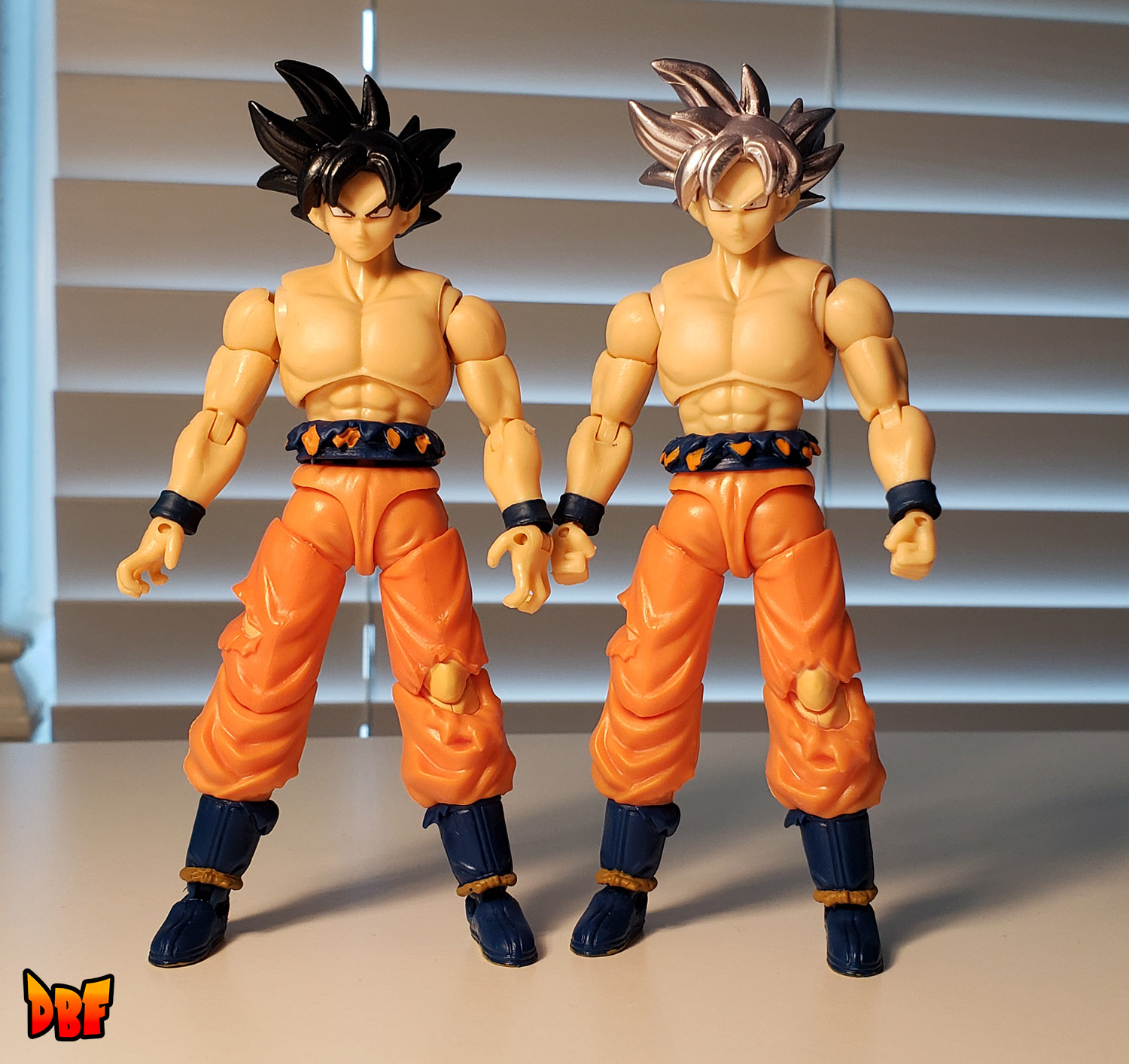 Here's both DB Evolve UI Gokus with Bandai Super Battle Collection SS Goku and Irwin Angel Goku.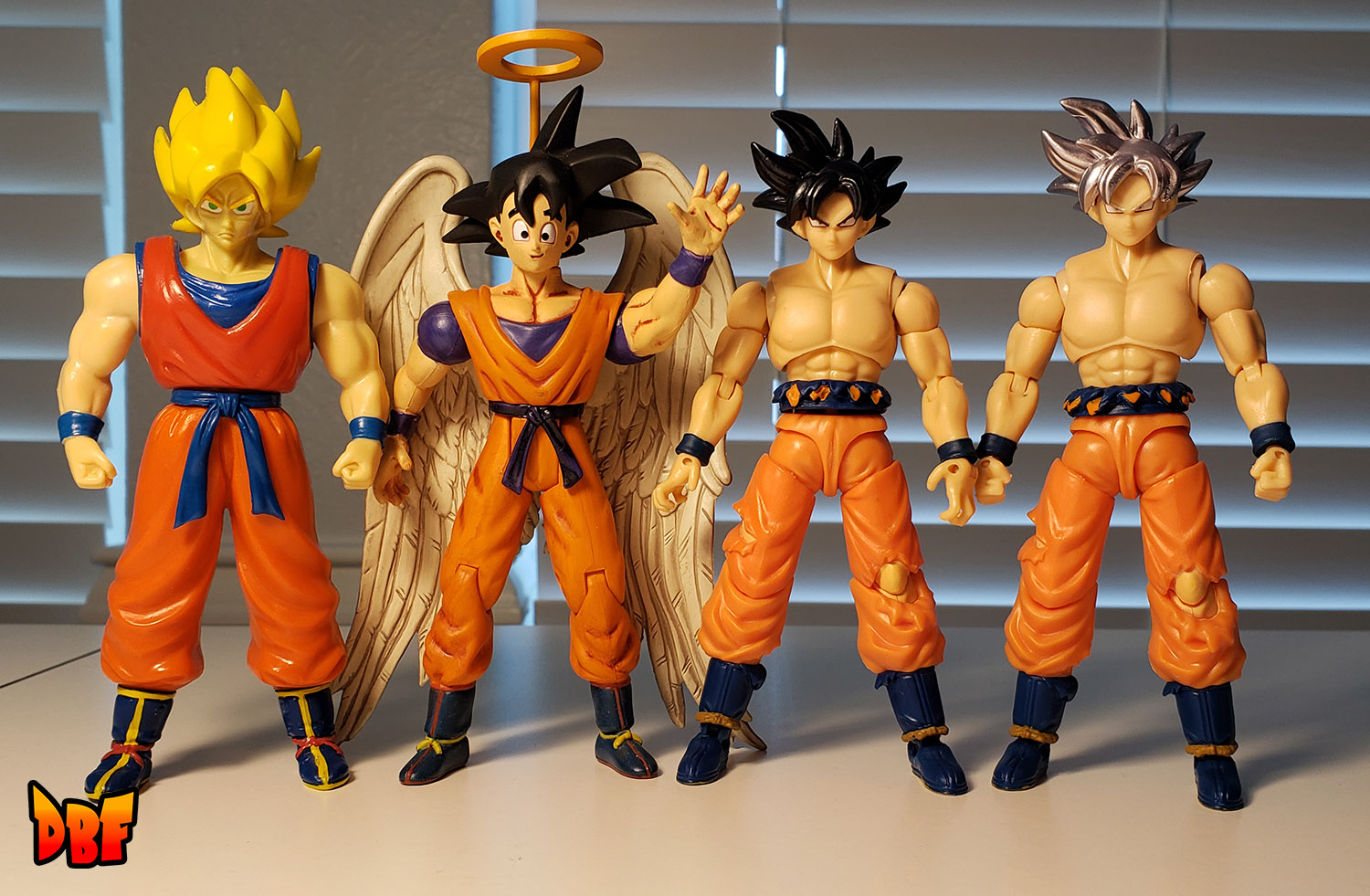 DB Evolve SS Trunks with Irwin SS Future Trunks and Bandai Super Battle Collection Future Trunks.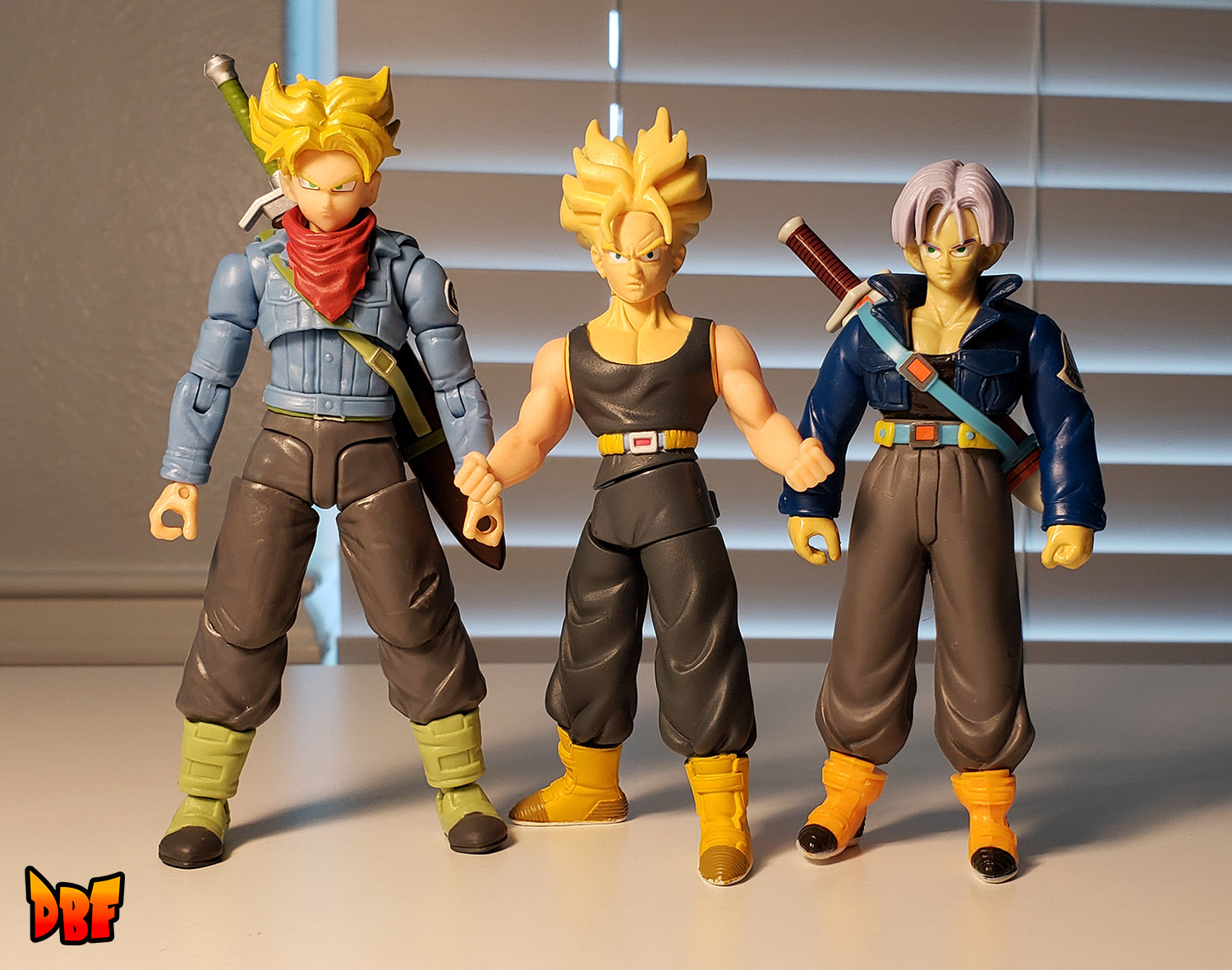 Bandai Ultimate Figure Series SS Gogeta with a Figuarts SSB Gogeta head next to DB Evolve SSB Gogeta (with his head slightly pulled off its natural position).
(The Bandai Super Battle Collection SS Gogeta is much taller than either of these, so I no longer own him--I didn't like him.)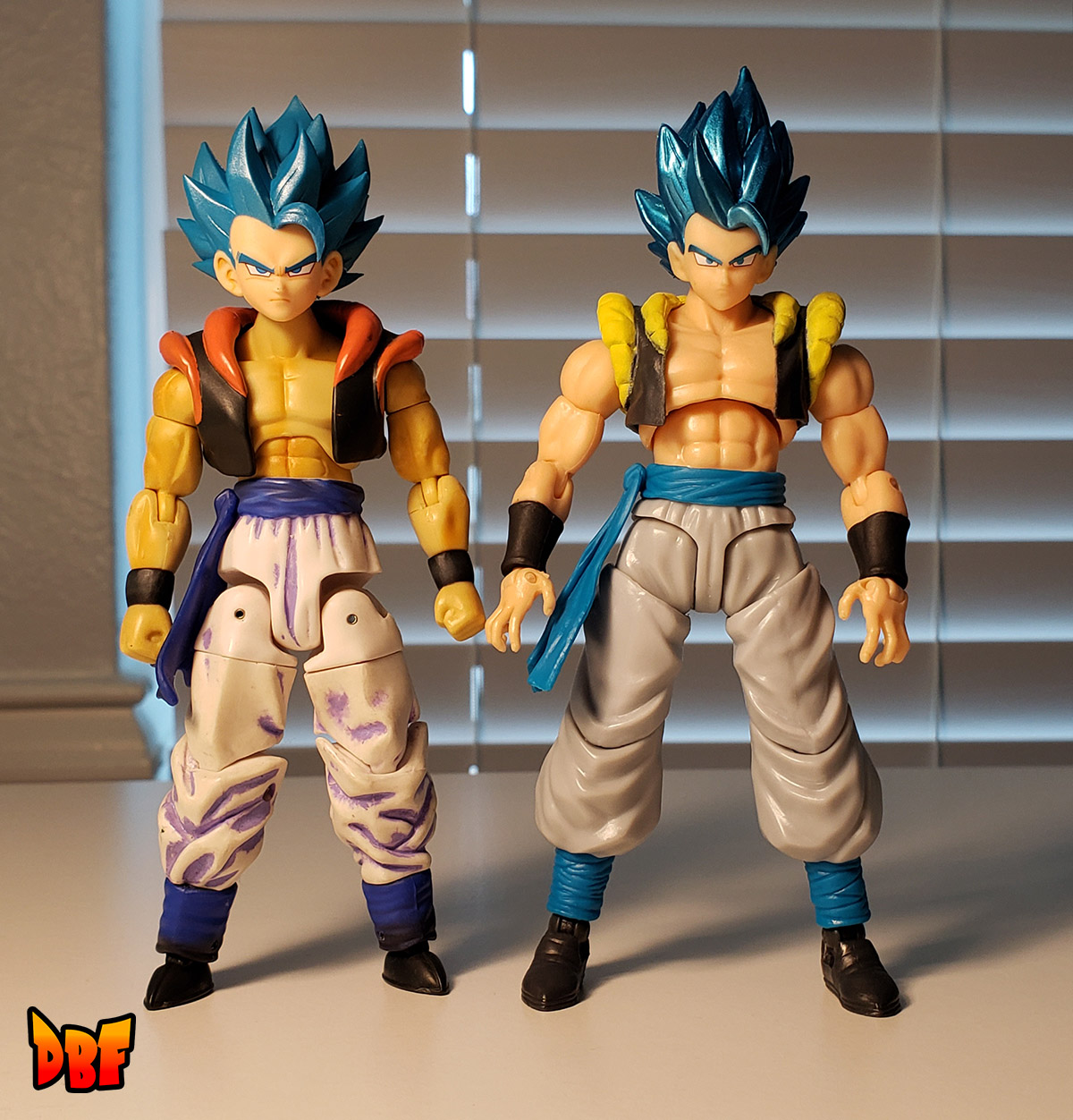 SSB Gogeta
This figure is great. I have been annoyed and wanting a great 5 inch scale Gogeta for over 20 years! This is finally nearly everything I could have hoped for.
Gogeta in the Janemba movie is slightly smaller character than Goku. His appearance is dominated by Vegeta (while Vegito's appearance is dominated by Goku, which is why Vegito is slightly larger than Goku, and fairly significantly larger than Gogeta). So in a perfect world... Gogeta figures would be slightly smaller than Goku figures. With that said, I never paid attention to this in the 2018 Broly movie, so I don't know if SSB Gogeta is smaller than Goku or not. Regardless, this one is basically identical in size to the UI Goku figure... EXCEPT... he has a shorter neck.
The short neck on this figure is certainly a bit of a flaw. It's only around 1mm too short, but it does make Gogeta look a bit... neckless. You can pull Gogeta's head off and barely insert it on the ball joint to somewhat "fake" his neck being longer, but this is something customizers are probably all going to fix, by cutting the peg off the neck, putting a tiny piece of plastic underneath it, and gluing the peg back onto the neck. I know I'll be doing that eventually.

In most of the photos below, I have his head fully attached to the neck peg. Scroll up to see what it looks like slightly pulled off the peg.
As far as his appearance goes... other than the short neck... I think he's basically perfect. I don't recognize any particular details missing paint or any significant sculpt problems. His colors are great and he has metallic blue hair that looks perfect.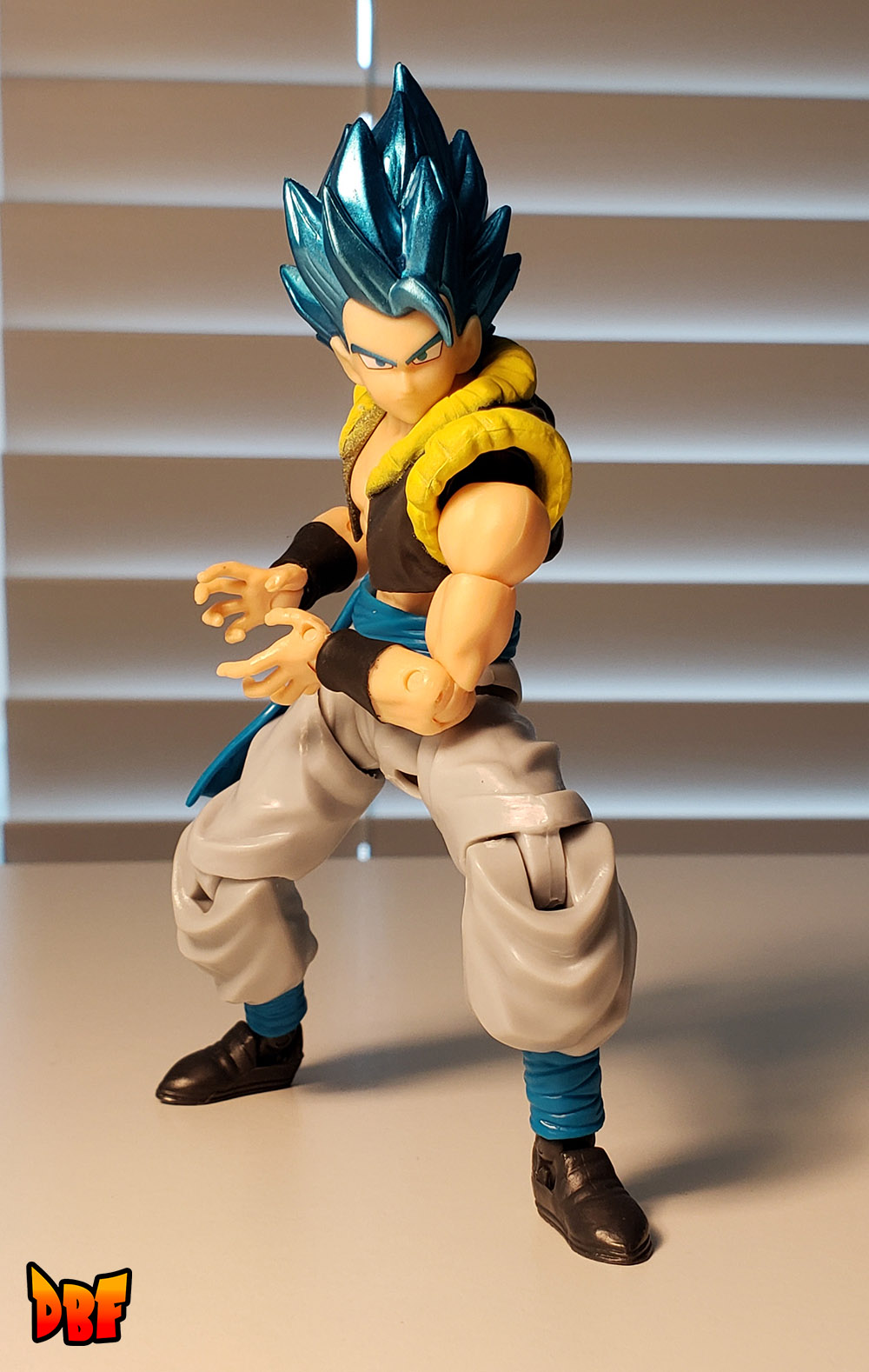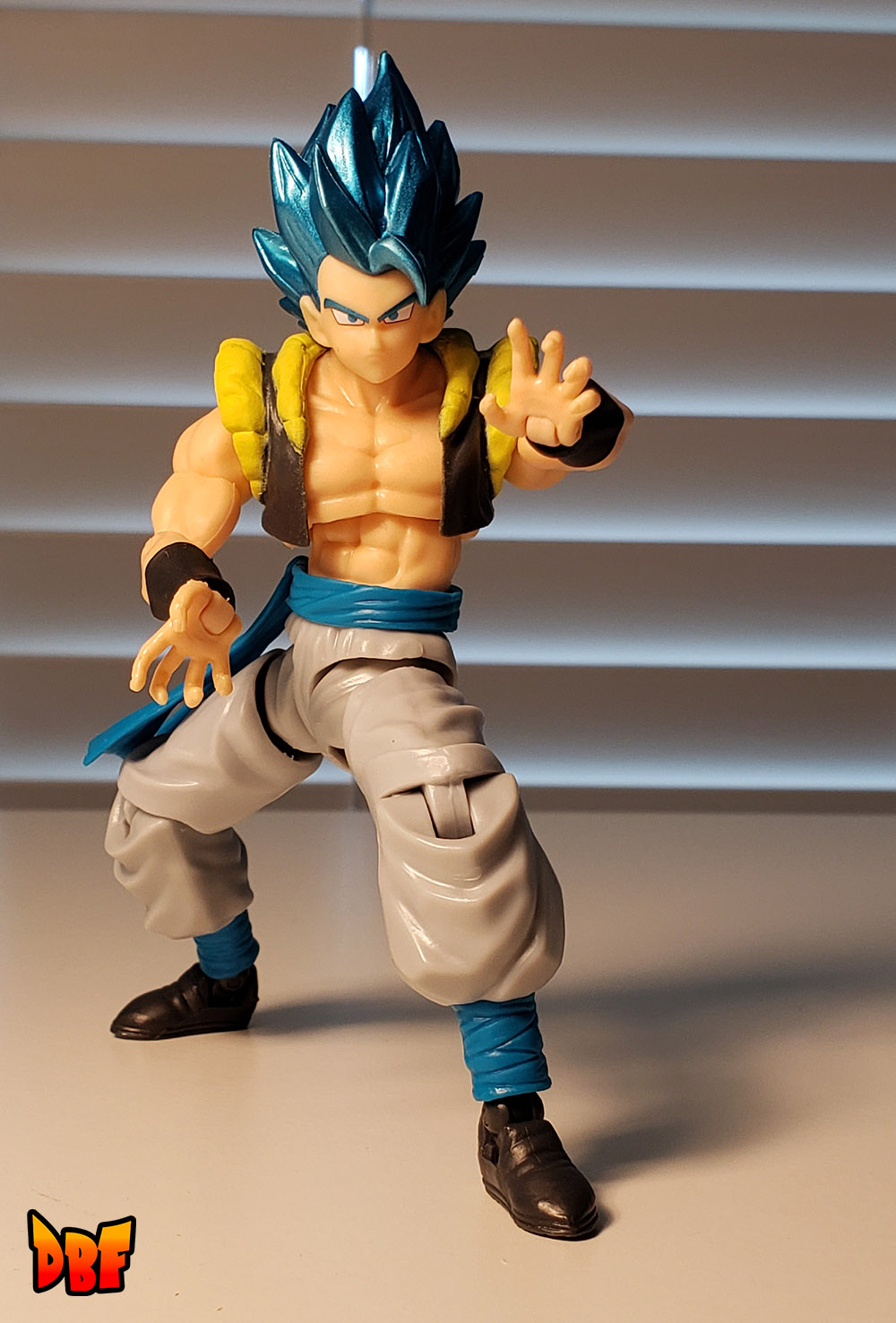 He's pretty flexible and can do a pretty good "charging Kamehameha" pose. He doesn't do as good as a "throwing Kamehameha" pose though, because his shoulder width plus vest prevent him from being able to get his arms that close together. His vest is removable, and underneath it you'll find good engineering. He has a very narrow chest with very long shoulder pegs. His "cups" are black to match the vest.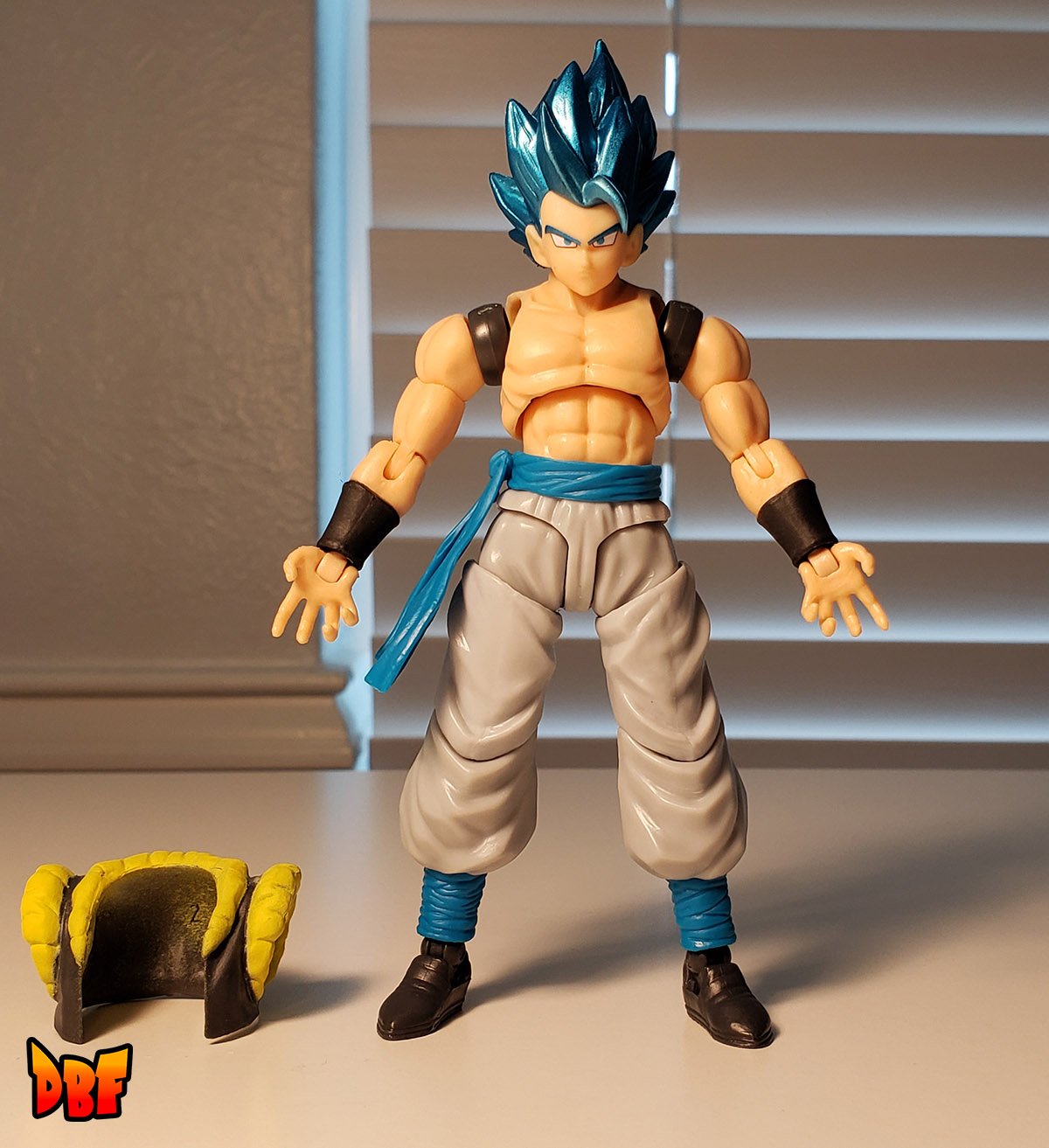 For those who are curious, the UFS vest does fit him very well. I don't see a particular reason to put this on him, as the other vest would be easy to repaint. The other vest doesn't fit the UFS body, or at least won't fit it easily.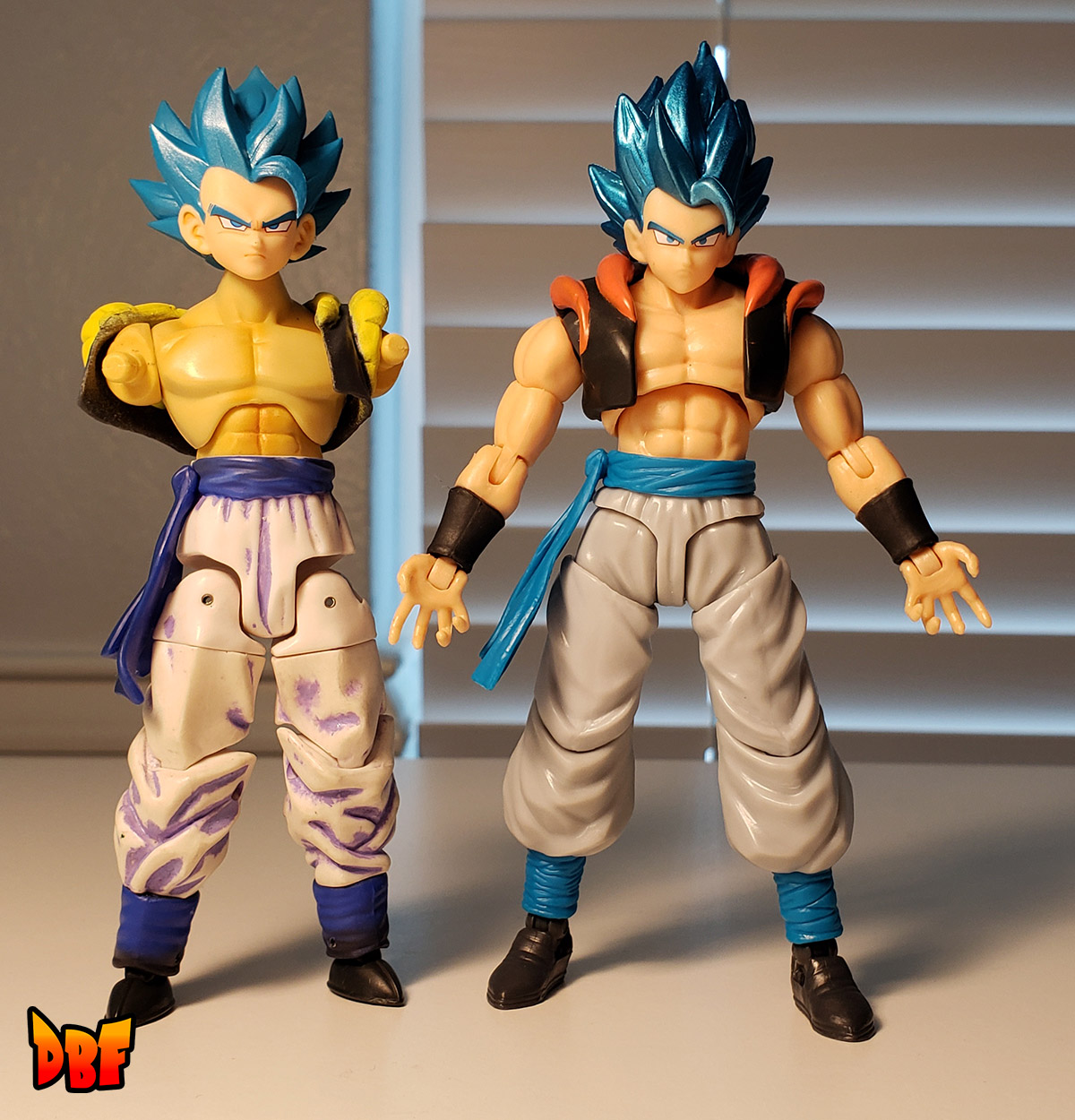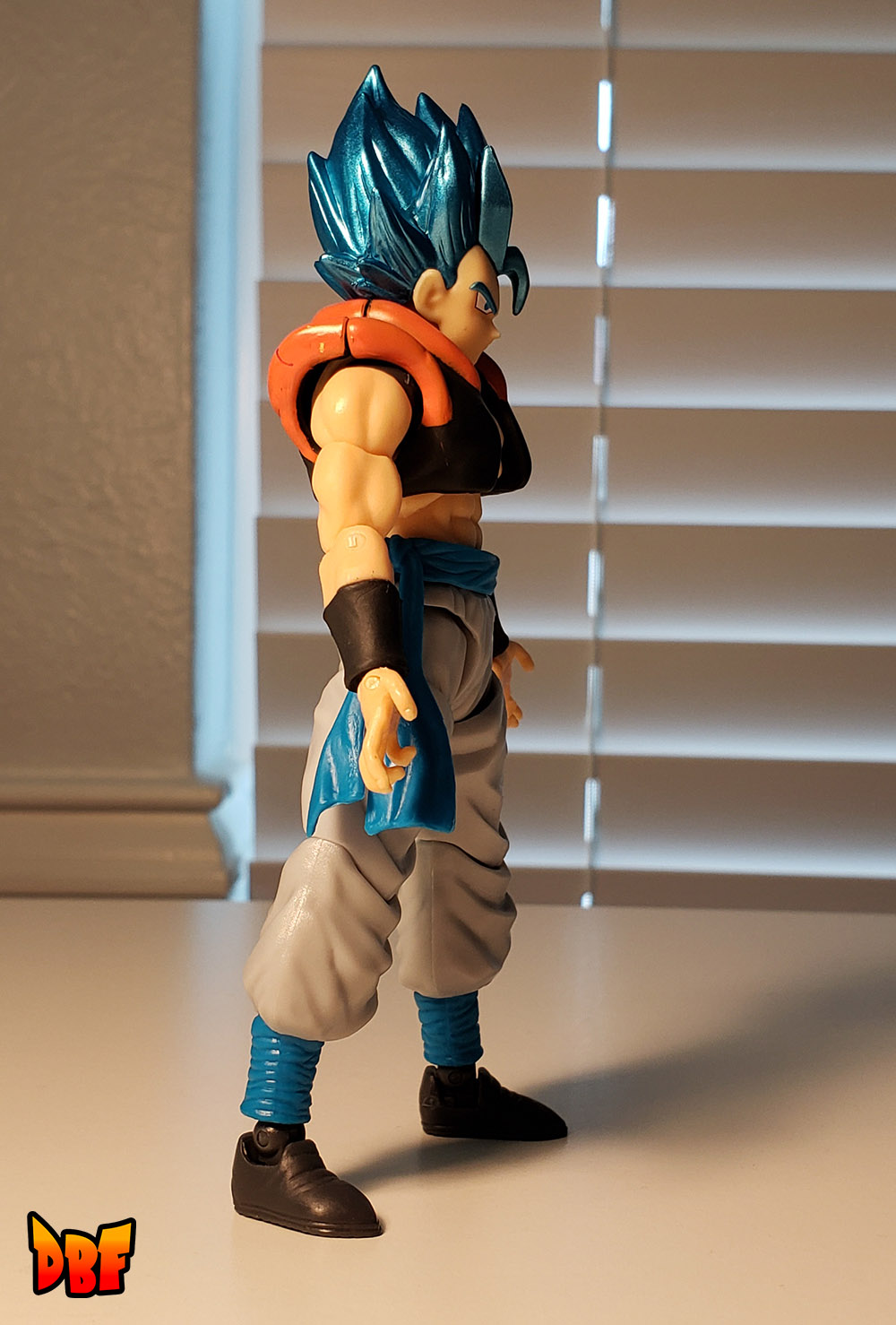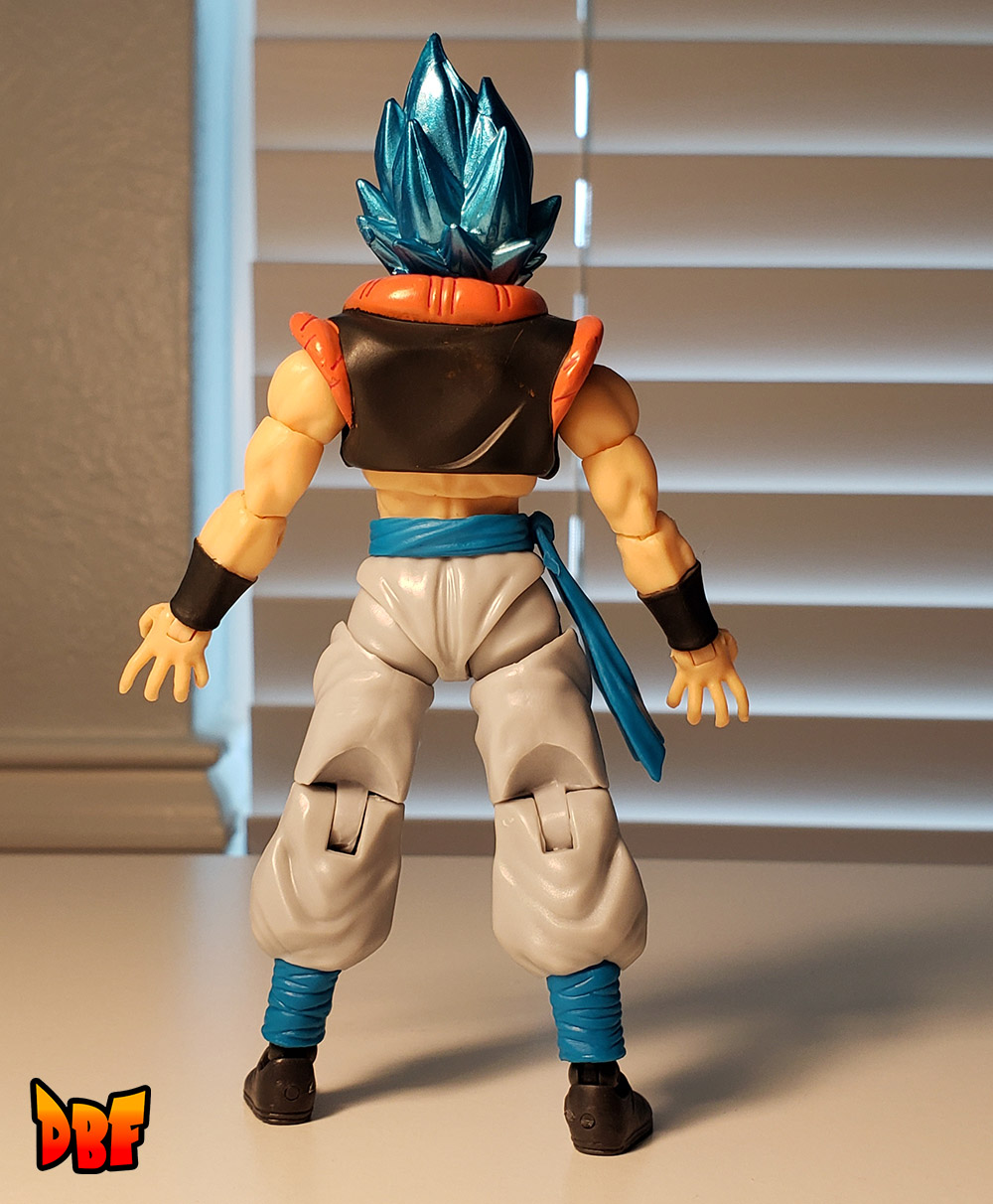 Since this line of figures is finally getting enough characters in it to make customizing interesting, my curiosity made me want to investigate some things. Here's Gogeta with UI Goku's arm "cups". (The shoulder pegs are too long to make this look natural, so this isn't a good look).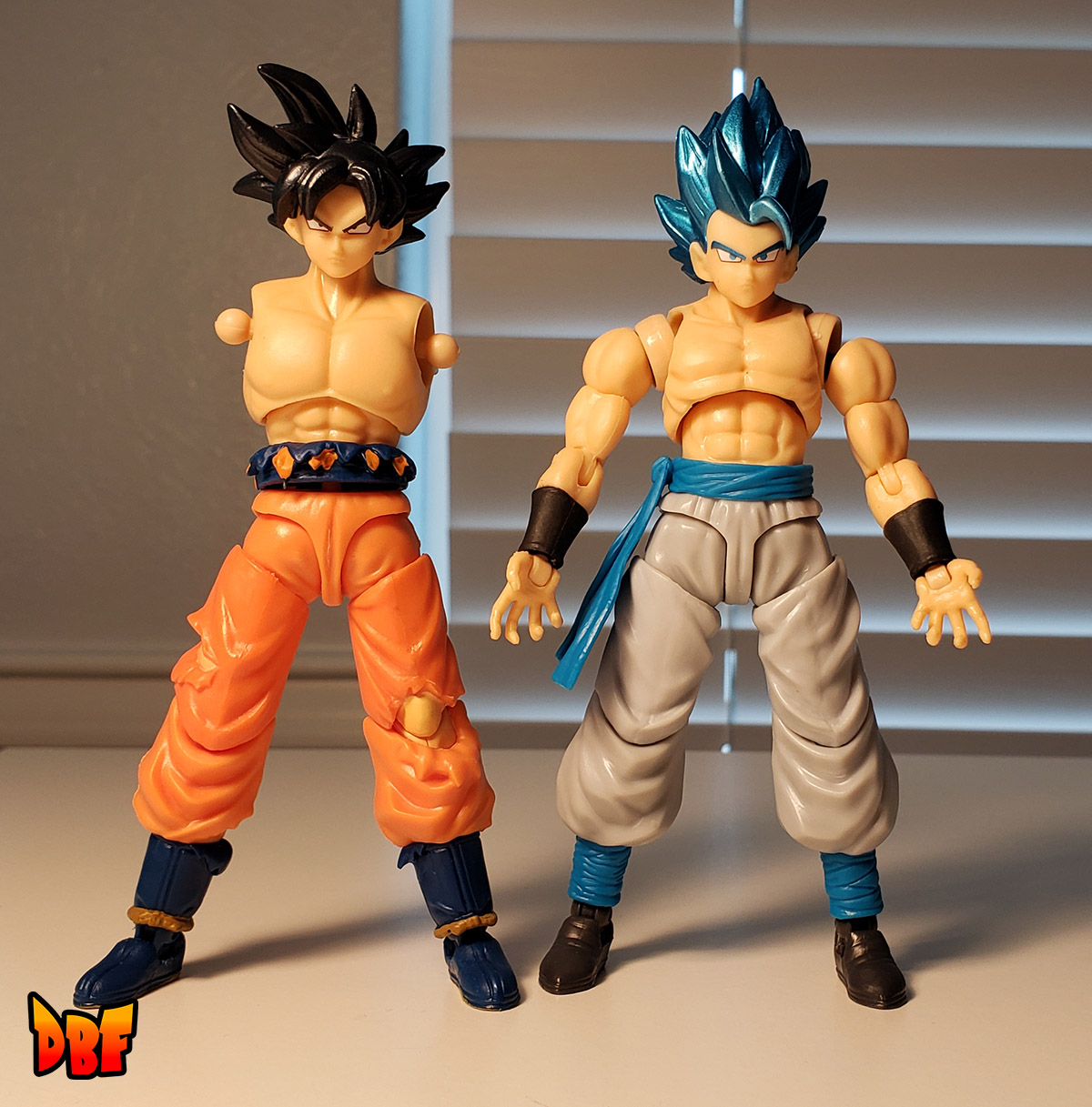 So I wondered... what would happen if I just swapped the entire upper body of UI Goku over to Gogeta.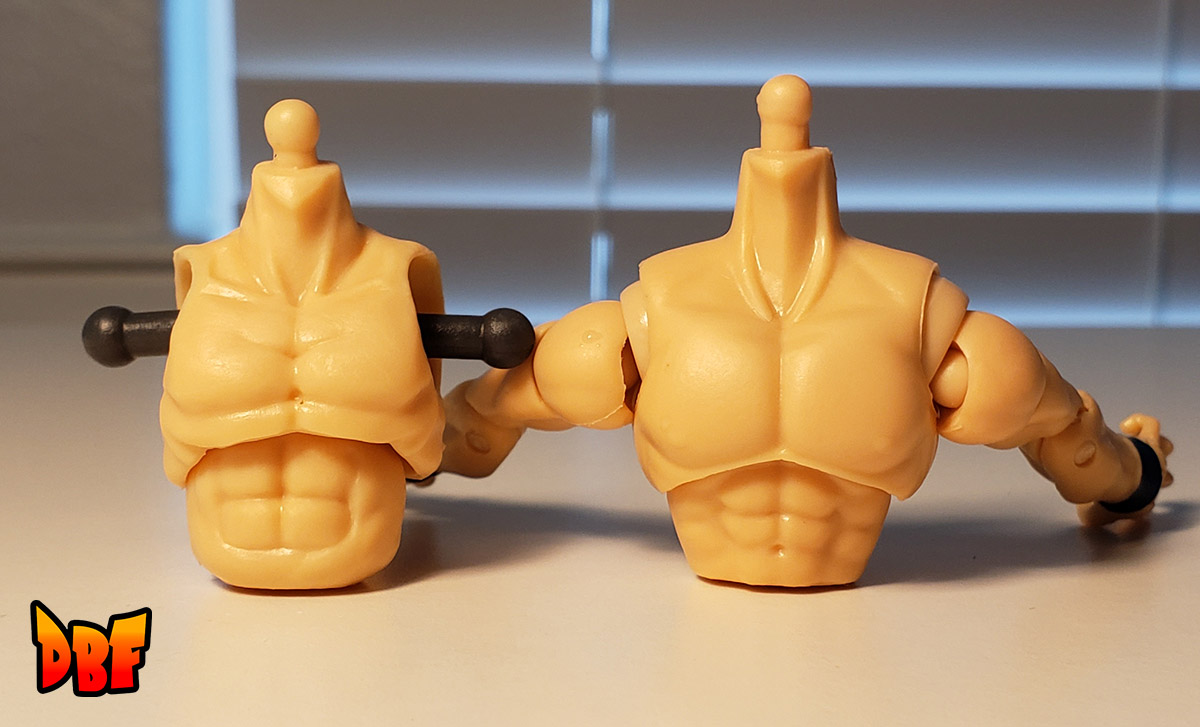 In order to accomplish this look, I used UI Goku's shoulder balls, put tape on the pegs, and inserted Gogeta's arms from the bicep down onto the shoulder balls. The waist sash is a bit loose on the UI Goku abdomen, but this could have a lot of potential for a DB Tien custom for anyone willing and wanting to do that. Oh... and the UI Goku body gives Gogeta a neck that isn't too short. The vest won't this UI Goku torso (and neither with the UFS vest) so you can't just get a longer neck for Gogeta by swapping parts.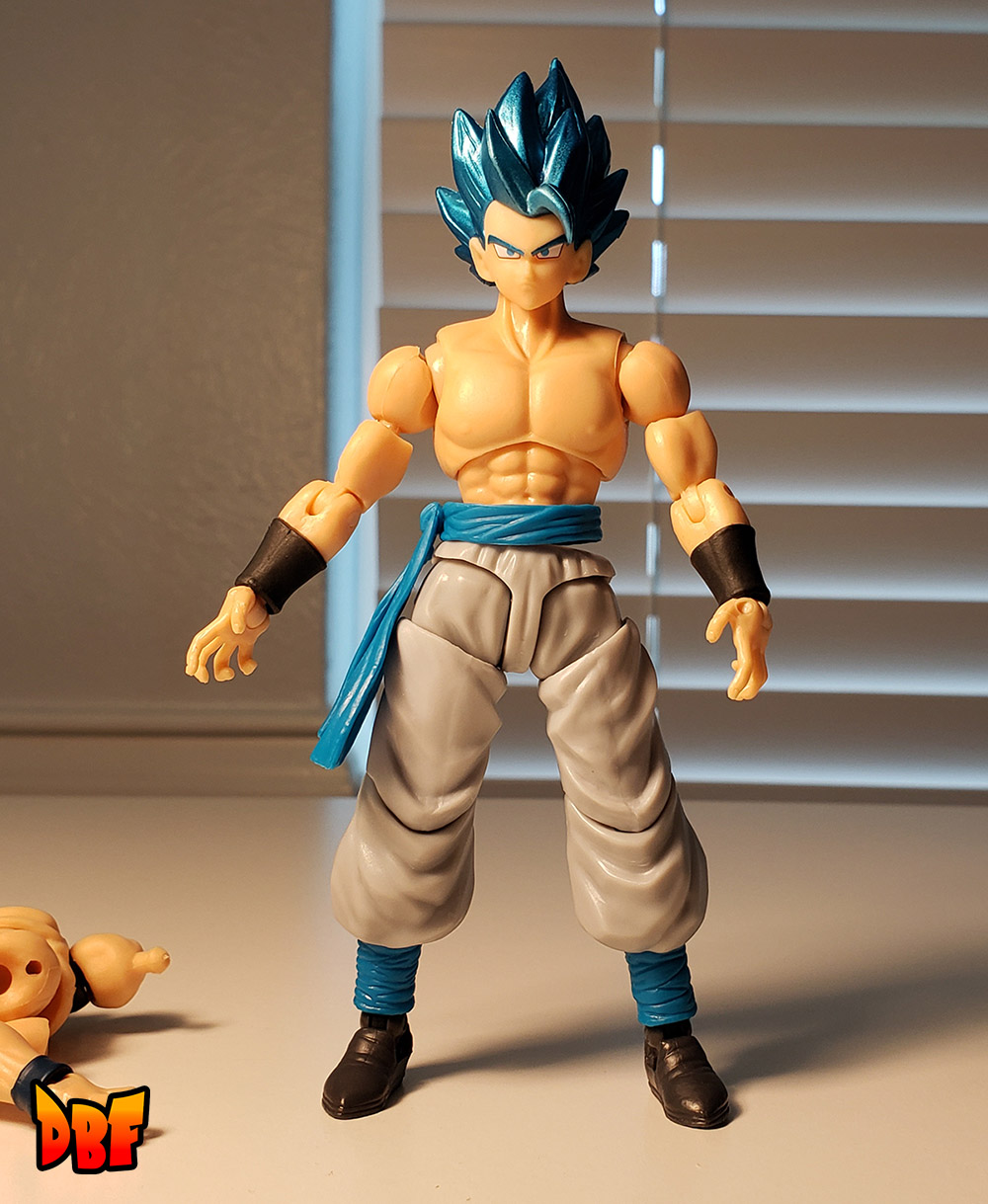 Just for fun, here's my modified Figuarts head on the Evolve body and the Evolve head on the UFS body. Honestly, the Evolve head looks great on the UFS body, but funny enough... the neck looks a little short again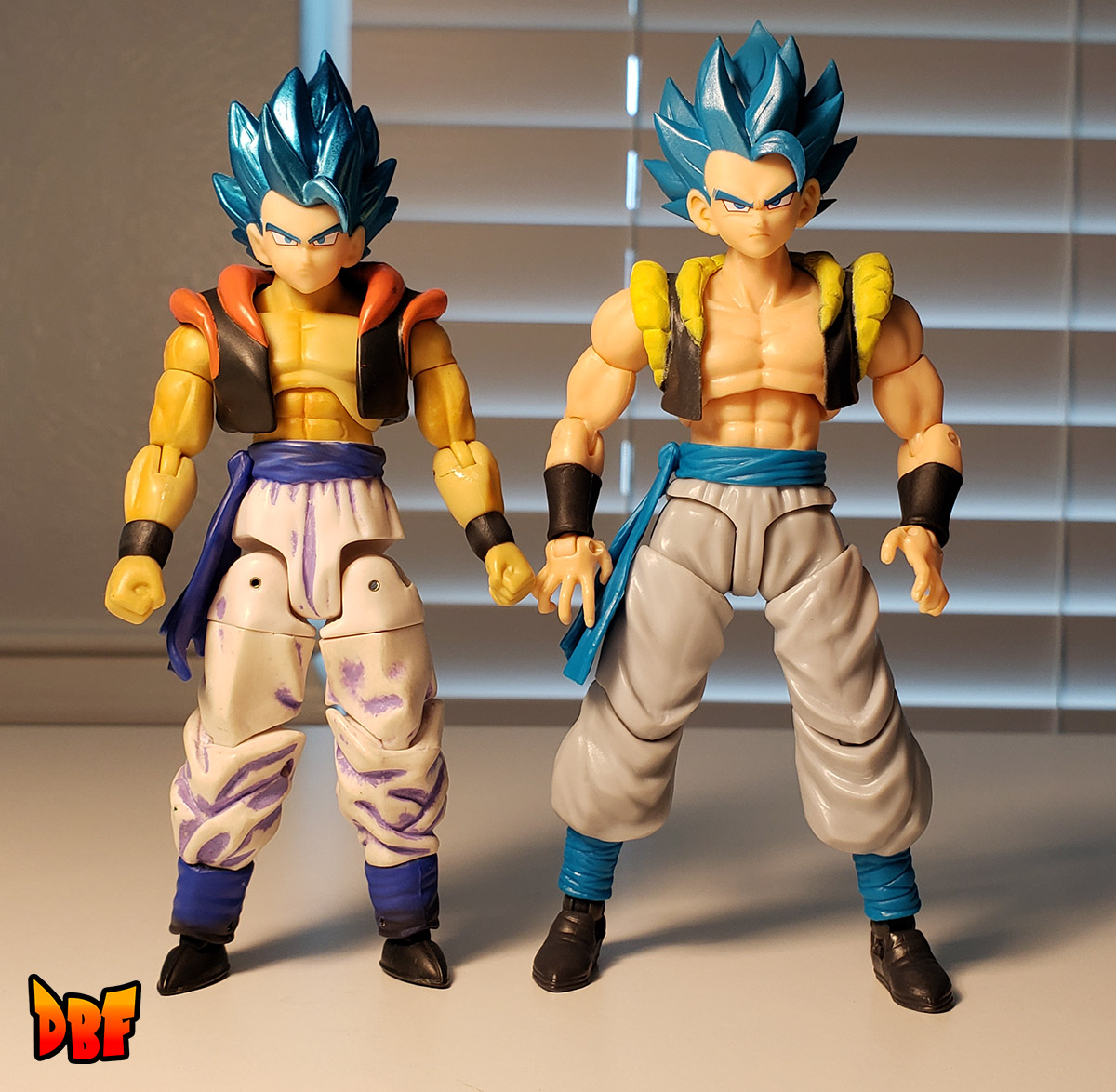 What I find really cool is that the hands on Gogeta are different from the hands on UI Goku. In case you aren't aware... most of the hands on figures in this line can be swapped to other characters. I'm surprised they aren't the same hands. I love this line of figures, but it's surprising to see a different hand mold from a series of figures that will not paint the red accents on Goku's boots (or usually 1 detail on every other figure). Different hands is a good surprise!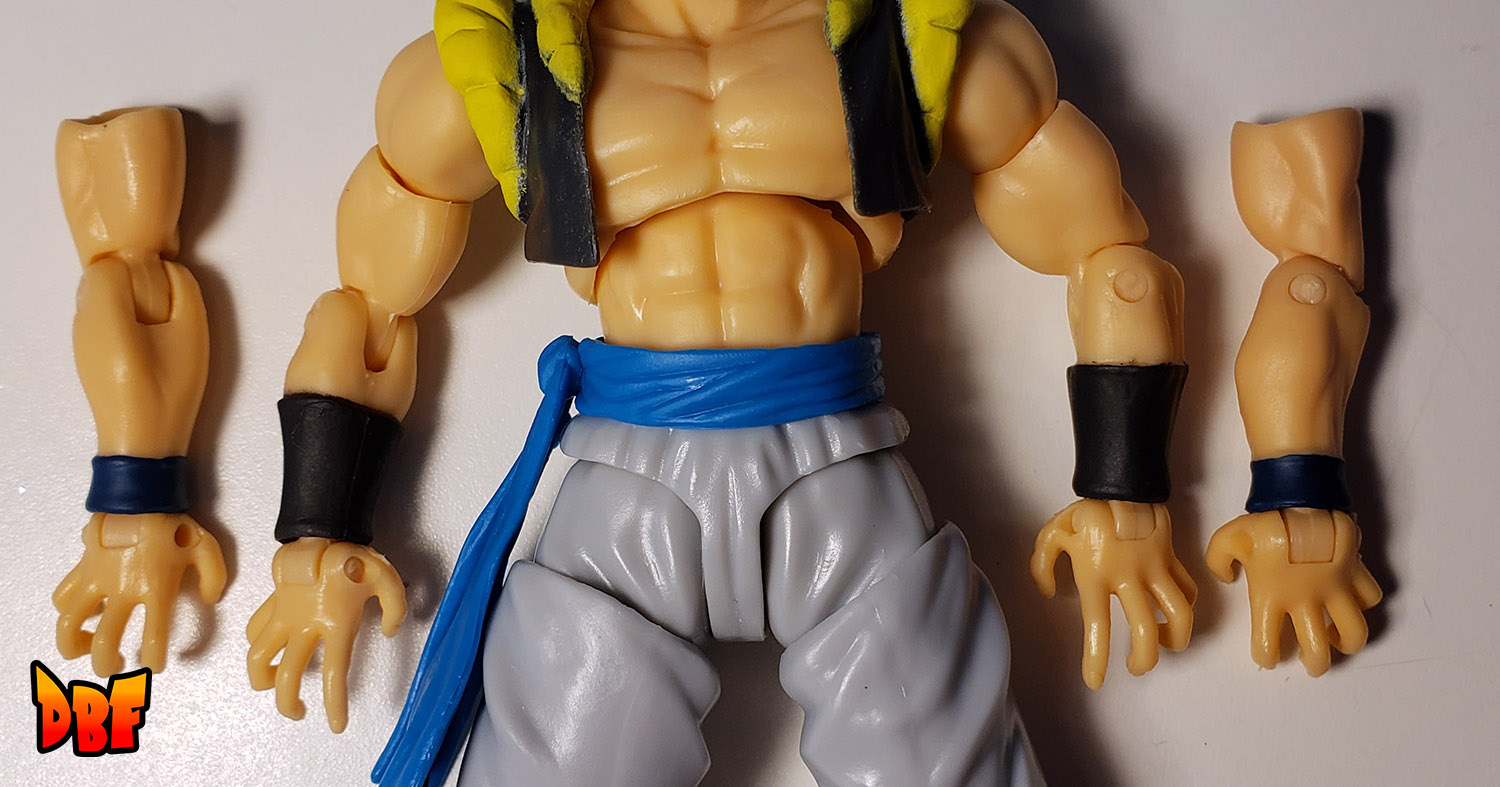 Probably half of the popularity of the silver haired UI Goku is from the fact you can swap his fists onto SSB Goku to get rid of the Kamehameha hands. Well, you can do the same with Gogeta if you want to.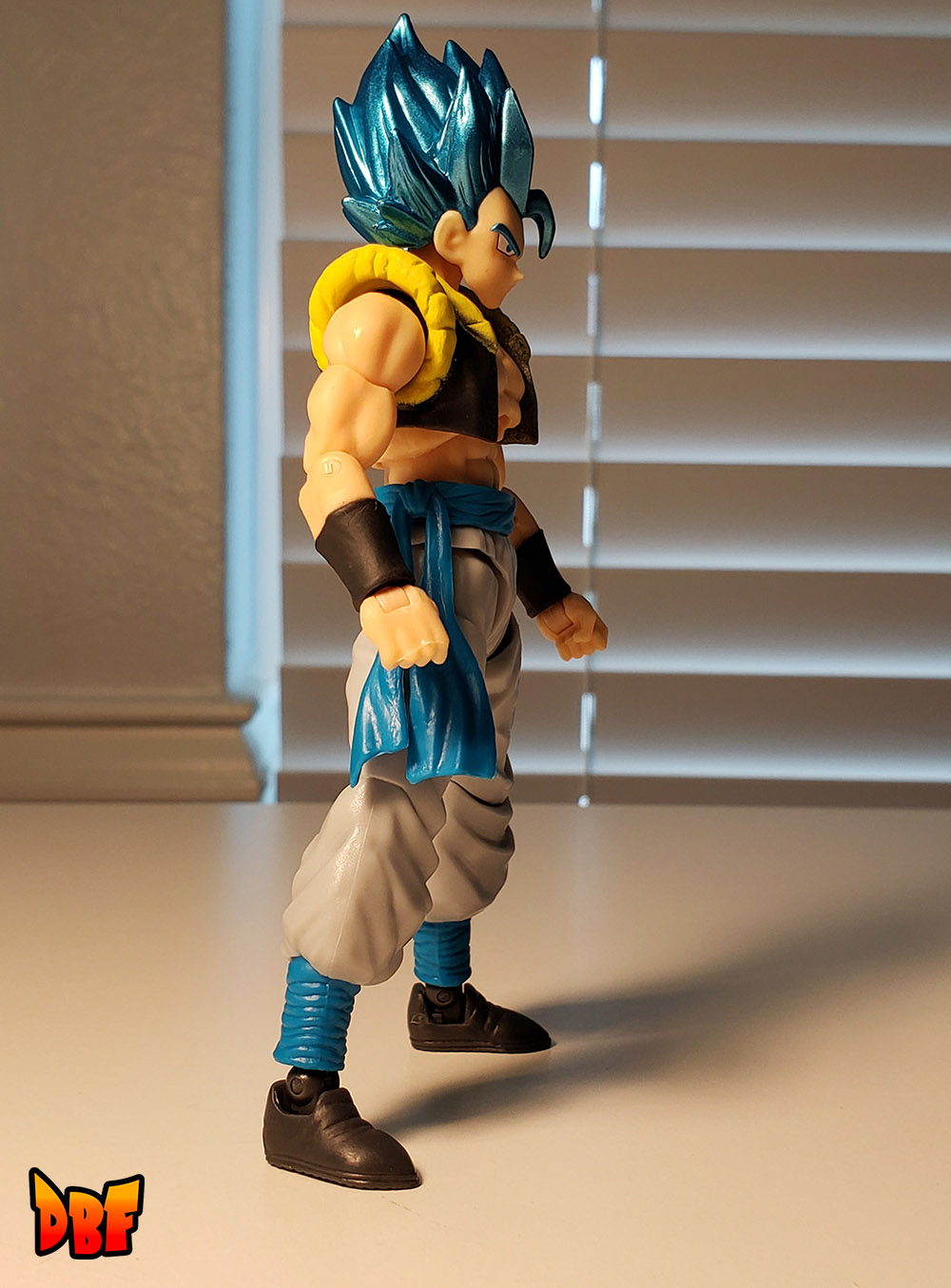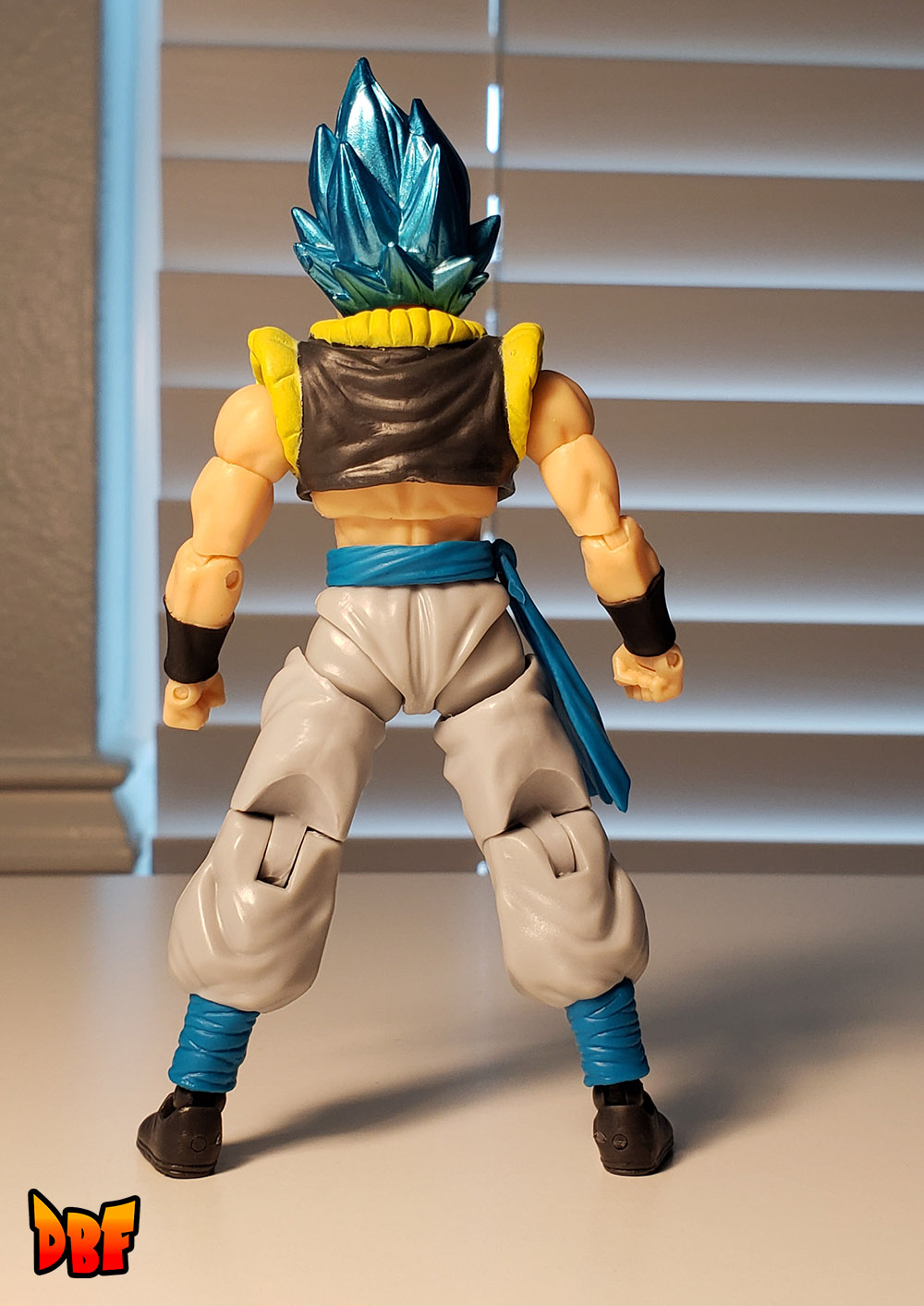 Ultra Instinct Sign Goku
Before I even bought this figure, I was disappointed that he looked like a repaint. And well... he is. I really wish he came with his blue shirt on, since many of the cool scenes involving this form featured Goku wearing his blue shirt. However, after posing him and taking photos... I remembered just how great this figure really is. To be honest, he's better than the silver haired version for one and only one reason. Why? Because this figure has better articulation and design than the SSB Goku from series 1, and with these Kamehameha hands... he is by far the best figure to be able to do the Kamehameha poses. The silver one was kind of boring with the fists, because I couldn't ever really figure out a cool way to pose him. This body deserves Kamehameha hands and it's great because of them.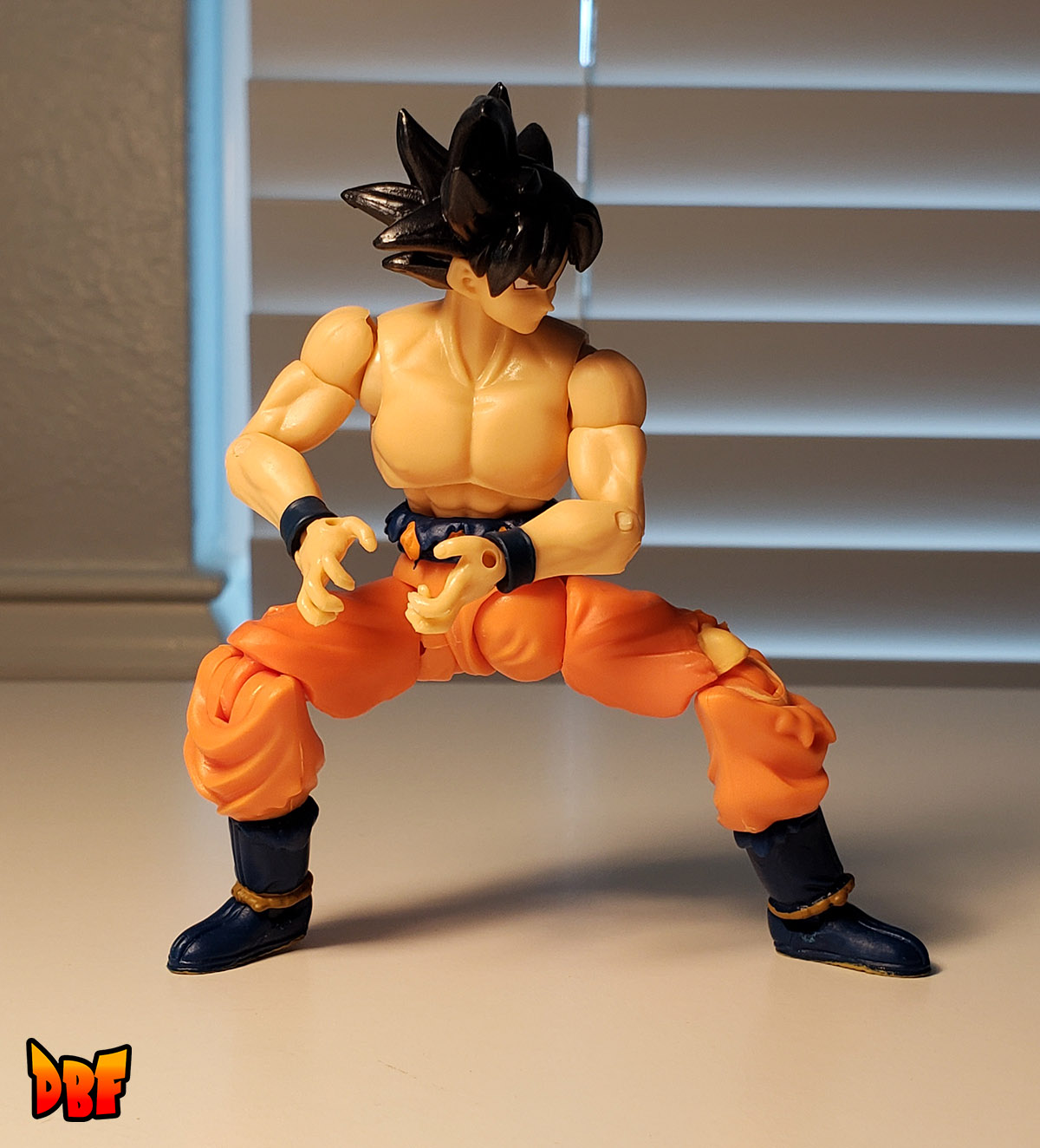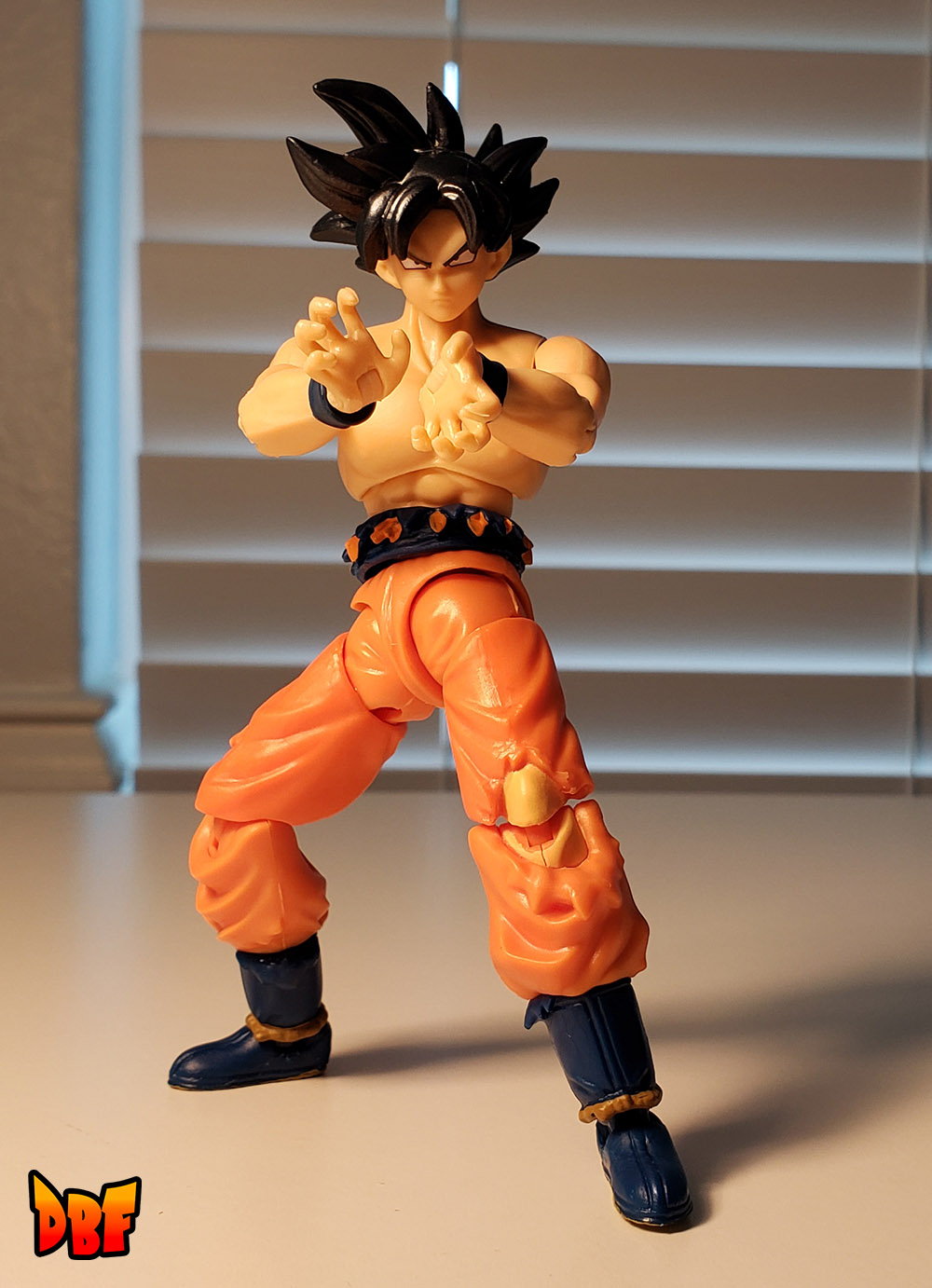 His hair is slightly metallic and looks really great. All the articulation is really nice and the shoulder cups are hidden enough that they don't require a careful touch to make his shoulders look good for a photo. While it's true this figure is just a repaint of the series 2 UI Goku... he's definitely worth purchasing for your collection. He's the exact same price as a UI Goku, and you won't have to buy metallic black paint.

I hope to see this line of figures include more releases similar to this one (that just include different heads, hands, and paint colors... for example... I am shocked we don't have a SSG Goku or SSG Vegeta in this line yet. All they need to do is paint Vegeta's hair metallic magenta/red, alter the body colors to reflect the red hue, and design a new SSG Goku head, paint it the same color, and paint the body a reddish hue as well). However... I hope we never see a repaint taking the spot of a new character in any of the future series/waves of this line when there's only 3 characters per series/wave. I love this figure... but he would have been better with a blue shirt on, and since this line of figures has only released 3 new characters a year (so far), it's disappointing to see a repaint. If there were 4 or 5 characters per series... or if there were 3 new figures every 6 months, I wouldn't be saddened by a repaint like this. This particular figure comes across as more of a Gamestop exclusive (or something like that), thanks to being just a repaint of an existing figure. Unfortunately, that isn't the case... he's a regular release, and even though he's great and fills a void in my collection, he's still disappointing.

Let's just hope that Bandai can make our dreams come true and release more characters more frequently!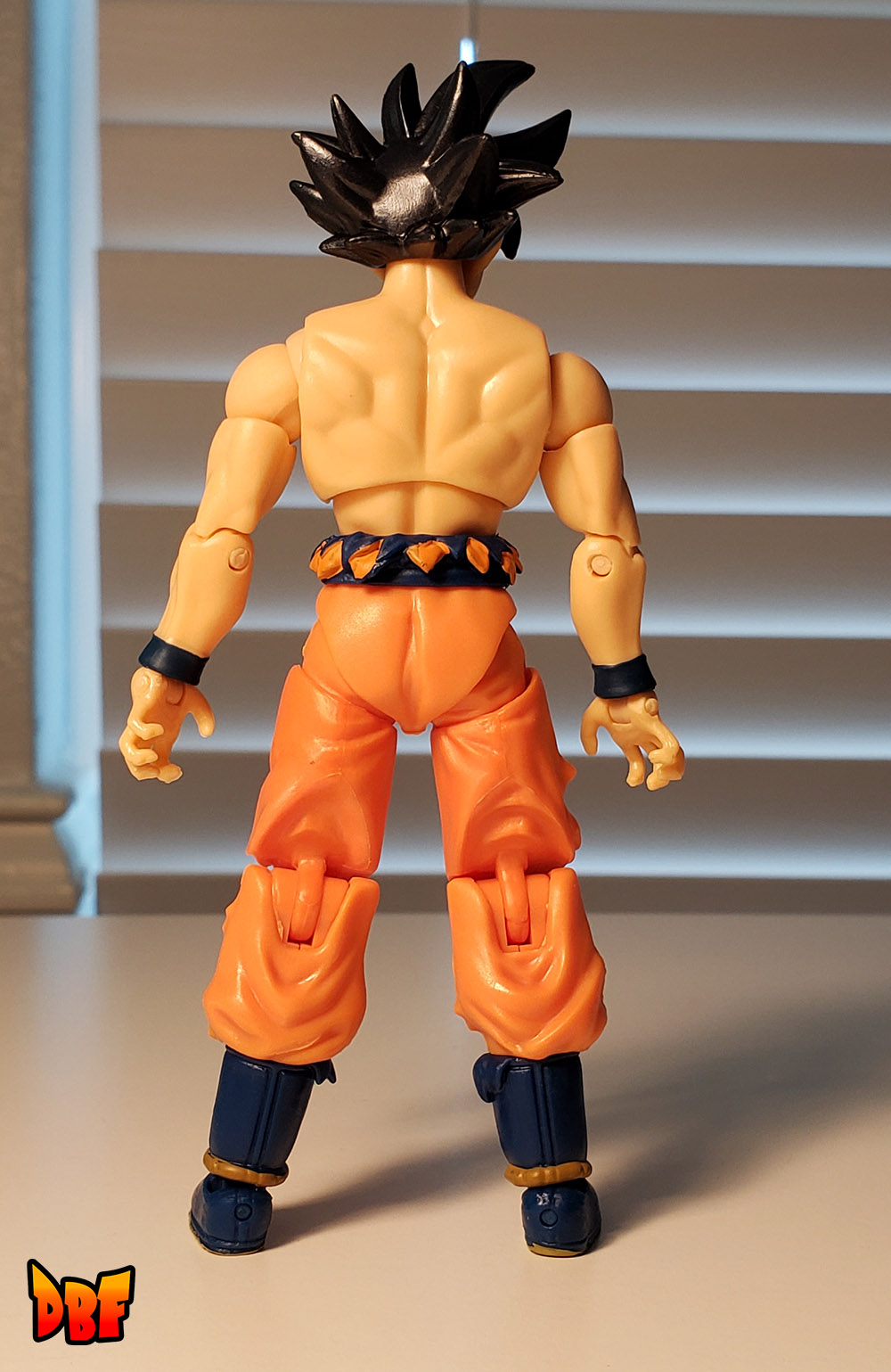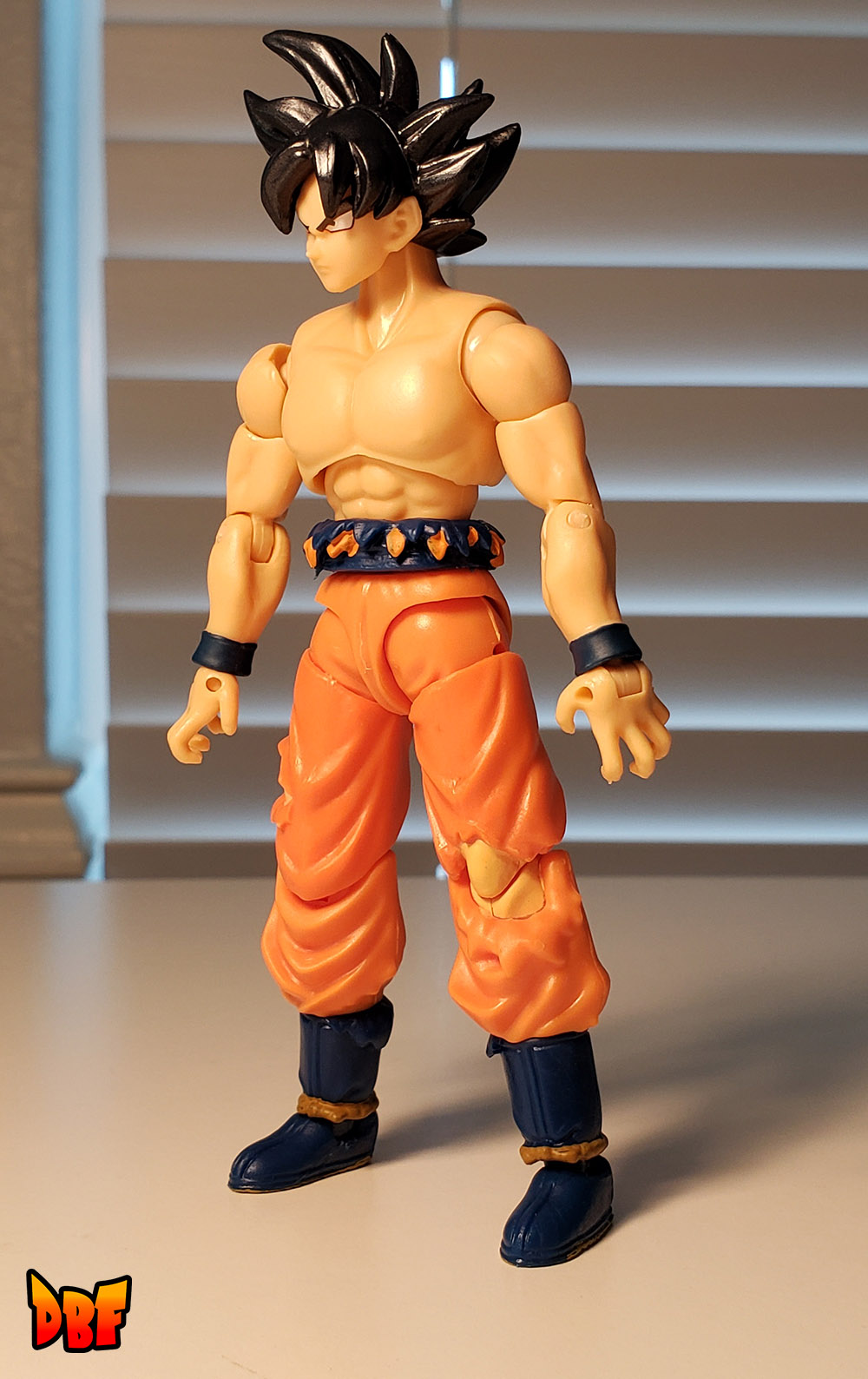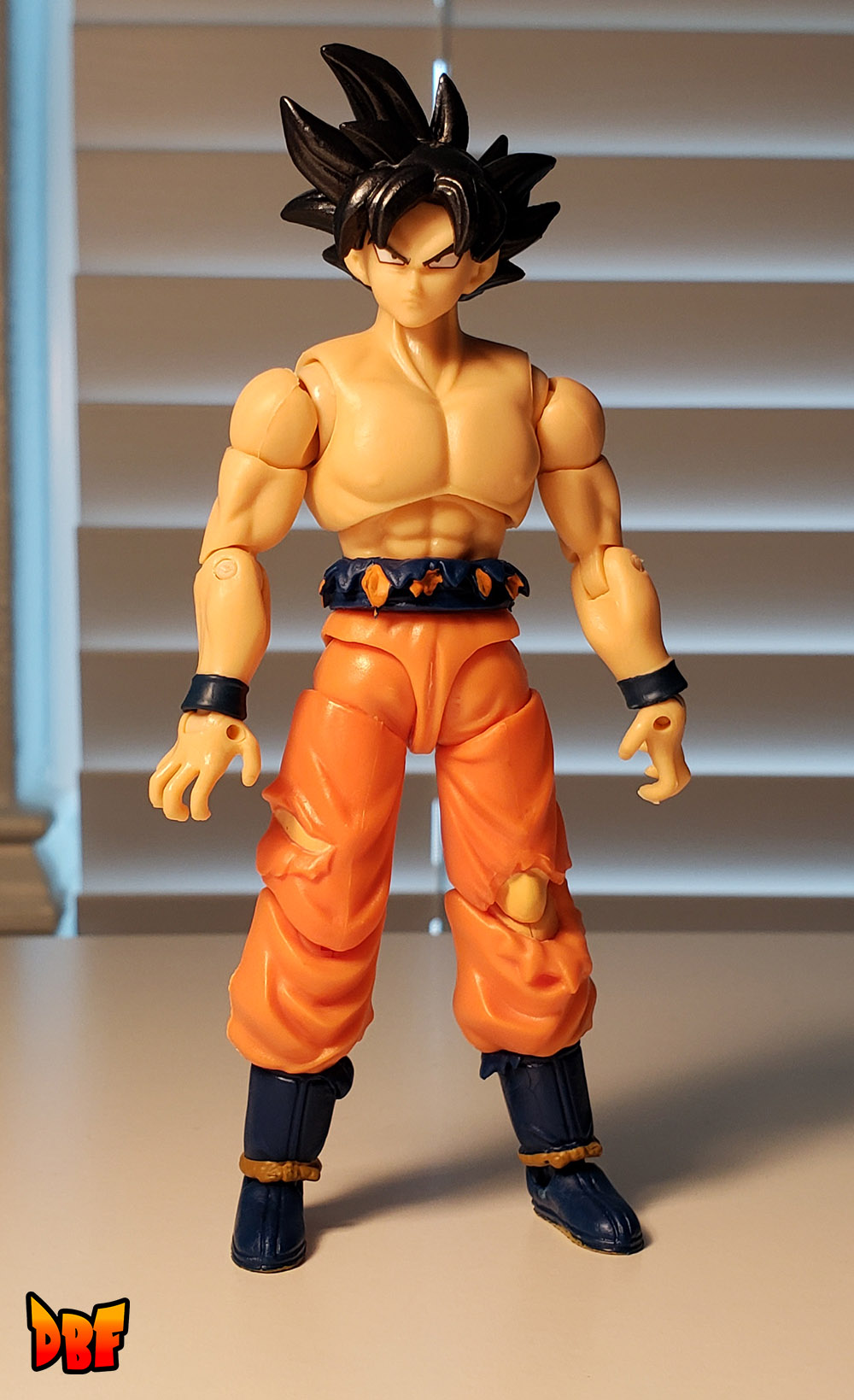 Super Saiyan Future Trunks
And finally, the best for last! This Trunks is the best Evolve figure yet. Not only does he have every little detail painted (other than the skin exposed on his leg), but he came with a sword and a functional sheath. What an incredible value! Like I somewhat mentioned above... if we don't see this figure rereleased with minor alterations (a non-SS head and darker clothing colors), I'm going to be surprised (and disappointed!)! This figure is absolutely perfect and we need a non-SS version to go with it!
My jaw dropped when I discovered that you can get both of his hands on the sword. I really didn't expect this. Also, the hair is creamy looking, but I think it's slightly metallic. I don't dislike it, but it's not sparkly like I kind of expected. I hope future SS characters in this line have this same color of hair, but with a very slightly higher amount of sparkle to them.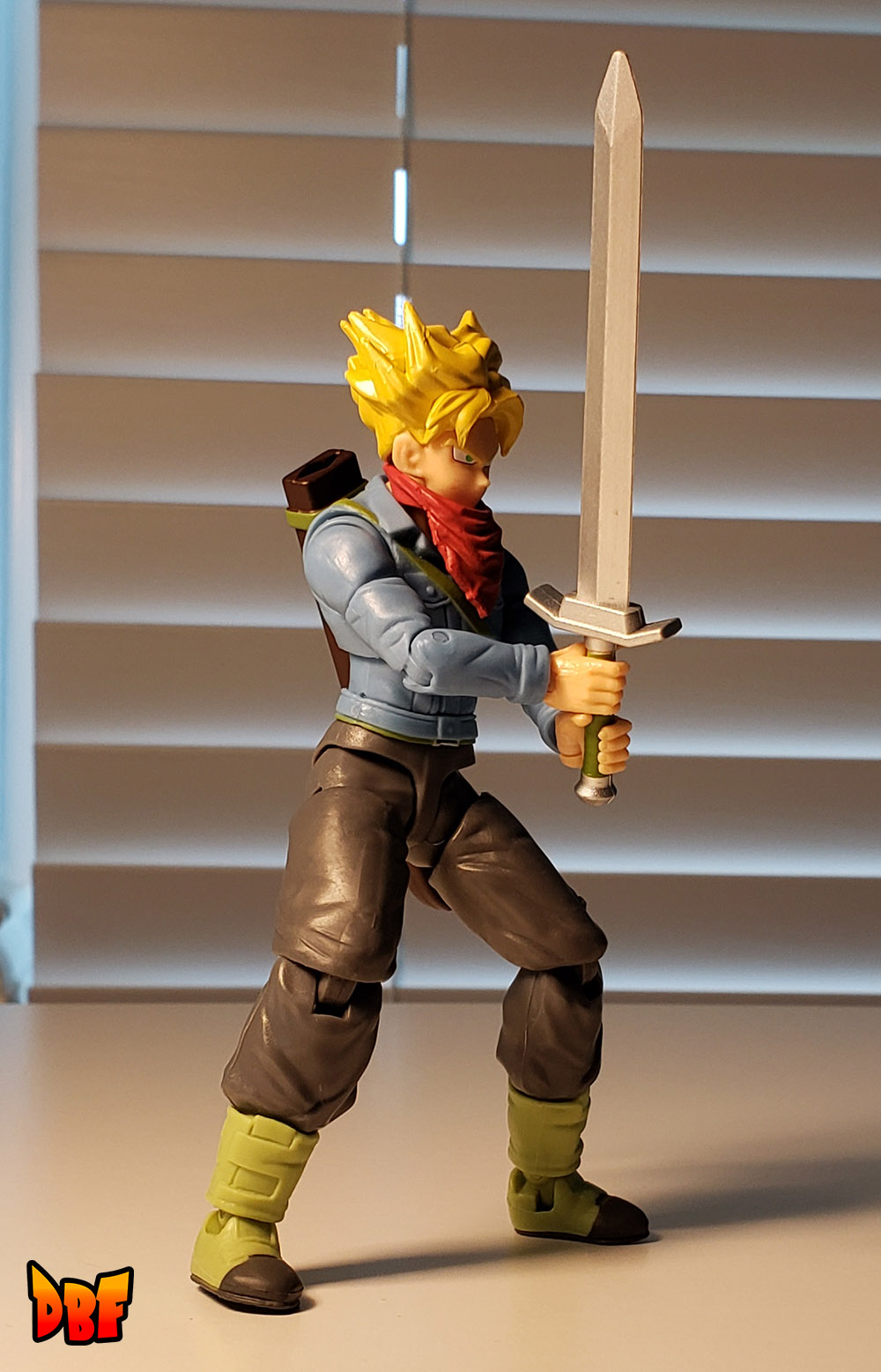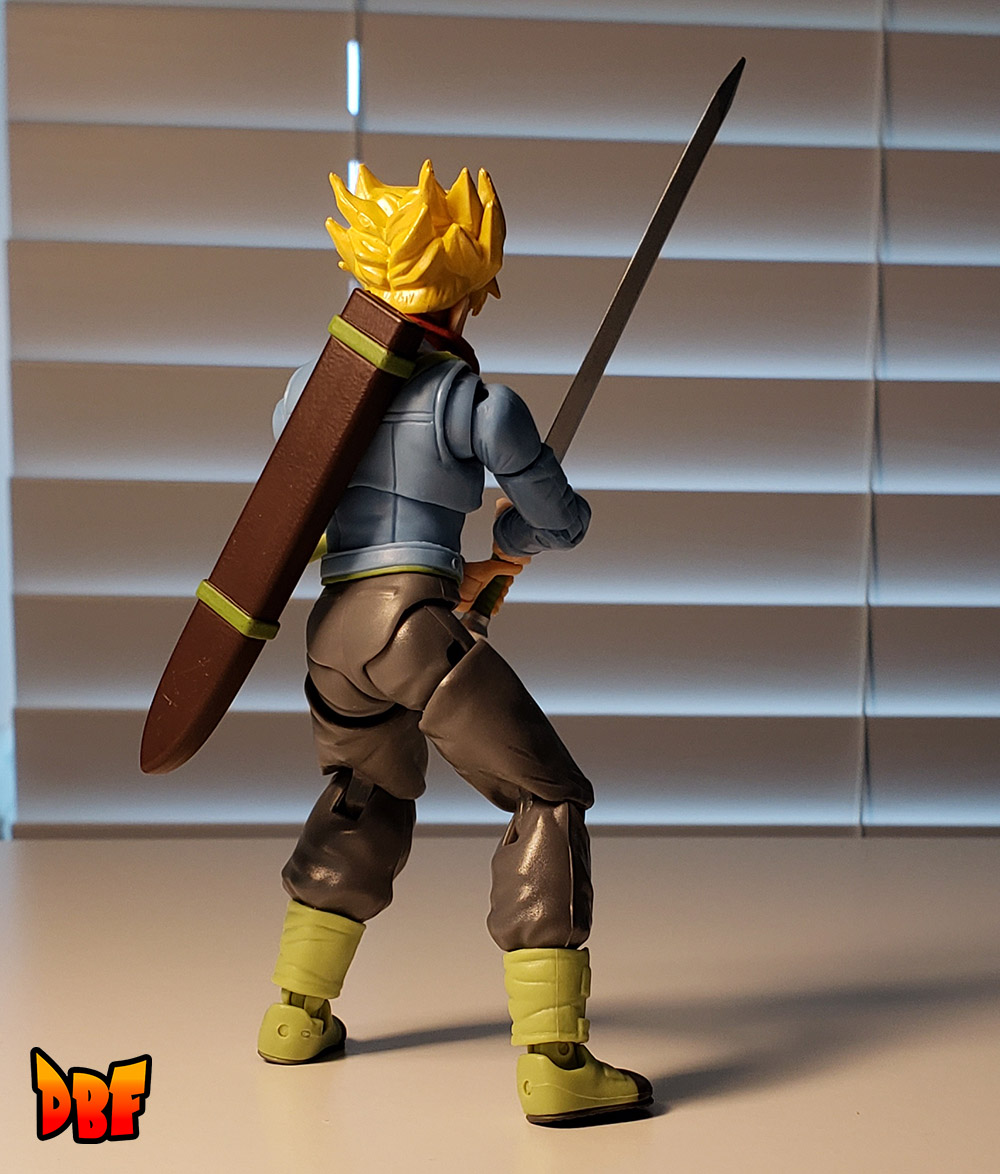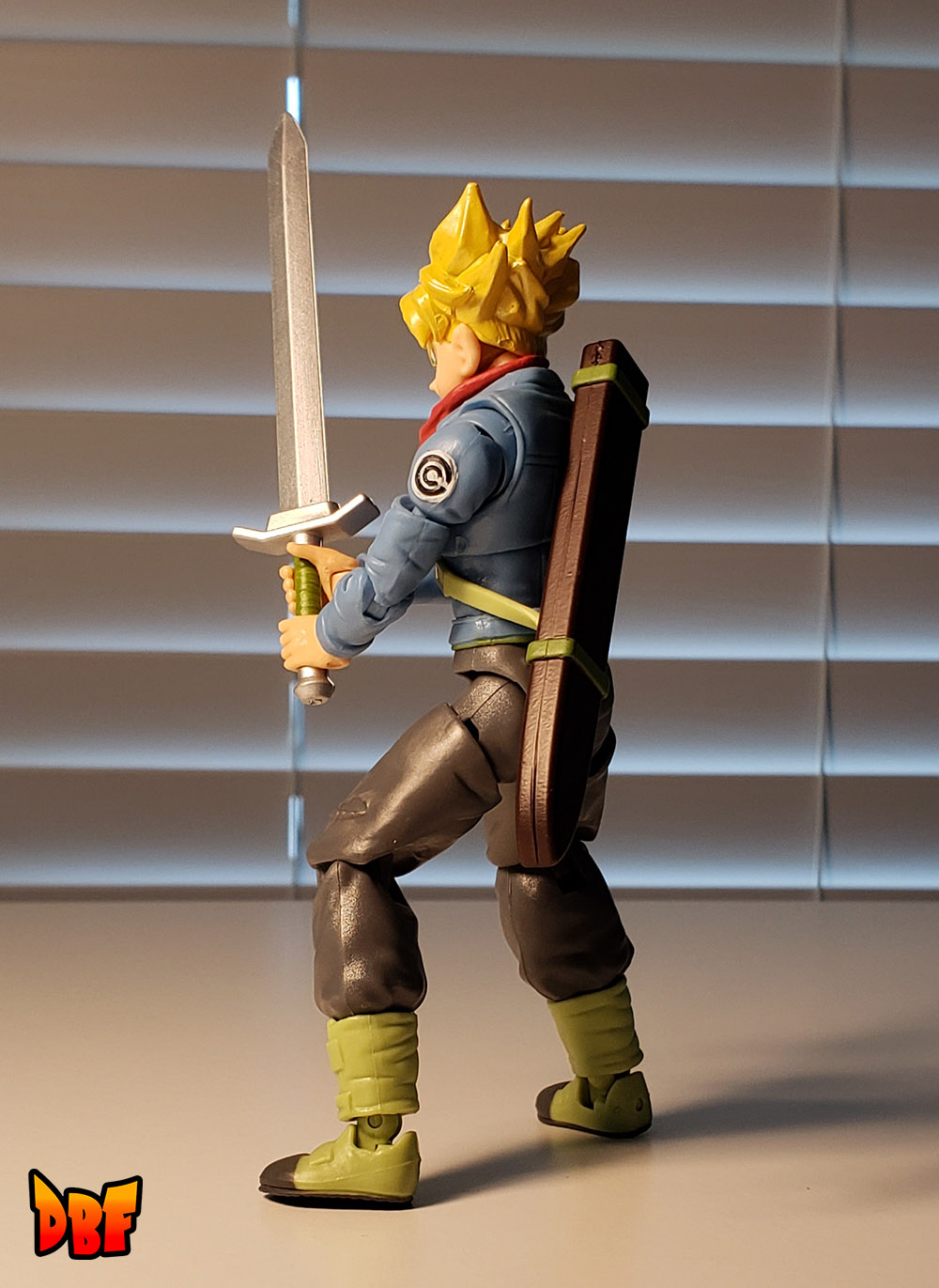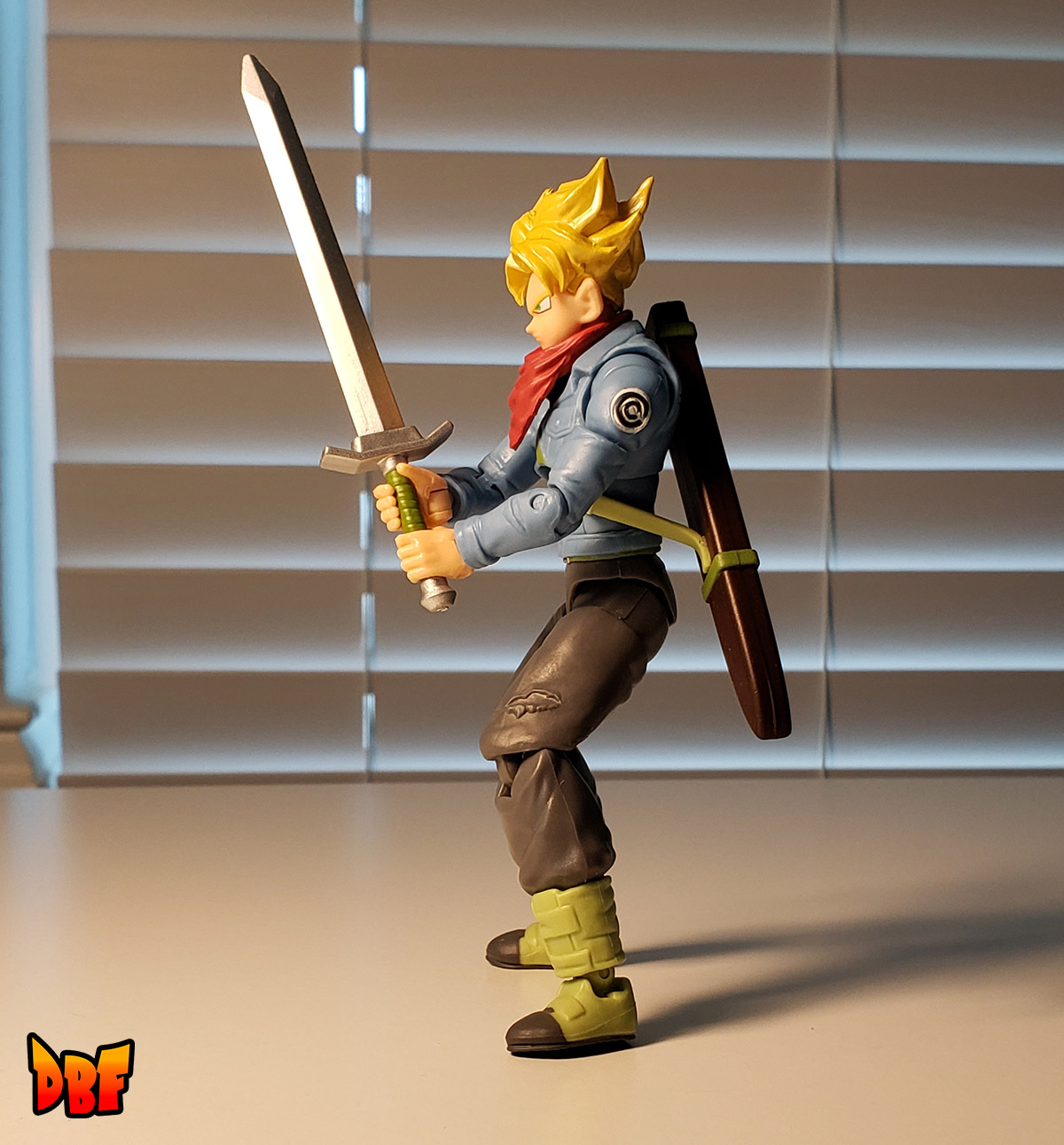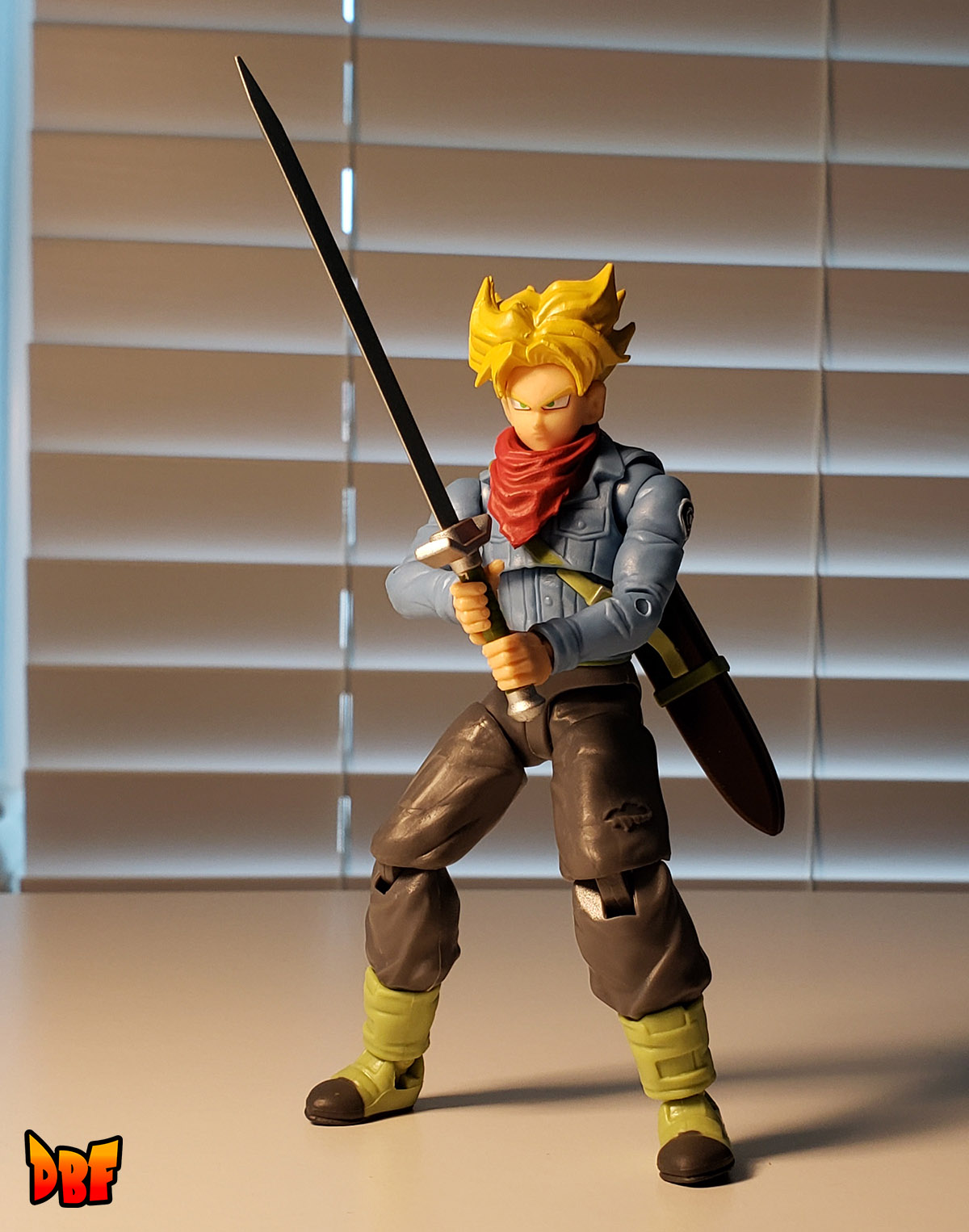 My jaw dropped even further when I discovered he can reach his sword, as if he's about to pull it out. I don't own the Figuarts release of DBS SS Future Trunks, but this figure seems like he's probably close to as good... and for only $10!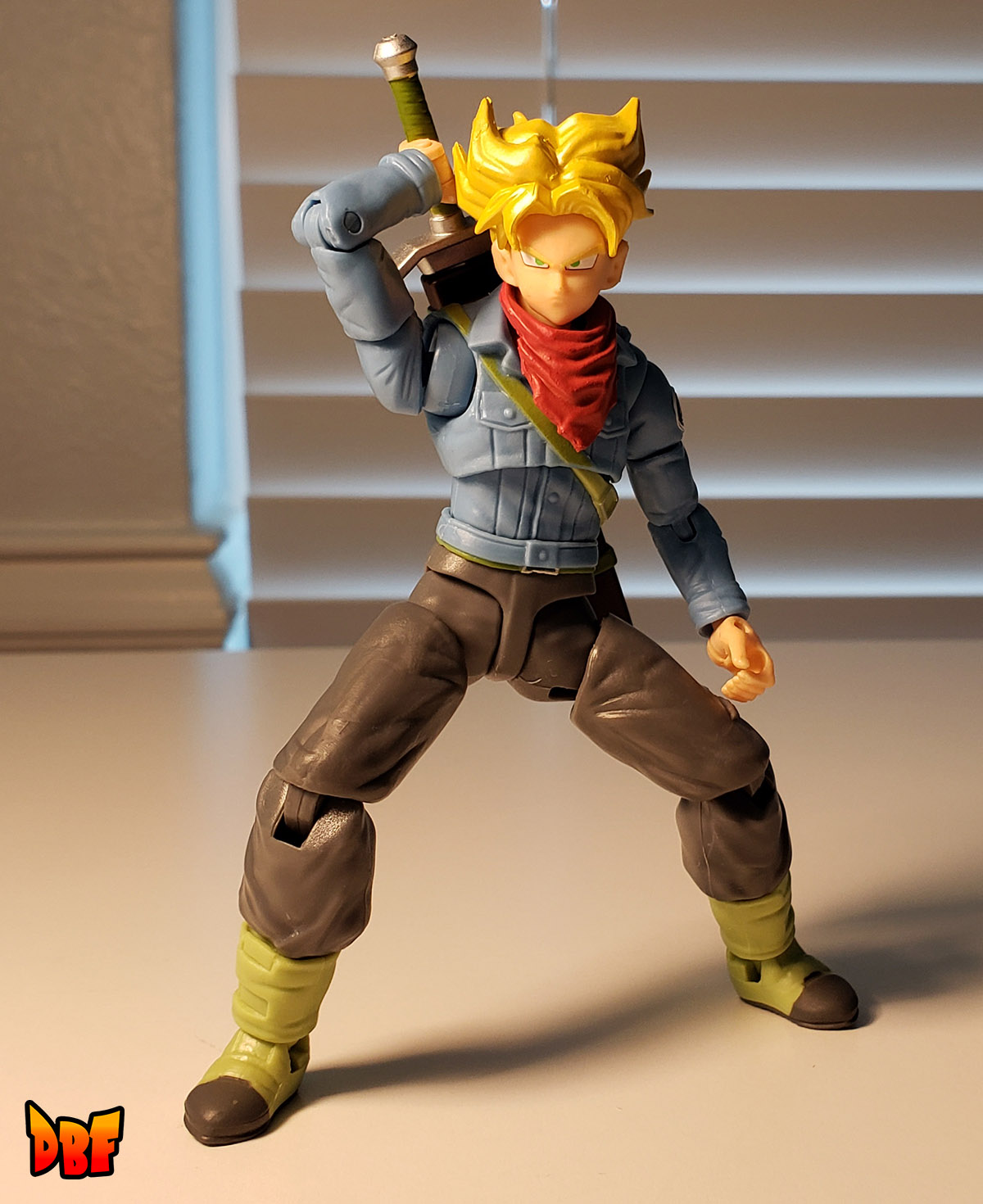 Who has an extra spirit sword lying around? Trunks can nearly hold the sword with both hands with his arms nearly straight like the iconic pose from the anime.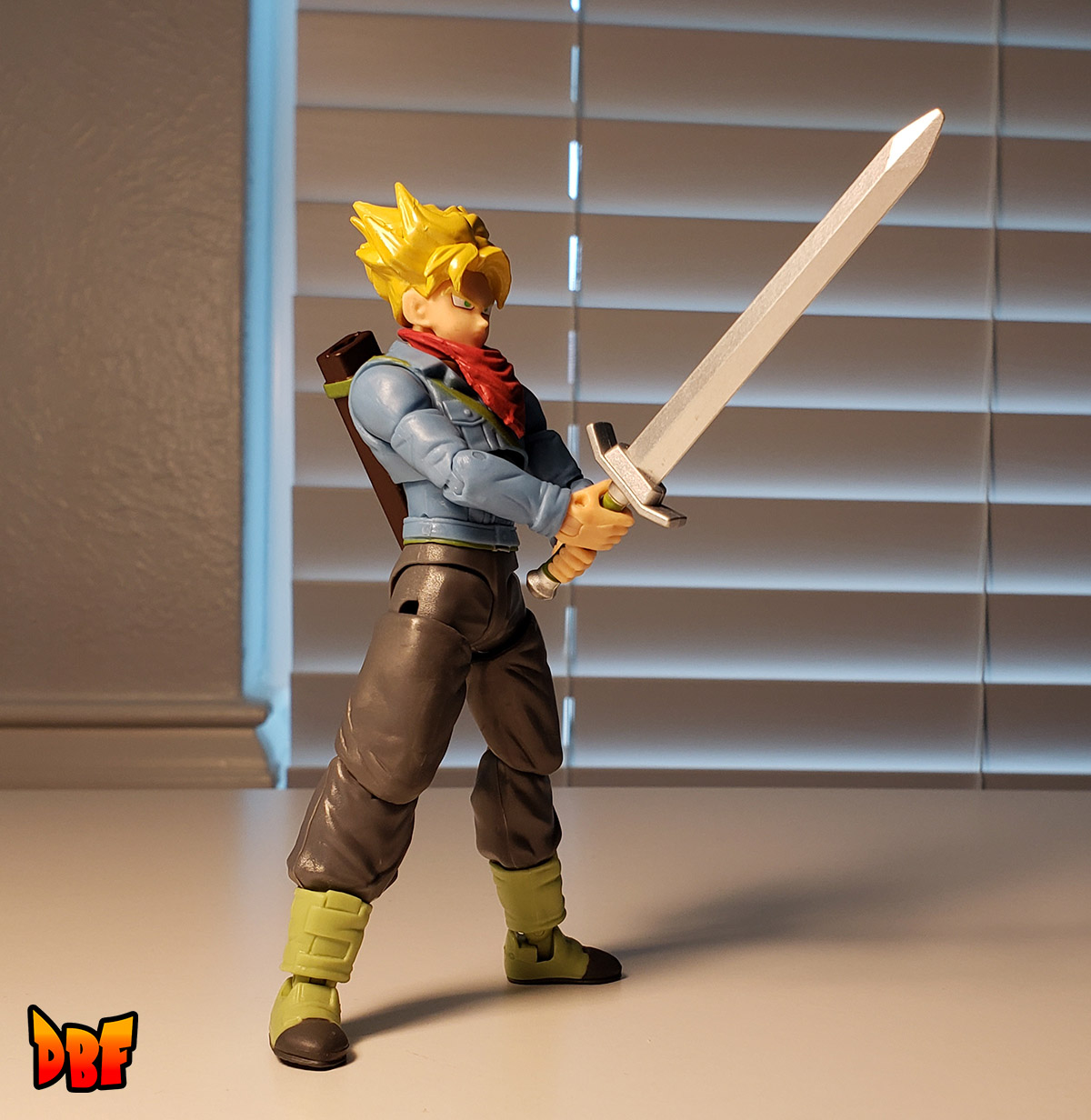 And if that isn't amazing enough... I put him in the galic gun pose... AND... I was able to balance him well enough that he didn't need tape or anything to hold him that way. Just trying doing something like that with an Irwin or Jakks figure!!!!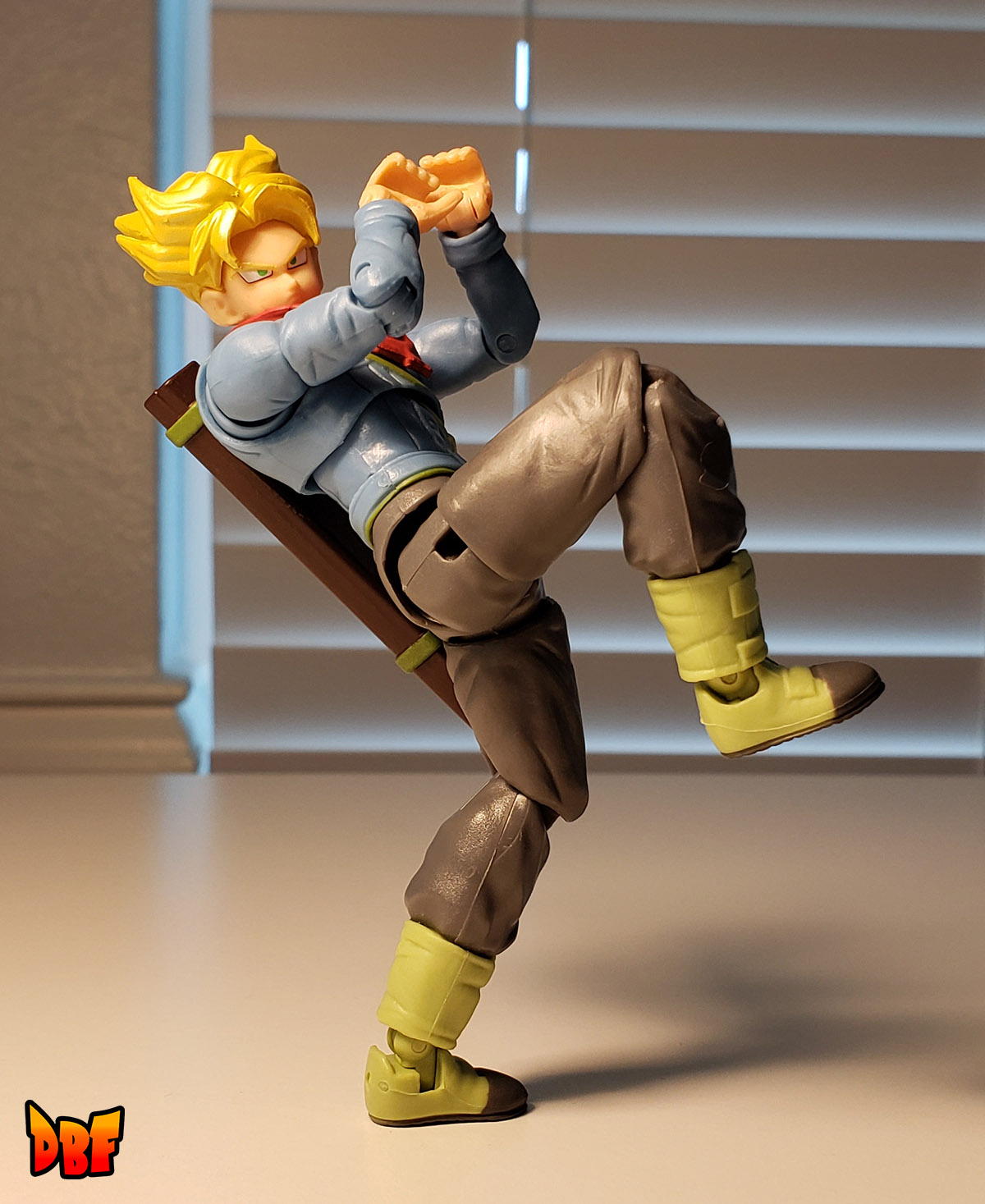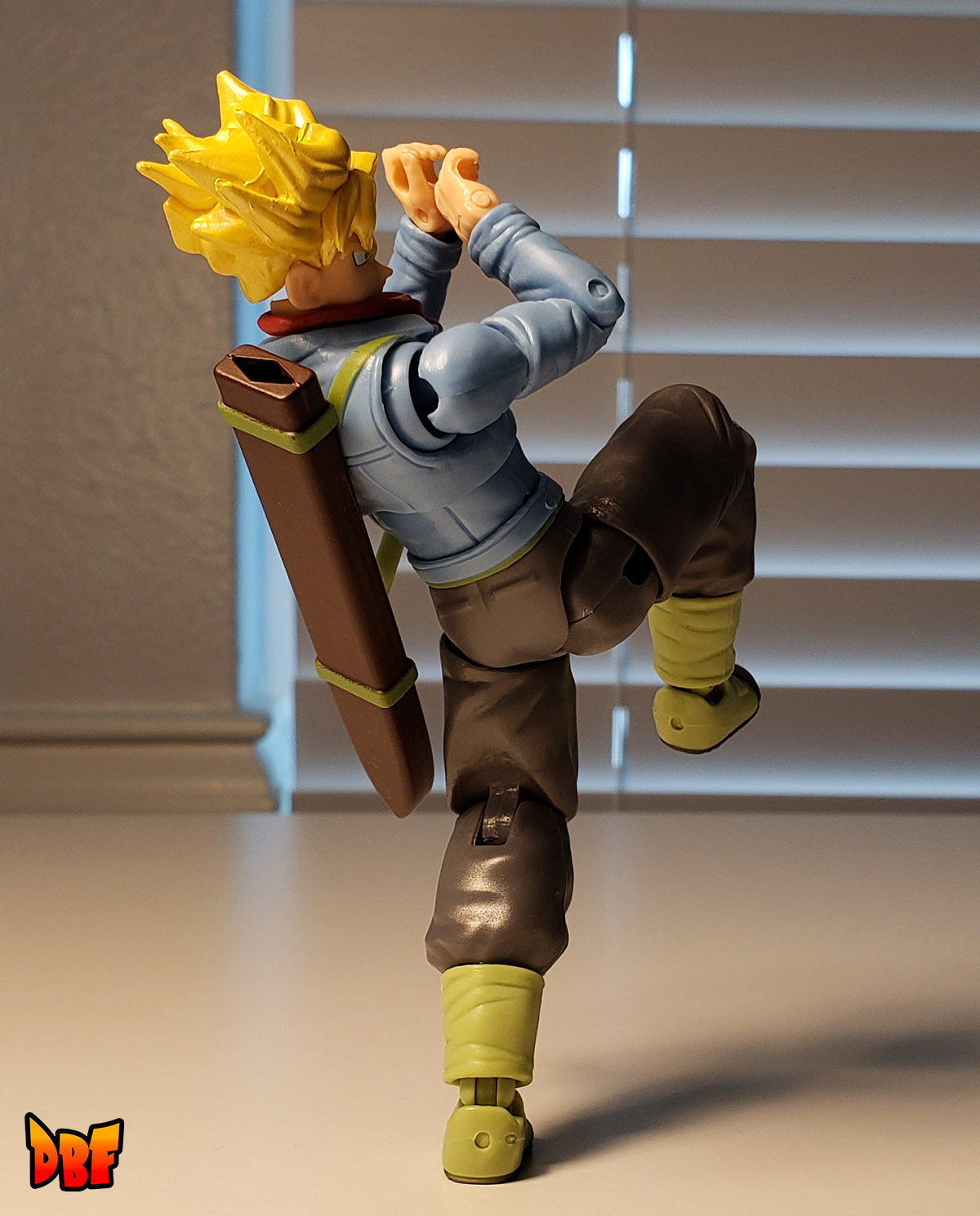 After all those photos, I remembered that I bought a used Figuarts DBZ Future Trunks with a broken neck a few years ago. Here he is compared to Evolve SS Trunks.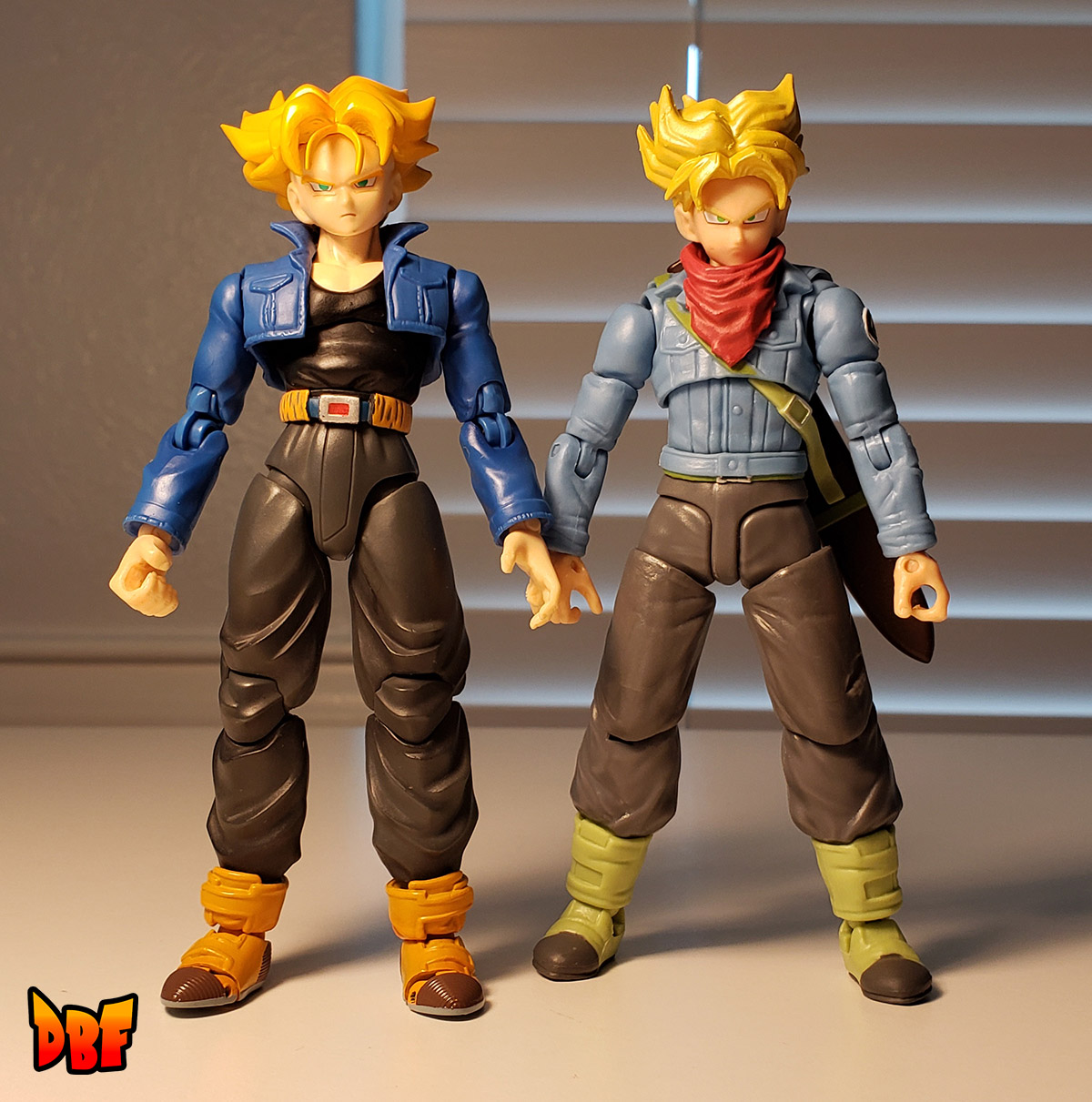 The Evolve sword compared to the Figuarts sword.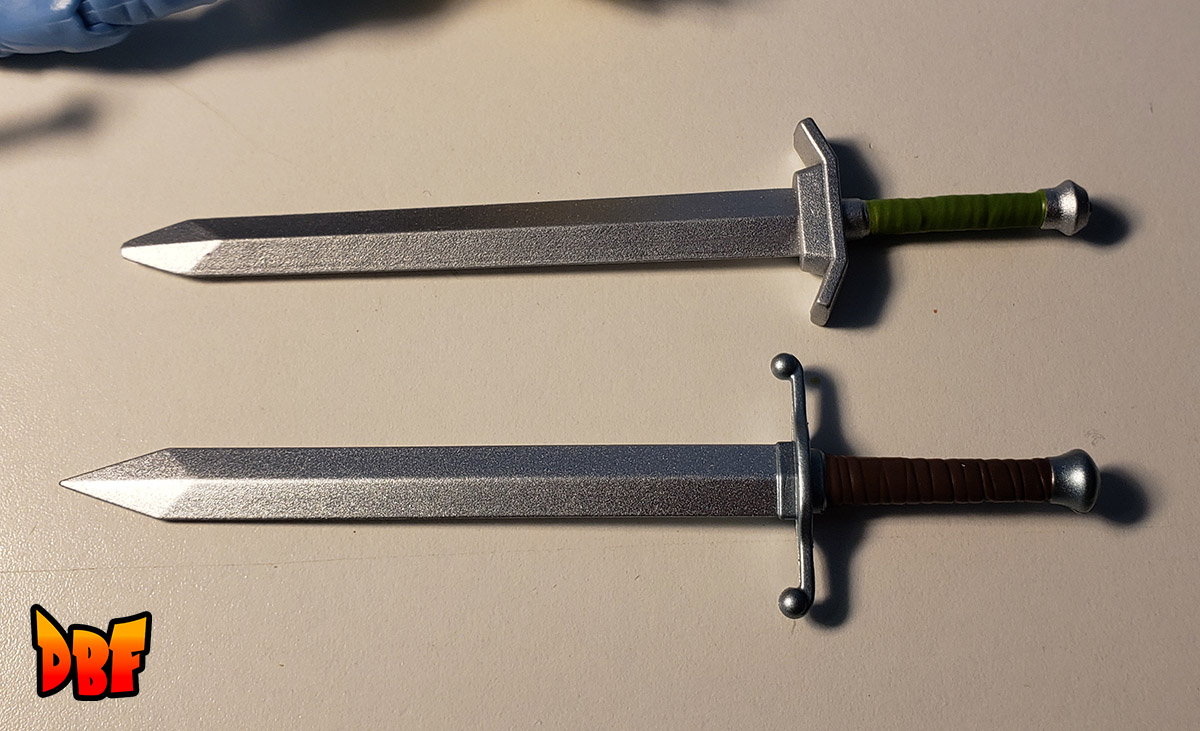 The Figuarts sword doesn't even fit the scabbard/sheath. They included just a handle with that. The Evolve sword goes completely inside the sheath/scabbard.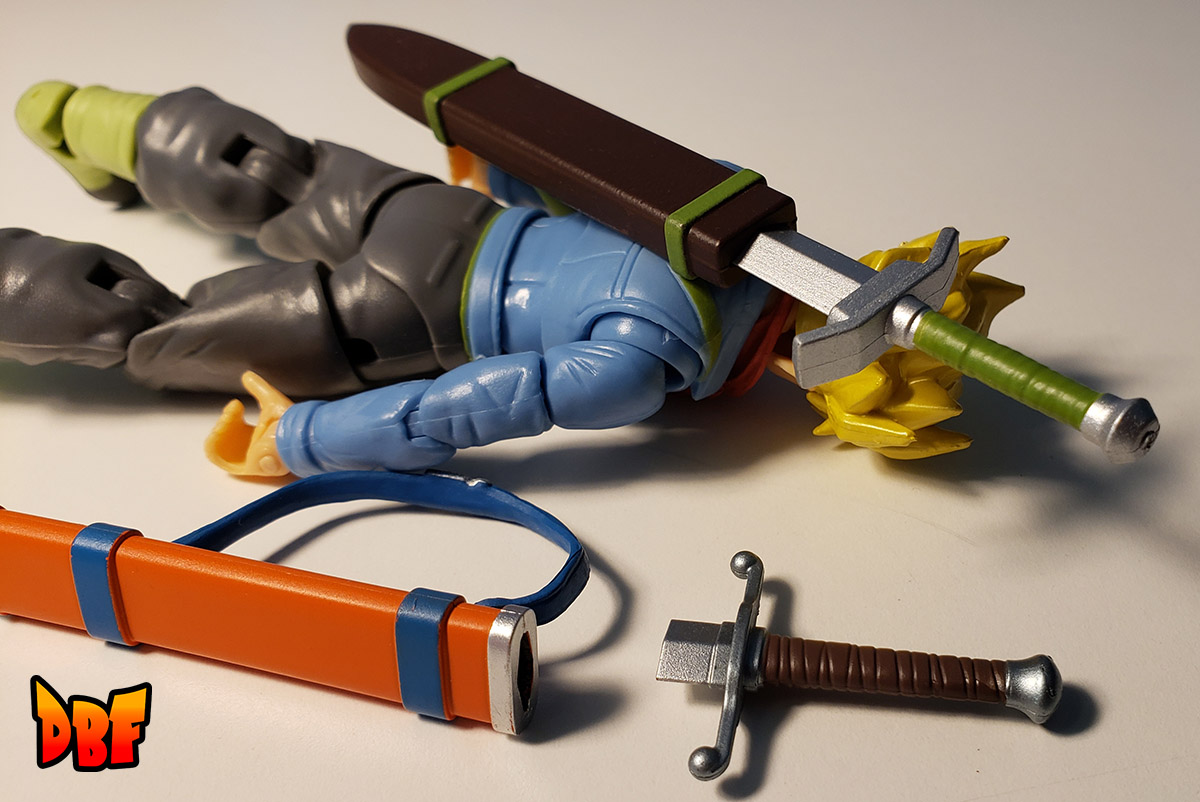 Final Conclusions
I am in LOVE with this line of figures. I never thought we'd see 5 inch scale figures from Bandai ever again (since Ultimate Figure Series ~2004), and I seriously never thought the sculpting would be so fantastic. This line impresses me SOOOOO MUCH! It started out rocky (due to Vegeta being a bit too tall and Broly being waaaaaaay too small to scale with Goku and Vegeta (they should have just put base-form Broly in series 1 so he wouldn't need to be massive)), but due to Trunks being so amazing, and the fact I finally have a Gogeta in my collection that I love... this is quickly becoming my favorite line of figures. I can't wait to see what comes out next!

I really hope to see SS Kefla in the next series. It would be amazing to see SS Kefla, SS2 Caulifla, and SS2 Kale in the next series, but could Bandai risk making an all female series 4? I think so. I'd buy doubles of them all just to make custom figures! Additionally, I do hope that we see this line expand. It's painful to have to wait an entire year for just 3 more figures. In my dream world, I'd like to see 5 new figures every 6 months. I don't know if that will happen, but 3 new figures every 6 months would be good too. And if they did that, they could release 2 completely new sculpts in each series and 1 slightly modified previous release just to fill in existing gaps (ex: SSG Goku, SSG Vegeta, non-SS Future Trunks, red and black outfit Jiren).

If you're lucky (or drive to suburbs all over the place like I did) you might be able to find these yourself. If you want to take the easy road (but have to wait a few weeks), you can also pre-order them on Amazon.