Post by Branjita on Oct 28, 2021 16:28:06 GMT -6
Until we find someone who can explain better, I wanted to
try
to write a guide (by rewriting an old guide I wrote) to the process of making action figures back when Irwin Toy and Jakks Pacific had the DBZ license. This is
how they probably did it
... but this is just via my decades of being a fan and seeing prototypes on ebay. I don't have insider knowledge.
If you have any info to improve this guide, please contribute it!
Action figure production is explained really well by
this website (which is unfortunately offline now... and archive.org doesn't have the images...)
. This
website
also has a cool write up about Star Wars prototypes, and that's pretty close to the time period of Irwin and Jakks. These are the best guides I've found so far. I'd love to see better!
The Process/Prototype Identification
Irwin usually did
drawings
before sculpting. I don't know if Jakks did. If Jakks did, I don't think we've ever seen them online.
↓
Figures were sculpted from
wax or clay
(or another material not meant to be durable, but easy to sculpt). These usually don't survive, because they are fragile, and they likely got destroyed/damaged while producing the silicone molds for the next step. I don't think I have any pictures of this specific step...
However, in my opinion, the Recoome and Guldo below were painted clay. They look like natural sculpting clay that's been painted by hand and then airbrushed.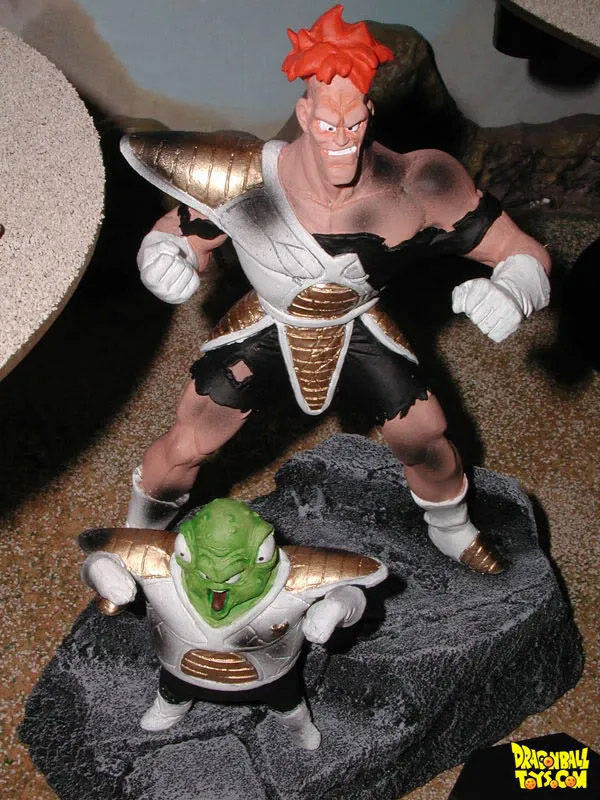 ↓
A silicone mold was made, and
resin hardcopy prototypes
were cast. Hardcopies are usually gray, beige, or yellowish opaque resin and the entire figure is usually the same color throughout. They used metal pins for the articulation on the hardcopy prototypes usually, or some other form of dowels like plastic ones. Resin is a much different type of plastic from production figures... it's much less flexible. The copyright info won't be molded into the character. The hardcopy might be bigger than the production figure or approximately the same size. They usually have details that the production figures won't have.
Unproduced Goku that
Capsule x Nike
owns.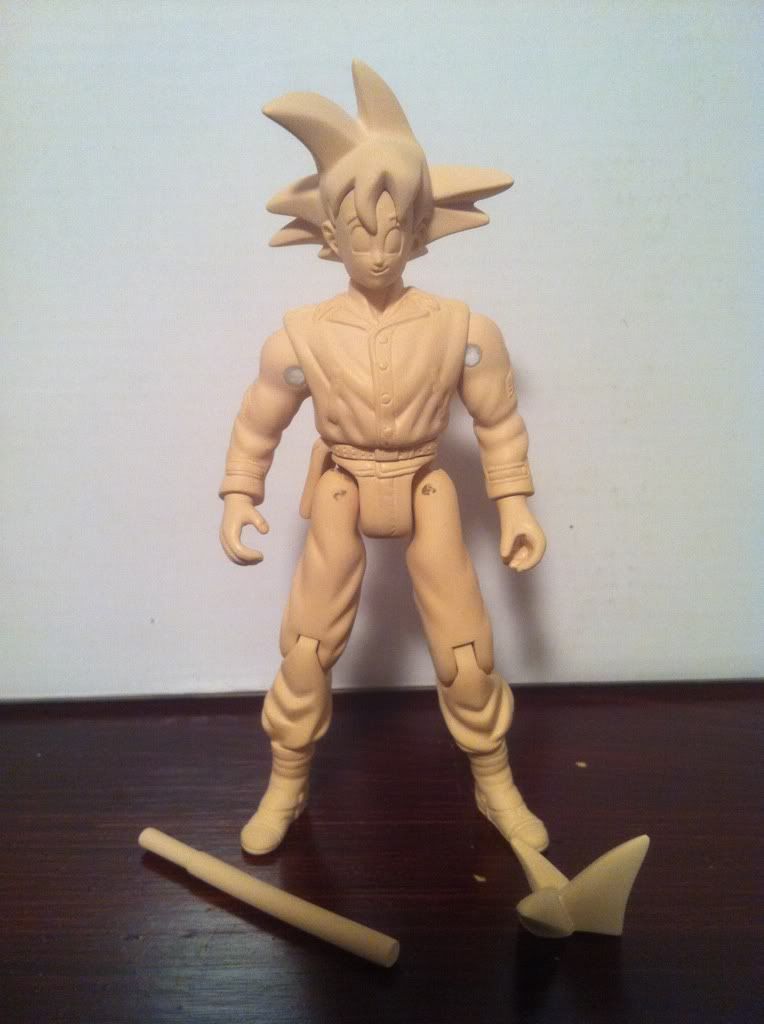 ↓
At this stage, around 3 resin hardcopy prototypes were painted by hand. These are called
hand painted hardcopy prototypes
and they would be sent to the production factory for them to follow color placement. They would also sometimes be used for promotional photos (like the images on the back of packages) or appear on display at Toyfair and other events. For whatever reason (I assume being shipped several times around the world) they are often in bad shape with broken arms or some chipped paint.
Sometimes they were significantly different from the production sculpts, and that wasn't necessarily a good thing.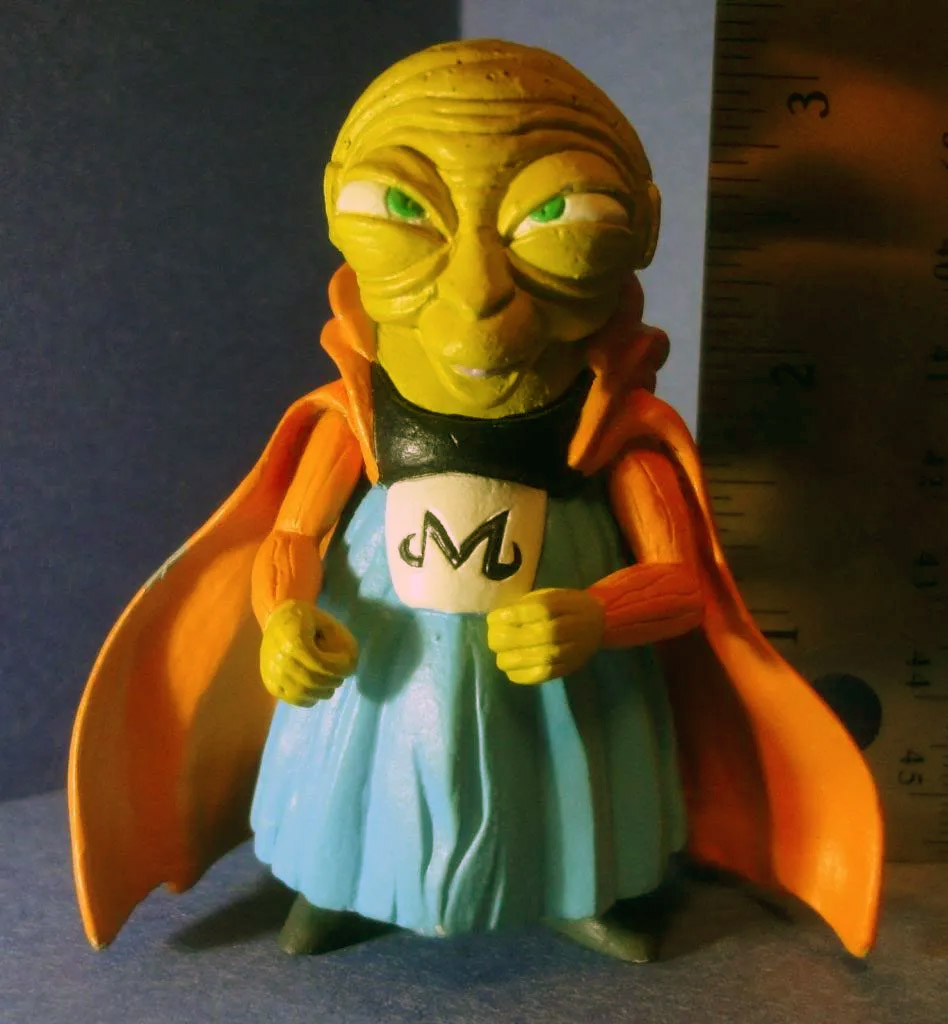 Tragically, sometimes they were significantly BETTER than the production sculpts.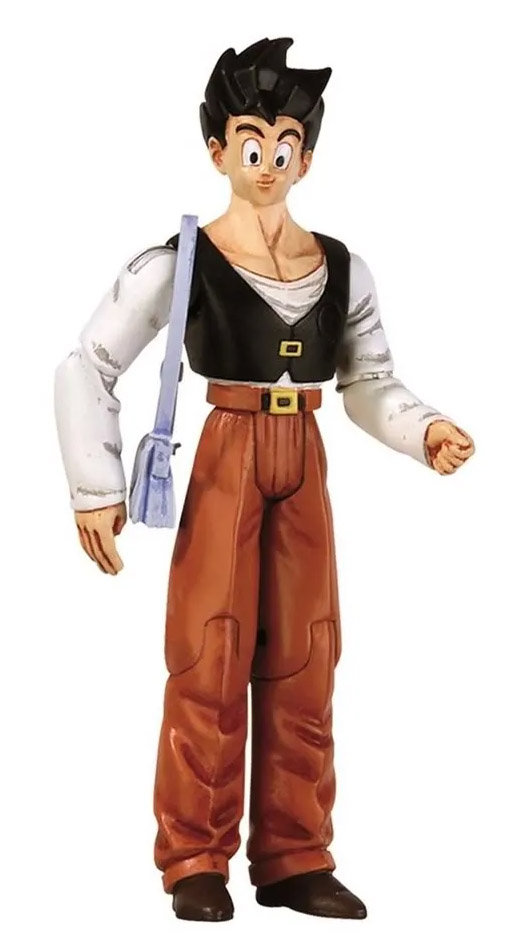 Other times there were unproduced characters.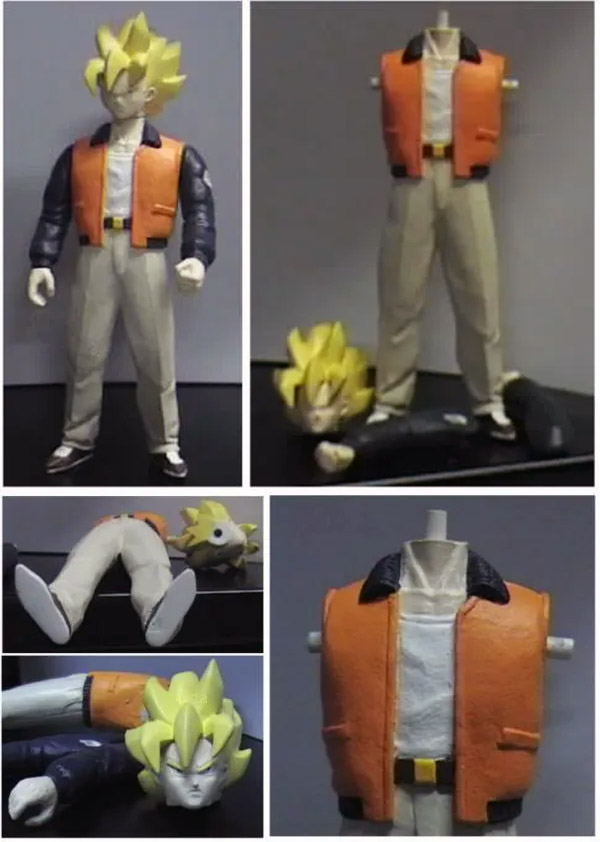 It's worth noting, that
hand painted prototypes were not always resin
. Regarding Jakks and according to
cracker
, "If they were new sculpts then they were resin. If they were reusing parts [because they were repaints] they would typically take an existing figure and just have us paint that. I remember my boss having to use one of those blue Toy Fair Vegetas to make the paint master for the Legend of The Saiyans 2 pack of Vegeta with SS2 Vegeta."
Here's an example cracker showed me: "Broly. The new parts are the white resin, the reused parts are just taken from existing figures"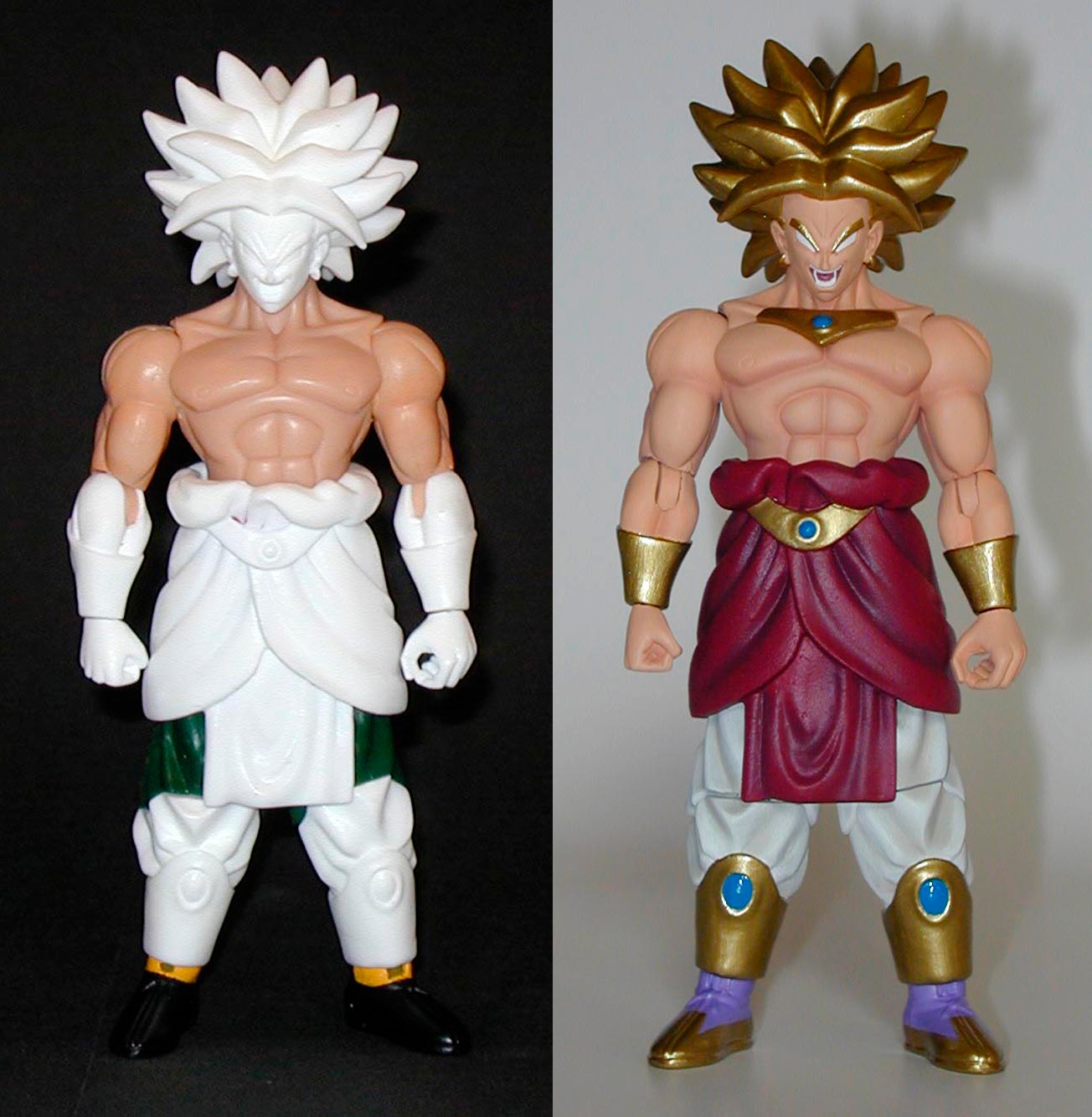 ↓
After that, I assume steel molds were made based on the resin hardcopy prototypes and the injection molding process was started to produce first shots/test shots. Considering how expensive steel molds are to make, I'm not sure if they did this immediately, or still played with the design of characters before making steel molds. Why? There are plastic test shots that are not resin, but are different in design from the production figures... and steel molds are expensive to make.
First shots
and
test shots
are the most common prototypes you find. They are injection molded (so typically the same type and flexibility of plastic as production figures).
carnage6
owns a few of these and
TheCollector
owns a ton of them (some of his photos are the ones I've used here).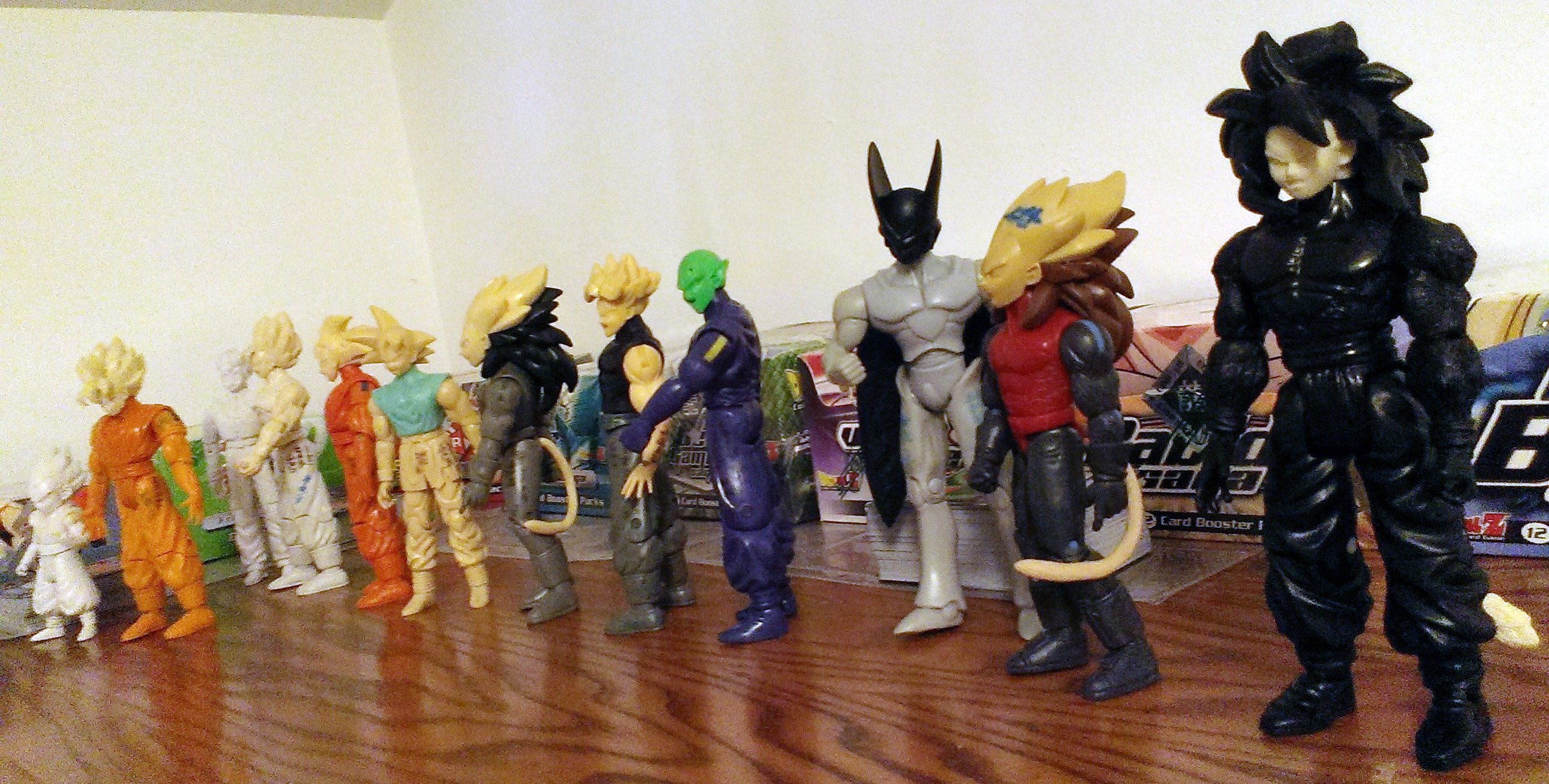 They are in weird colors sometimes and the weirder they are, often the more writing you'll see on them. These may have used leftover plastic and been made in these weird colors to essentially clean out the injection molding machines. Despite that odd feature, they can be identical to the production figure, much different from the production figure, and/or missing the copyright info.
Test shots missing the copyright info are earlier than test shots that have copyright info.
If they are early ones, they might even have differences from the production figures... like really pointy hair or some other feature that might have been changed later due to it being a safety hazard (too pointy) or too big to fit in the packaging. Test shots with writing all over them are probably highlighting changes that need to be made.
Based on the colors of this SS3 Goku, it's injection molded plastic, but it is SIGNIFICANTLY different from the production figure, and it was sold during Irwin's 2003 bankruptcy sale that ended up on ebay.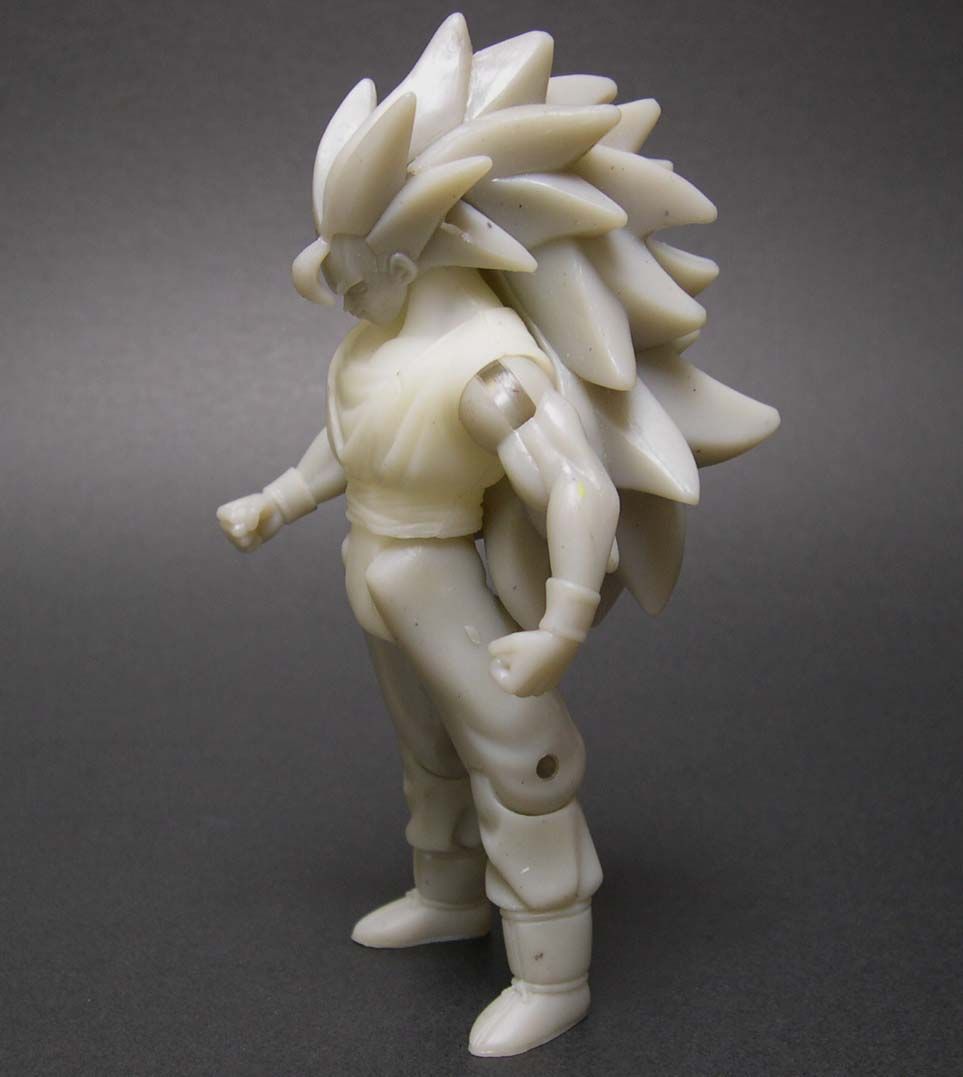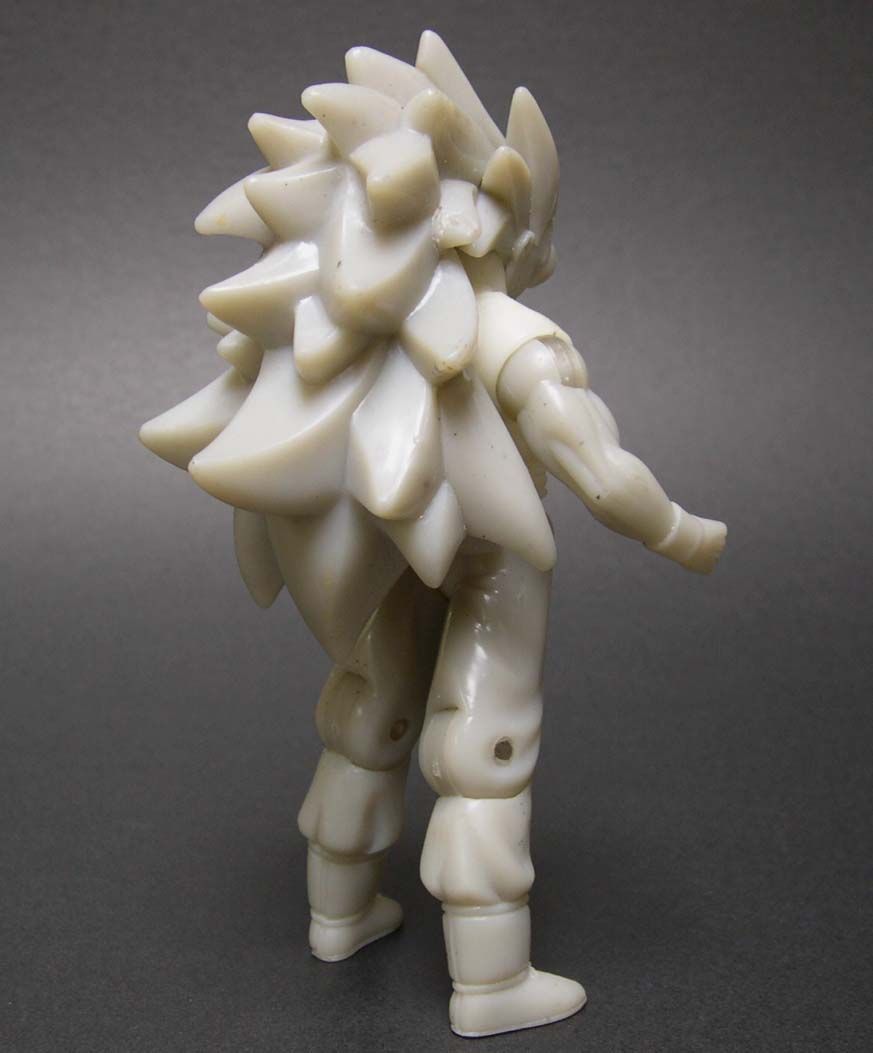 Some people have described some of their test shots as feeling and/or looking like they were painted with primer. It looks true of some of them.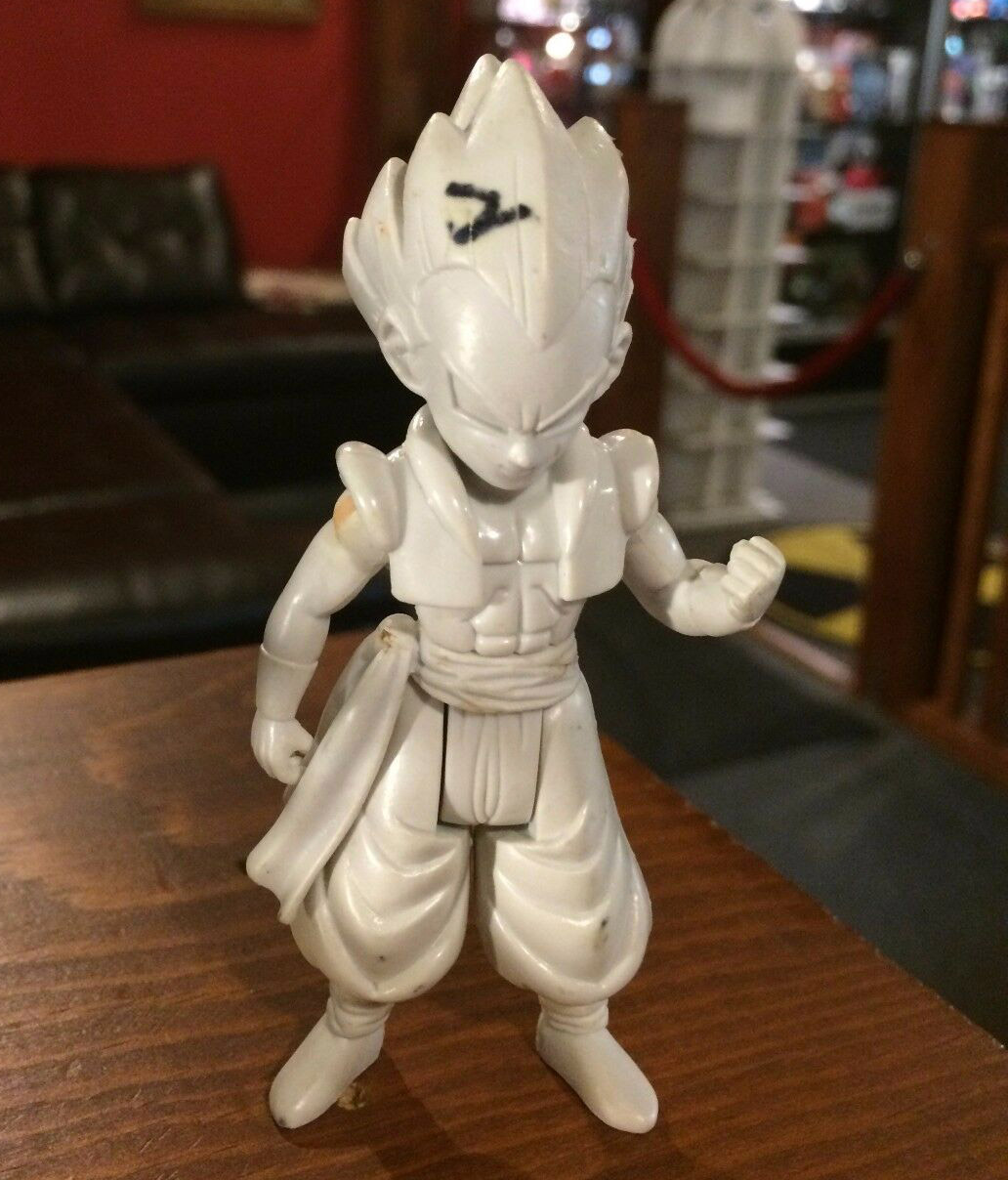 Sometimes figures that
look like
they might be test shots are just
figures that were taken off the production line before paint was applied
. Either that... or they were late test shots, because they are using the production plastic colors. You'd have to analyze the plastic colors of the production figures to understand and figure out whether or not the production figure used these colors or not.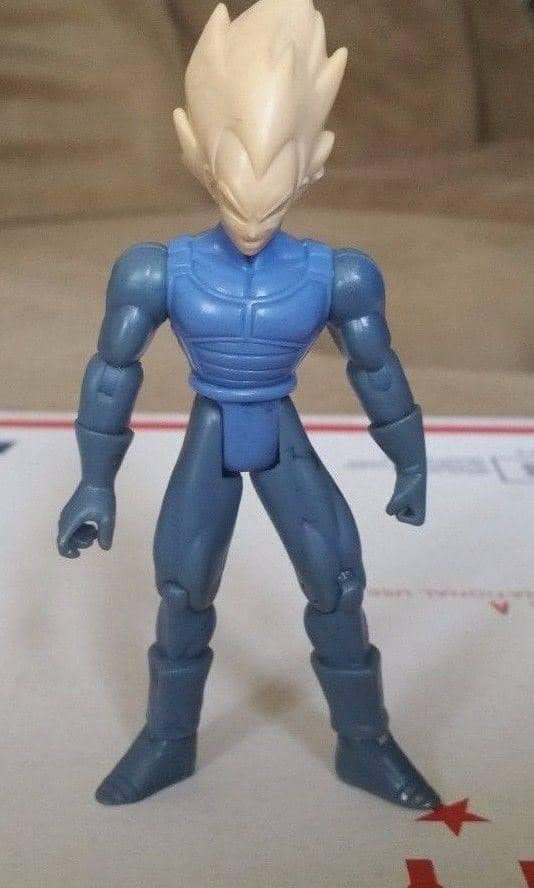 But if you see a test shot that was produced in the same color plastics are the production figures underneath their paint... well... it could have just been a figure taken off the production line before paint was applied. This may just be my opinion, but I don't think they are as interesting as the ones that are cast in really weird colors, and the most interesting of all are the ones without copyright info that have slightly different sculpts than the production figures.
↓
Paint samples
for some Irwin figures have been found, particularly Series 4: Goku, Piccolo, Vegeta, Android 18, Android 17. These figures are the same plastic as the mass-produced ones, but they are hand-painted and usually (or always) lack the copyright text. These might have been hand-painted at the factories and sent back to the US/Canada to approve the paint schemes before the figures went into full production. These figures aren't necessarily as interesting as the rest, because from what I've seen, the paint jobs are not always very good quality. For example, all of the Android 17s I have seen don't have enough coats of orange paint to cover up the black/charcoal paint, so the black/charcoal paint still shows through it. They can also have strange looking eyes... particularly Piccolo.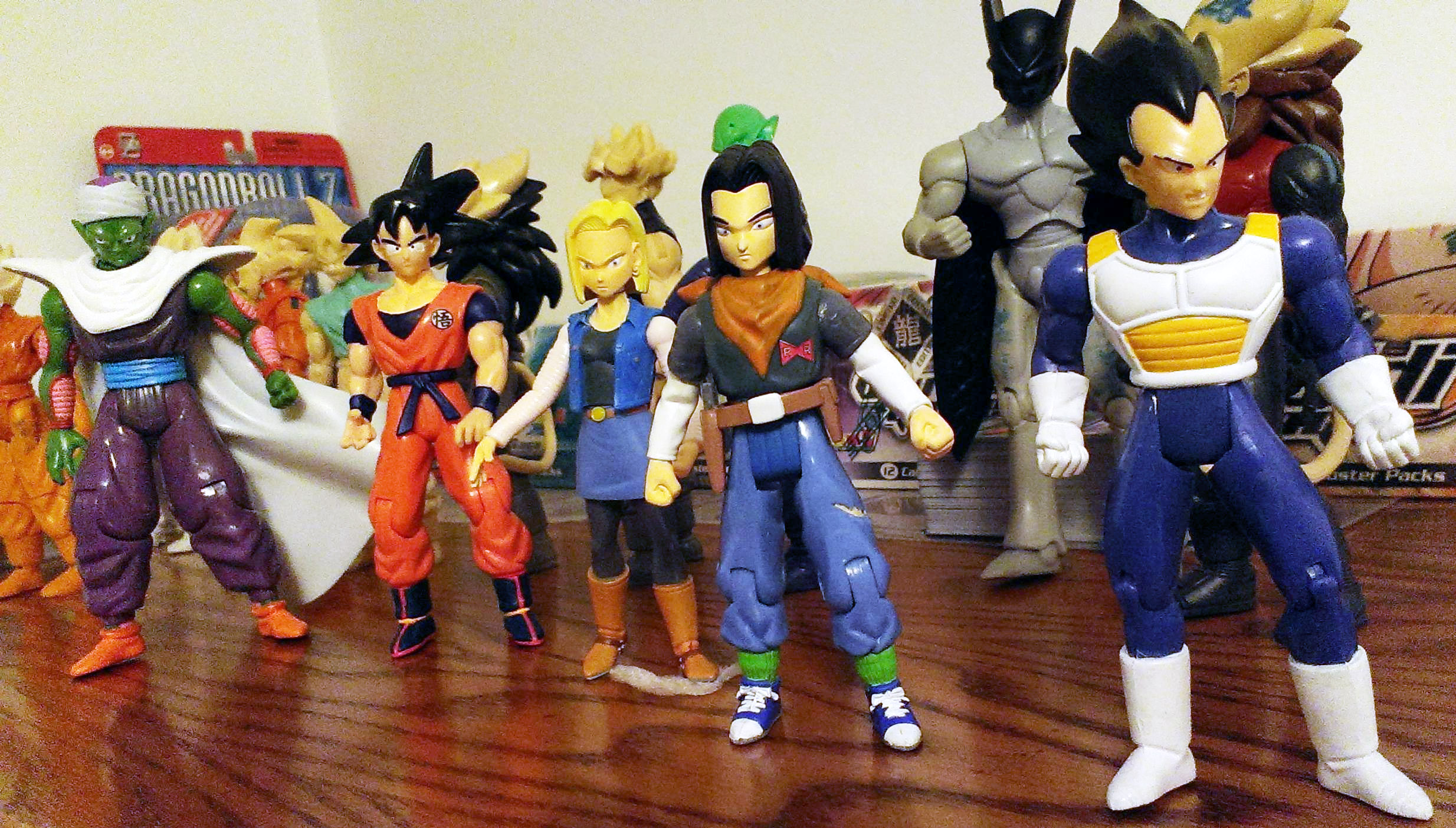 ↓
Production figures
are what you would have bought at the store. They were packaged and sold.
There were also
Production Rejects
, which were figures that were not packaged and sold because they
didn't meet quality control standards
. They had flaws of some kind; they were
defective
. They were likely thrown in the trash, but some sellers in China (maybe even at least 2 sellers still today) would have large collections of production rejects that they possibly stole from trash dumpsters. I purchased an Irwin Gotenks from one of these sellers in the early 2010s, and his foot was so oddly cast that he was unable to stand up. The paint and everything was perfect, but his leg had a flaw in the casting and so his foot was at an angle that made it impossible for him to stand up. Many production rejects are "new" figures, but some without physical deformities have horrific paint problems, to the extent that they look like used toys. I've seen several figures on ebay from these sellers over the decades that looked like there was dirt stuck in the paint. Some with two right arms or two right feet or some other weird problem are possible, but it was also unfortunately possible to find packaged Jakks figures (in particular) with two right feet or two right arms and such. However... some of these rejects seem just fine. I'm not sure why they got rejected.
These were production rejects as far as I know. They were definitely sold by one of the several sellers on ebay. One seller of production rejects was/is named cof7788 and another was/is topop8688. I believe there were more decades ago, but I don't know their names.