Post by Branjita on Apr 1, 2022 10:54:36 GMT -6
Bandai America was kind enough to send me an early sample of Dragon Stars Nappa as well as Dragon Stars Vegeta (Saiyan Saga version)! This is the first time I have received a product before its release, and it's even more incredible that it's a product I have been excited about! (And just for reference, before you get tooooo jealous, I have not received tons of products, just a few over the years).
Worth mentioning, I find it remarkable that I received this 1 day before
Bandai America was merged with Bluefin and renamed Bandai Play
. Obviously they shipped it a few days earlier, but that sure did mess up my tagging of them on Facebook and Instagram! (The tag died hours after my posts).
If you'd like to pre-order Nappa, he's available for pre-order on Amazon and has a release date of May 9, 2022:
amzn.to/371xMkE
And Vegeta is currently available right now:
amzn.to/3j0RI9S
Anyway, my review is unbiased, because despite receiving these for free, that's really not going to sway my opinions.
Packaging:
nothing too unique. It's nice that all Dragon Stars packaging is consistent. I like that. It looks great as is.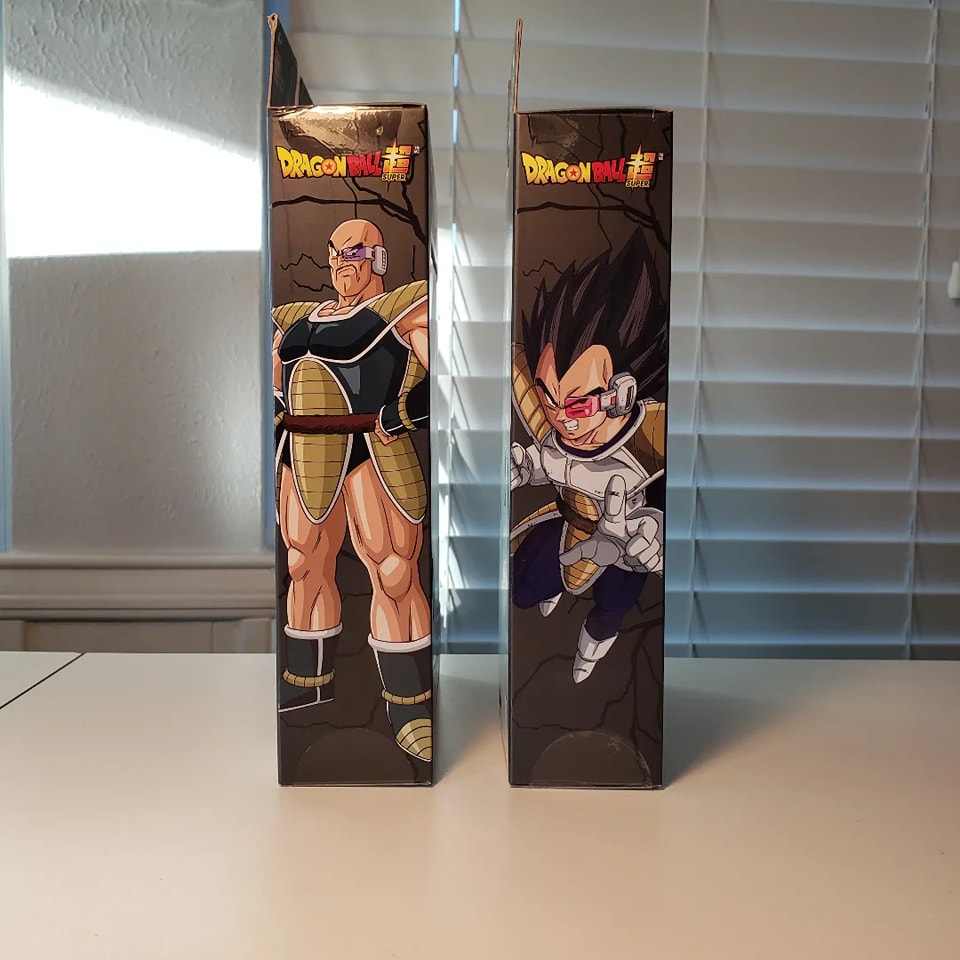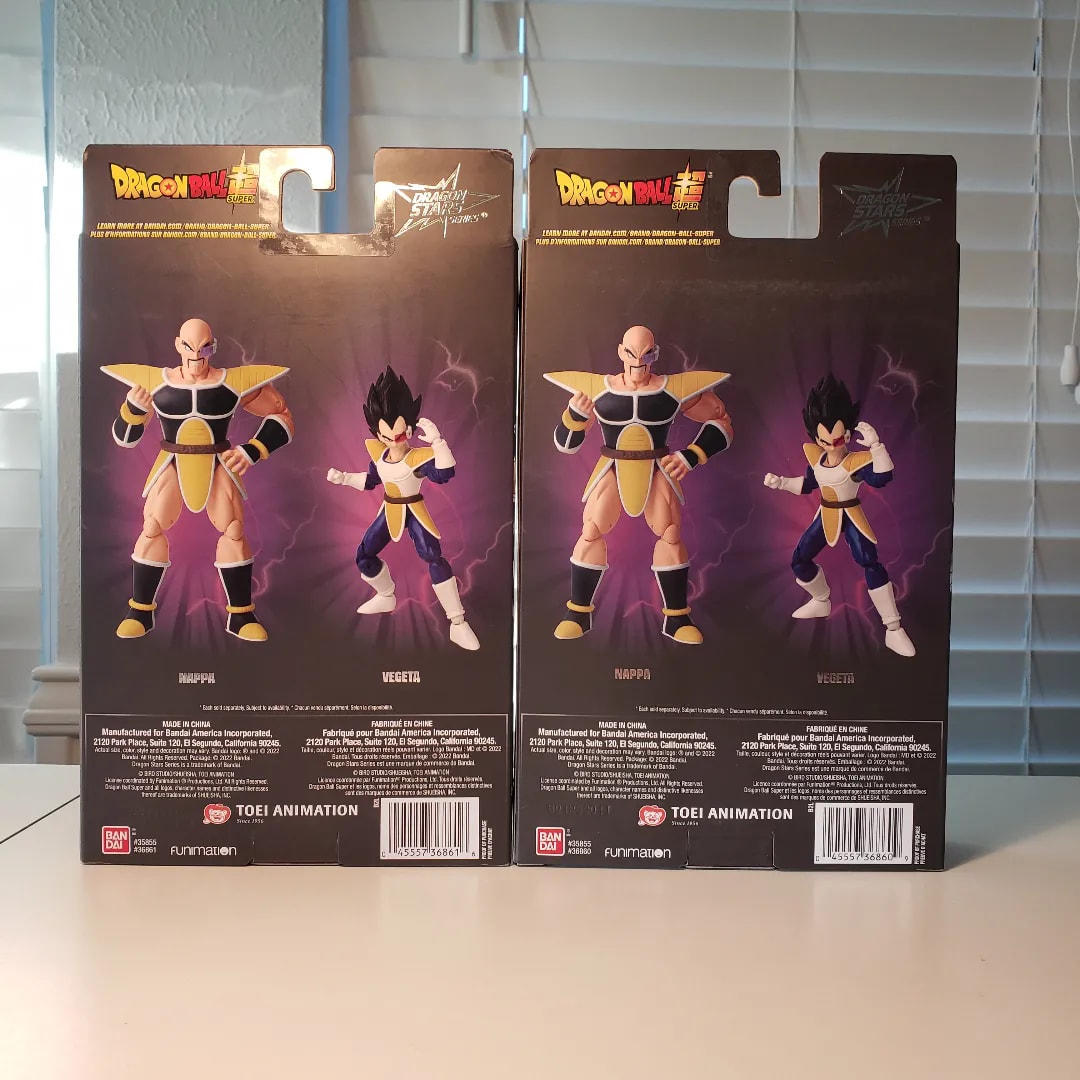 Accessories:
I'd say that Nappa's accessories are perfect and Vegeta could have benefited from 1 more hand, just to give some variety. Nappa coming with his two-finger hand is awesome.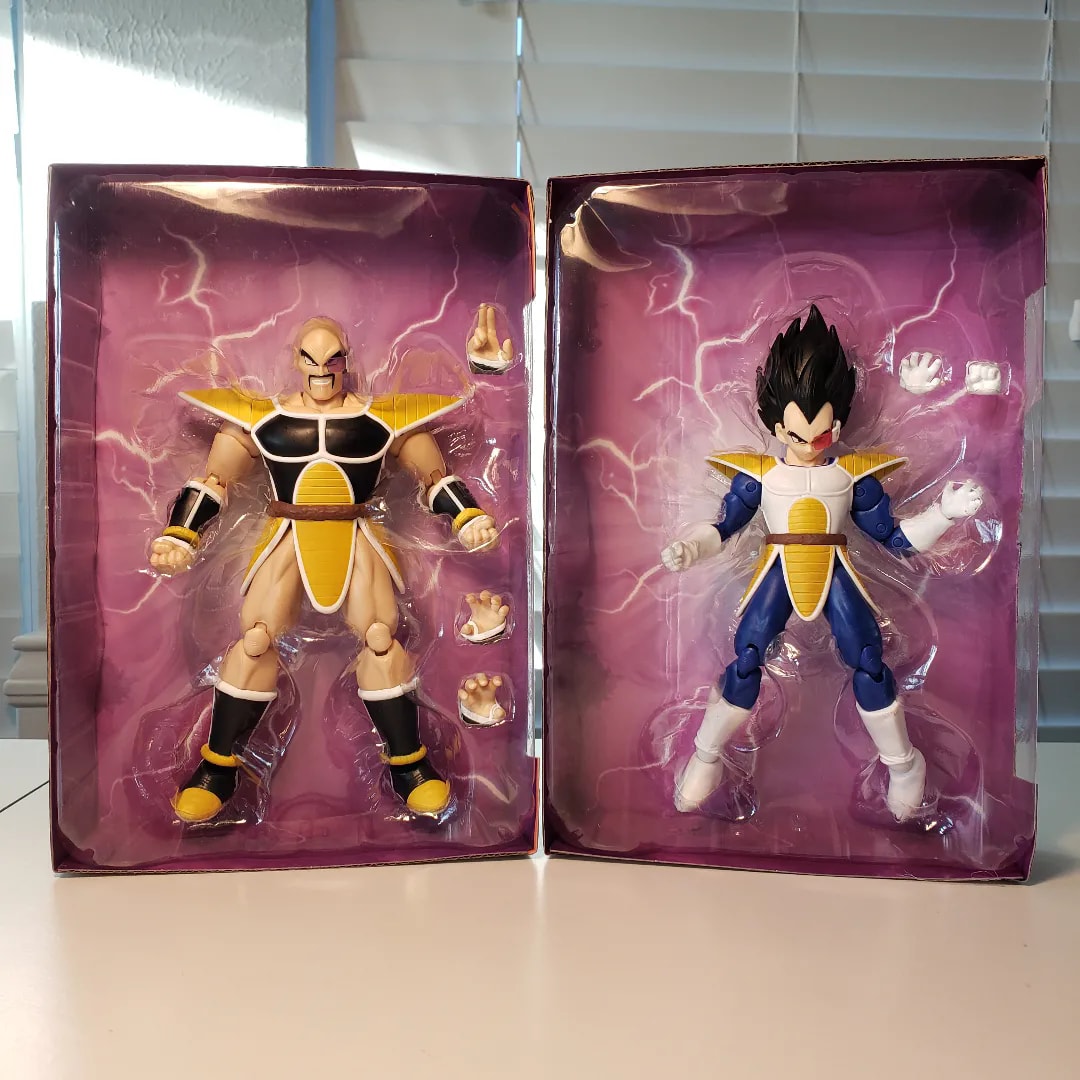 Ability to be posed:
I'm honestly impressed. You might recall I was super disappointed with how little Janemba's legs could move at the hips, well... these two are excellent. Their thigh armor is a little restrictive, but less restrictive than I expected! I was not able to get Vegeta into his gallic gun blasting pose (arms won't straighten out in front of his body enough, and open hands can't get angled enough), but I did get him into the charging pose pretty well, and was even able to get him to balance on one foot doing it.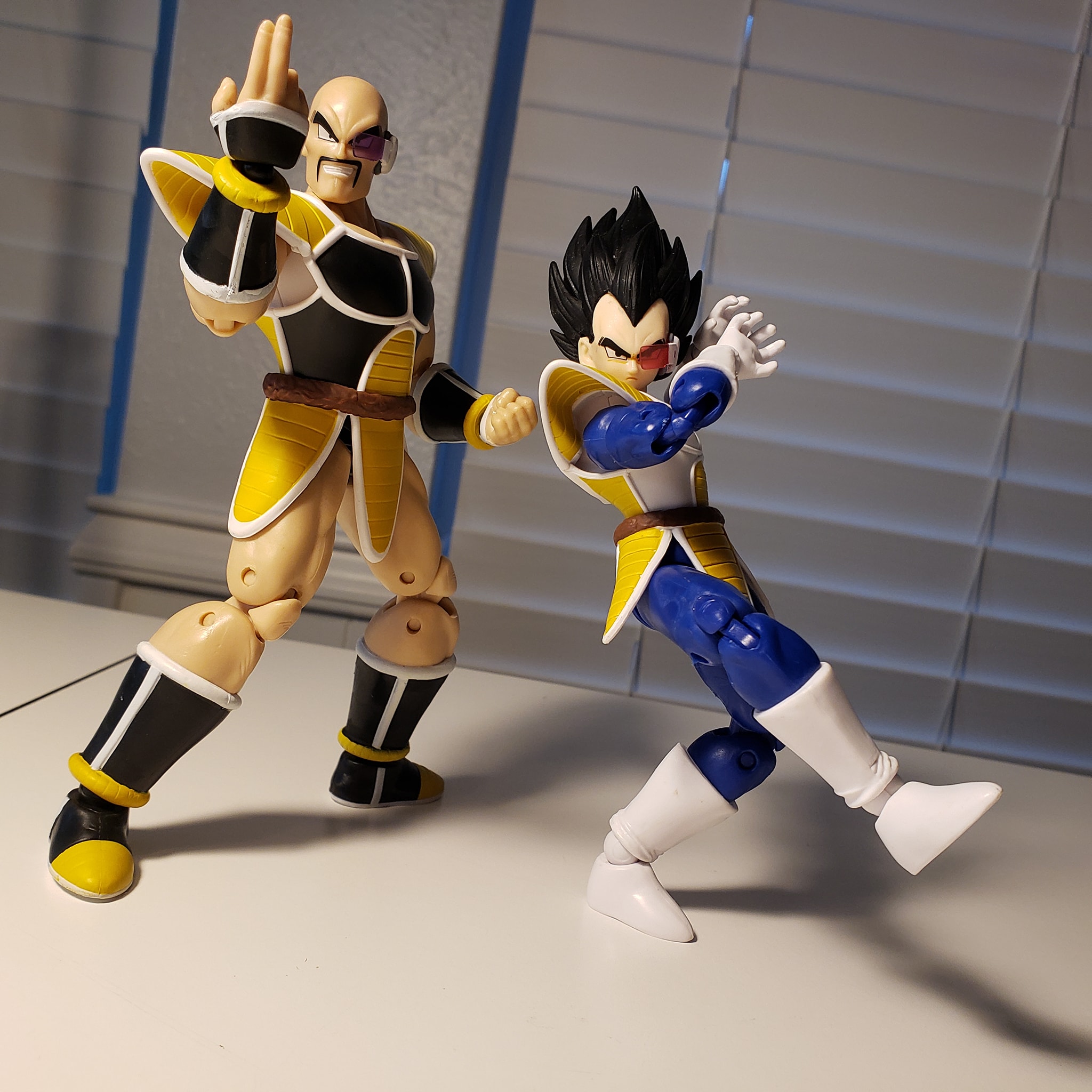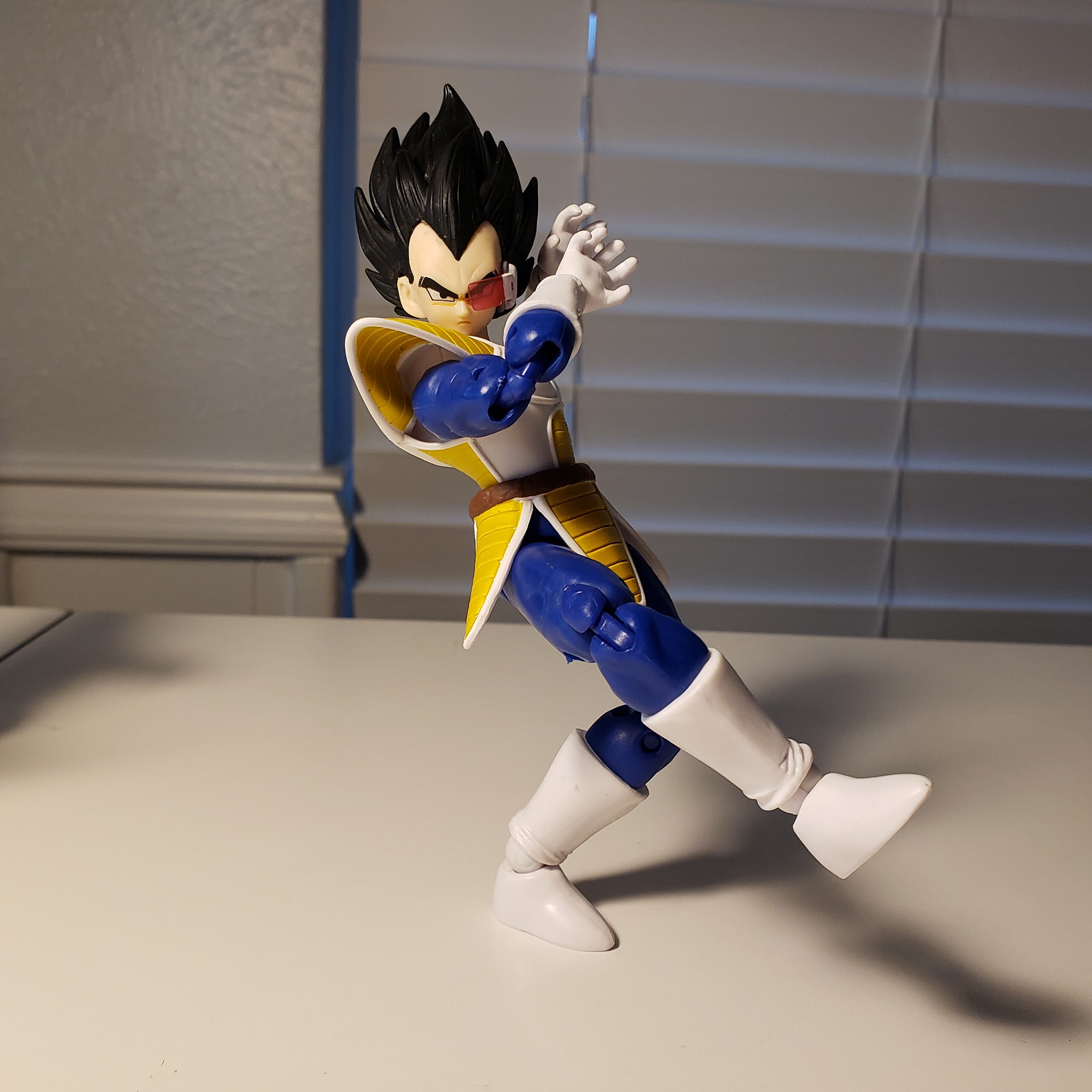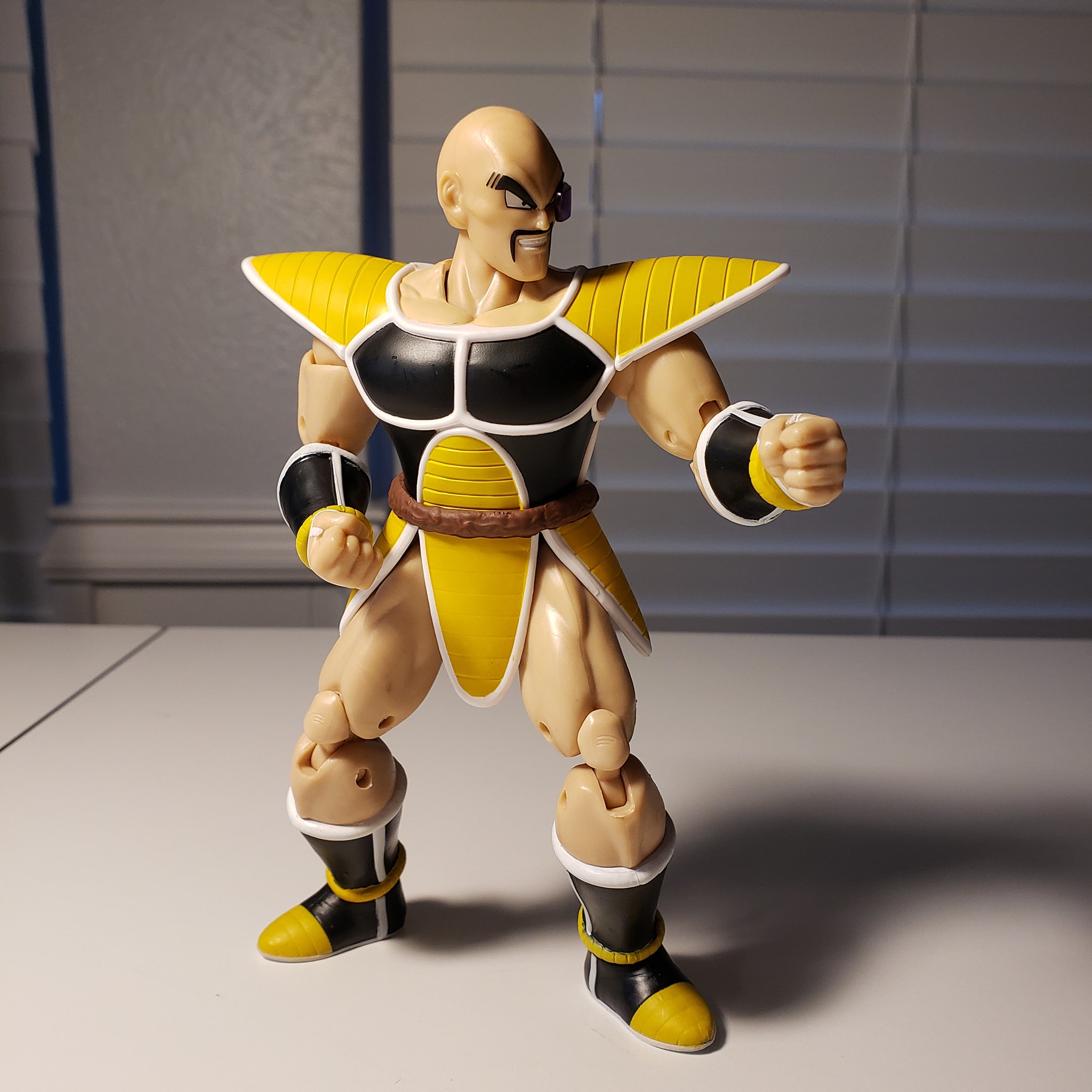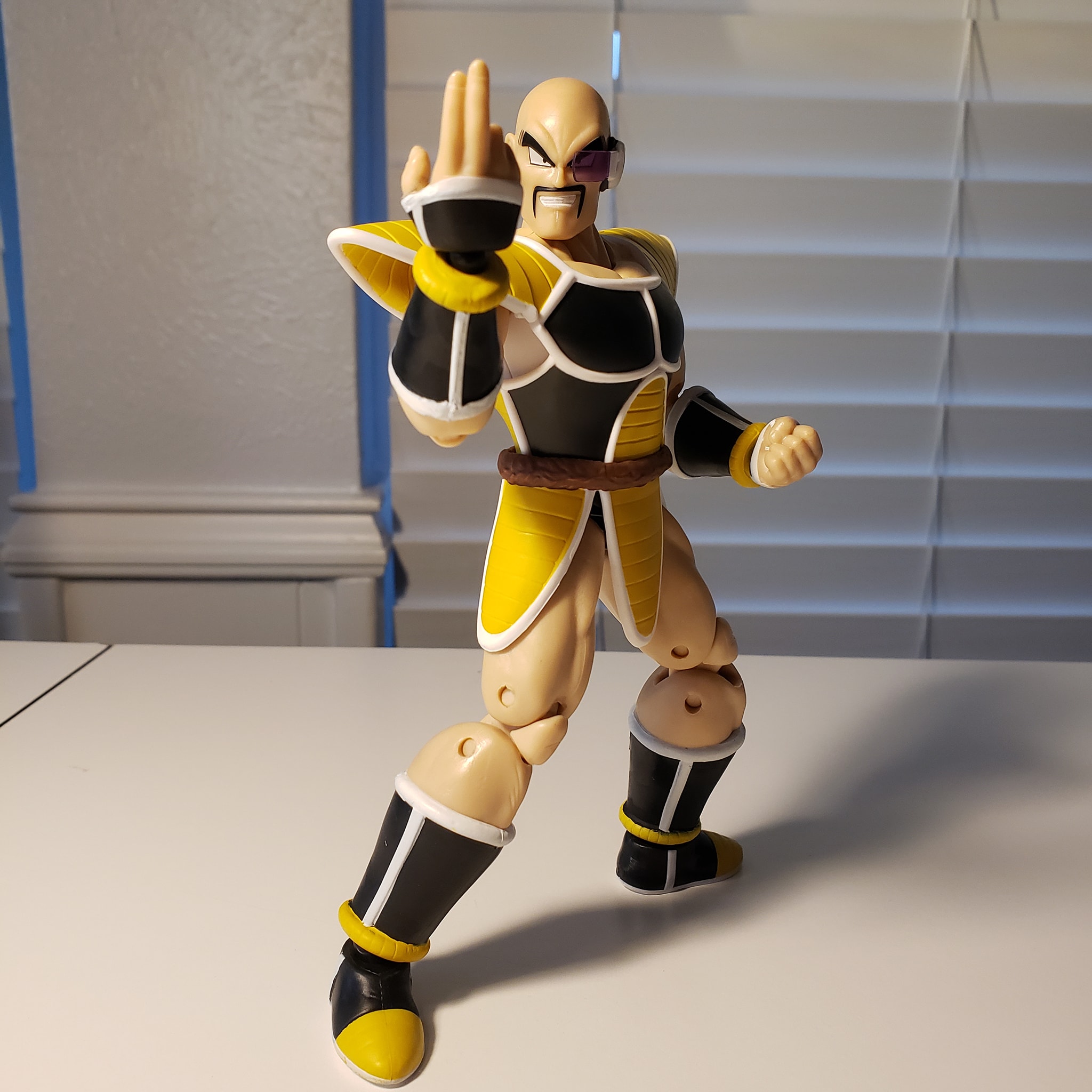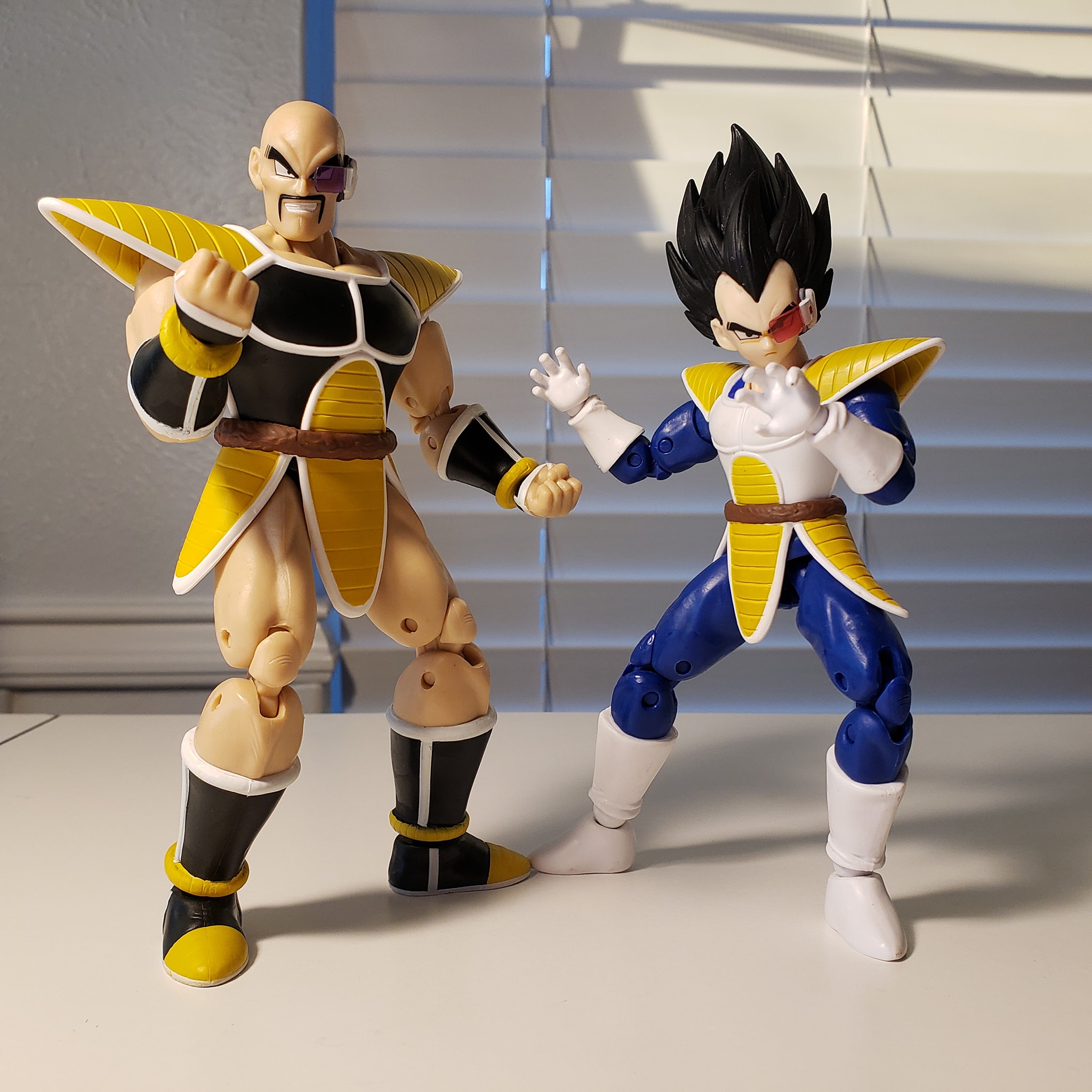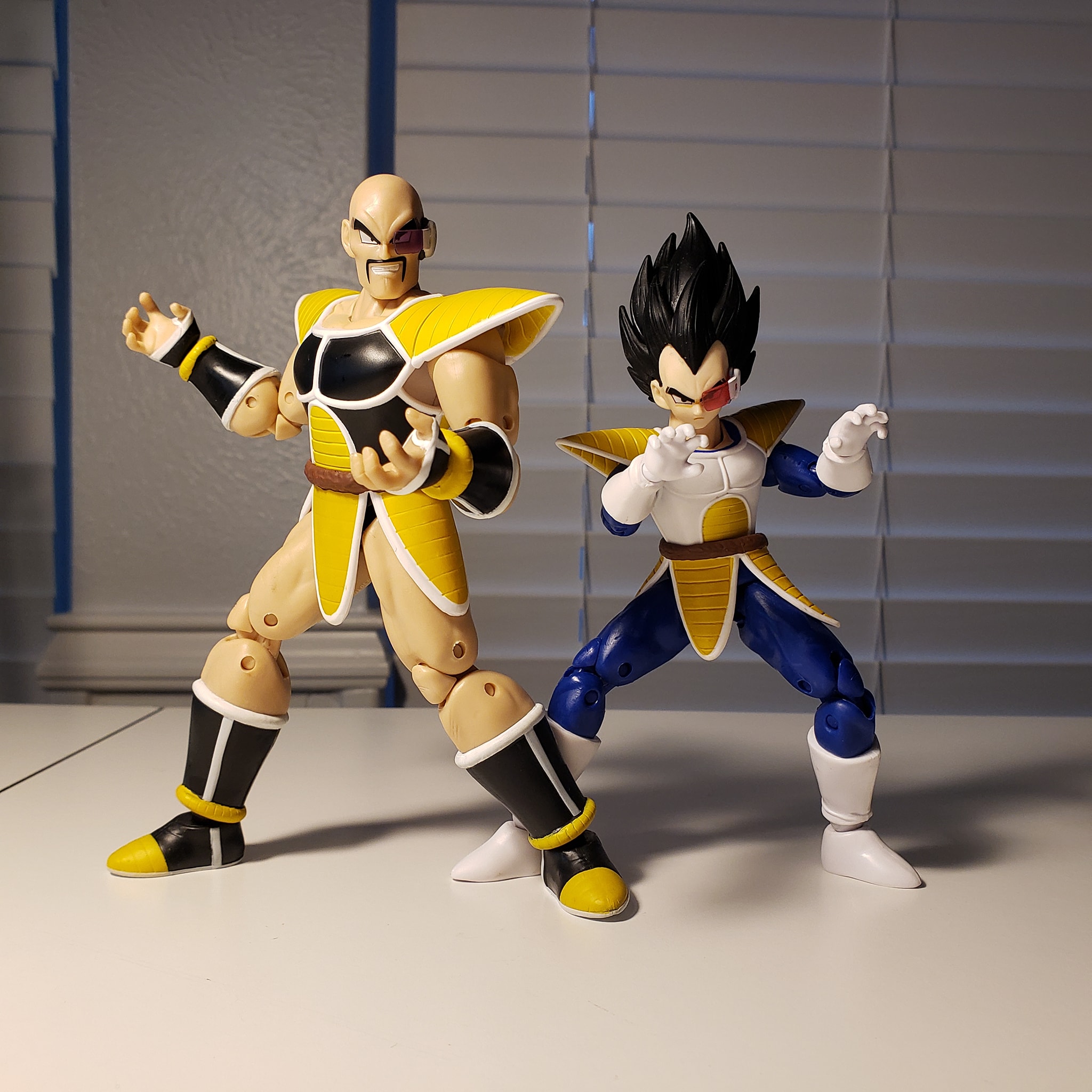 Sizing, Sculpting/Design Review, and Comparisons:
As most of you know, I am a diehard 5 inch scale collector, so I only collect Dragon Stars figures of large characters who can be great for a 5 inch scale collection. From that viewpoint, I'm super pleased with Nappa. He is the best option for a 5 inch scale Nappa at his size, and he is a superior replacement for the Irwin Nappa who was made too small. Dragon Stars figures all have unusually long shins (lower legs) and typically abnormally long forearms (lower arms). Nappa does not suffer from this feature nearly as much as many other characters. His likeness to the character is good. He would be better if he was a little more bulky, but then his ability to pose would have suffered. Regardless, he would look better if he was as beefy as the Irwin figure, even if the HSCF figure is the best likeness.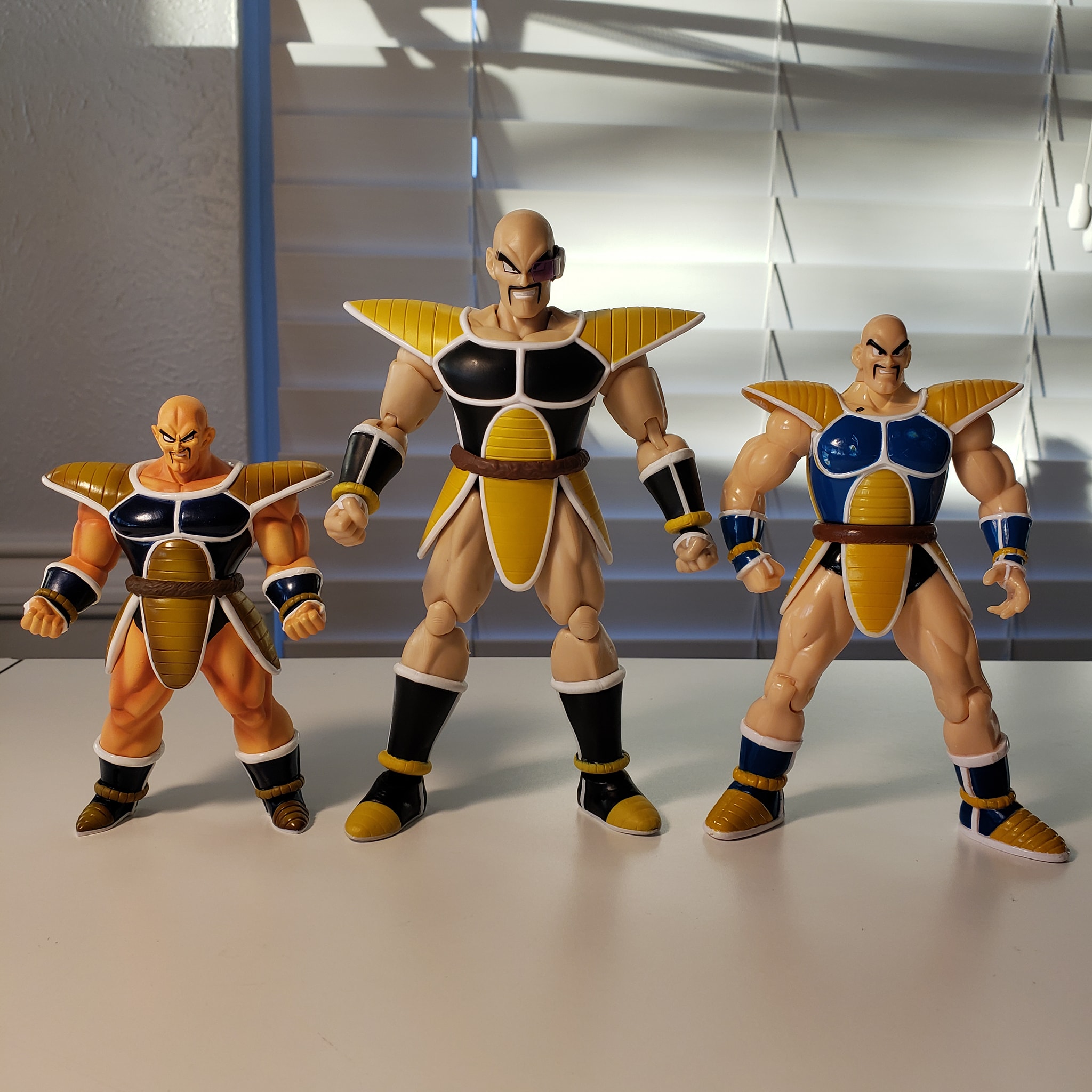 He looks really good with Jakks Saiyan Saga Vegeta (mine has a head swap) and he is very similar to my personal custom figure of Nappa, and I made my custom the size I thought Nappa deserved to be. The Dragon Stars figure is very close in size.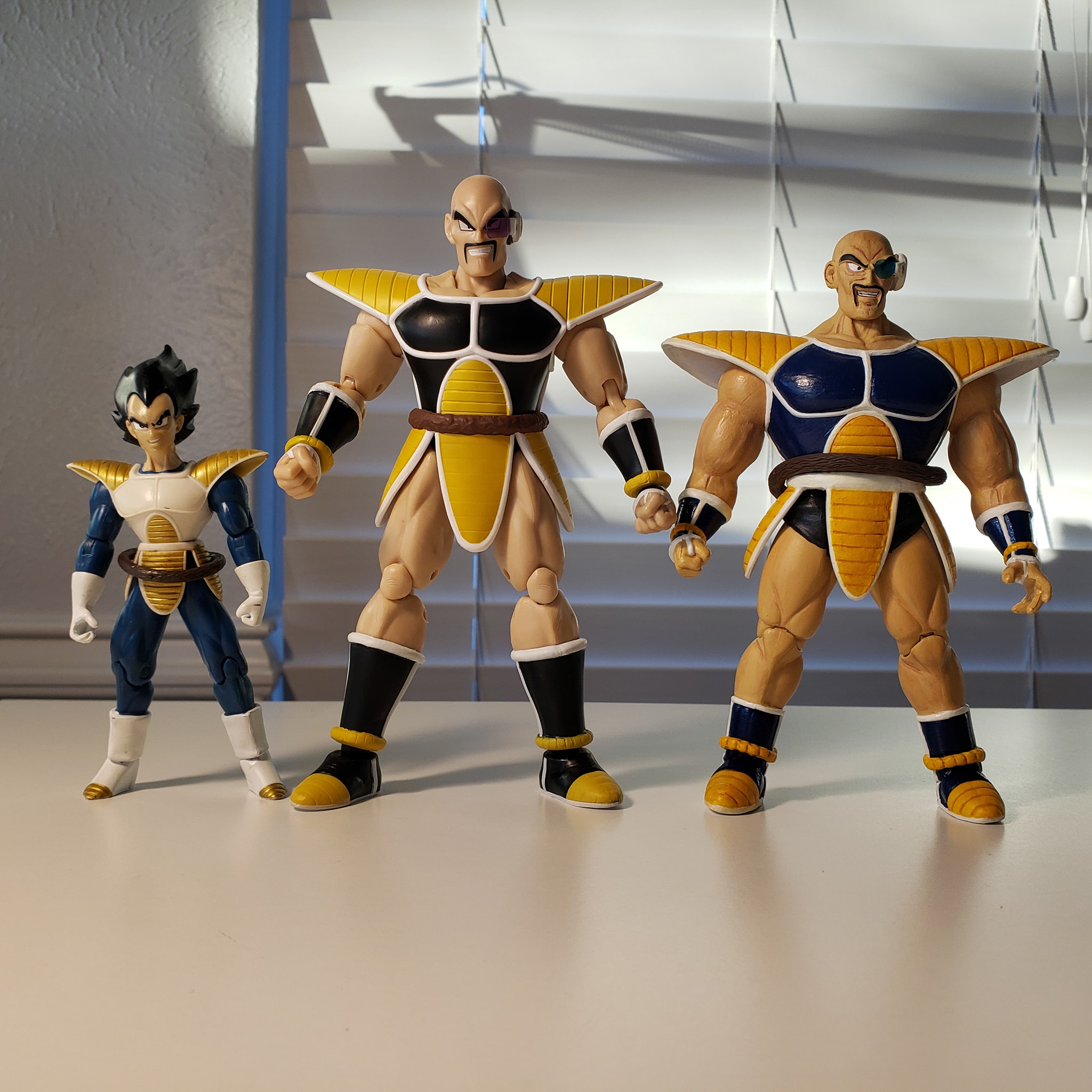 Nappa is smaller than the SH Figuarts Nappa, but that is not surprising.
He is nearly identical in size to Dragon Stars Wrath Broly. I took this photo in strong sunlight to show how Nappa's armor is black. I wish it was blue. His size next to Broly looks very acceptable and I like it. This photo also shows that Nappa's legs are not as strangely proportioned as other Dragon Stars characters. He does have an extremely short hip/butt area, but it's only noticeable from the back.
He's really great for 5 inch scale purposes. Yes, technically a little bit tall and large, but he's definitely better sized than the Irwin one.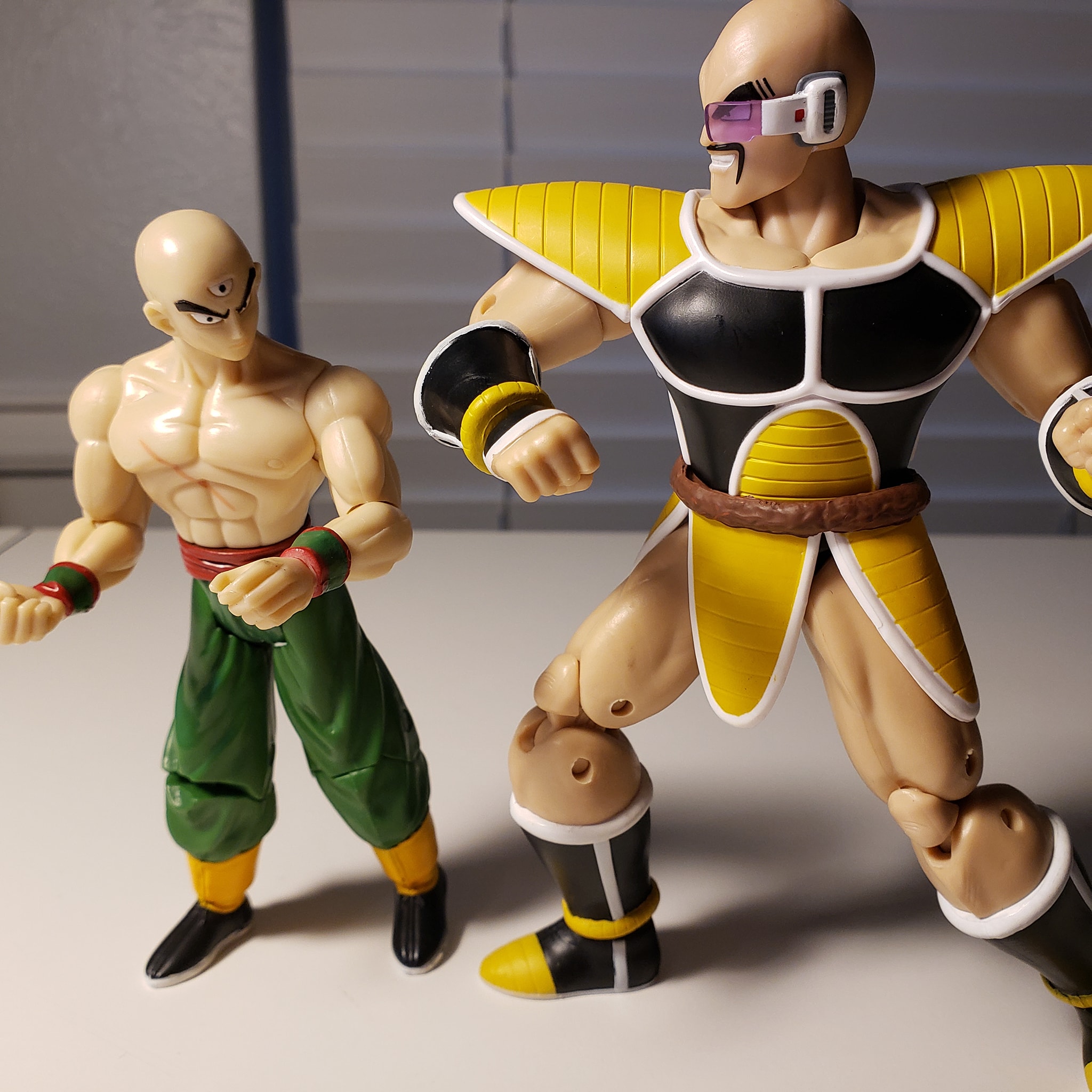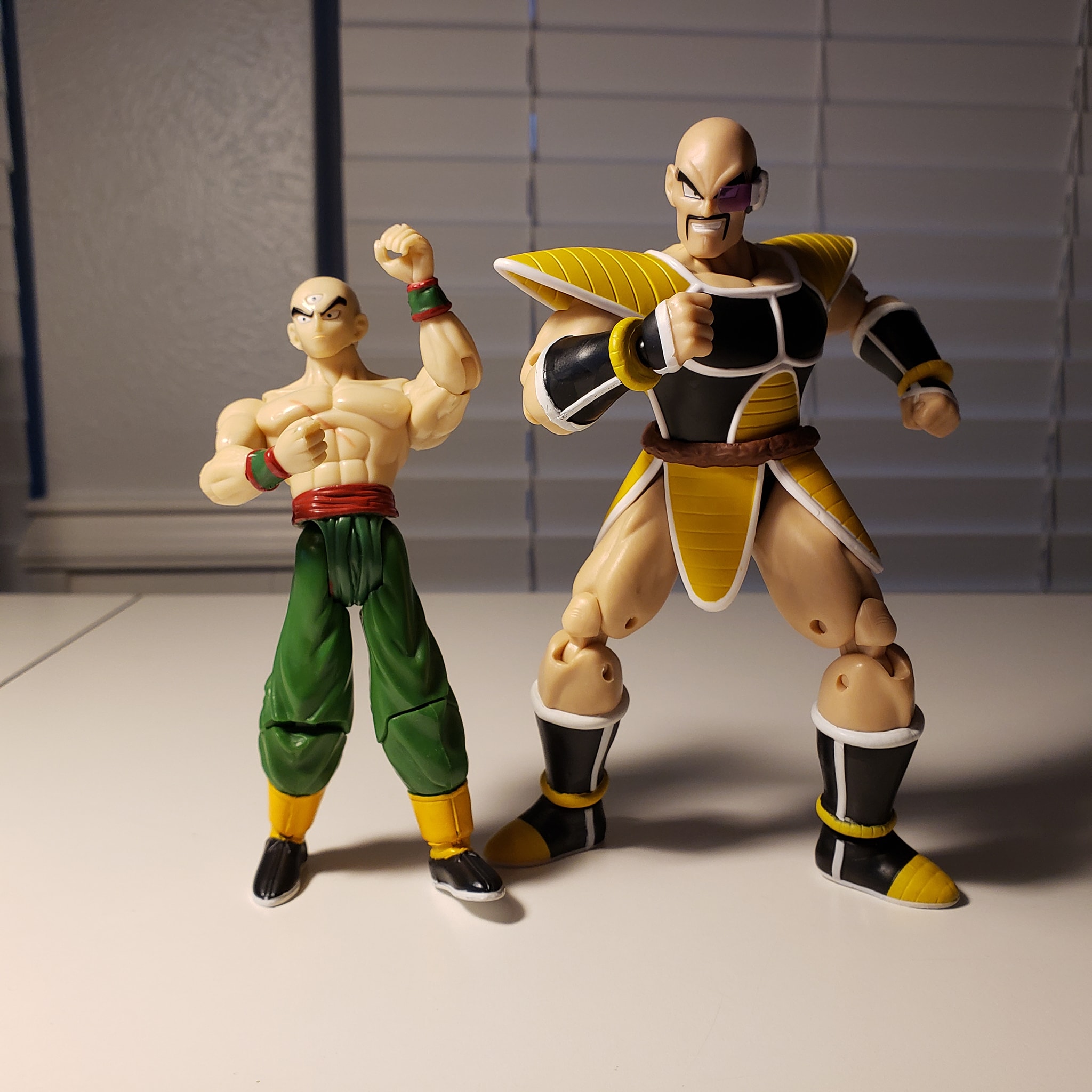 Here's Vegeta with a Jakks one and a SH Figuarts one. He's slightly larger than SHF's Vegeta. I've seen pictures of him next to other Dragon Stars Vegetas and he is identical in size to some of the previous Dragon Stars Vegeta figures. Despite his larger scale than Nappa and limbs that are much too long for the character's design during this saga (the Jakks one is very guilty of this flaw as well...), this Vegeta has a certain charm about him. I like him quite a lot, especially when he is by himself. It may not be evident in photos as much as in real life, but there's just something kind of cool about him, especially when you have him posed.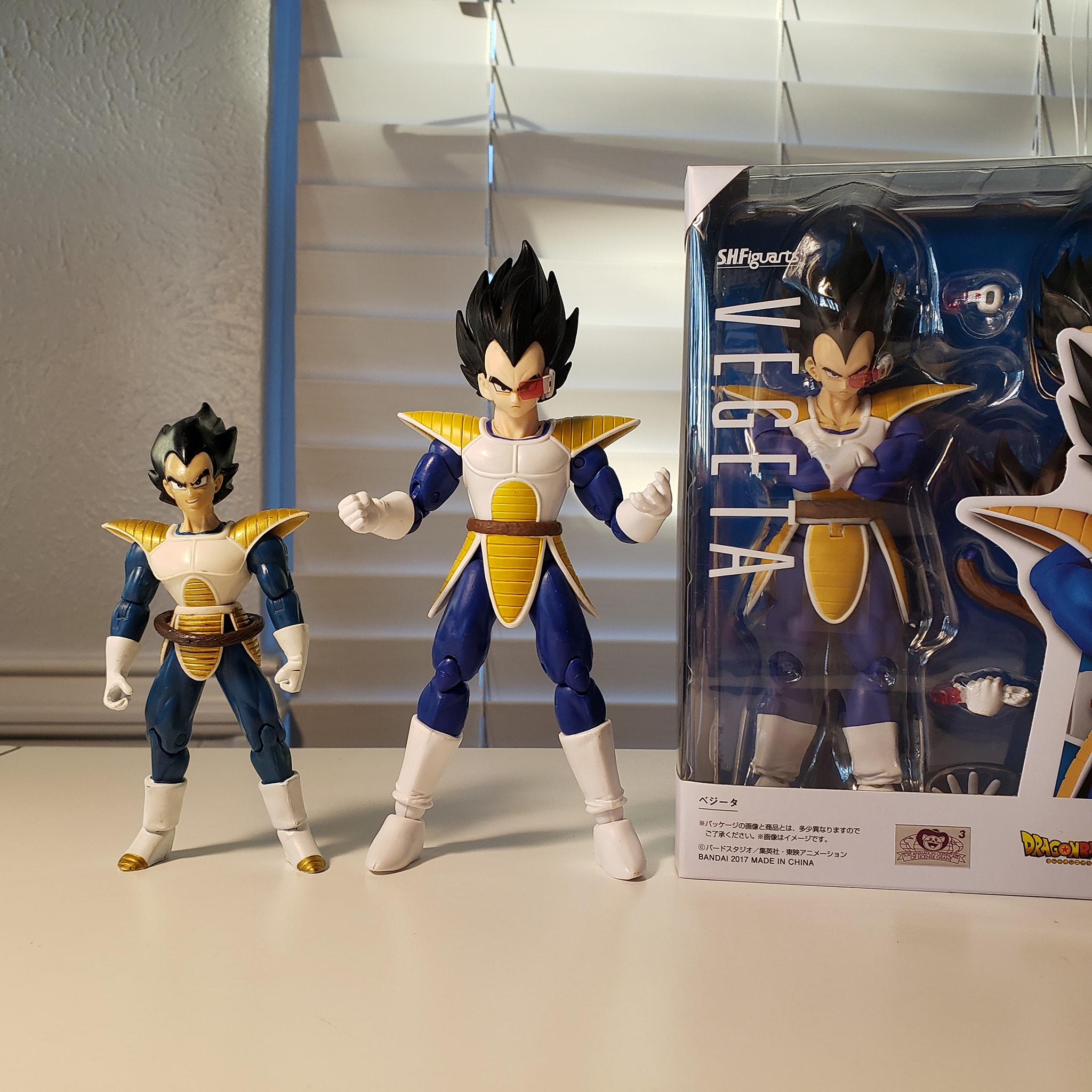 Misc:
The armor is removable to an extent. Nappa has a very small butt, which is funny. I don't find his unusual proportions to be bothersome like DBS: Broly movie's SS Broly Dragon Stars figure (that Broly has very thin thighs that are also very short, and his hips/butt are also short in height). I think Nappa's a great figure. He does look a little bit like he's been on a diet and has lost 40 lbs, but he does look like himself and it's because of how lean he is that he fits in well with 5 inch scale. I might custom paint his armor dark blue to cover up the black. Vegeta is great on his own, but looks very odd next to Nappa due to the scaling difference. But for my collection's purposes, the size of Nappa is awesome.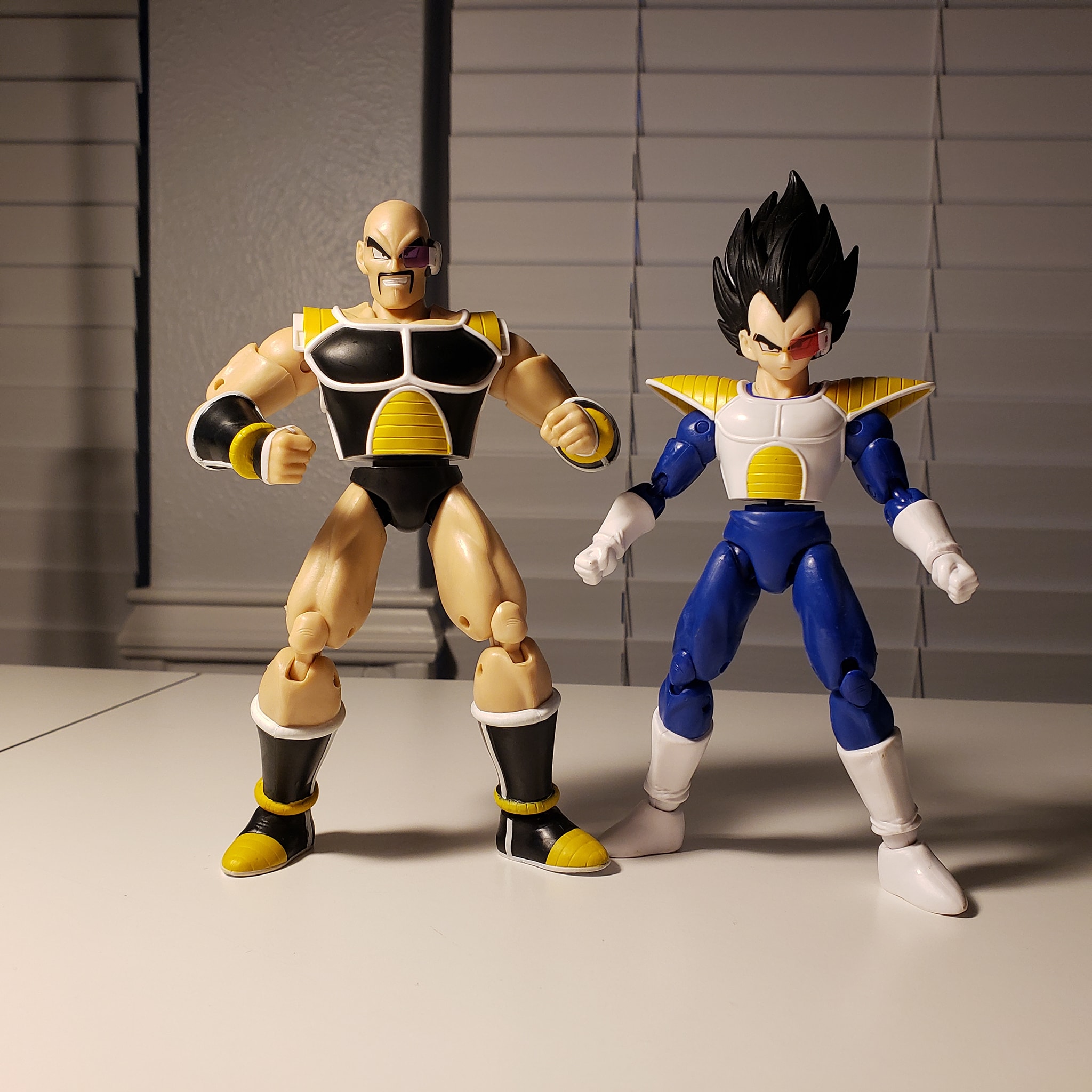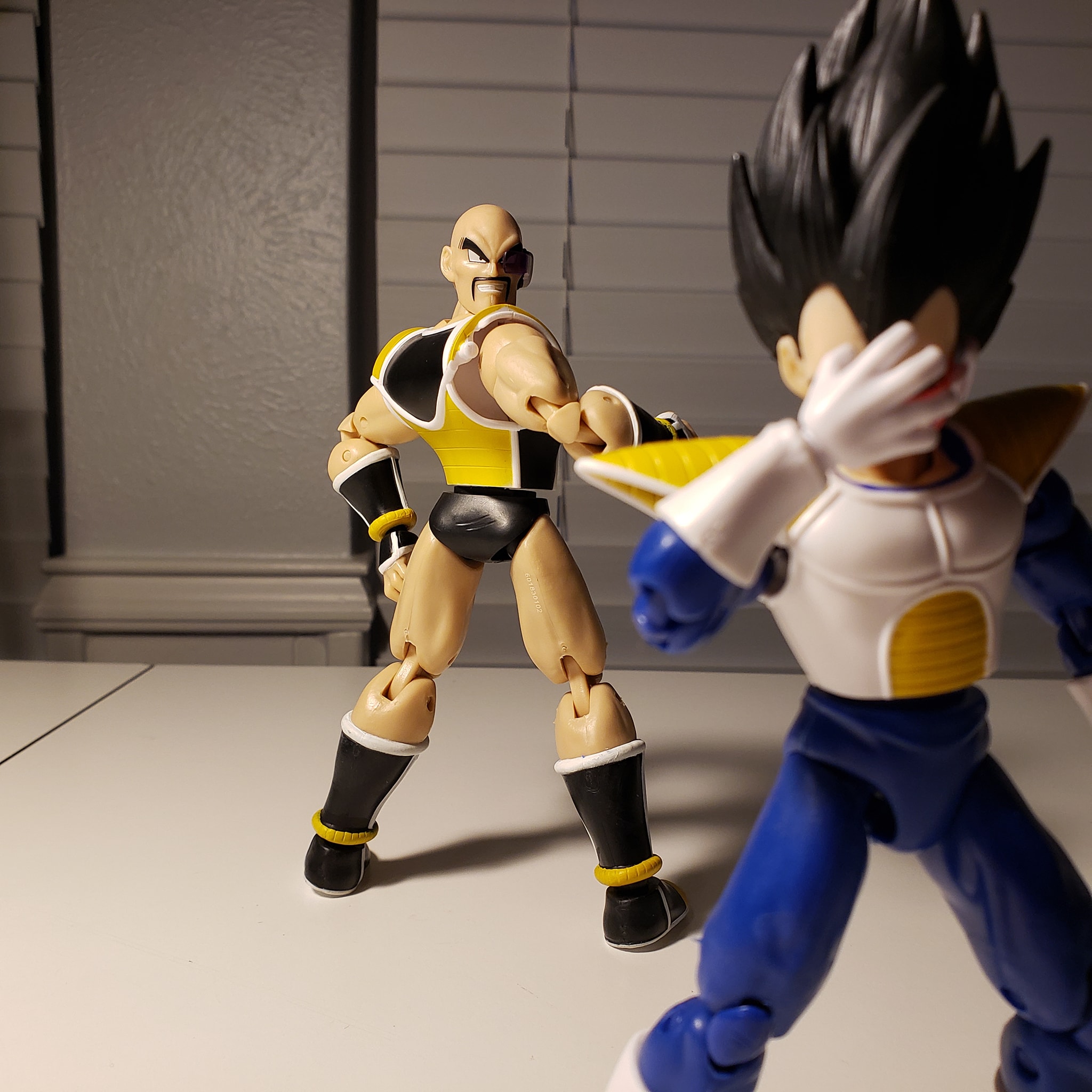 Like I mentioned earlier, if you'd like to pre-order Nappa, he's available for pre-order on Amazon and has a release date of May 9, 2022:
amzn.to/371xMkE
And Vegeta is currently available right now:
amzn.to/3j0RI9S