Post by Branjita on Oct 19, 2022 10:30:11 GMT -6
Backstory

It's been yet another year since the last time we saw a new set of DragonBall Evolve figures, but we finally have Series 4 available! In the past month, we also saw the release of a Walmart Exclusive Super Saiyan Vegeta and a Target exclusive Super Saiyan Goku, so this has been a good couple of months for DragonBall Evolve collecting! I haven't seen a single one of these 5 figures in-person at a store, but finding them on Walmart's website, Target's website, and Amazon has fortunately been very easy this time.
You can buy Beerus here:
amzn.to/3SfqA6g
SSB Vegito here:
amzn.to/3TfnQY9
and SS Goku here:
amzn.to/3EWSXDy
Let's start the review!
Packaging

Just like the previous 3 sets, the packaging is awesome yet again. This time, the colors are fluorescent red and black, and I have to say... the packaging looks really nice, and is probably my favorite of the 4 color schemes so far.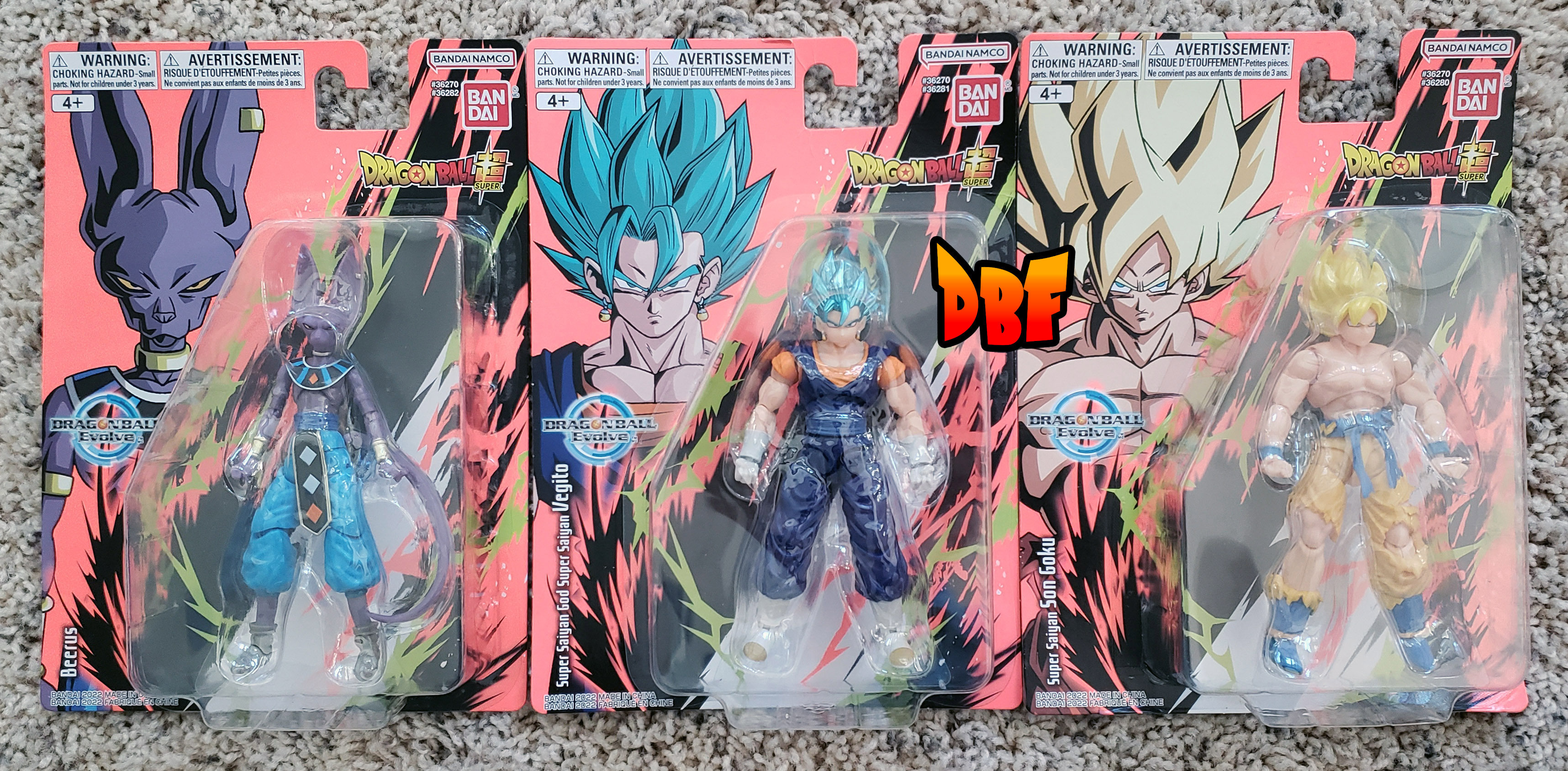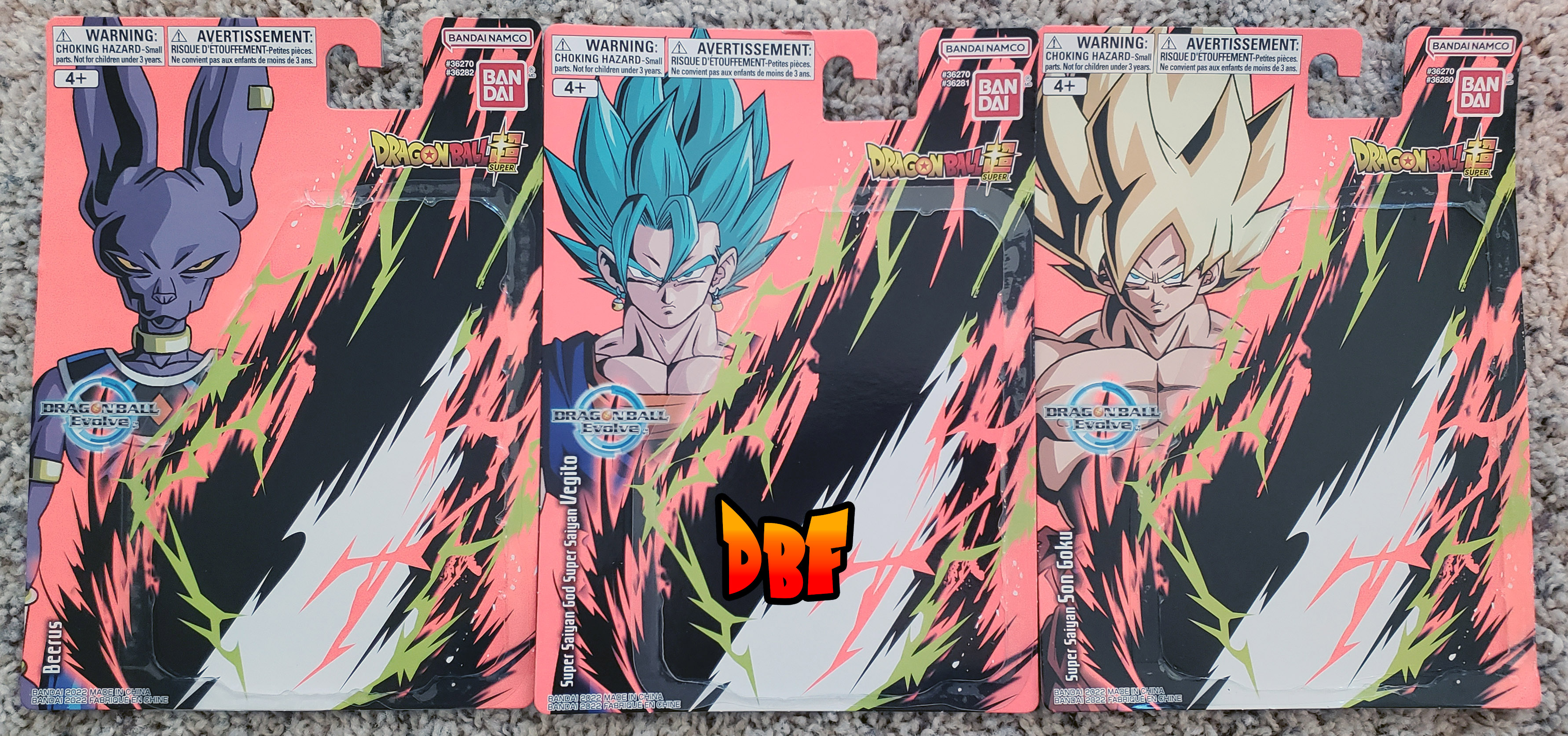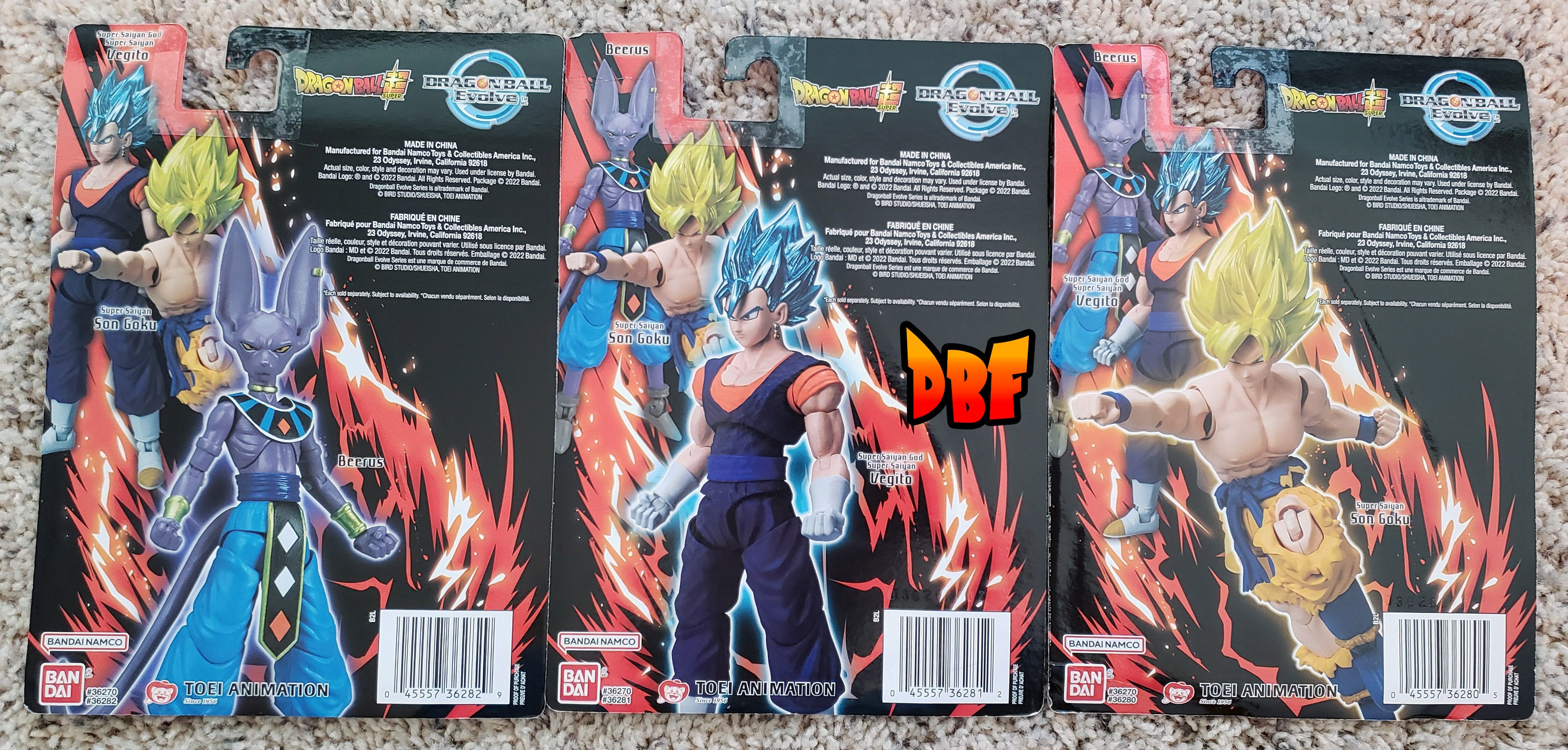 The character assortment for series 4 is a pretty strange one. We have Beerus and SSB Vegito from DragonBall Super, which make a lot of sense, and then we have a Namek Saga SS Goku from DBZ's Namek Saga, which was a very strange choice and represents the very first DBZ character in this line. The overall impression of this set has good points and bad points. The good is that each figure has been completely designed fresh, with articulation efforts a lot different from previous series' figures. The bad is that the plastic quality seems a bit different just on its initial impression. It may actually be more durable in reality, but it seems cheaper because it mars (blemishes). For example, I caused a stress blemish on Beerus's tail peg when I inserted it into his back before I tried running the tail under some hot water to soften it and make it go into the hole easier.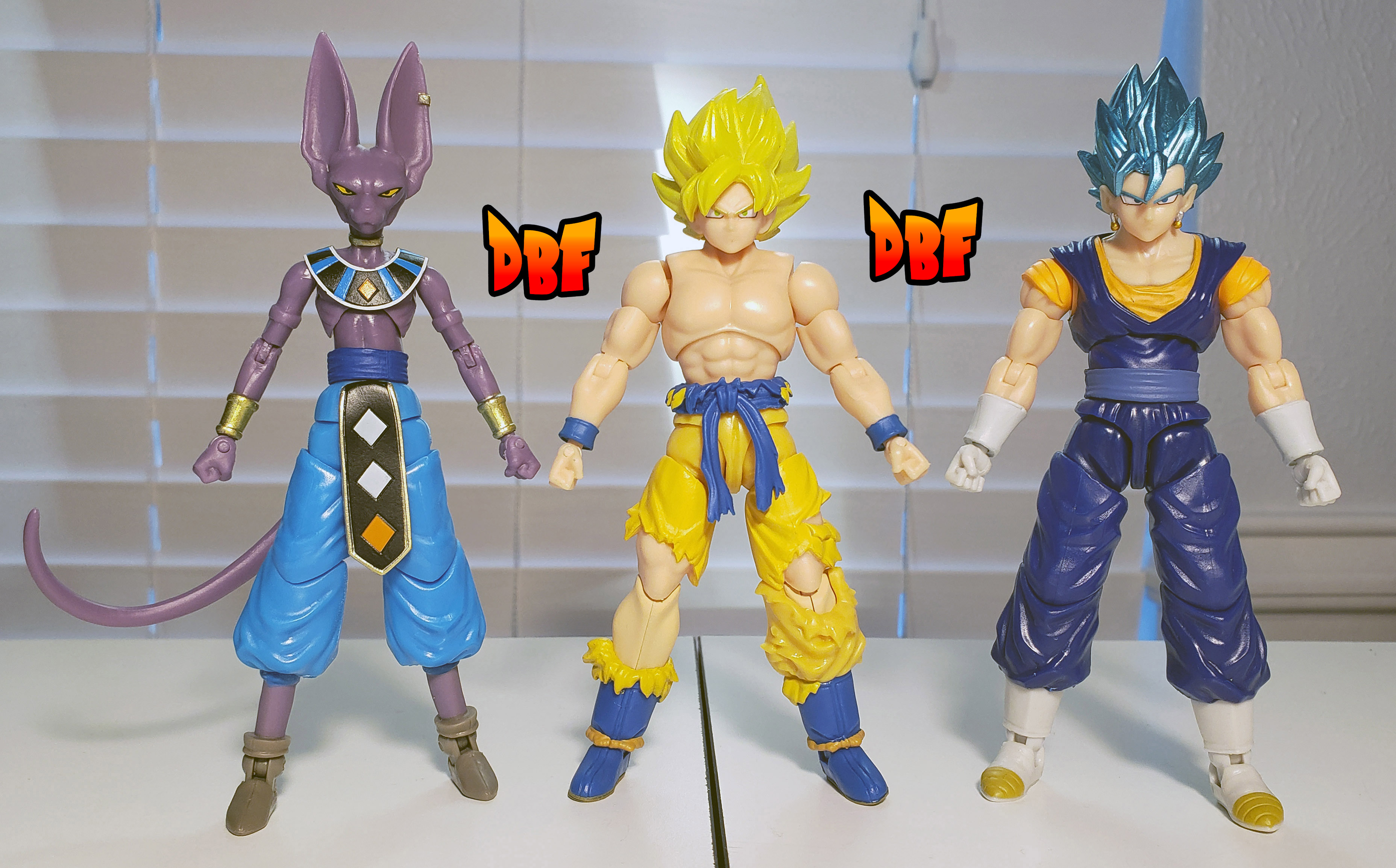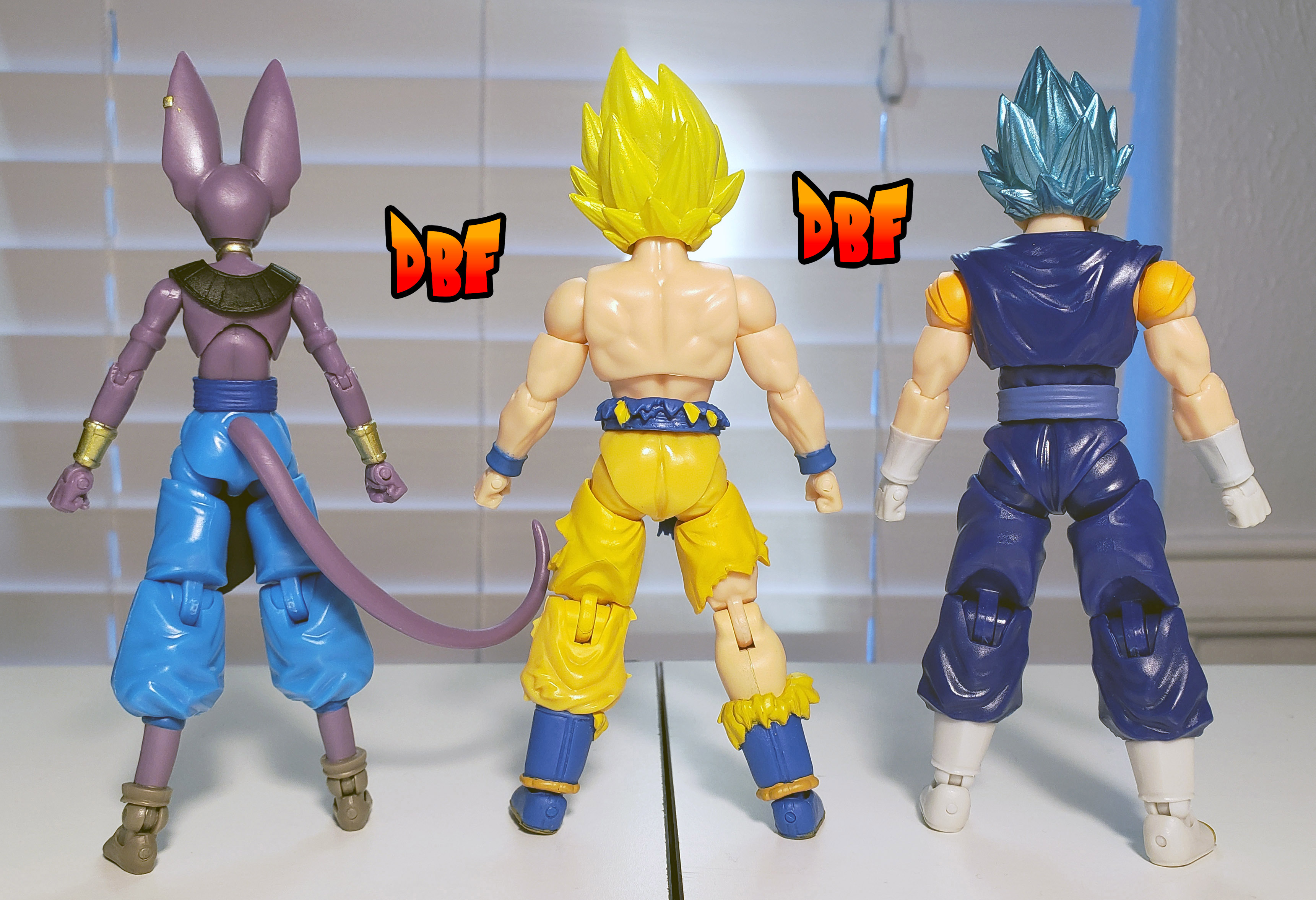 Super Saiyan Goku, Namek Saga, Battle Damaged Clothing
Let's start with Goku. Unexpectedly, this Goku has an entirely different body from UI Goku, and doesn't seem to actually share any parts with any previous Goku figures! The worst aspect is very obvious, and it's that his neck peg allows his head to sit about 2 millimeters too low to look right. This was a problem with Gogeta in series 3, but it's worse here. It will be fairly easy to improve via customization, but it does spoil the appearance of the figure a bit, and distracts from everything else great about this figure.
So what's new and great? Well, for one, it's hard to know if this is intentional or not, but this Goku is actually shorter than SSB Goku, SS Goku, and both UI Gokus. In the Namek Saga, Goku was certainly a shorter character than he was in Cell Saga, Buu Saga, and DB Super, where he seemed to grow about 2 inches as he aged. I like this aspect of the figure being smaller. In addition, his entire body is completely different from any other Goku figure in this line. The rings around the shoulder pegs are gone on this figure. The improvements to the appearance of the articulation has been massively improved. It's extremely surprising to me that he doesn't even share the same fists with other figures.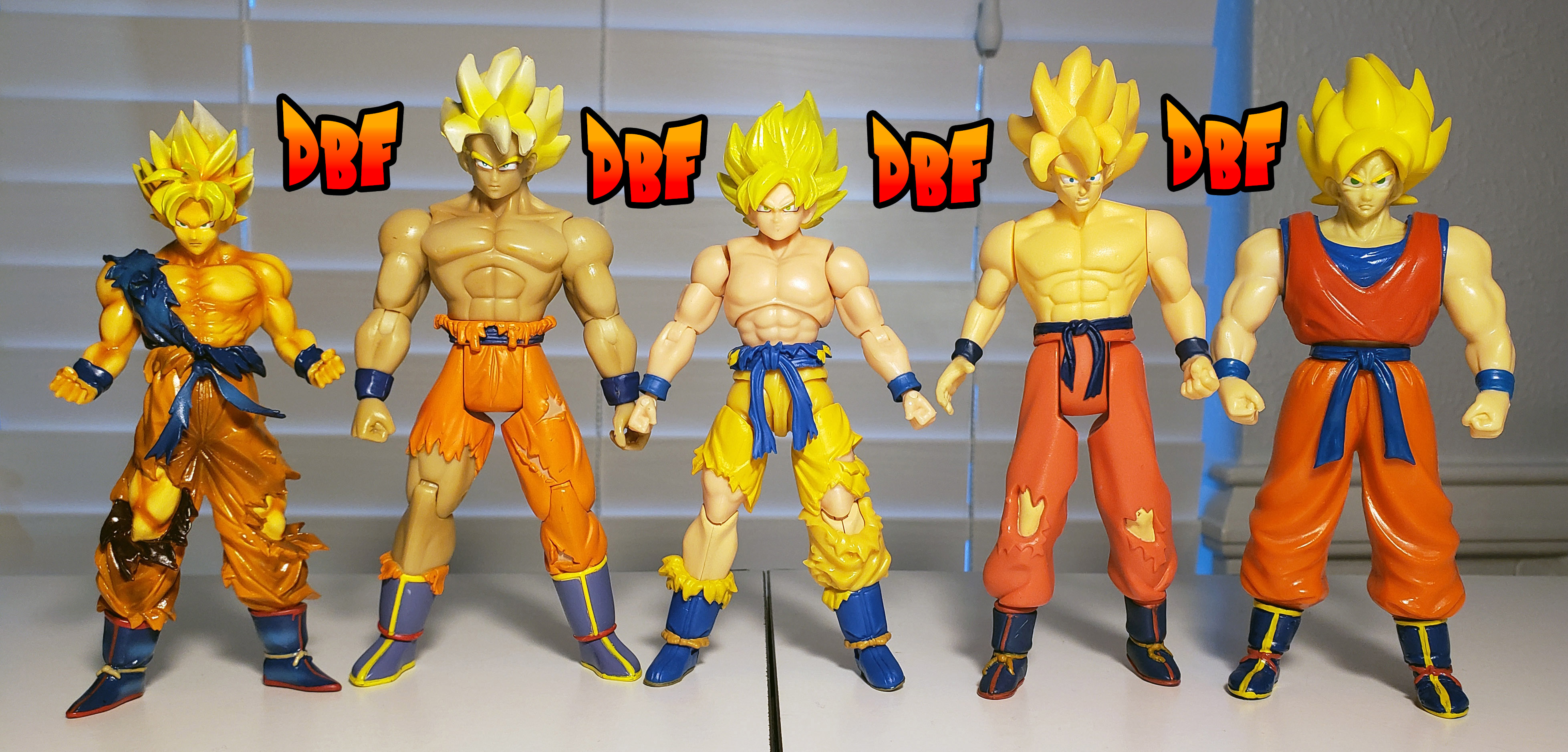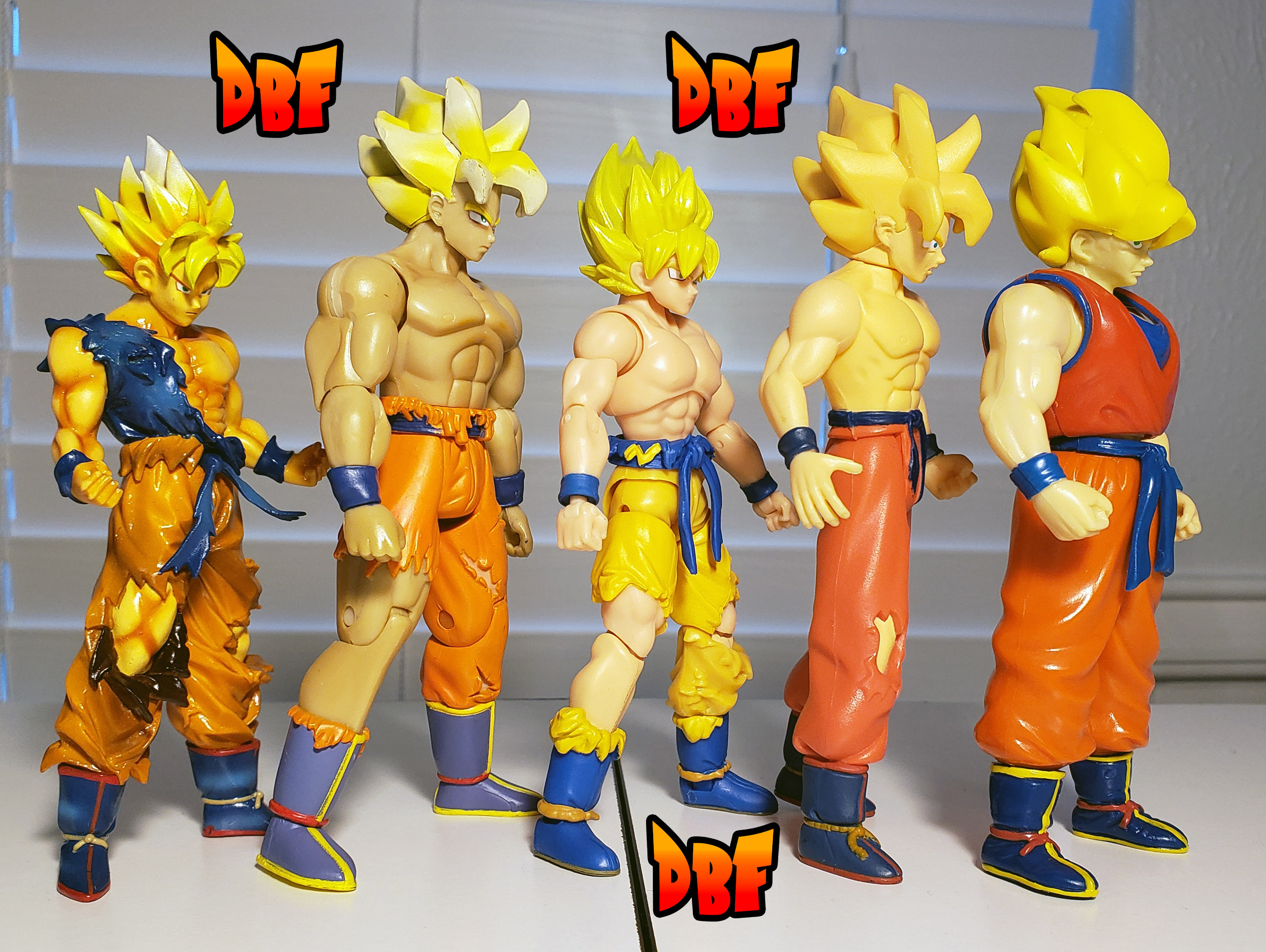 How is his size truly though? Well, he's a little bigger than HSCF SS Goku, much smaller than the Tien-sized Jakks Pacific SS Goku, shorter in height than the somewhat tall Irwin SS Goku Striking Z Fighter figures, and he's significantly slimmer than the Super Battle Collection SS Goku. Is this a problem? Well, it really depends what your collection is full of. Among the Evolve figures, I think he looks really good. With Irwin figures, I think he looks a bit thin, and among some of the Jakks figures, he can appear a bit dainty.
Compared to Evolve's Target exclusive SS Goku, he's smaller in most ways, which is good, but the neck being too short is obvious. Another DBF member pointed this out elsewhere, but the head and hair sculpt are entirely different. The sculpt is slightly smaller in some ways. The hair isn't quite as long, but it's wider on his head. It looks good.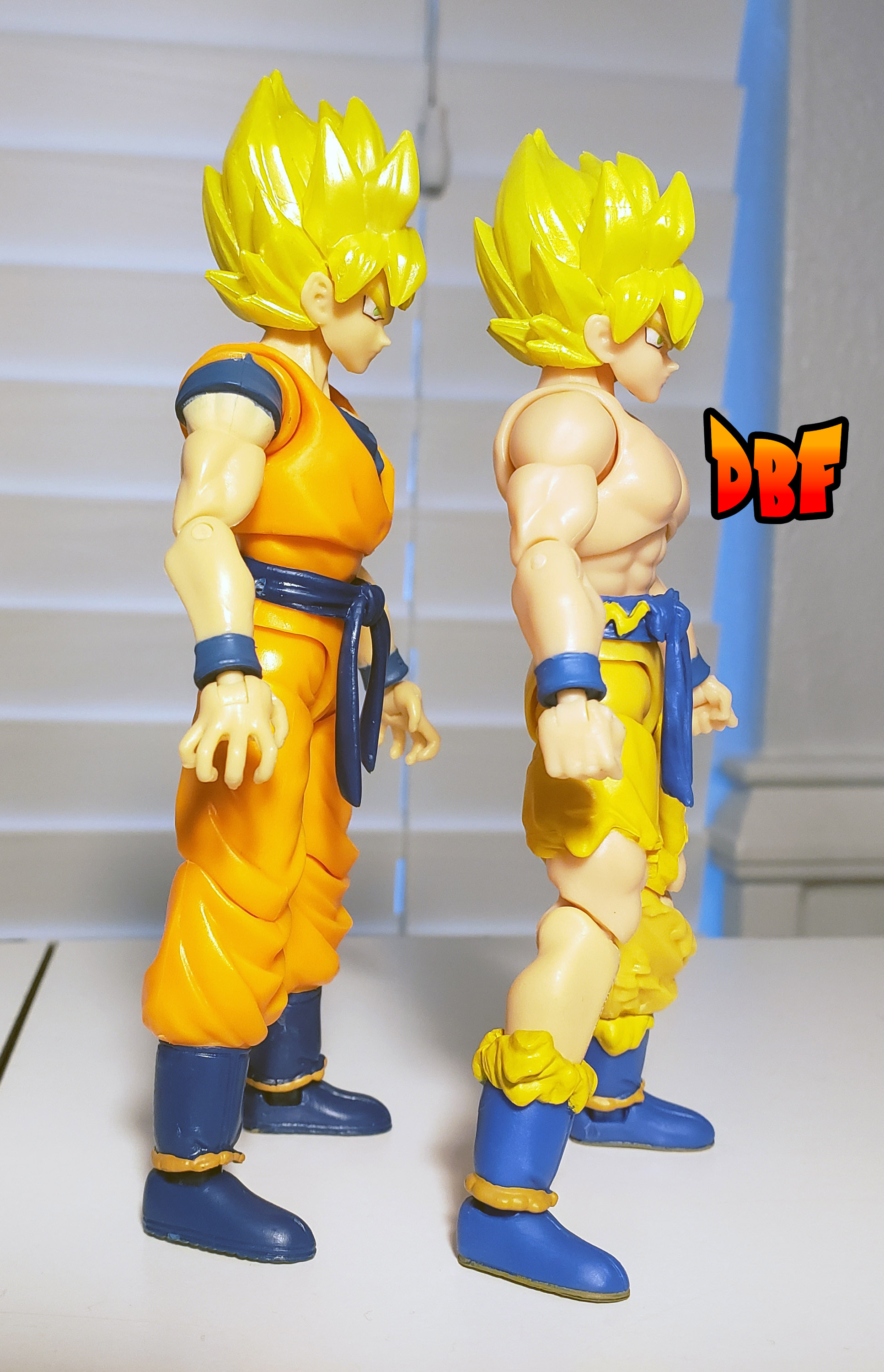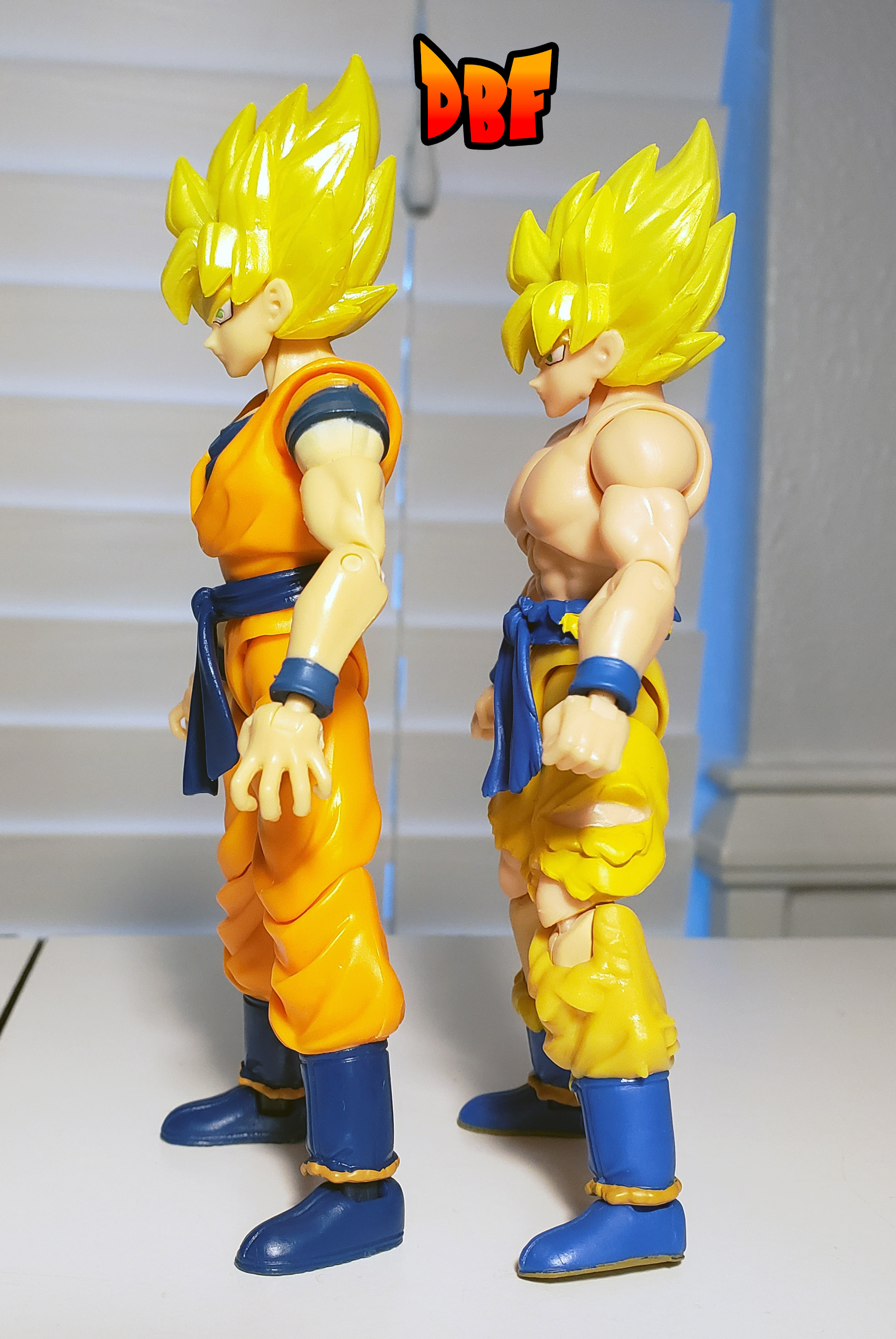 Can you swap these two figures heads? Yup. The peg on the series 4 Goku's neck is larger though, so it will slightly stretch out the hole in the Target exclusive's head. The Target exclusive has a shallower head, so it instantly fixes the short neck issue. The Series 4 head on the Target body is loose, and the short neck is pronounced more obviously via this figure, since the Series 4 head has a much deeper head.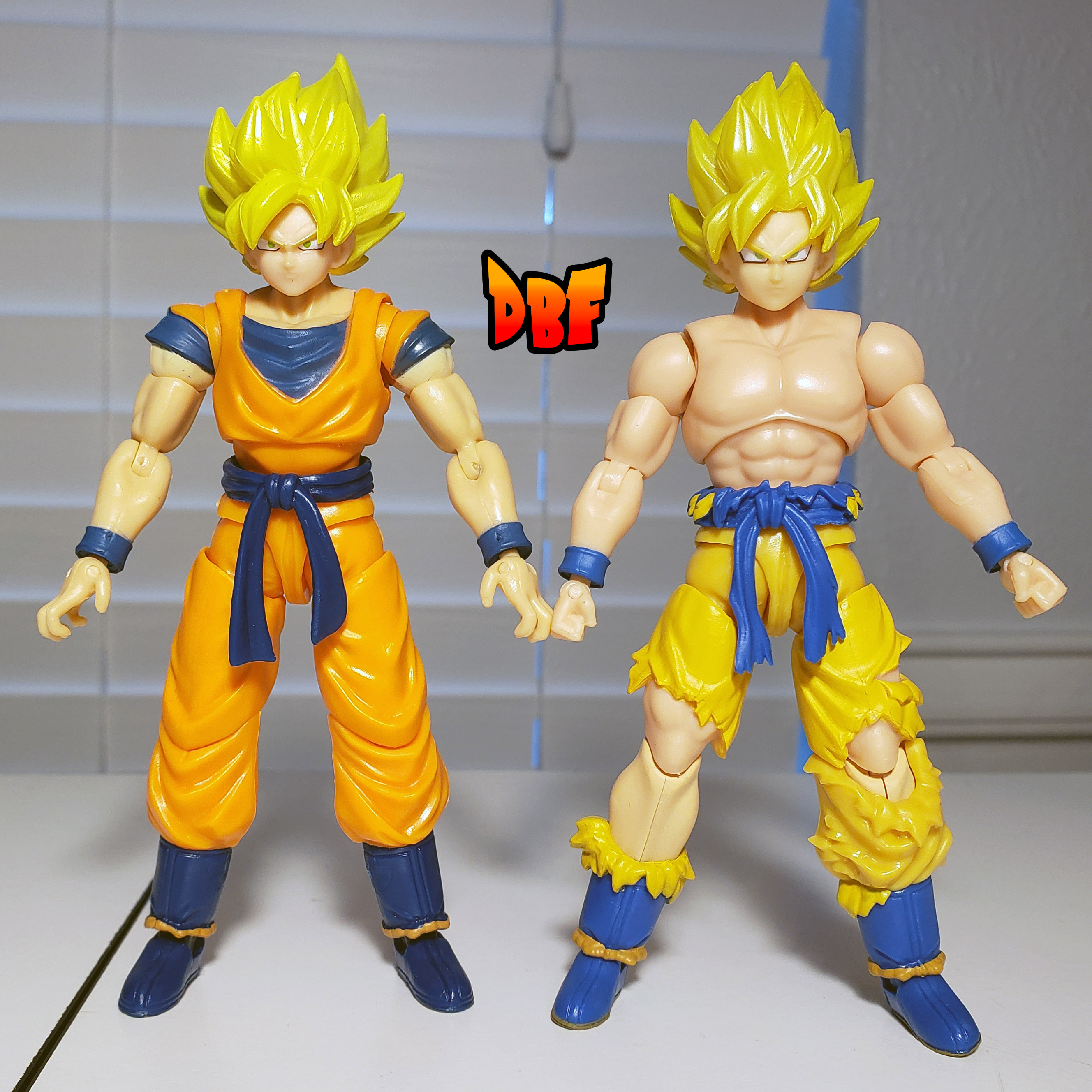 This close up shows the Series 4 head balanced on the top of Target exclusive's neck peg and Target exclusive's head on Series 4's body. If you don't like to customize... just get a Target exclusive's head and shove it on the Series 4 Goku's body. It instantly fixes the aesthetic problem. Also, it's obvious that these sculpts are based on each other, but it's undeniable that they are from a different mold... which is a big surprise to me.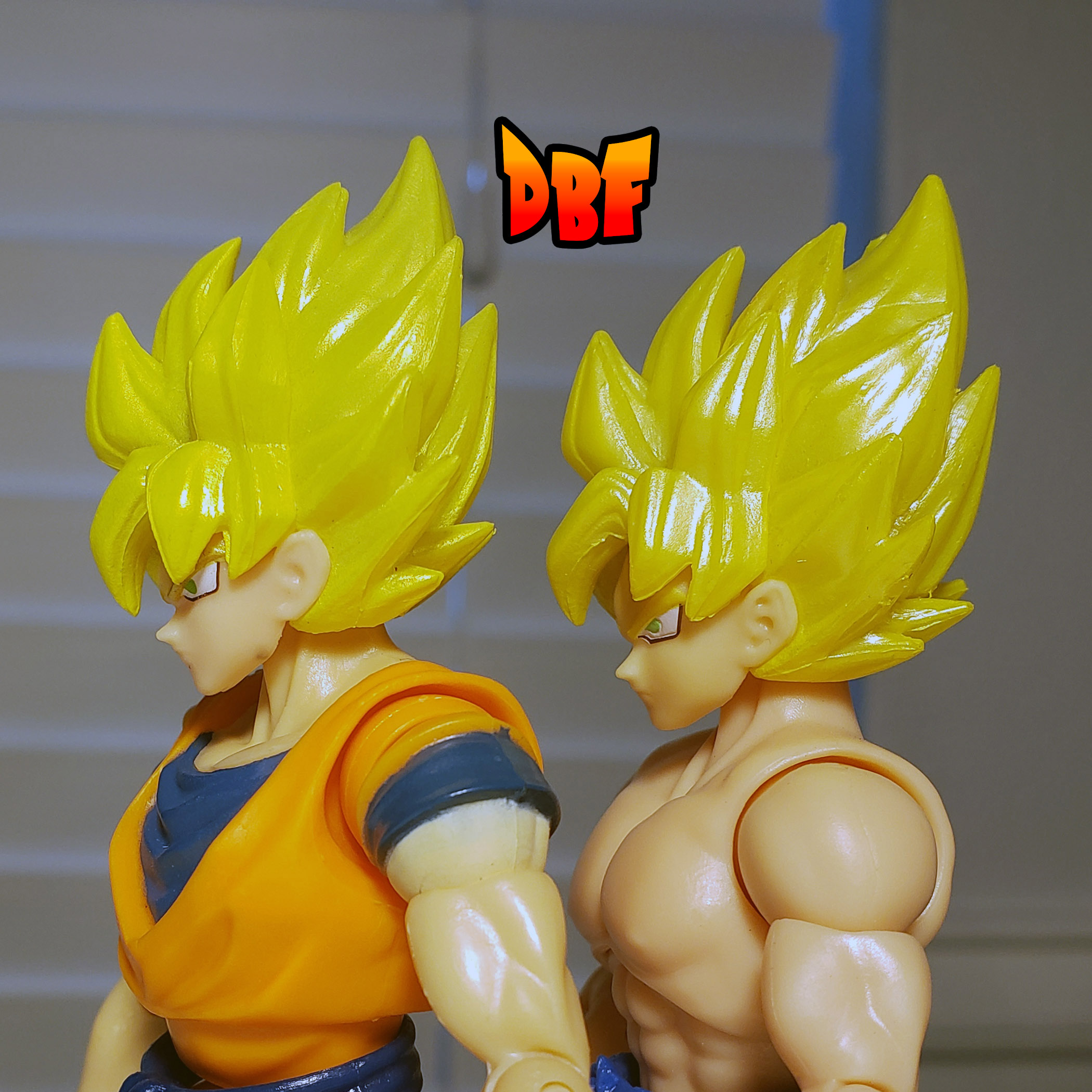 And here's Series 4 SS Goku next to UI Goku from series 2. I don't think they share anything, though the abdomen is the most similar part among them.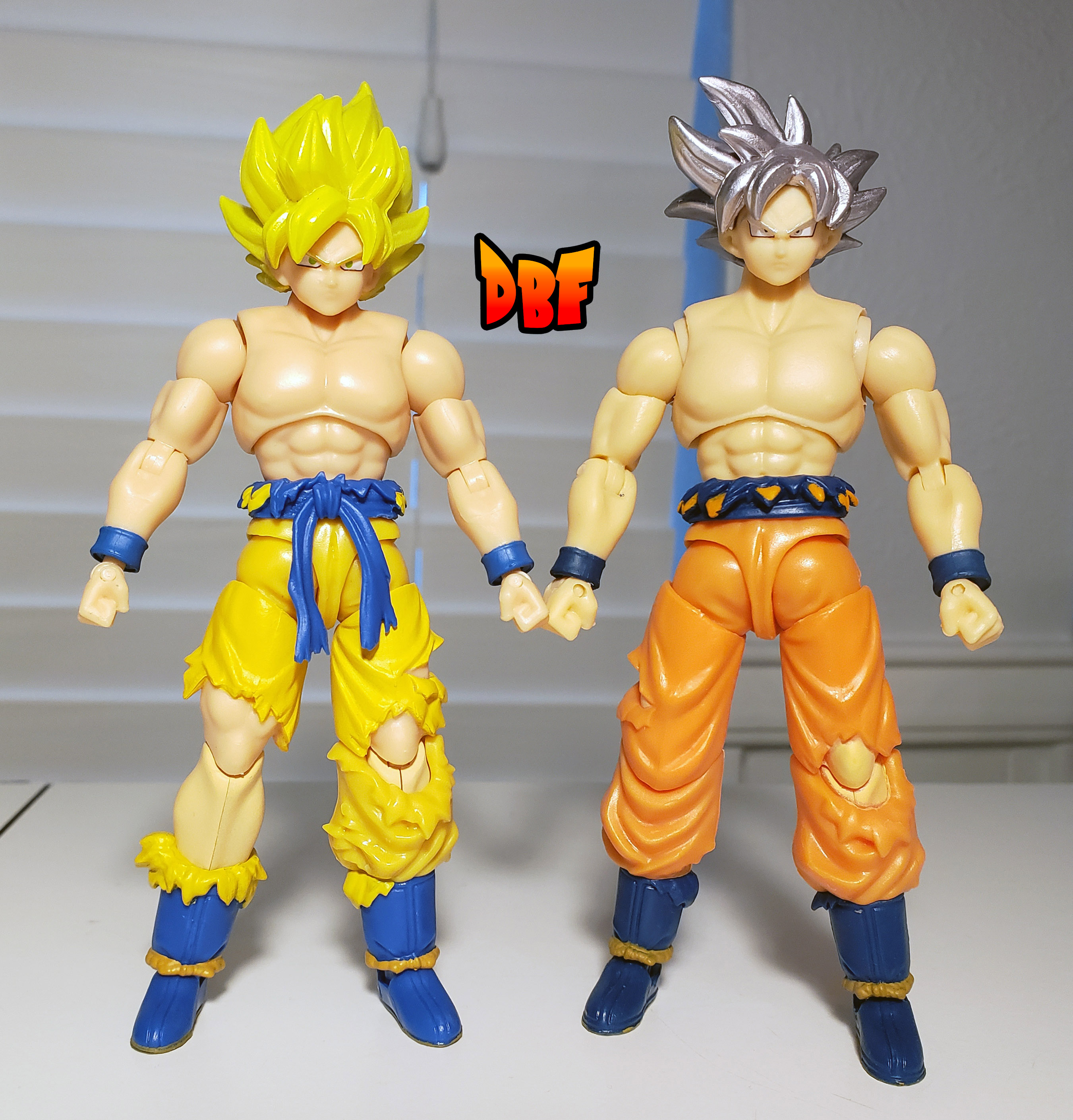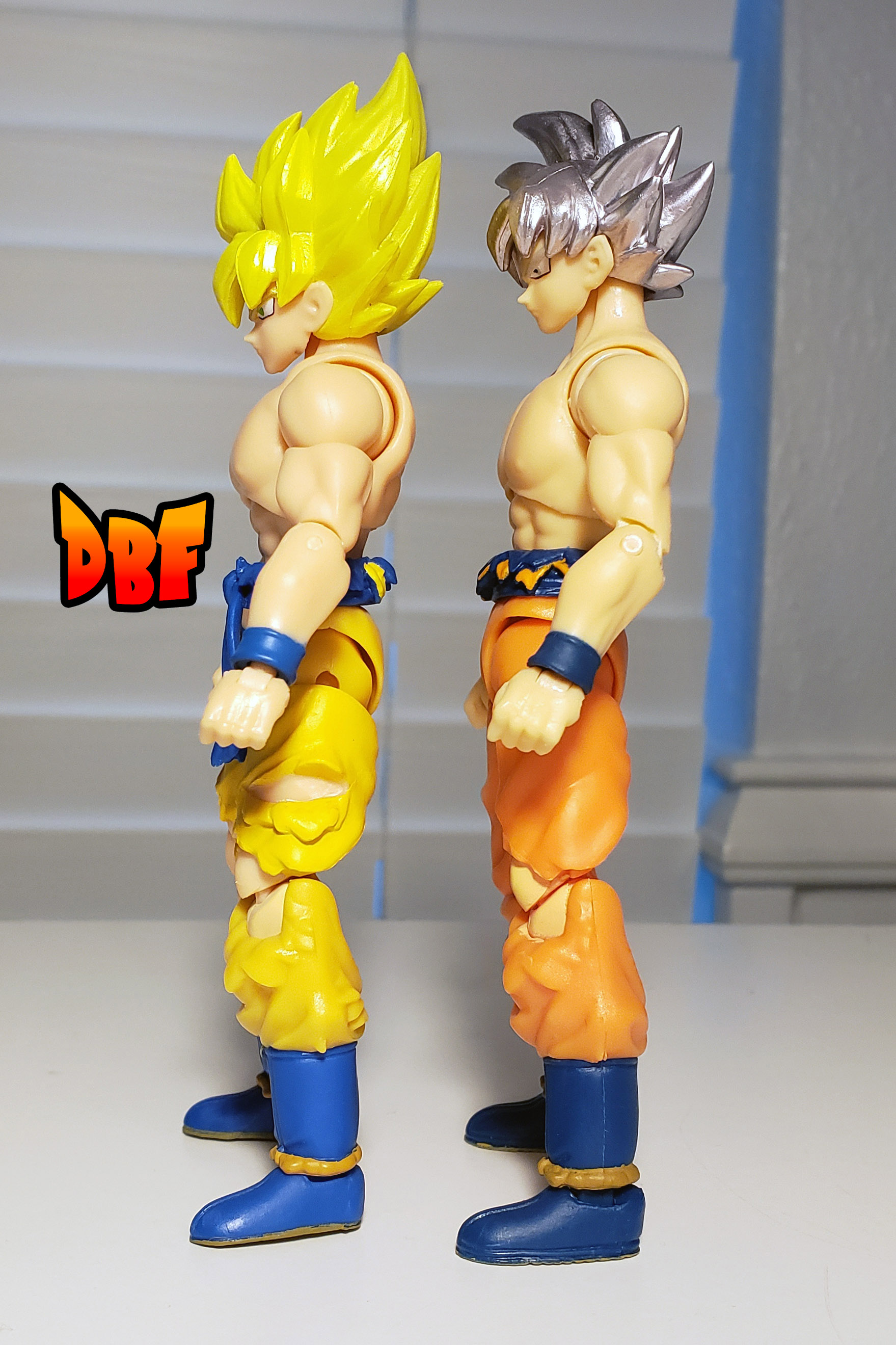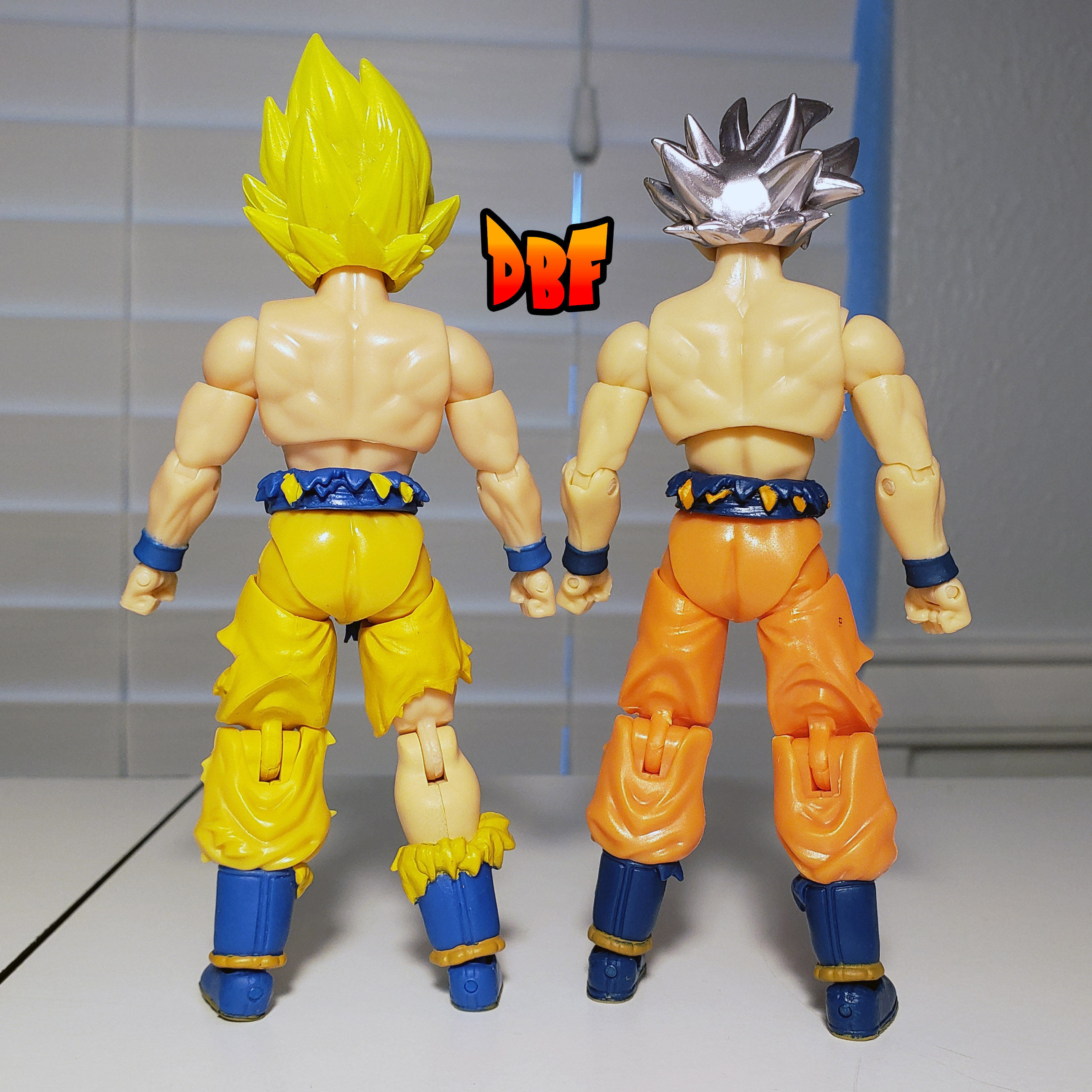 Their belts swap perfectly to each other, if that appeals to you. Their heads do not swap. UI Goku has an enormous peg and a very long neck.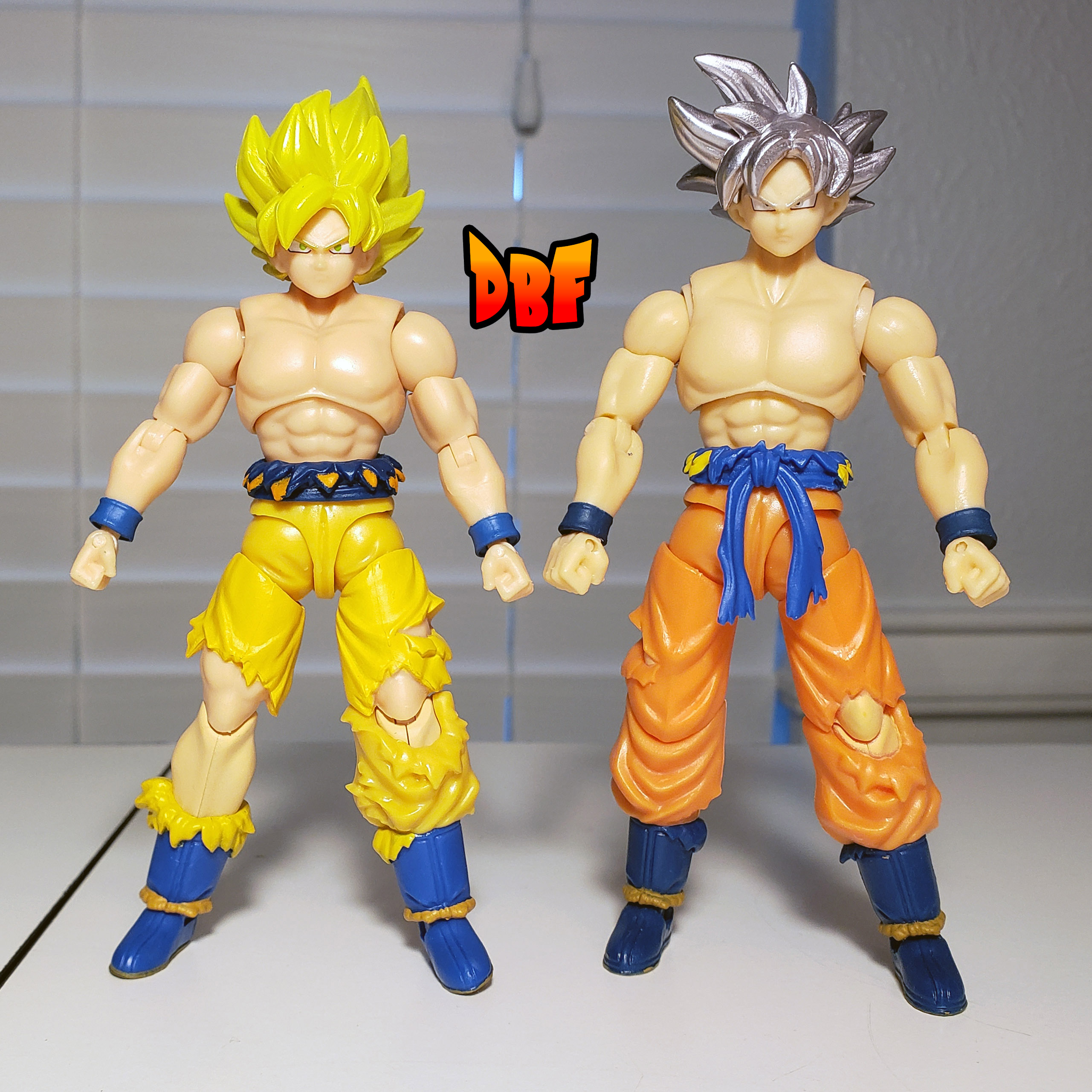 SSB Vegito (Vegito Blue)
This figure is so different looking from every other Vegito figure I have ever owned, that it's hard to even judge it properly. The UG SSB Vegito looks great, but his head is a bit larger than 5 inch scale. The Irwin Vegito (repainted) looks fine, but isn't quite as buff as Vegito should be and his hair is awfully long. The Jakks SS Vegito has a terrible expression on his face, but the body is reasonably good... though the arms are a bit awkward. And then we have the Evolve SSB Vegito. You'll note that he's about the same size body-wise as the Irwin and Jakks ones, so I think that's pretty great. He also has a face and hair that resembles Vegito to me, though I do think the UG looks the most Vegito-like.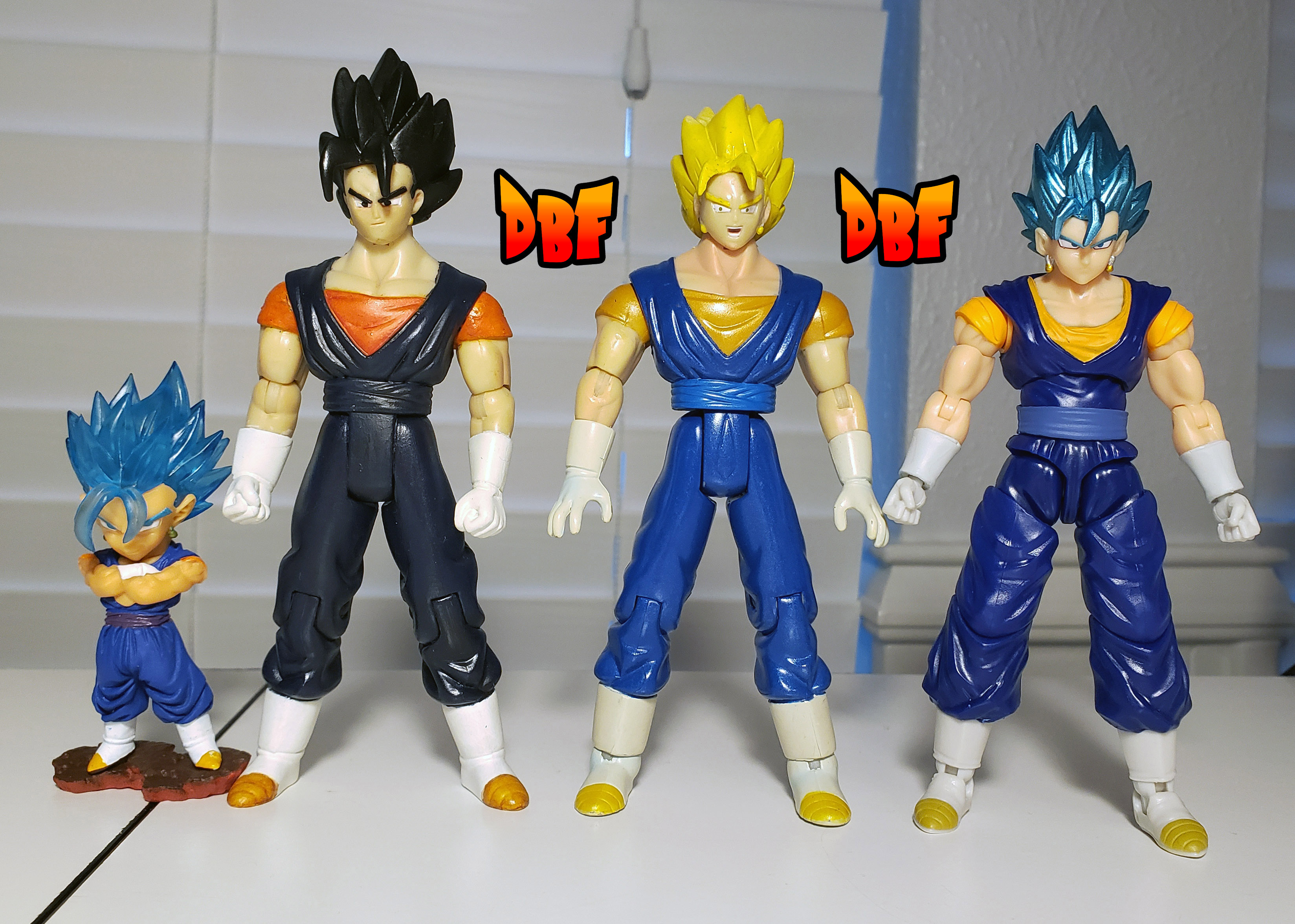 This is a matter of preference, and I do prefer the idea of Vegito being a bit beefier and taller than Goku. He's truly about the same exact size as the Target exclusive SS Goku. But standing next to each other... you can clearly see how much more refined Vegito's body is than Goku's. The shoulders don't feature the rings... everything fits better... and the leg design is much better.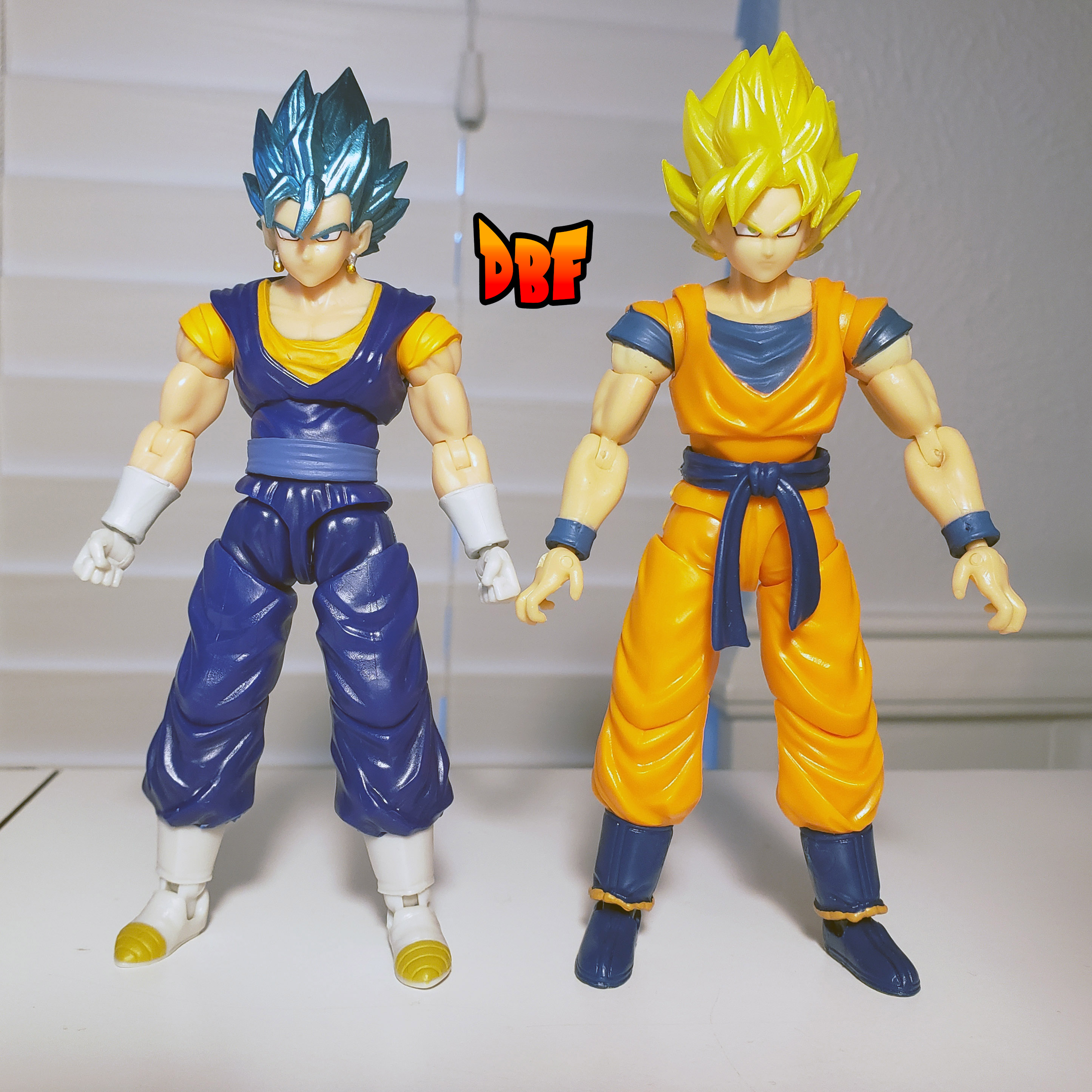 Next to Gogeta, (who has his head sitting on top of the too-short neck peg in every photo except the last one), it's clearly obvious that Evolve's Gogeta is too large. Gogeta was smaller than Goku and had more of Vegeta's traits. Regardless, both figures look nearly flawless (as long as Gogeta's head isn't seated on the neck peg). You'll notice that they have different shades of blue hair. Vegito's is slightly more silver and slightly greenish. I thought that Vegito's neck looked too short, but it might just be the potara earrings giving me that impression. He looks really proper from the side view.
My only complaint with this figure is he desperately needed to come with his ki blade thing, and a hand to go in it instead of two fists. He really deserved a perfect accessory like that since Series 3's SS Future Trunks came with his sword.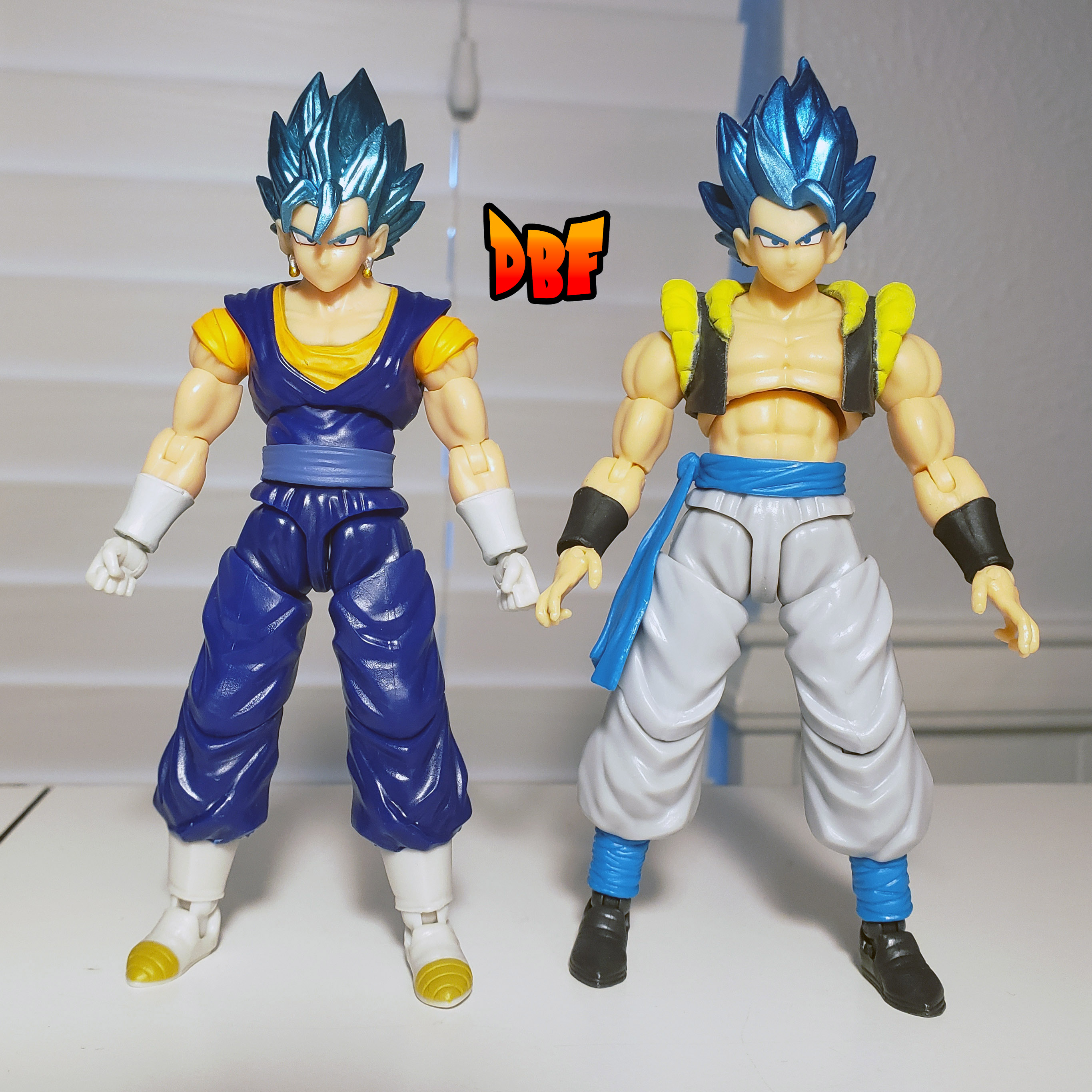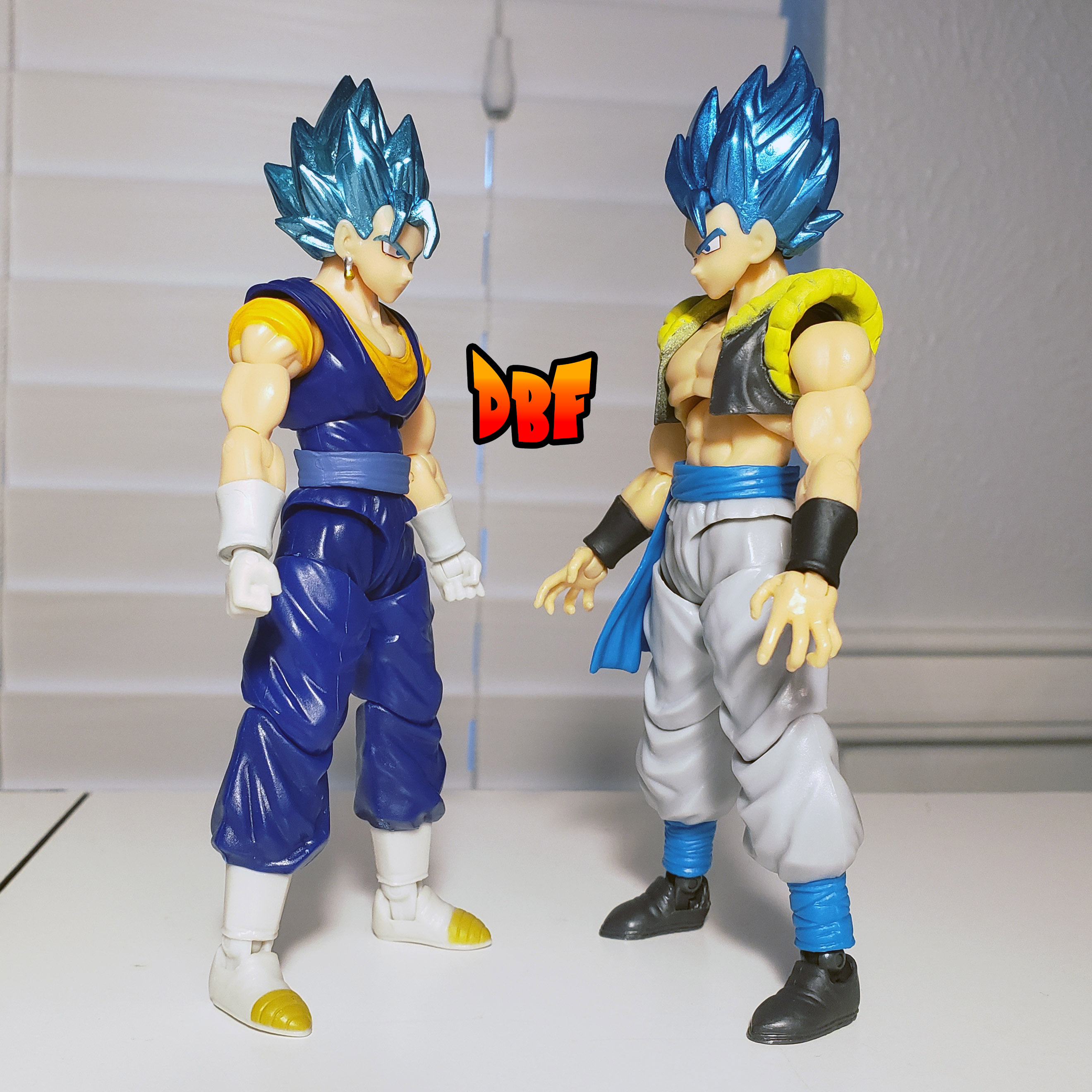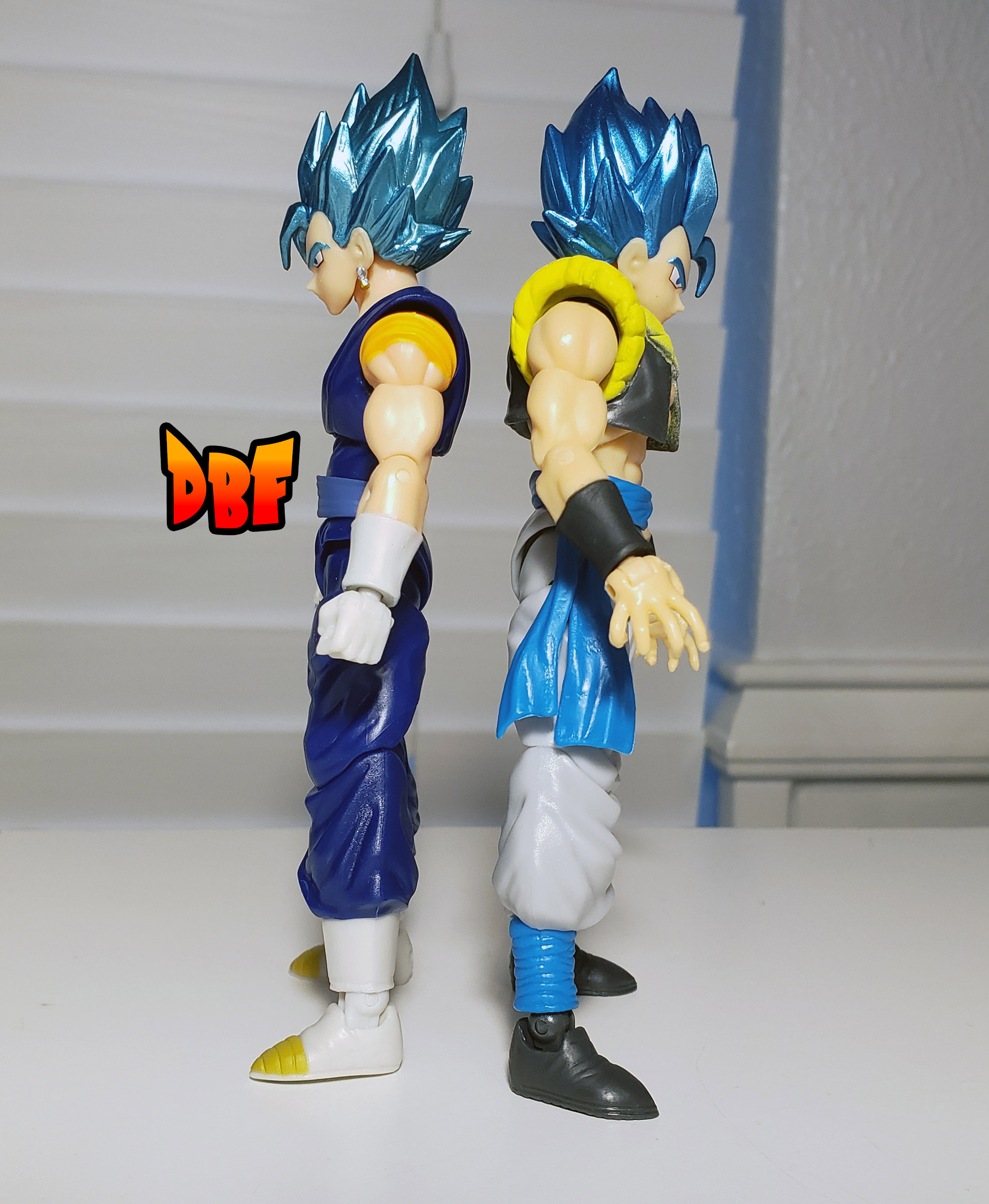 Beerus
Beerus is likely going to have to be the figure that grows on people. My initial impression straight out of the package was that he is absolutely dainty. But... isn't he supposed to be? Yes. However, he seems like he is very fragile because of his size. His arms are literally the size of Irwin's Bulma figures! This isn't a bad thing at all, but I just want you to realize how thin he really is! It's surprising! I was also disappointed that the sash hanging from his belt is glued on slightly crooked on my figure, and it doesn't look like an easy fix.
Once I started taking pictures of him, I started realizing how he's actually the very best figure in series 4! The likeness to the character is perfect. The size is GREAT. He makes these two bootlegs in my collection look like... well... bootlegs!
Here he is next to some sort of unlicensed Real Works style Beerus I bought years ago off ebay (that I've considered reasonably 5 inch scale) as well as the unlicensed Beerus I got shipped here from Argentina (which is wayyyyy too tall and basically Figuarts scale). If you look at the details of the Evolve figure, I think you'll fall in love with it. I am insanely impressed with it.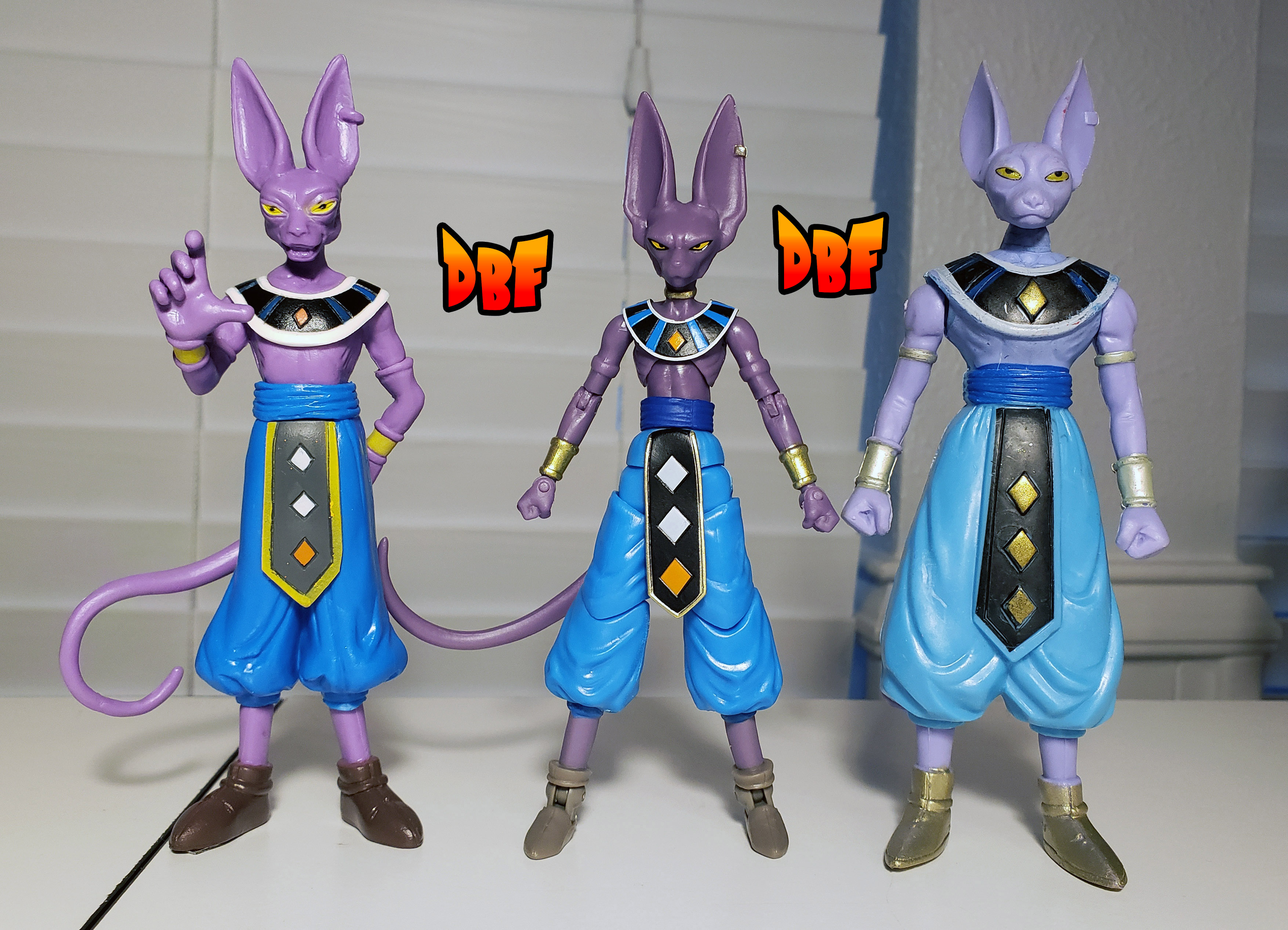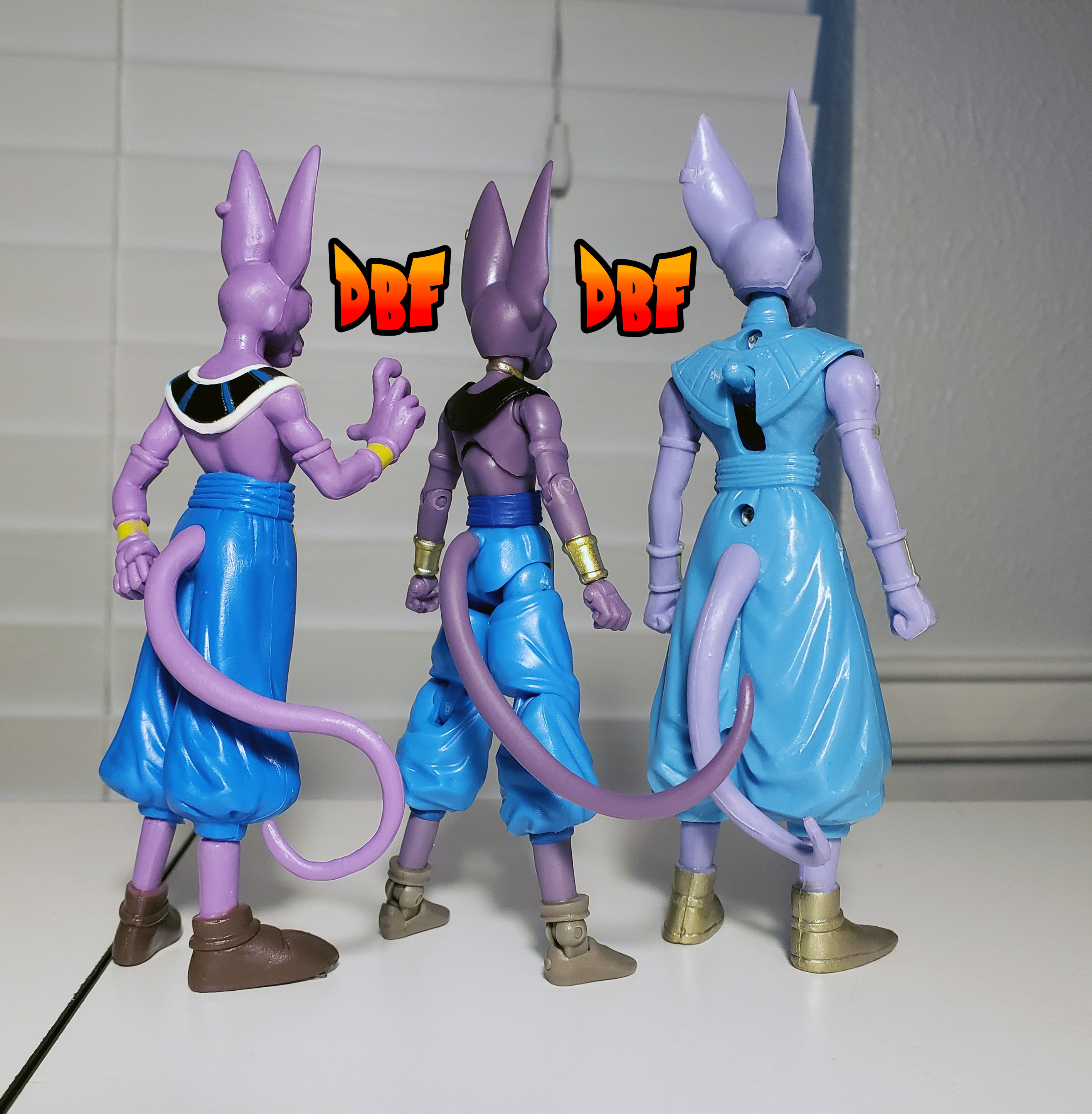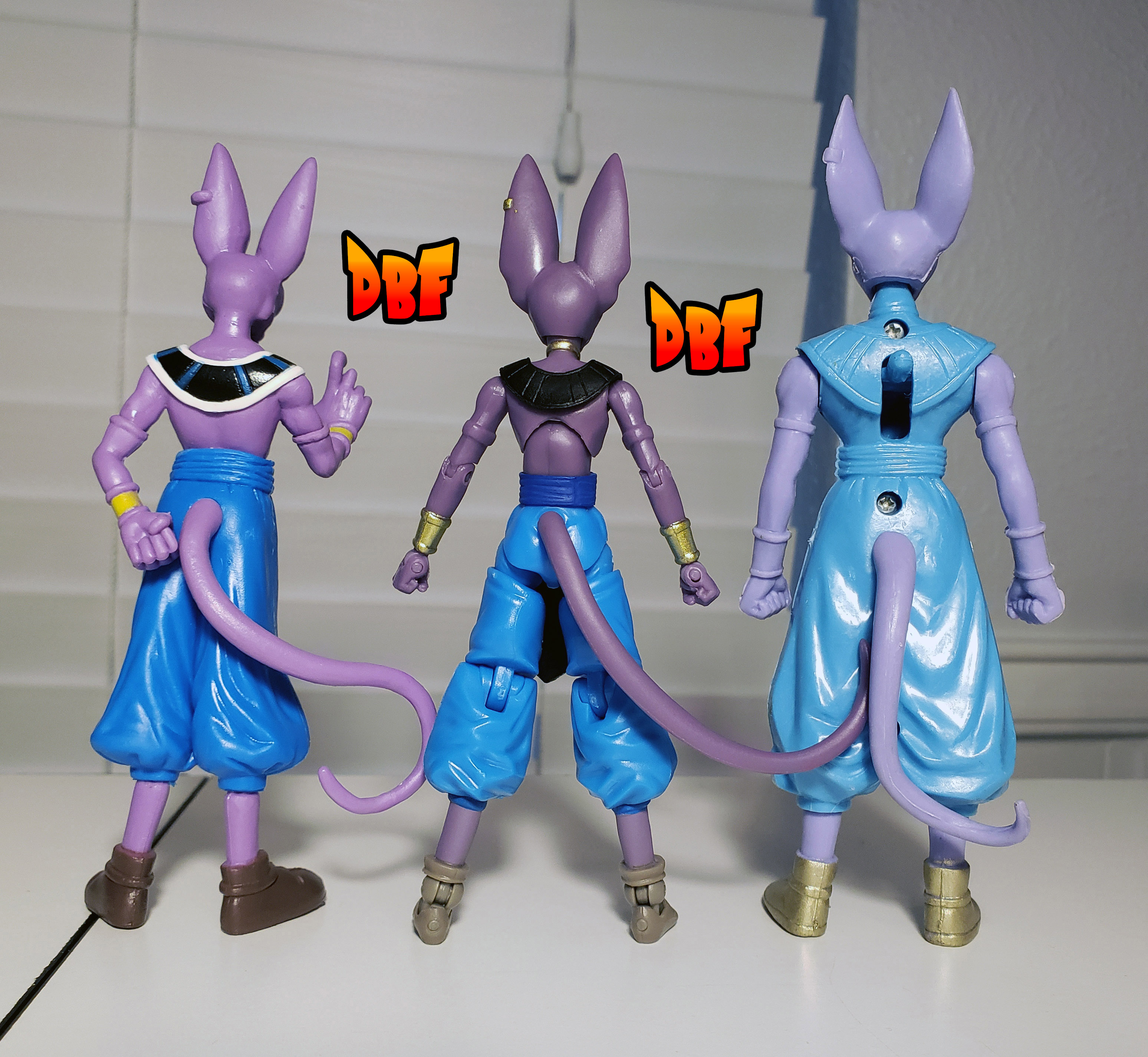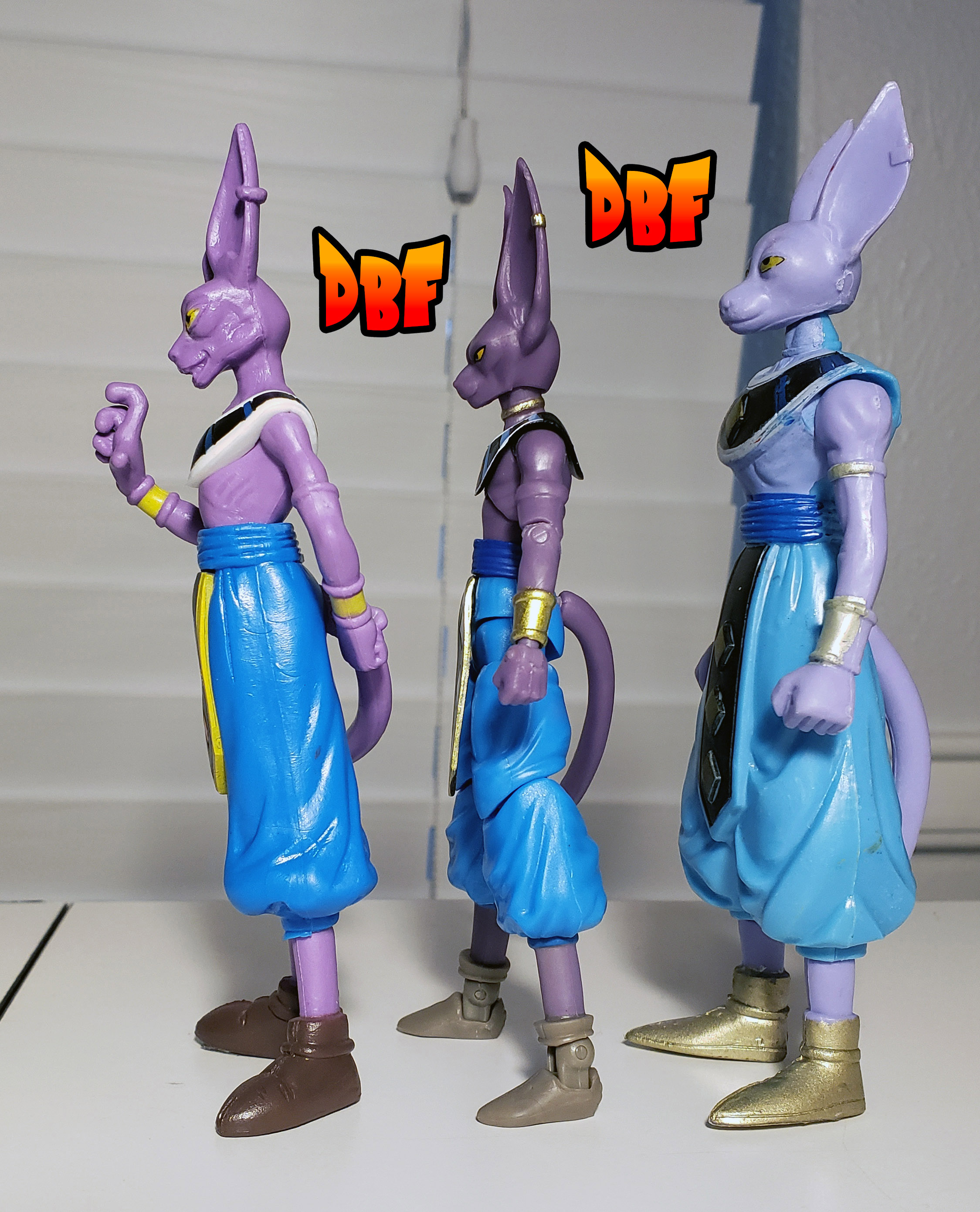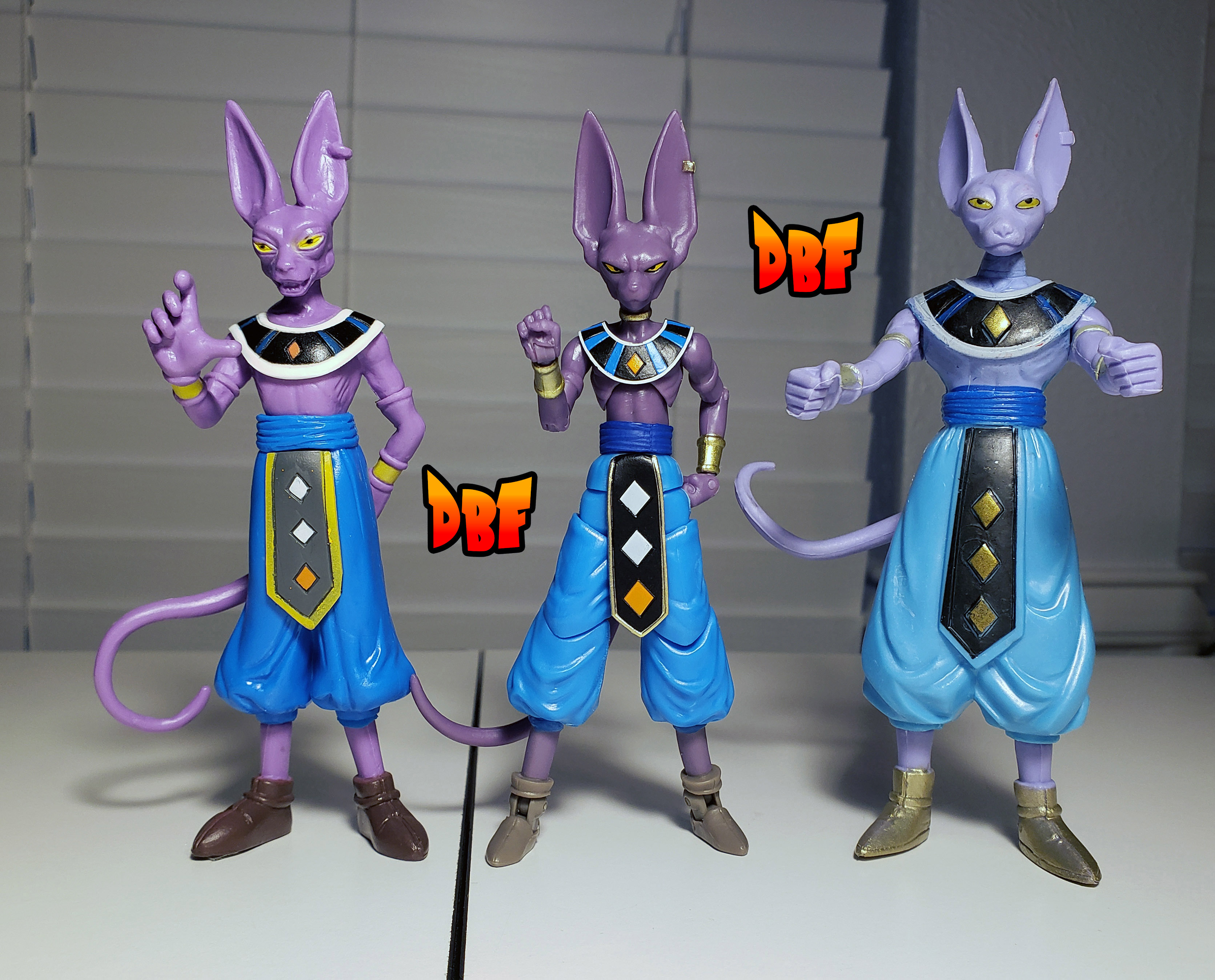 He also looks GREAT with my Banpresto Whis (that has had the legs shortened).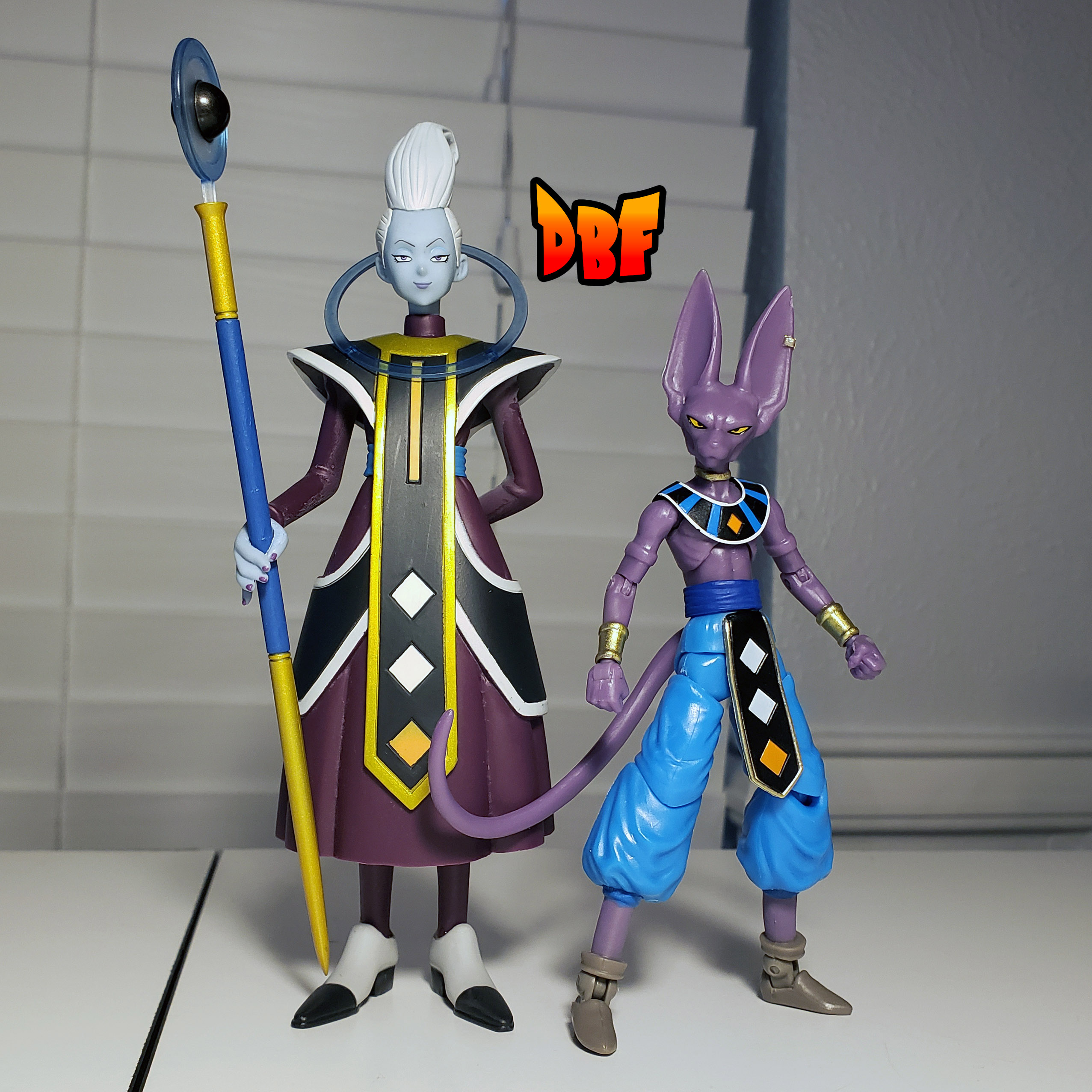 Final Conclusions
Series 4 is a strange series because of SS Goku from Namek Saga being in it. I would have much rather seen a Super Saiyan Rose Goku Black, but I bet Bandai Collectibles won't allow Bandai Play to release one while SH Figuarts SSR Goku Black is still on sale at Target stores in the same spot as these Evolve figures. Bandai isn't dumb. But I wish they would have given us a Zamasu or Goku Black to pair with SS Future Trunks and SSB Vegito. We need one or both.
Beerus gives me hope for female characters in this line. He proves that Bandai Play isn't afraid of making an extremely dainty character. For that matter, Beerus's legs look useful for making a custom Caulifla. I'd really like to see SS2 Kefla, SS2 Caulifla, and SS2 Kale in this line in the future. But we desperately need Goku Black and Zamasu as well.
Here are some more photos of the characters posing. SS Goku's head is sitting on top of its peg in this first photo. It's a really great series this time, and I would say that Beerus and SSB Vegito are impossible for a 5 inch scale collector to skip! Goku's good, but in my collection, I'm not really sure what to do with him. He's better than the Irwin and Jakks ones, or at least he would be, after fixing his neck.