Post by Branjita on May 16, 2023 9:26:15 GMT -6
This is a Bandai America Goku rerelease of the Bandai Super Battle Collection Vol 1. Son Goku. This figure was released in a plastic bag and has caused a lot of mystery, false information, and speculation over the decades.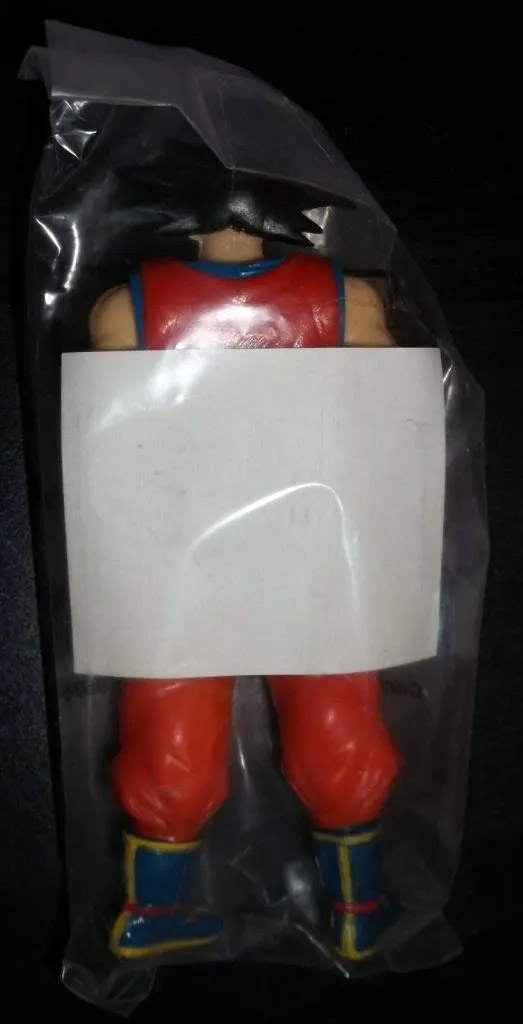 A lot of this info is
via Kanzenshuu
, specifically Tanooki Kuribo's post where he showed these pictures below. I've copy and pasted his text, making changes/corrections/improvements where I felt needed, and added a lot of additional information.
Several of these pictures below are of the promotional material that came with the "Arrival" VHS tape by Pioneer (the first official DBZ VHS release here in the US, featuring the Ocean dub, and the first episodes of DBZ). Pioneer never mentioned this Goku figure on their website in '97 (I checked pioneer-ent.com using archive.org), but their site was pretty basic in 1997.
The order form was included with the 1997 VHS release of episodes 1-4. The VHS was titled Arrival. It was released several times. According to
wiki
, the version with Goku holding Gohan on the front of it is rare, because it makes references to death (instead of the "the next dimension"). You'll note that this box is a little faded, but it's the only one I could find on ebay.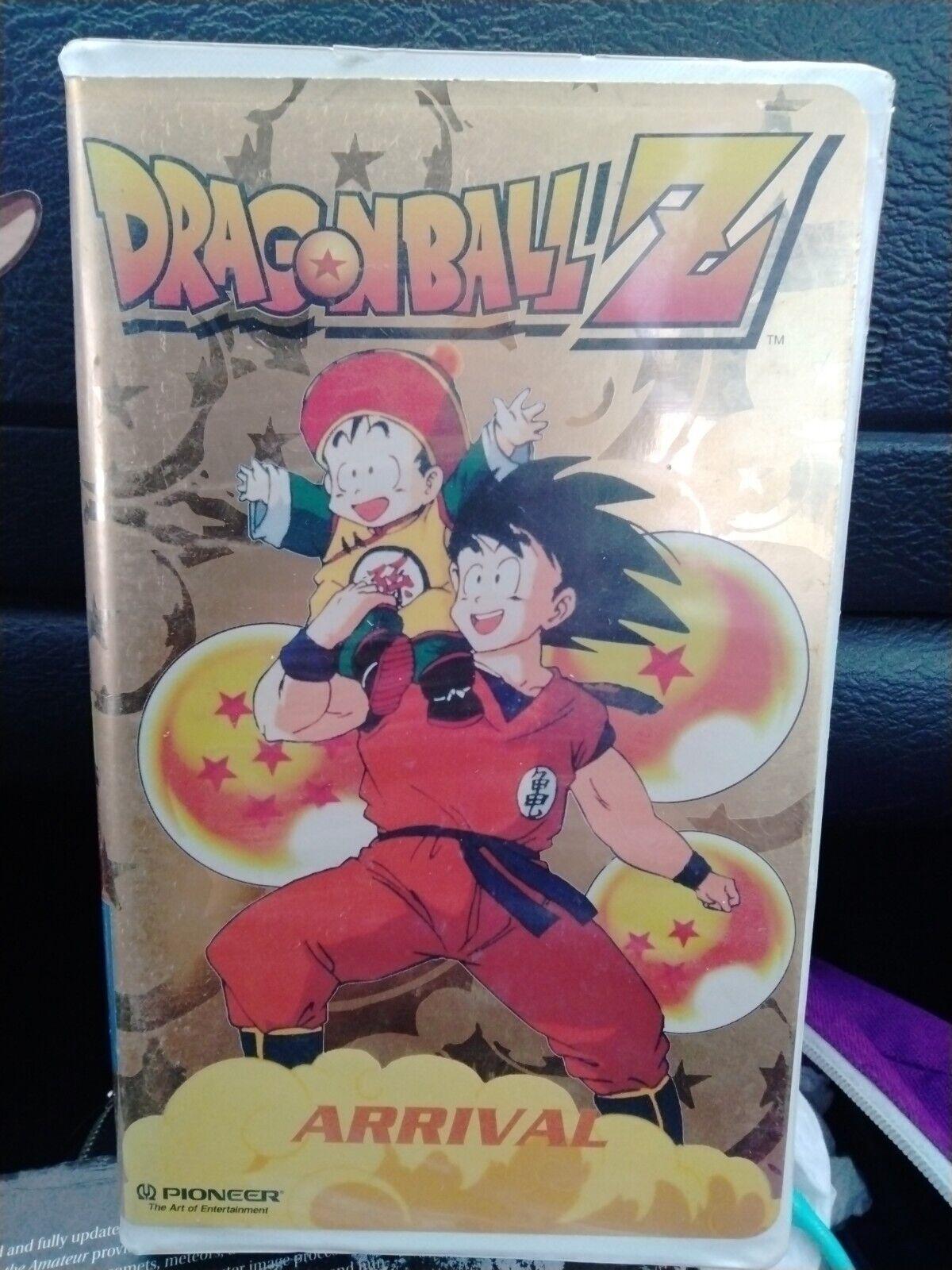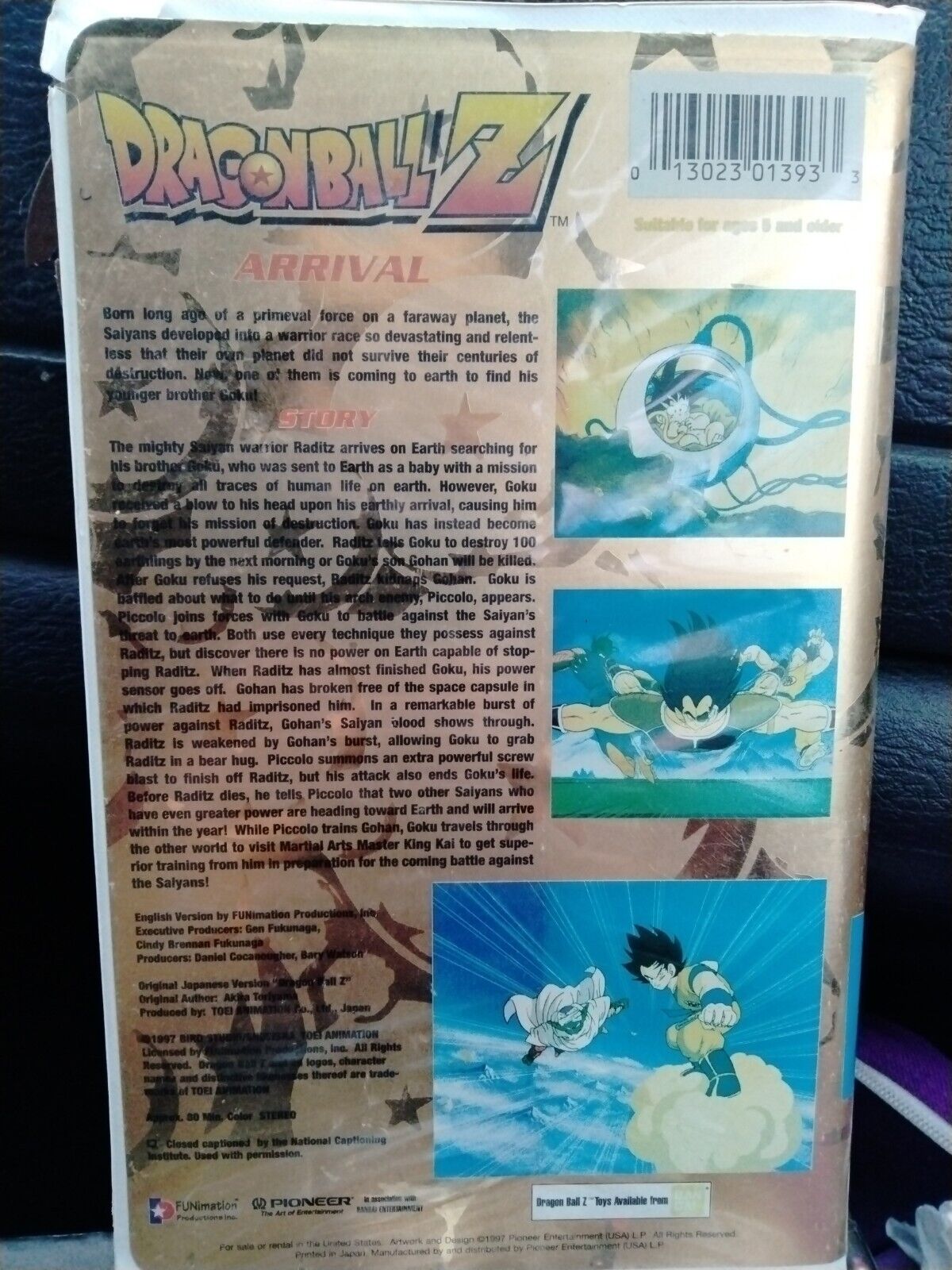 However, I don't know for a fact that these promo items were included in that first version with Goku and Gohan on the cover. Based on it mentioning Dragon Ball Z Toys Available from Bandai, I'd bet it included these items. I do, however, know that the promo items were included with the more common version, with Goku doing a kamehameha on the cover. You can see them in the 3rd pic by
this ebay seller
.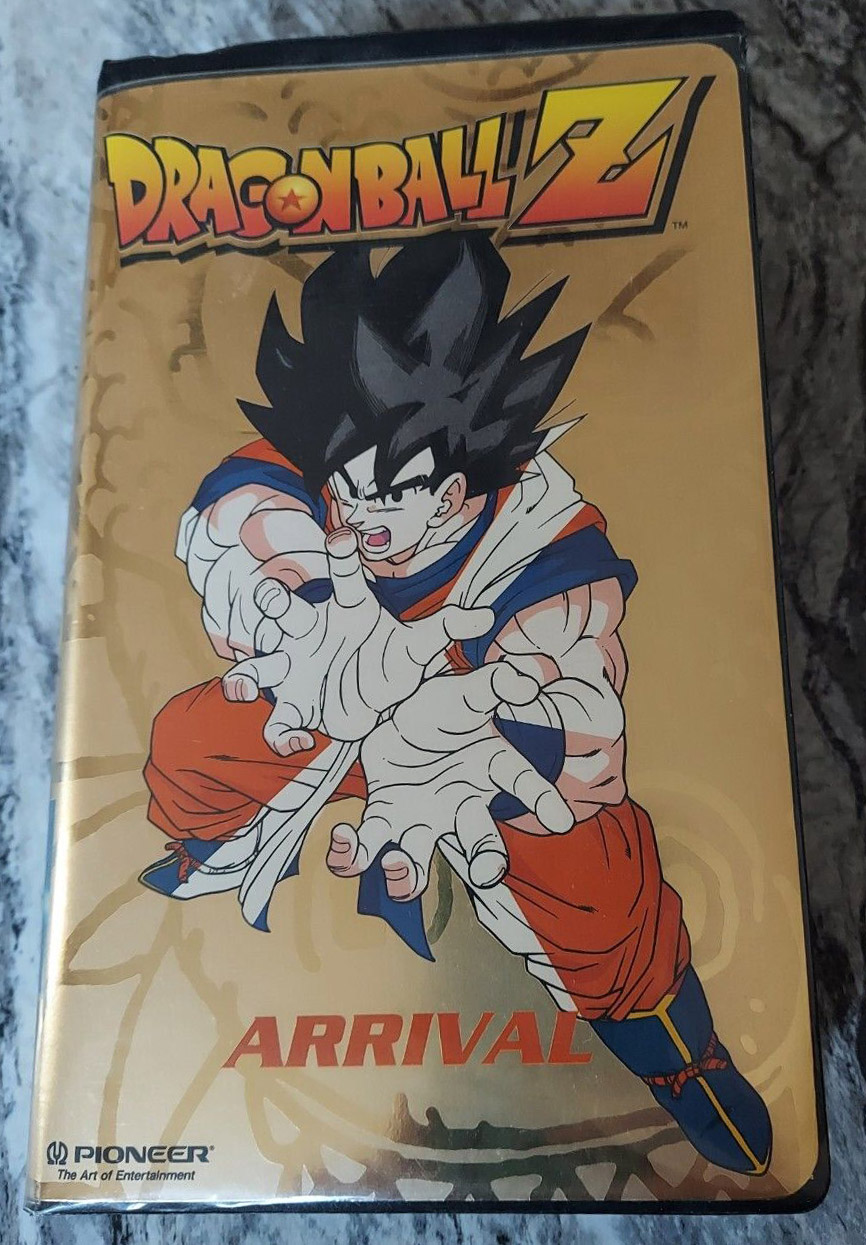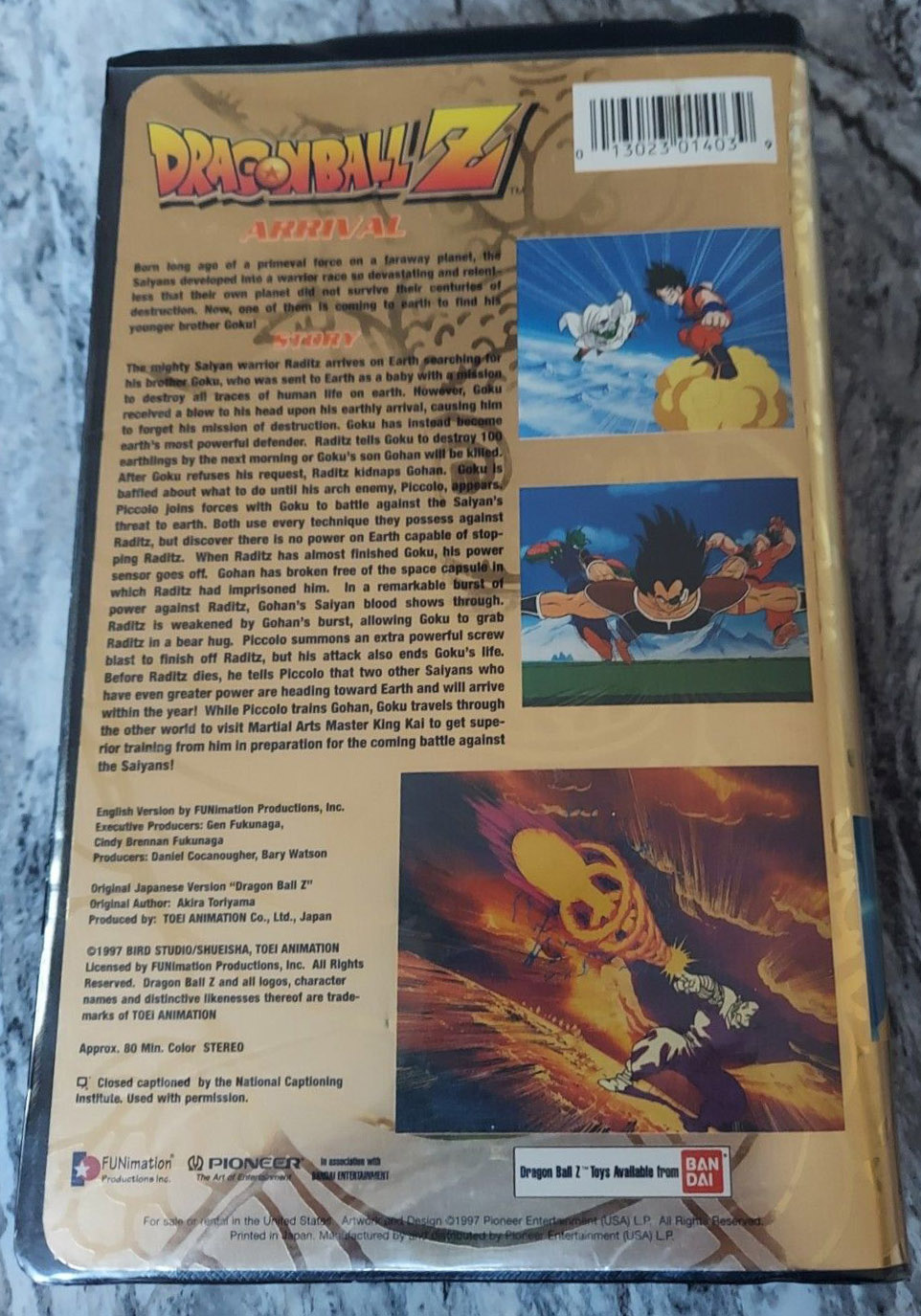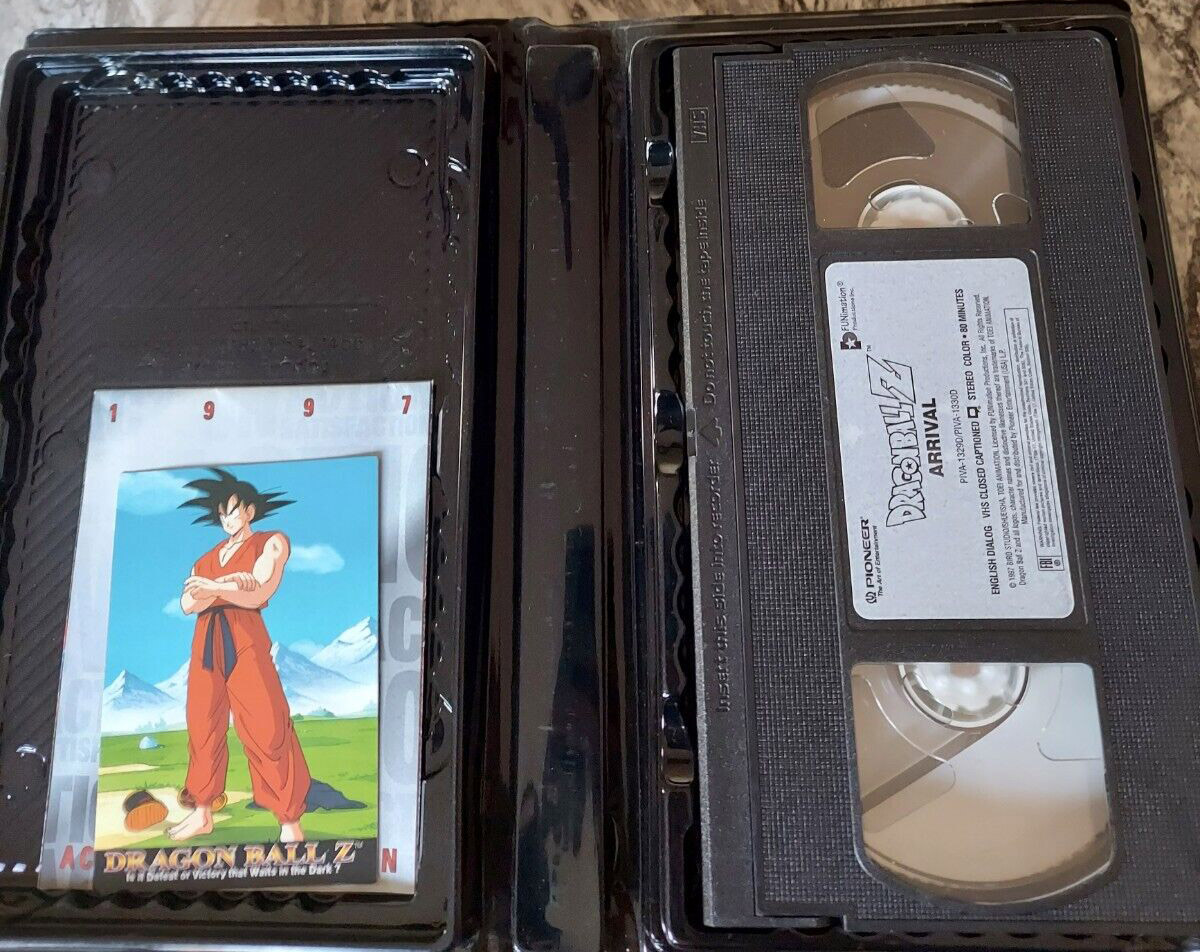 In this, there was an order form to order a free Goku action figure. You could get one free for just $1.95 for shipping and handling, AND if you wanted more than 1, you could get more for an additional $2.95 per figure!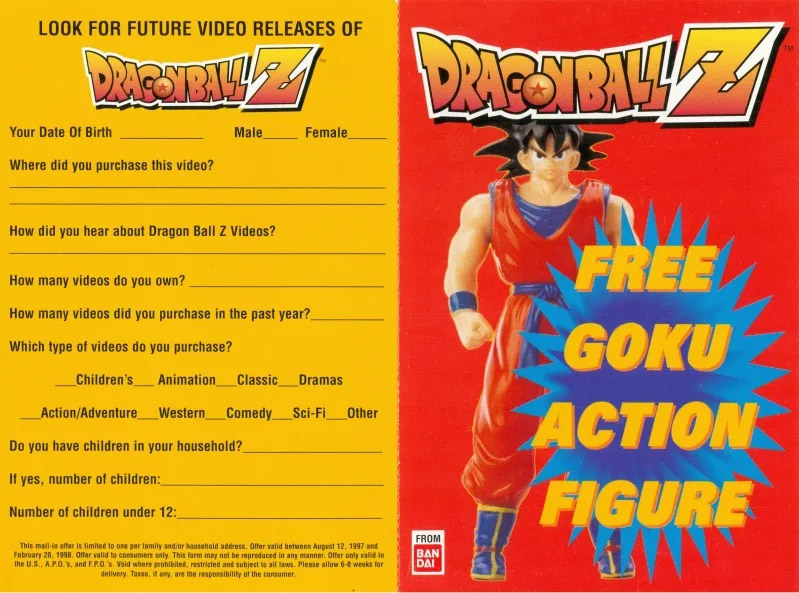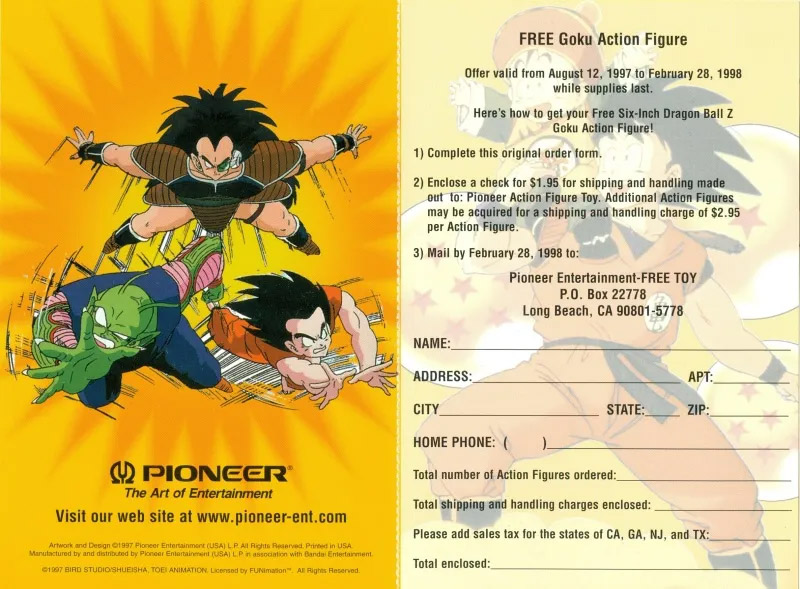 This is an example of the card (letting kids know what new DBZ products to look for...)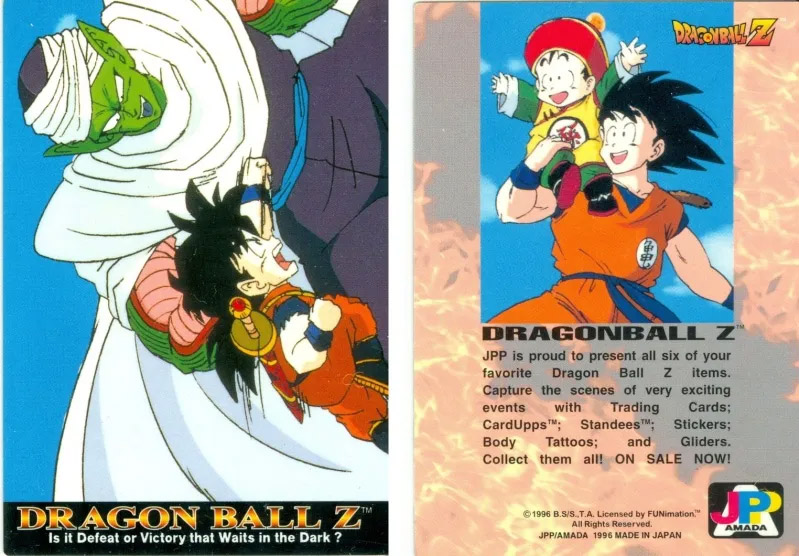 And this, a Bandai mini toy catalog. It shows toys from Power Rangers, Big Bad Beetleborgs, and of course - DragonBall Z. Some of those toys never saw the light of day.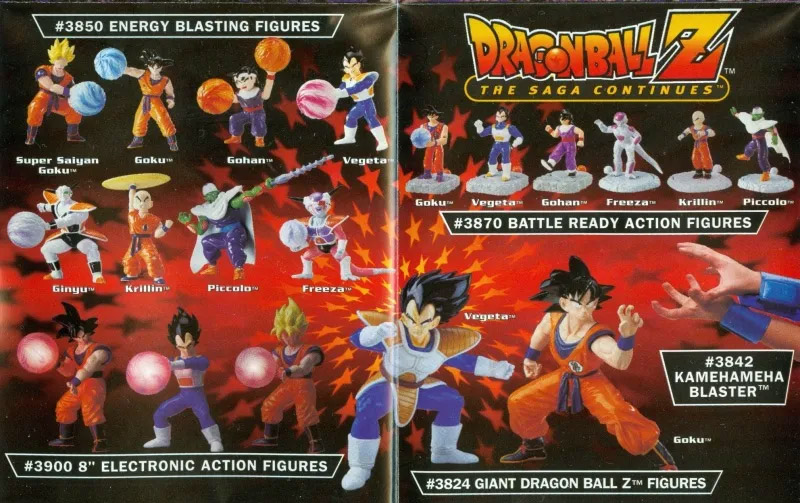 Bandai may have had plans to release an English version of the Japanese "Power Level" cards based on this ad. During that time period there was Ani-Mayhem (discussed on
wiki
and
Pioneer's website
) but that doesn't seem to be what is pictured below.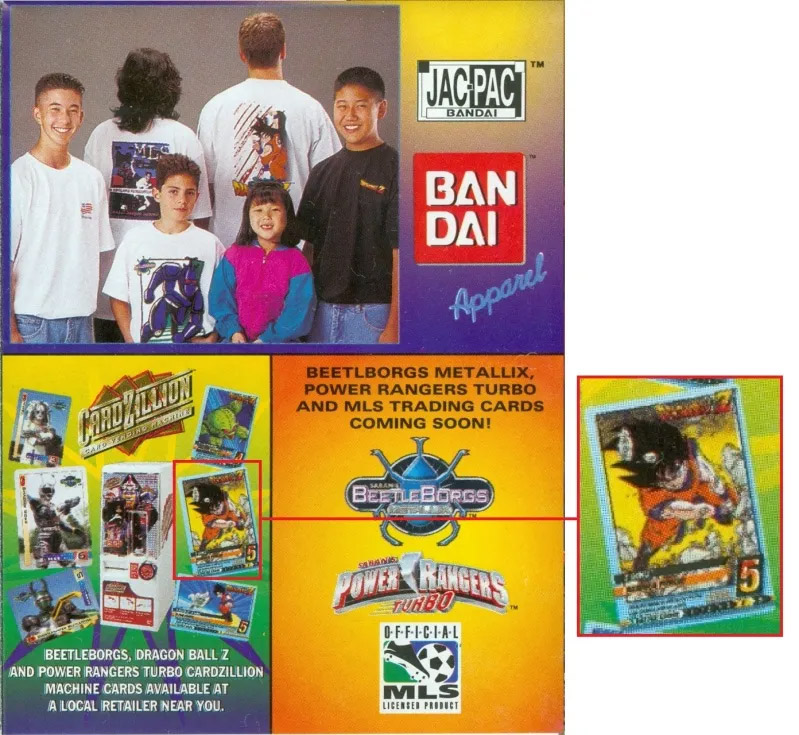 Bonus info:
1. If you've ever wondered what stores sold DBZ tapes in the US, wonder no more. There's a list on archive.org's capture of
their 1997 website here
. My memory is good, but not good enough to remember every store that sold VHS tapes. Most of these stores also sold Irwin DBZ figures later on in the early 2000s: Blockbuster Video, Tower Records, Musicland, Suncoast, Sam Goody, Camelot Music, etc.
2. Pioneer's old address was:
Pioneer Entertainment (USA) L.P.
2265 E. 220th St.
Long Beach, CA 90810
3. Some of Pioneer's logos:

4.
All the things Pioneer was involved in
, back in 1999.